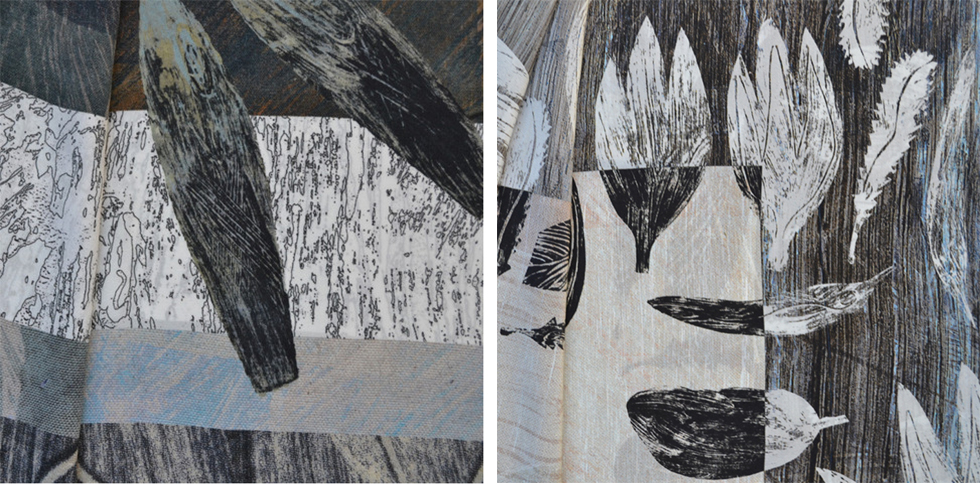 Today we are thrilled to share the work of Vivien Haley, an Australian Textile Printmaker and Artist who designed these wonderful nature-inspired motifs and subtle organic textures for her line of silk scarves. Vivien has a fine art background in sculpture and printmaking from the National Art School in Sydney and writes, "I feel this contributed to developing a very different approach to printing and designing textiles, enabling me to create a distinctive visual language as a Textile Printmaker and Artist."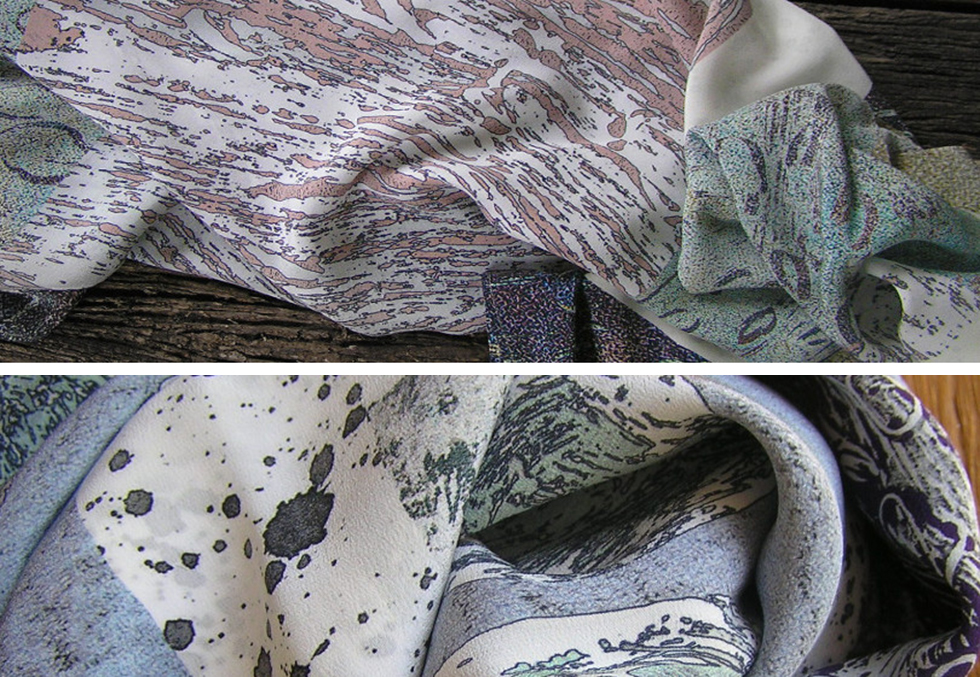 "In the early 1990's I developed a block printmaking technique as the basis of my textiles. A love of landscape and the subtlety of colour and patterns in nature led to experimentation. The shapes, brushstrokes, sgraffito and a particular way of spray dying onto silk became a distinctive component of my work, not achievable with screen printing. Hand printing individual motifs in a variety of configurations created a different design for each scarf. I was not locked into yardage and repeat patterns. This contributed to the individuality and success of the textiles. I had a reasonably high profile as textile printmaker selling to leading Craft Galleries and exhibiting both in Australia and internationally.
I removed myself from the hand printing in 2004. Designing my own home wares and a small clothing range for a wholesale clientele and also re-established myself as an exhibiting artist in Sydney. During this time digital printing was becoming more widespread. I eventually realised the technology could re produce my designs and art work onto silk in a commercial quantity without the compromise of screen printing. For me it was important to develop this in Australia, preferably Sydney and have control over all aspects of design, colour, print production and sewing. The textile printing company I am working with (Think Positive Designer Prints) has allowed the original art work to remain true, in particular the complex details and refined colour palette. The exciting part of the technology has meant I can enlarge, manipulate and layer the designs in such a way that would not be achievable by hand. I am able to produce the scarves in a bespoke manner and on a commercial basis.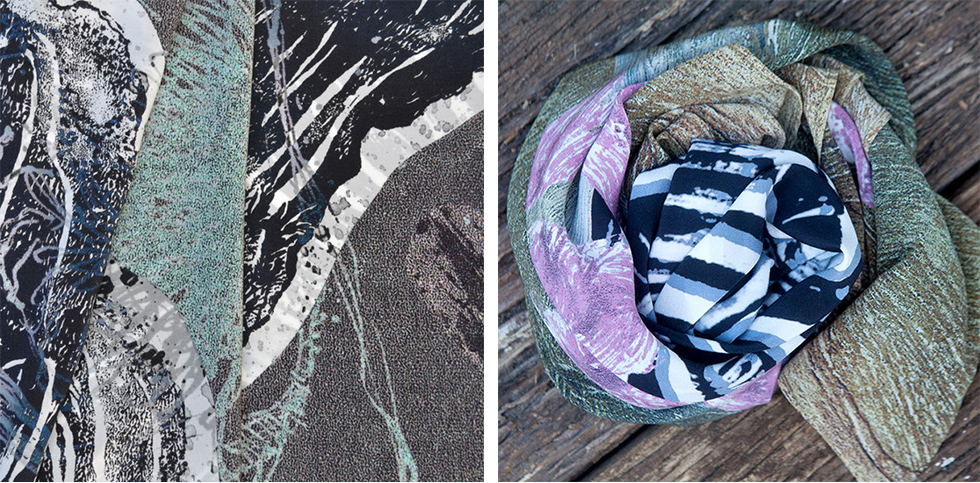 The Natura Collection was launched in March 2014 and consists of ten square Crepe de Chine Scarves and six long Georgette. You can find these on our website with the relevant details. My aim was to produce a Collection that is of a timeless quality and reflects the beauty of nature, a range that transcends the seasonal fashion cycle…
After a trip to Europe, I have also been reaching out to new stockists and pleased to say we have the scarf collection in some really great stores. The Opera house in Sydney is also featuring them in a new concept store, which we hope does well for us.
I am also working on a new small collection of 3 scarves. These will be out in March next year for our Autumn. I am continuing to use Silk Crepe de Chine as it is beautiful to wear next to the skin."
You can see the rest of Vivien's stunning scarf collection as well as find a list of stockists who carry her line at www.vivienhaley.com.