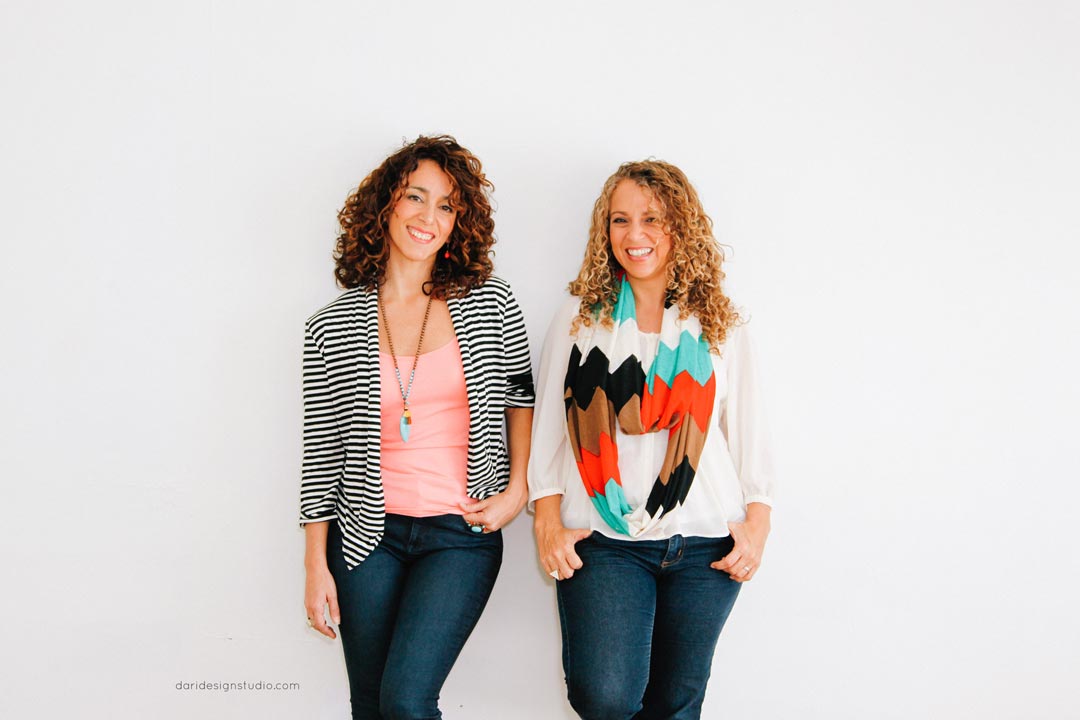 Dariela and Dariana Cruz founded Dari Design Studio in 2009, with a "mission to infuse your life with creativity, a sense of style, and bold vibrant designs." The California based sisters (Dariela in San Diego and Dariana in Los Angeles) work together virtually, and their "modernly eclectic portfolio blends certainty with experimentation, multicultural traditions with modern trends, and hand painted art with digital." We could not be more pleased to have them join us this month as our guest experts in the Textile Design Lab!
Later in the month they will be sharing an exclusive tutorial with Textile Design Lab students, on adding flair to your watercolor illustrations within Photoshop. (Join us in the Lab to gain access to this tutorial when it becomes available!) Today we invite you to get to know more about Dariela and Dariana in our interview below!
Tell us a bit about your design background & career path. How did the two of you become interested in surface pattern & graphic design?
As kids, we were both very creative, always making things or taking arts & crafts classes. As adults, we each took a different path to begin with, but ended up working together!
Dariana: Everything I know about design I owe it to my mom and my sister. My mom for exposing me to it, and emulating it to me. My sister for patiently teaching me and answering all of my questions for years. That being said I am a self-taught designer. I never went to design school. I hold a BA in Marketing and Advertising. Yet, I am a confirmed eternal student. Addicted to all sort of courses, classes, summits, conferences there could be for creative entrepreneurs.
Dariela: I was practically born a designer, I loved everything art related since very little. After graduating with a BA in Graphic Design in Venezuela, I worked in corporate environments designing mostly food and toy packaging. My sister and I hold a strong bond and our paths always were crossing until we decided to make it official and do business together. We started with paper arts, logos and general graphic designs, then we learned about the surface pattern industry from a friend and loved the idea so we added it to our business.
Could you talk a bit about how you started Dari Design Studio and what it's like working together? What responsibilities do you each take on and how do you collaborate through the design process?
Dariana: Back in the day, I used to work in a paper store. I wanted every single thing that store had. I was in love with their products, mainly because of their designs.  But more than wanting the products to use them, I used to dream about one day designing similar products. I would turn over the greeting cards, the wrapping papers and the journals to check the back and see what company made them; then I would write down the names and I would look them up on the internet one by one. At a later point, I realized creating artwork that could be translated into products and in turn make people happy was what we wanted to do.
In 2006, we started a paper arts company, Folklore Eye, and then in 2010 rebranded it to Dari Design Studio and we've been on that journey together since then. Our studio is more than just a physical studio. We believe anywhere the creative process happens is our studio, and our world is full of creativity. We live and work in 2 different cities (Los Angeles and San Diego) but stay connected through creative work and energy.
Our responsibilities and the way we collaborate together in business has evolved and transformed in many ways through the years. Today our guiding compass is to make sure we are individually inspired and stimulated with what we enjoy doing the most and what comes to us naturally. That always includes, creating, designing, painting and inventing. We are Artists in our core and everything we do for our company stays true to that.
Dariana: I hold the vision for our company and make most of the managerial decisions. I create our business processes and operations with our team.
Dariela: I am the Art and Photography Director. I manage all design and branding operations.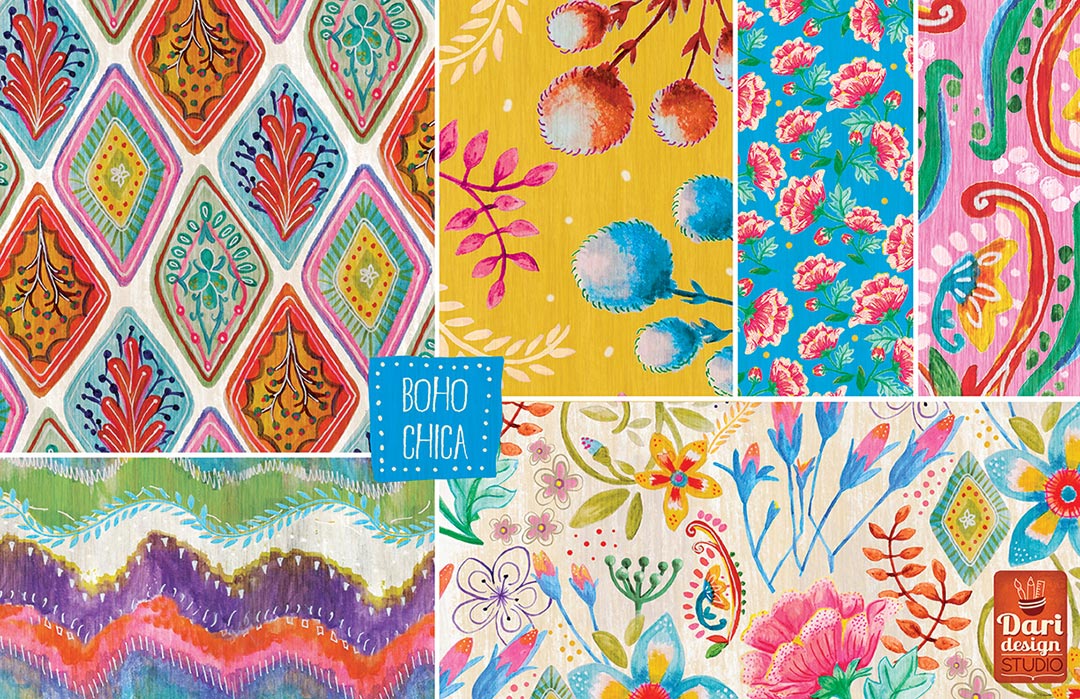 Many designers in our community worry that they need to be very focused on one area of design (i.e. only textile design, or only graphic design) but your studio offers a variety of services, from packaging to web design to licensing your original artwork, in a very cohesive, well-branded way. Please tell us a bit more about these different avenues you currently pursue in your business and how you balance these varied projects.
I think the most important part about this balancing act is to embrace the fact that we were born to do more than one thing. And when I say "we" I mean us – Dariana and Dariela. There are 2 types of people out there, those who are perfectly happy focusing on one career or passion or thing or project their whole life and those who need to express their passion through different outlets. We are in the second group!! Both groups add value to this world and we can find plenty of examples of people in these groups that have proven that both ways can be ultra satisfying and fruitful.
However, there were two things that have contributed immensely to this path of multi-passions that have worked for us. First, is having a coach to guide us as an experienced outsider. People who have helped us discern among our offerings and obtain a clear view as to how much energy, time and money we want to focus on each of our services. The second one is embracing that we are multi-passionate and being empowered by owning that as one of our virtues. Before we were able to have that attitude, we were just doing business out of integrity and confusion. Because we were secretly blaming ourselves for doing too many different things and therefore didn't attract the right audience for us. The message and energy we put out there was confusing and never consistent.
These are the services we offer:
DESIGN: Logo Design, Digital Publication Design, and  Inspiring Design Projects
PHOTOGRAPHY: Product photo sessions, Business photo sessions and Stock photography
CLASSES: We teach art classes and also classes about productivity, creativity and habit building.
LICENSING: We license our art work – we have a whole different website dedicated to that!
We are also launching our new design studio website soon!! We are happy that you get a sneak peek of our offerings here!
Where do you gather inspiration for your work? Are there any books, blogs, magazines, or other resources that you recommend?
For the most part, we are inspired by daily life and what we see around us, whether that's natural scenes with plants and animals, or people, bright colors, lights, patterns, etc. It's a great time to be a creative isn't it? There are so many great creativity, design and pattern blogs and magazines that we like, for example Pattern Observer, Uppercase, Jungalow, Print and Pattern and Pinterest.
We also love listening to podcasts and Ted Talks while we work. Some are design related, some are about balancing life's demands and making space for creativity, but they are all soul nourishing. Our favorite podcasts include Magic Lessons (Elizabeth Gilbert), Raise Your Hand Say Yes (Tiffany Han), and Smart Creative Women (Monica Lee) just to name a few.
What role do trends play in your design process? How do you seek out trend information and what are your current favorite print and pattern trends?
We are always on the lookout for trends. We look for trends in stores, in the fashion industry (generally those trends dictate what's coming to the other industries). We also like to dedicate our artistic time to be trendsetters by listening carefully to our voice and dedicating time to projects that really fulfill us and from which inspiration is found inside of us. I like to say, pay attention to our "self trend report." If all I can think of is painting insects and that idea comes to my mind often in different ways, that will rank high on my own trend report. Making sure we give our own twist on market trends is also very important for us and often challenging.
Our current favorite trends are:
Tropical and jungle flowers and animals and inspirational quotes.
Who are your favorite designers (past or present) and why? What about them has inspired you or influenced your work?
Geninne D. Zlatkis: I love how authentic she is with her work and with her lifestyle. I love artists that stay true not only to their style but also to what they enjoy doing as a means to be in business. Geninne is such good proof, with her business style and her artistry, that there are infinite paths to success and the trick is to pick the one that makes you feel good!
Crafty Chica: I love the way she does business. The creative ways in which she shares her work into the world. I also love how personable she is. Being humble, kind, real and generous while smiling and stating her boundaries is what I love to emulate from her.
Niki de Saint Phalle: I love her work history, the way her art has evolved and changed since her beginnings. Her late works are my favorite, bold, vibrant sculptures resembling some of Gaudí's work as well. I identify with the use of colors in her work.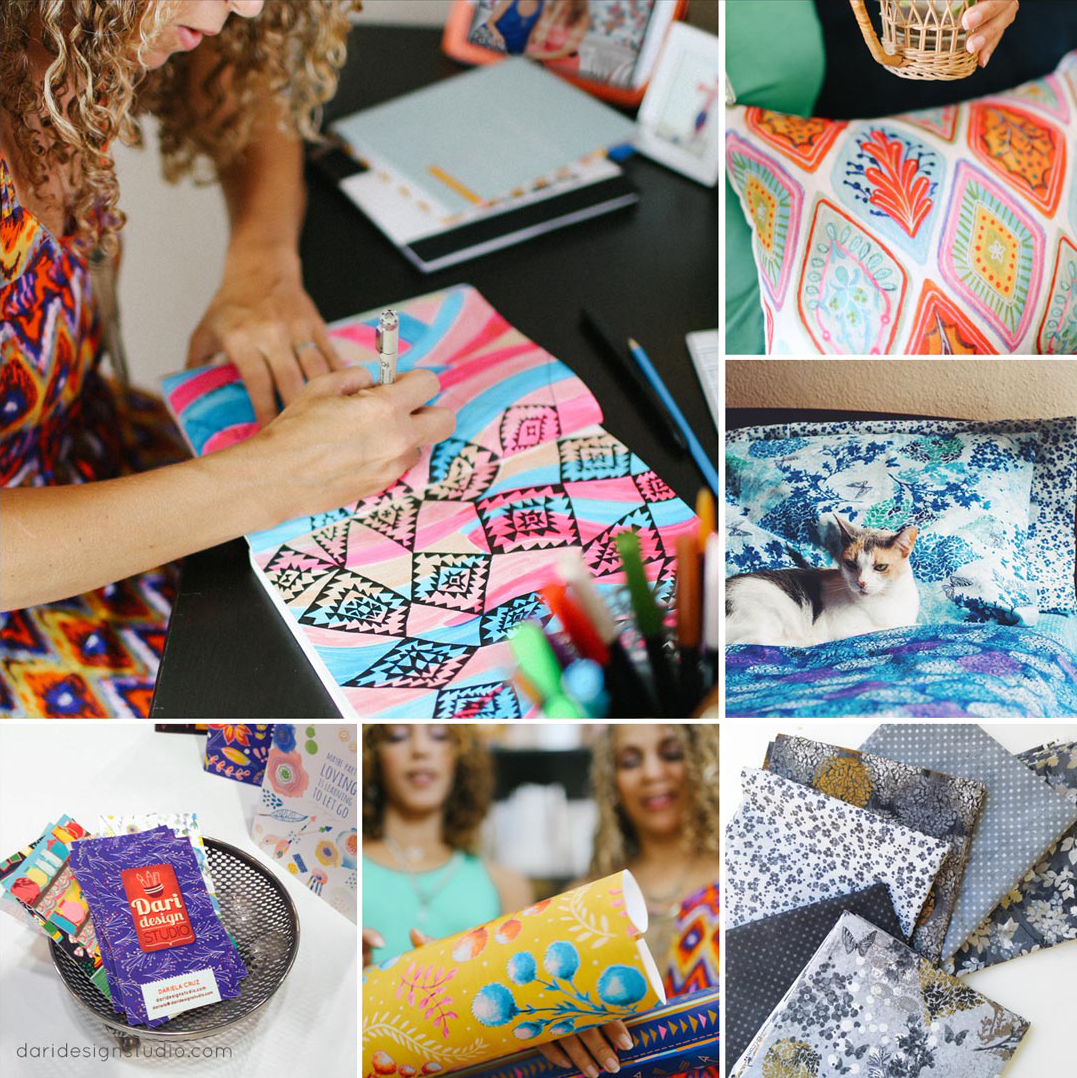 Over the course of your career, what actions or decisions have made the biggest impact on your design business?
Outsourcing and building our team even when we weren't making enough profit for ourselves. This helped us to hone the part of the business we really enjoy doing and create many learning strings that made us more business savvy. The overall growth of the business feels more organic and enjoyable vs rushed, stressed and resistant.
Working with a coach. This helps so much. It feels like having new eye glasses and seeing things much more clear! It also feels like working on a business that has a strong plan and structure of where we are going vs. jumping on our computer everyday trying to get done the work that falls on our lap.
Saying NO to the work we don't enjoy and formerly thought we needed to do it as part of being in business or because designers must offer this or that. For example, we don't enjoy selling on etsy, mainly because we don't enjoy much of the packing, printing and the day-to-day of a manufacturing shop. We also don't enjoy website design, so we don't offer that as part of our services.
Embracing curiosity. Being ok experimenting with new things, talents, services, passions even if they don't pan out or if we decide we didn't like doing it as much as we thought. Specializing in the ones we try and really like even after we tasted the part of them that's not much fun! In a nutshell listening to our intuition.
Taking time off and traveling.
Also doing a Business plan retreat at the beginning of the year!
What are your goals for the future of Dari Design Studio? What would you like to be working on a year from now or five years from now?
A year from now, we would like to be smoothly running the new products and services that we are launching this year. We would also like to be teaching more classes and having more public speaking sessions. We hope we can leverage our offerings to connect more with our audience on a real and personal way. A fun and warm community where we can all learn and grow together.
Our mission and our goal is to infuse your life and business with creativity, a sense of style and bold vibrant designs while sharing what we learn with our community.
What advice have you received in your career that has stayed with you or influenced you? Do you have any words of advice for aspiring designers trying to build successful careers of their own?
This might not be a piece of advice but more a perspective of life that we think is worth sharing. Practicing mindfulness and awareness in our creative journey has brought pleasant results to our quality of life. Because when we manage to be aware of what's happening, we are the observer and not the judge (that judges others or ourselves). We noticed something special happens when we are able to judge less and instead notice or stay curious more by embracing the observer role. Our creative juices  and ideas stay handy. The creative process flows better. The passage through the "unknown dark phase" inherent to the creative process suddenly doesn't feel so uncomfortable.
Mindfulness can be practiced in many ways. I started by just searching for the word and finding plenty of information and exercises to include in my daily practice. We encourage you to try it!
Become a Textile Design Lab member to gain access to Dari Design Studio's tutorial when it becomes available later this month, in addition to all of our past guest expert tutorials and the other informative e-courses and helpful features of the Lab. Visit textiledesignlab.com to learn more!