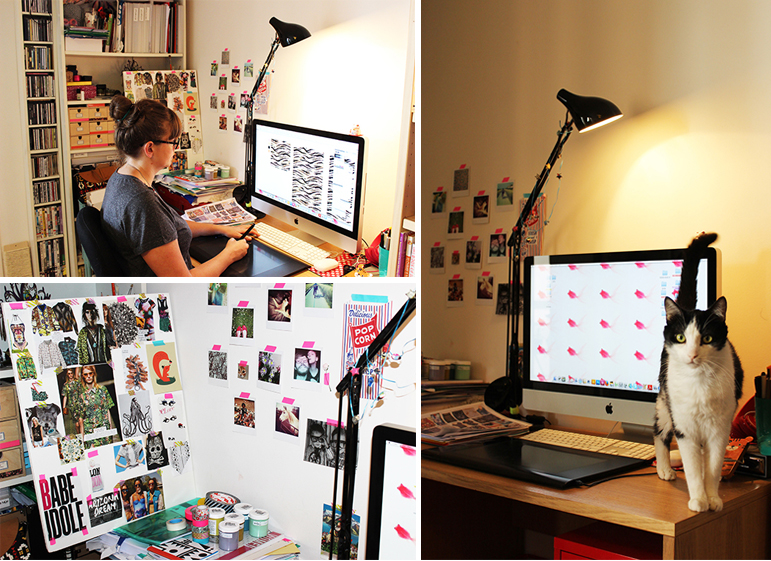 Constellation Studio is a Paris-based textile design studio composed of two designers, Magali Bein San Sebastian and Nicolas Gaillard, who have been working in fashion for more than 10 years. This creative team creates patterns, color-ranges, and provides trend forecasting and graphic design to the fashion, home furnishing and cosmetics industries. Read on to learn more about Magali and Nicolas and what inspires their work at Constellation Studio.
Tell us about your design background–how did you become interested in textile design?
M: I graduated with a degree in Textile Design from the Duperré School in Paris, my grand mother was a needlewoman and embroiderer for the fashion industry. I began to work as a costume designer for Dragone's shows, then started to work as graphic and fashion designer for women & kids brands.
N: I graduated with a degree in industrial design from the Creapole in Paris and then started to work as a graphic designer for a trend office doing trend books and collection.
We have worked as graphic designers for 10 years and we created Constellation studio 2 years ago.
Can you tell us a bit about your design process? Your preferred media, favorite design tools, etc? Do you have a favorite print type to create and if so why that print?
1. We collect a lot of images we love, it can be our own holidays pictures, pictures from magazines, street shots, exhibitions, Flea markets, music poster, record cover, comic books, movies…
2. Then we create our color range.
3. After we do a lot of hand drawn sketches and finally finalize our graphics on the computer.
Our favorite media/design tools are first paper + pencils (all kind HB, B graphite, markers, bic, pigment liner..) and then scanning and editing with Illustrator and Photoshop.
M: I have a preference for floral prints, photo prints, and prints with different degrees of reading.
N: I like to do weird hand drawn animals / skulls / people like cabinet de curiosité and also hand drawn type, engrave style artworks too.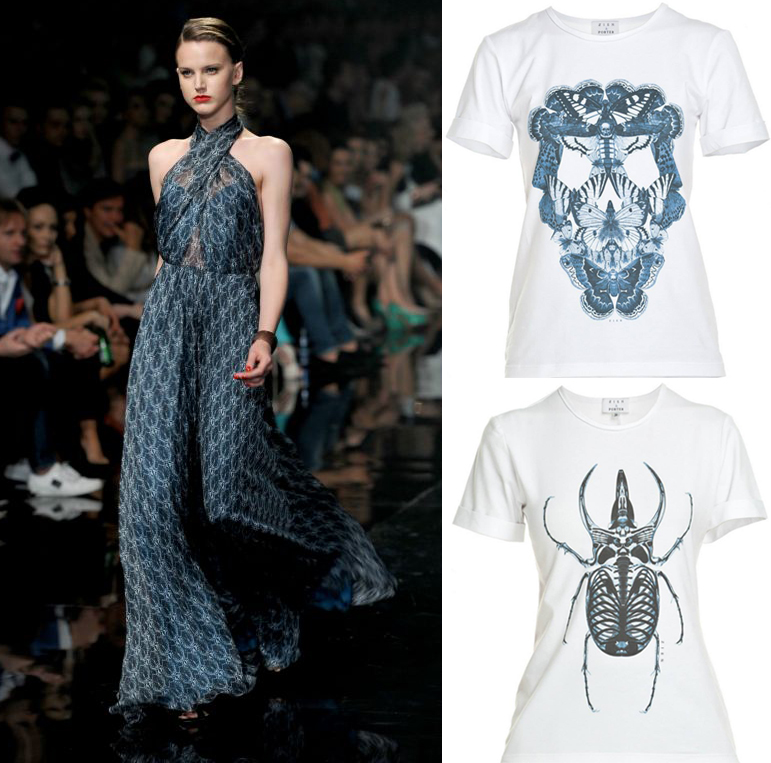 Constellation Studio for Zien
What role do trends play in your design process? Do you subscribe to trend or color forecasting services and if so, how does this affect the way you design?
Trends are important for us, we try to check blogs all the time, we are influenced by "fashion in the street" what people wear. We are looking for what kind of music people are listening to and we travel a lot to see all the trends in different countries.
We also work for some trend services as well, like Stylesight, Nelly Rodi, Carlin … and we trust our instinct 😉
How would you describe the Constellation Studio style? What makes your studio stand out?
Constellation Studio style is definitely youthful and contemporary/ modern. We cater to consumers who are between 15 and 35 years old who like creative & trendy artworks.
At Constellation we like to create with our souls and hands so our style is more handmade, it's very important for us to be like modern craftsmen of the print & pattern.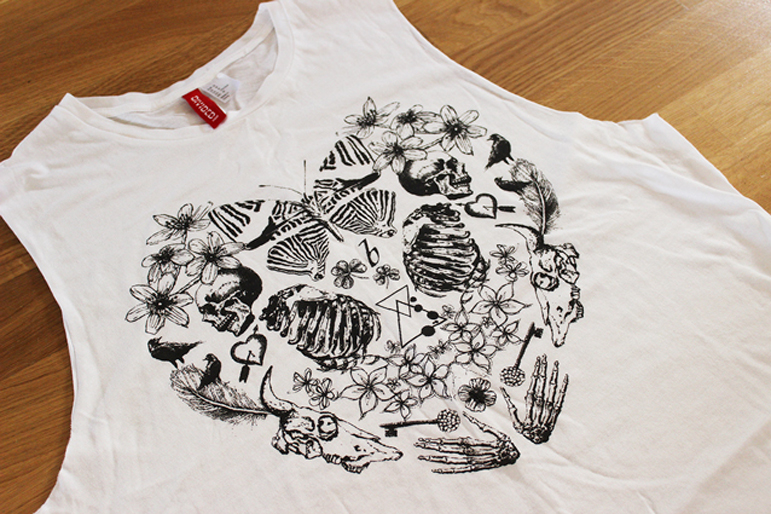 Constellation Studio for H&M
What are your go-to sources for design inspiration? Favorite books, blogs, designers, etc? Favorite print & pattern trends?
The internet is a huge source for inspiration with Pinterest, Tumblr…
We also got a lot of different book on different stuff such as flowers, old engravings, patterns, music…
Favorite websites: Pinterest.com, http://landofcool.tumblr.com, Instagram, http://www.lechoix.fr, http://www.leblox.com/
Books: Gestalten Verlag books, Cabinet of Natural Curiosities, l'Encyclopedie Diderot
Illustrators: John Dyer Baizley, Richey Beckett, Rafel Delalande, Albrecht Dürer, Martine Johanna, Charley Harper, playmoo.com
Artists: Jennifer Angus, AJ Fosik, Ron Mueck
Pattern: http://patternity.org/, http://sweetrepeat.tumblr.com/ and Pattern Observer!
What are your goals for the future of your business? What would you like to be working on a year from now or 5 years from now?
We would like to work for all kinds of brands. We try to work for more "international" brands.
We plan to do a little range of products. We already got some tote bags & tee shirts ….
In five years we would like to be a known studio which brands enjoy working with.
Do you have any advice for aspiring designers hoping to break into the textile field?
Be curious, work hard and do lots of drawings in your sketchbook.