Susanne Kasielke exhibited for the first time at Licensing Expo this past June and was kind enough to write up this informative post to tell us all about her experience…take it away Susanne!
 
What is Licensing Expo actually?
Licensing Expo is the world's largest and most influential annual trade show dedicated to licensing and brand extension. The show takes place in Las Vegas and is the world's premier brand, character and art marketplace with around 450 exhibitors (e.g. Nickelodeon, Dreamworks, Hasbro, CareBears, etc). More than 16,000 retailers, licensees, manufacturers, distributors and licensing agents attend from more than 90 countries.
Why Licensing Expo? 
After making my trade show debut at Surtex 2015 with a collective of artists, I was ready to exhibit by myself. Since trade shows are a big financial investment I was only able to afford one show this year and preferably with a discount or special offer for first-timers. To me there were 2 options: Surtex or Licensing Expo. I decided on LE, because of the reasonably priced 6×4 feet first-timer booth. To be honest I would have preferred Surtex, but their 'Design District' option wasn't what I was looking for.
Even after being in the surface design community for a while, taking classes and researching, I still didn't know enough about Licensing Expo, but Anne Bollman's very detailed and honest post about her experience in 2015, was the final push that made me sign up.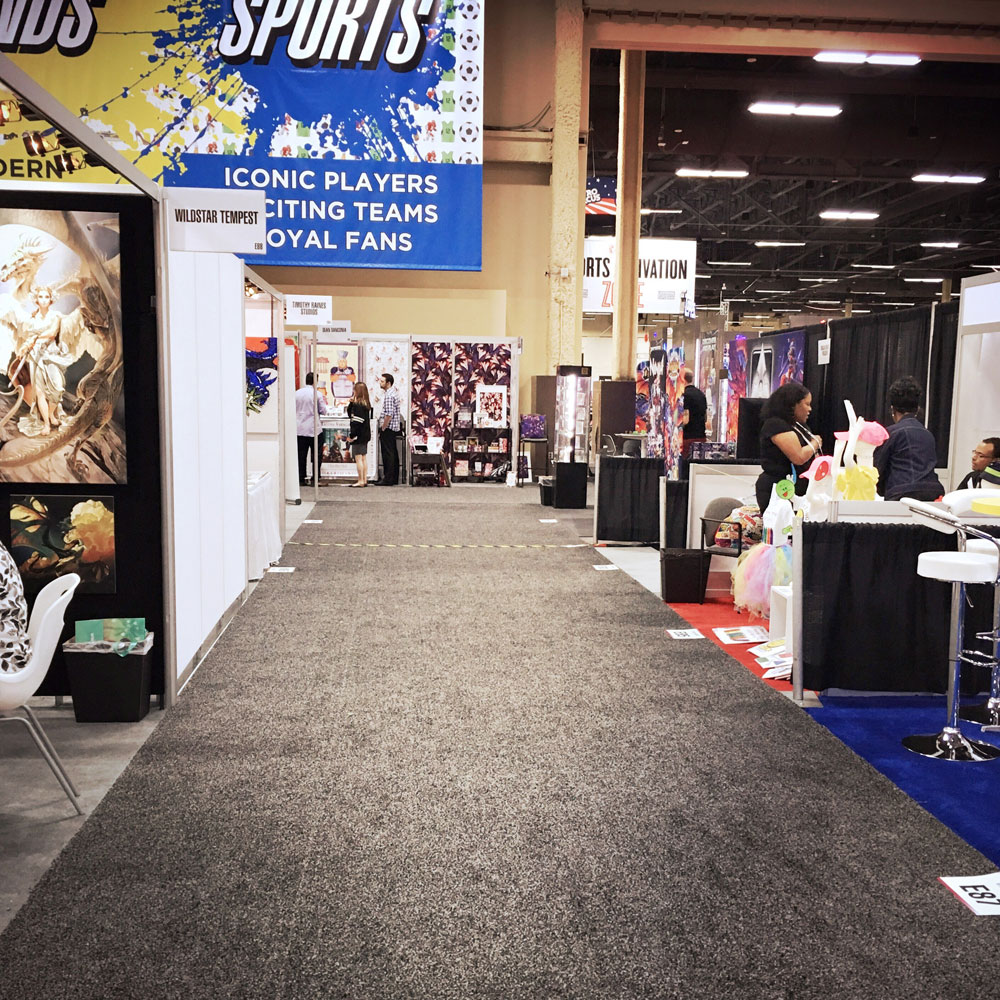 My feedback after the show
Yes, the main focus at Licensing Expo is on the big players, who had booths the size of my apartment, and yes, it's mainly about brands and character design, but that doesn't mean the show isn't for you. The 'Art & Design' section is relatively small, so a great opportunity to stand out. It is up to you to define your goals going into the show and what success looks like for you. I'm absolutely glad I exhibited. The last couple of months I felt frustrated and didn't know where to go with my creative business, I felt stuck. At the show I realized how narrow my focus has been so far and how many opportunities are out there for every one of us. I left Licensing Expo with interesting conversations, exciting leads, and came home with lots of new ideas. One big take-away for me is, that a lot of people from Asia stopped by my booth and really loved my work. A market I have never considered before.
Would I do it again? Definitely! BUT I don't think a regular booth for the regular high price would be worth it for me. That being said, I have a lot of follow-up work to do and depending on what will happen in the next months, I might change my mind. So please ask me again!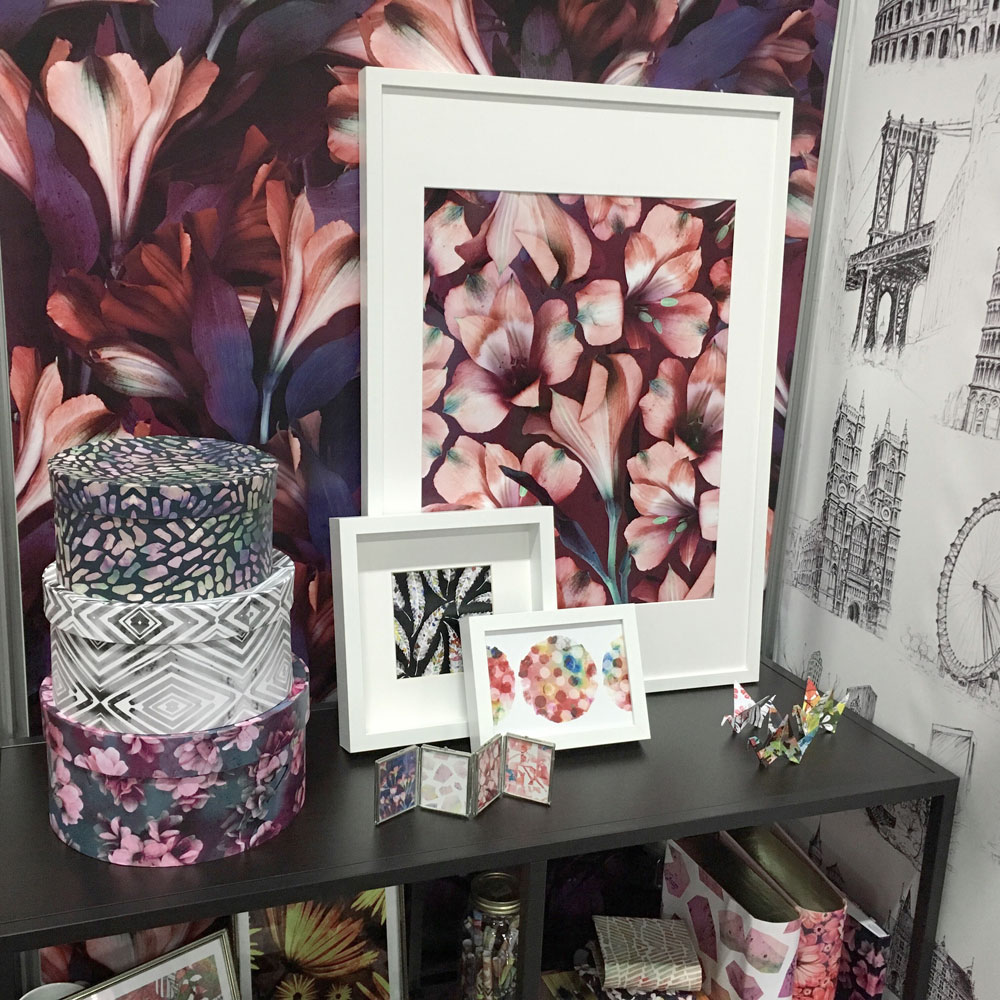 6 things to consider as a textile designer
1. Are you exclusively a textile designer?
If you're looking to sell prints and patterns outright or even license – like at a 'classic' textile trade show (Printsource, Premiere Vision, Heimtextil) – Licensing Expo might not be the right fit. I didn't see any tables with sheets of patterns to look through. Every booth was different, there was no consistency, which of course doesn't mean that you won't be able to sell, but I personally didn't sell anything right at the show.
2. Think outside the (textile) box
I consider myself a textile designer for a couple of reasons, but one is that the patterns I create work well on textiles (at least I think so). But that doesn't mean my art couldn't be used for something completely different that I just haven't thought of yet. Or that there aren't other opportunities as a (textile) designer to collaborate on.
I was really surprised how versatile and international the leads were (stationery, apps, publishers, agents, home decor…). One reason I chose to exhibit at Licensing Expo was that I found myself only looking to go in one direction with my business and that wasn't working, but there are so many possibilities out there!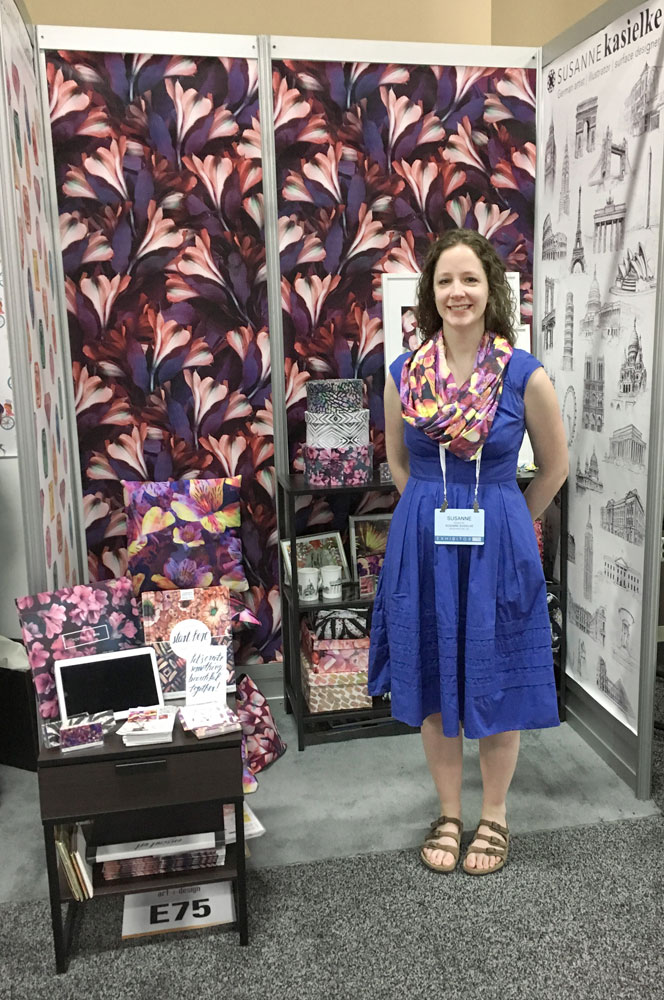 3. See it as a test run
We all know it: trade shows are very expensive, especially for a single-person creative business at the beginning of your career. There are only few special offers for first-time exhibitors. But Licensing Expo has a fairly reasonably priced one: the 6×4 feet booth. If you're only a little bit unsure where to go with your surface design business or how to find different opportunities and ideas to grow and change direction, Licensing Expo could be worth it.
4. Mix and match
There are lots of opportunities to network at Licensing Expo, from happy hours for exhibitors to the 'Matchmaking Service'. The 'Matchmaking Service' is a wonderful tool that the show offers to connect and find people and companies to collaborate with even before the show starts. I set up only a few meetings, but my booth neighbor was way more active and scheduled tons of appointments with potential clients, so her booth was constantly busy, which attracted a lot more people to stop by.
5. Thinking of producing your own products?
Licensing Expo is not a wholesale show, but I had quiet a few people ask where they could buy the samples in my booth and that they'd love to sell them in their stores. There are a couple of exhibitors, who manufacture (on-demand) products. It was great to see their assortment and quality in person. Now I'm looking into producing a small line of textiles.
6. Don't underestimate the power of actual human conversations
Exhibiting at a trade show is a fantastic chance for feedback. I think many of us work mostly by ourselves. It's very isolating at times (at least for me). Especially when I get stuck or I can't move forward, I quickly become frustrated. At Licensing Expo I had wonderful conversations with other designers, exhibitors, manufacturers, and retailers. We exchanged frustrations, tactics, ideas, and possible projects. I experienced a variety of interesting views, that made me realize how important it is to always consider different angles. At the show I never felt we're competing against each other, because there is a niche for all of us. I've only received kindness and positivity.
If there's anything else you'd like to know about Licensing Expo, just send me an email: info@susannekasielke.com.
About Susanne Kasielke
It's your journey. Remember. Dream. Live. And Laugh!
German artist, illustrator and surface designer Susanne Kasielke creates vintage-inspired digital collages, which combine multiple mediums and techniques. She specializes in dramatic flower portraits, ethnic inspired art, elegant geometrics, modern abstracts, and delicate illustrations.
Susanne targets the modern, self-confident woman, who pursues her dreams to live life to its fullest. Remember yesterday. Dream tomorrow. Live today. And don't forget to laugh! Because a day without laughter is a day wasted (Charlie Chaplin).
Visit susannekasielke.com to learn more.