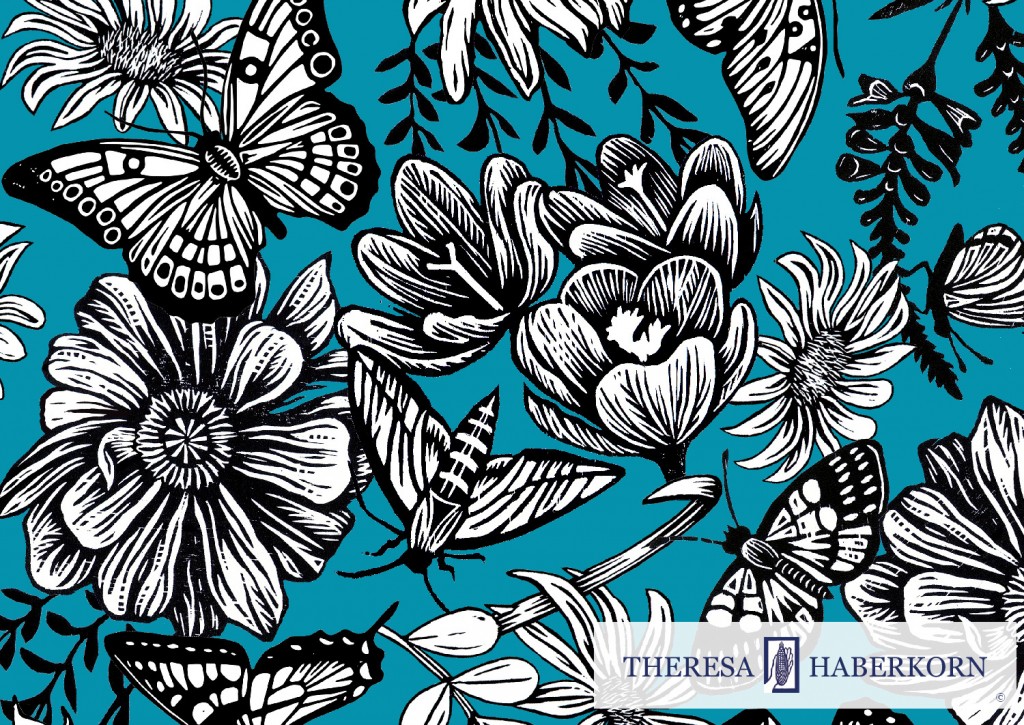 I am thrilled to wrap up this week with the beautiful work of Theresa Haberkorn, who will be exhibiting at Surtex in just a few short weeks (May 21-23). When I reviewed Theresa's work I was drawn to the unexpected details and unique printing style that are captured so beautifully within her patterns. Stunning and marketable work that is unique is a wonderful combination many companies seek out.
In addition to sending over her beautiful designs, Theresa was kind enough to share her process and story with our team.
"Drawn from my observation of plants, nature, and my garden, I start my surface pattern designs as woodblock prints. After transferring an image onto wood, I carve designs into wood blocks that are inked and printed by hand in a press. The prints are then scanned and transformed into patterns with Photoshop. I enjoy combining old and new technologies this way. 'Scrolling through the Garden' is a repeat pattern of plant forms and scrolling lines that I developed first on paper, and carved it into wood. In the collection, I have combined and layered it with other designs for coordinates.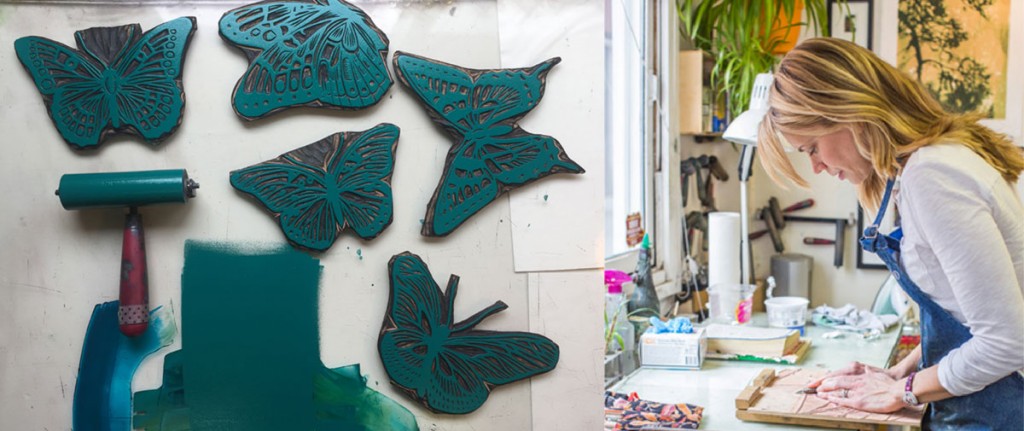 "After working with other companies producing their designs, it has been my dream to see something I designed in stores with my name on it. I had that first experience seeing my cards with Greenfield Paper in an airport gift shop. My goal now is to work with other companies licensing my designs and expanding my business."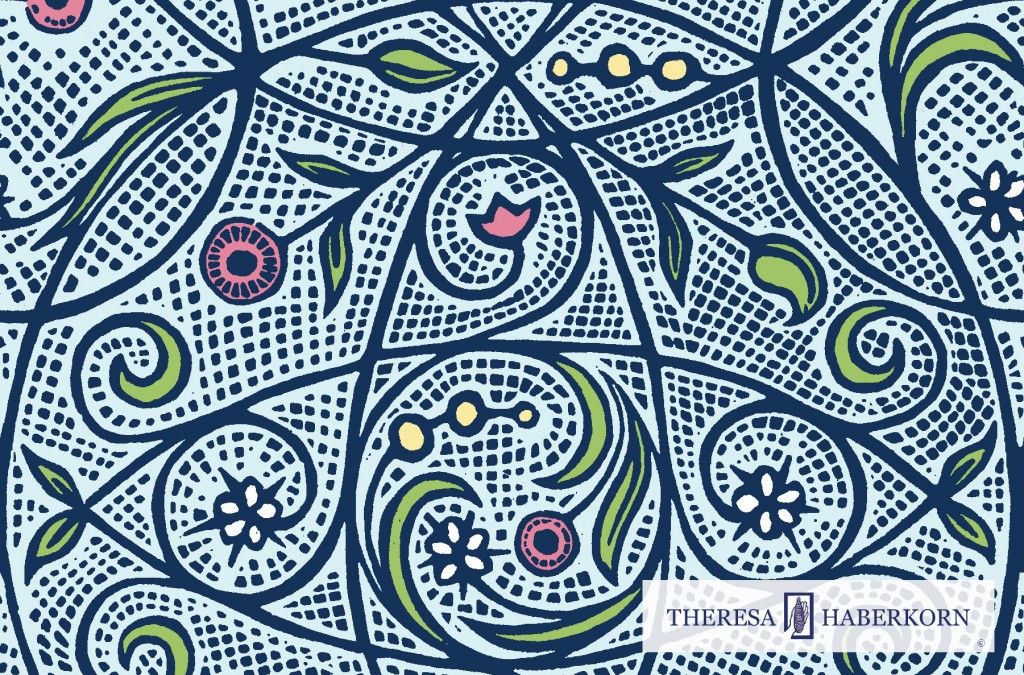 "Like many kids, I grew up always making arts and crafts. With the encouragement of my middle school art teacher, I applied, and was accepted to Pinellas County Center for the Arts at Gibbs High School in St. Petersburg, Florida, where I had a strong foundation in drawing, painting, and printmaking among other media. I continued with art at the University of South Florida and graduated in printmaking in 1994. During and after my time in college, I worked at a small tabletop ceramics company, Square One, in Tampa, Florida painting designs on green ware of mugs and teapots. After a few years there, I began designing surface patterns for their ceramics, one of which was featured on the "What's Hot" page of the New York Times. Over the years, my woodcut prints have been inspired by my garden and nature. People would comment that my floral woodcut prints looked like fabric, and I soon started printed on fabric as well. After being introduced to the industry of licensing and surface pattern design, it stuck in the back of my mind that it was something I wanted to pursue. I started doing some commercial designs with my woodcuts, and was picked up by Art Angels, a stationary company from England, to use my art on a card for the Royal Horticultural Society's holiday card. This year I finally struck up the courage, or just ignored my fear and decided to sign up for a booth at Surtex."
Will you be attending Surtex? Be sure to stop by Theresa's booth #3142 to say hello and see her beautiful, inspired designs in person! You can also find her at www.theresahaberkorn.com.
Save
Save