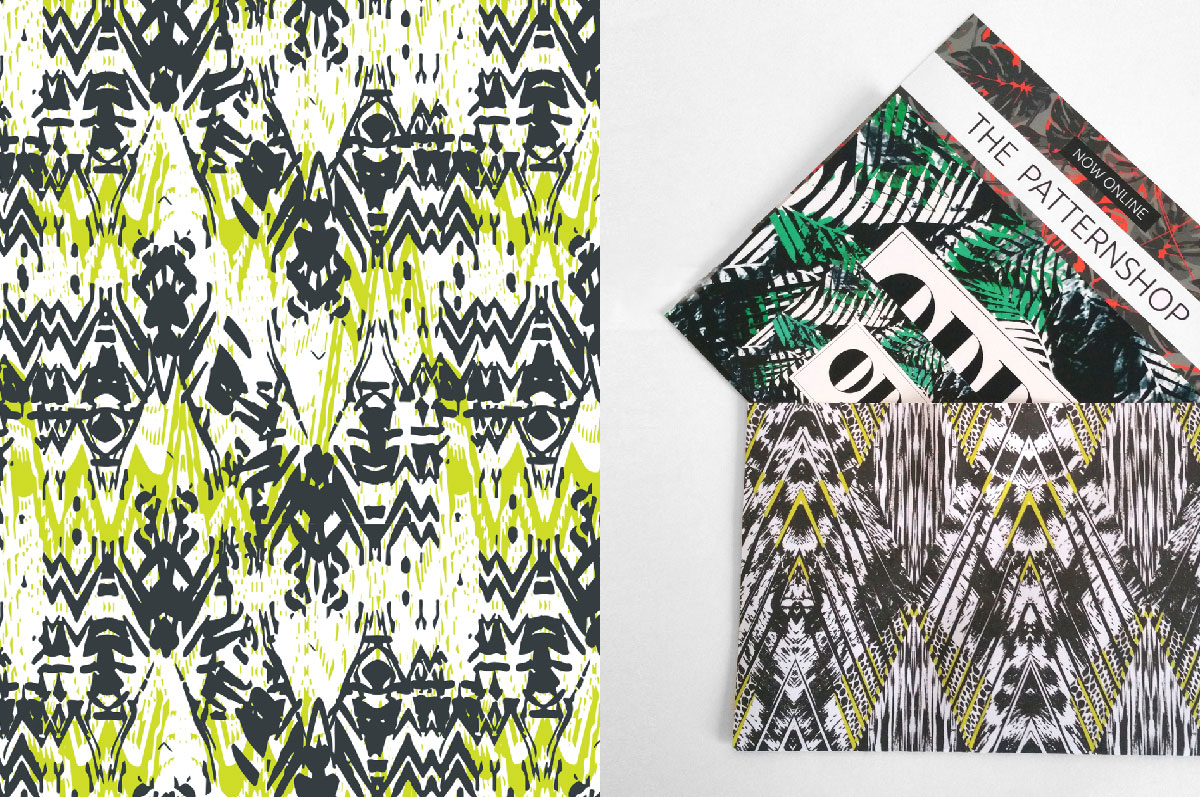 Today we have the pleasure of featuring the work of Cyrille Thonon, a talented designer who creates original prints and patterns for clients, as well as her own brand. This is what Cyrille says about her evolving passions for design: "My designs are mostly inspired by the simple shapes in nature, graphic design (especially from old school comics) and geometric repeats in architecture. But lately I'm getting more and more interested in old crafts and techniques which also inspire me a lot."
Cyrille got her start in the industry by studying fashion design in Utrecht, the Netherlands. During this time she discovered her love for textile and pattern design. To pursue this further she decided to pack her bags and move to Melbourne, Australia, for a year and a half to do a textile course at RMIT University. After graduating she returned to Holland and started working as a graphic designer and content manager for a fashion webshop, and later as a print designer for a fashion company. While this was wonderful work, her urge to travel and explore wasn't gone so Cyrille decided to take the leap, quit her job, and start ODDstyles while traveling in Central America.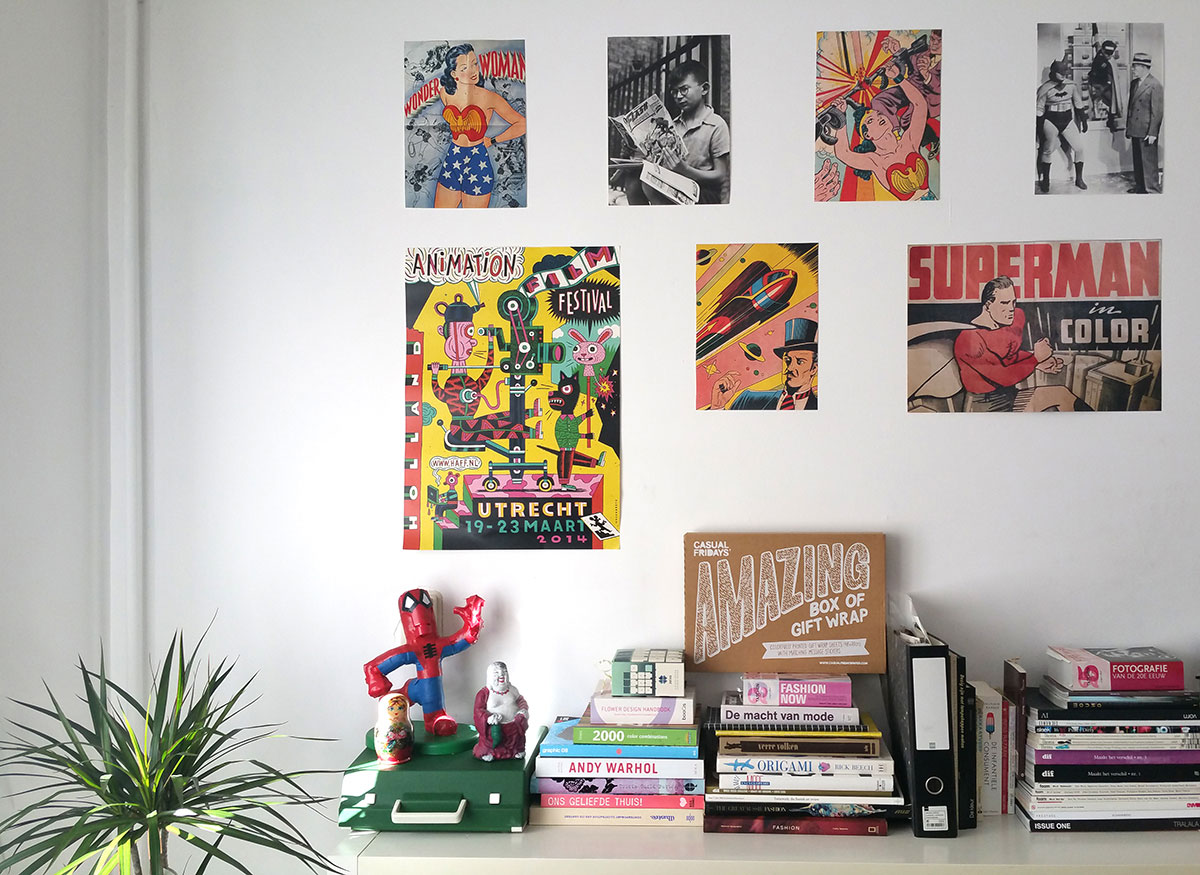 Cyrille was kind enough to answer a few of my questions about her client work and making the leap into a freelance career:
Can you tell us more about your client work?
Usually, the work I do for clients is more applicable and less extreme than what is featured on my website. On my website, I offer my own collection of exclusive allover pattern designs which are usually the results of the creativity I couldn't put to use in my work for clients. When I work for clients, I work very structural and more commercial, with a clear goal in mind and in a tight timeframe. On the other hand, when I'm creating a design for my own collection, time and the level of applicability is of less concern, which makes it easier in one way. Yet, it also becomes harder because there are no frames. I love the combination of more commercial versus more creative work and it inspires me very much. This way of working helps me to develop my skills at a higher level and it gives me the time to try out new techniques which I can put to practice immediately—if they work ;).
What does a typical day look like for you? Do you spend most of your time designing patterns to sell or working with clients?
My typical workday differs a lot. It really depends on the work I'm doing. I try to design at least three days a week at my studio, either for a client or for my collection. One day is my "extra day" for last minute assignments, administration, visiting clients, business fairs, attending workshops, meeting inspirational people for coffee, and many other things.
The 5th day is now reserved for a new textile design project called ODDtextiles. With this project I want to showcase the beauty of old textile crafts in modern handmade products. This project is just in the very early stages but damn, I'm already so excited!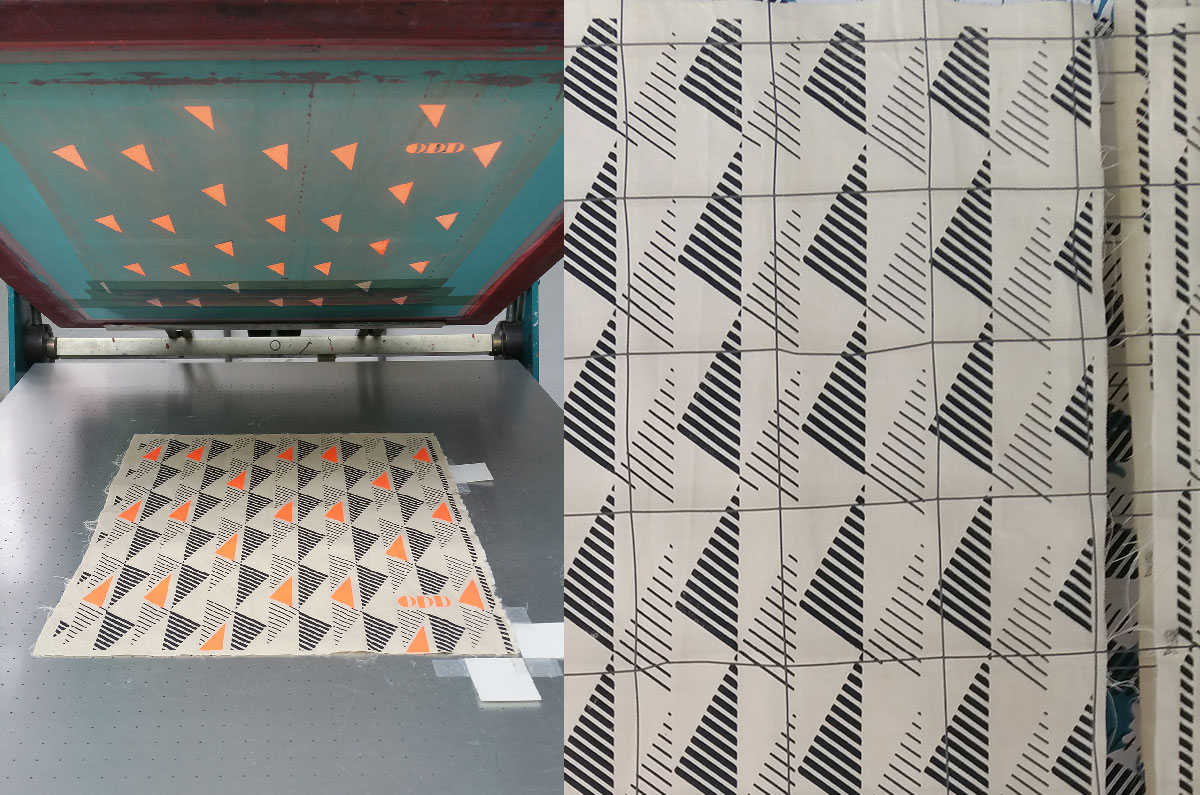 How did you land your first freelance client? Do you have any advice for designers who are just getting started?
My first freelance client was actually an old employer of mine. I wasn't even up and running but he knew I was capable of doing the job and so I helped out during the busy collection period. It was a great start for my insecure – yet exciting – freelance career at a place I already knew very well. Not long after I got a job offer through LinkedIn, which I kindly refused but it did result in my second freelance job.
Through this process I learned that it is important to showcase your knowledge and work on a website such as LinkedIn. Writing tutorials and letting people know what you're working on in a casual and personal way; just stay true to yourself and don't try to "market" yourself too much. Just have fun! Oh, and don't forget to reach out to that old employer/colleague/creative friend to let them know you're now out there doing amazing print designs as a freelancer.
How are you currently marketing your work and finding new clients?
Currently, I still give people a sneak peek of what I'm working on through LinkedIn. And I still write tutorials to showcase and share my knowledge through LinkedIn Pulse and my own website. Of course I have an Instagram and Facebook account, although to be very honest, I'm probably not the best at social media. I like a more personal approach. So whenever I come across a brand which I love (which is actually very often), I just call them or send them a message to tell them that I would love to help them out whenever they need a print design. I approach them in a very casual and enthusiastic way and let my work speak for itself. No marketing tricks or special sales tactics—just a personal message to the right person. As for textile design fairs, I haven't showcased my work at one yet, but I'm considering it for 2018. But for now, I like to keep things personal ☺!
You can learn more about Cyrille at her website, https://www.oddstyles.com/.
Save