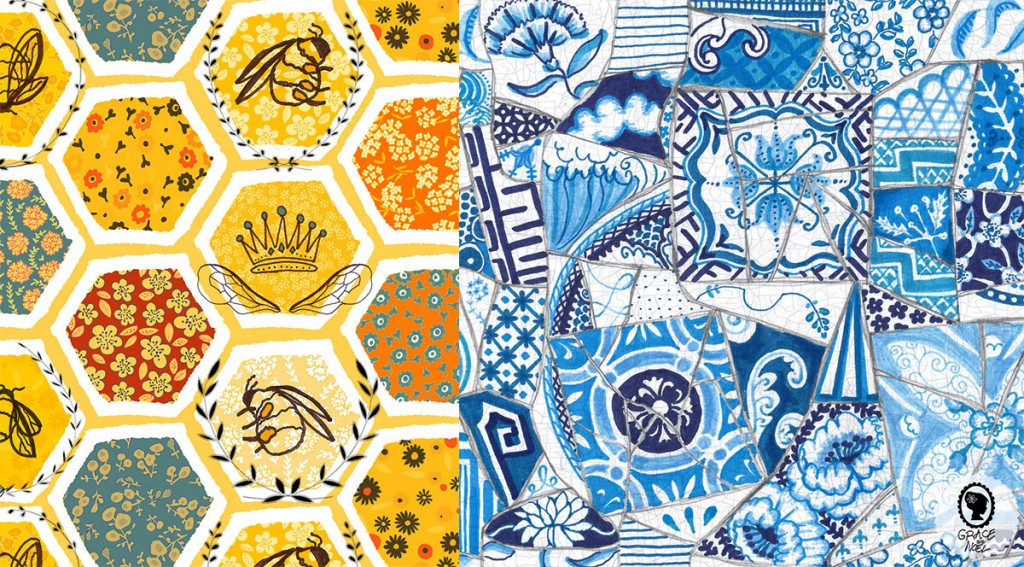 Spirit, life, whimsical, endearing. These are all words that came to mind as I reviewed Grace Noël's work for this post.
In 2012 Grace discovered the world of surface pattern design through Spoonflower and instantly knew she had found her passion. When I asked her to share her thoughts on this, she said, "It is the ultimate combination of my main interests: art, textiles, clothing, and décor, with some history thrown in there, as well. I've had several successes from entering Spoonflower's weekly design challenges and have designed a collection of quilting fabric for Moda Fabrics, 'With Glowing Hearts' for Canada's 150th anniversary."
I feel that part of what makes Grace's work so successful is her background as an interior designer. This is what was shared with us: "Every day I am surrounded by products and patterns and think about how they are used to create a personalized paradise of a home. There are so many surfaces that need art, and I am convinced I will never run out of ideas. There are innumerable opportunities to bring beauty into people's lives through cheerful design.
"Every tiny detail of everything I see inspires my designs! That said, particularly nature and vintage items catch my eye. I create all of my designs by hand and then scan them into my computer and edit them in Photoshop to position the repeat and tweak the colours. In terms of medium, I use whatever best suits the mood I'm going for, so it can be pencil, marker, acrylic, or watercolour paint, pastels, and so on, or usually some sort of combination.
"My ultimate goal is to work full-time as a surface pattern designer from my home studio, producing designs for bolt fabric and wallpaper, apparel, and home décor products! Make Everything Beautiful!"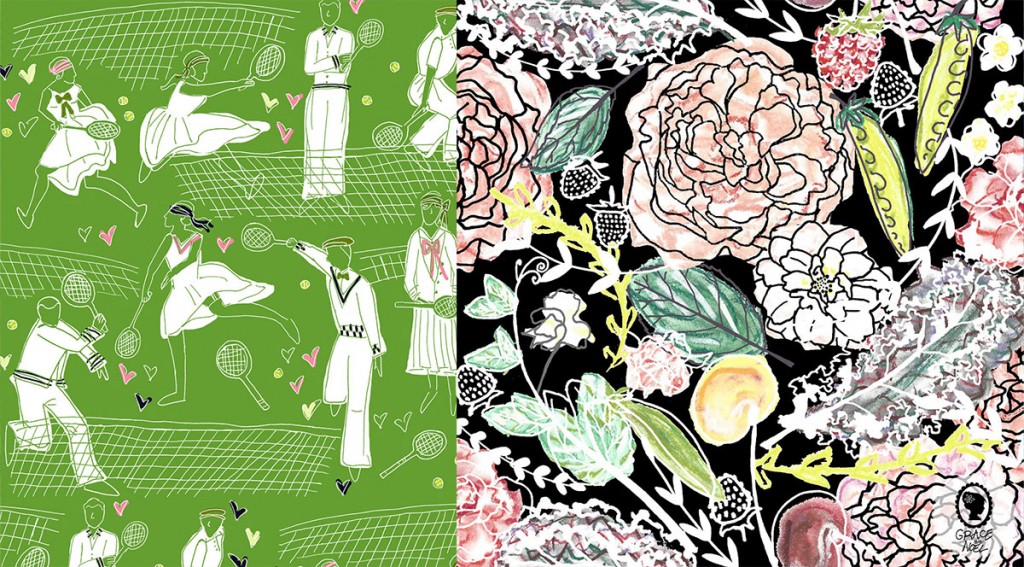 Grace speaks so passionately and that made it very exciting to learn more about her thought process and how her experience as an interior designer shapes her work. She was kind enough to answer a few of my questions, which I would like to share with you.
How has your experience as an interior designer shaped the way that you think about prints and patterns?
I see every surface as an opportunity for beauty. In the home, that is very important for surrounding oneself with layers of joy. The typical way to decorate is to stick mainly to neutrals or solids for the most permanent pieces in a room, and then add in colourful accents such as rugs, pillows, curtains, lamps, occasional chairs, and so on, that can be rotated out seasonally. So with that in mind, those accent items can be pretty bold or whimsical, and covered in patterns. That's where my surface patterns come in! Scale plays a big factor in patterns within a room. If there is a bold large-scale floral on an duvet cover, then the sheets below could be in a coordinating calico. Variety and balance can pack a whole lot of patterns into a space without it being overwhelming!
The type of repeat affects what the design can be used on, as well. A directional fabric, for example, could be tricky to place on an upholstered piece because the lines are more difficult to match up, or may have a bit of a wiggle to them depending on how the fabric is stretched over the frame.
In terms of theme and colour for patterns in home décor, I've noticed that florals and geometrics are both popular, often in combination, and the colour blue is a common favourite. Birds are the most popular icon. Trend affects the specifics of pattern popularity, as in any other design-focused industry. While sourcing for décor items I do two things: 1) drool over the beautiful patterns and products that currently exist; and, 2) continuously dream up my own patterns and products that WILL exist…hopefully as soon as possible. I'm always hunting for unique items to bring a client's personality into their space, so being able to design items that would suit that space is is a really satisfying prospect. It's a very full circle creative process!
Do you envision a particular product or customer when you are designing patterns?
Yes, definitely, always! I usually have the product merchandised in the shop window of my imagination before I've even created the pattern! My brain automatically thinks in repeat and 3D. Often I have my favourite companies in mind. For example, a fresh and cheery collection of designs is for Cloud9 or Art Gallery Fabrics. A quirky retro pattern I envision as a dress for Modcloth, or a bohemian vintage floral full of lush colour is for an Anthropologie chair. Most of all, whatever I design is something that I would want to live with, because that is how I stay true to the creative style of my brand.
What are your favorite sources of inspiration for interior design?
Pinterest takes the cake. I also love décor magazines for when I feel like snuggling up with printed inspiration instead of my computer. I have several scrapbook binders in which I save pretty pages. Magazines and those scrapbooks hold a special place in my heart because that is what first got me interested in interior design. I remember reading them as a pre-teen, knowing I had found my career dream in the decorating industry, and feeling like my heart was going to burst with joy. I still have that heart feeling so clearly it's still the right path! My favourite décor magazines currently are British Country Living, Country Homes & Interiors, and Flea Market Style. You can also often find me at thrift and antique stores and markets, which provide a wealth of varied inspiration and usually a chuckle too!
You can learn more about Grace at her website.
Save