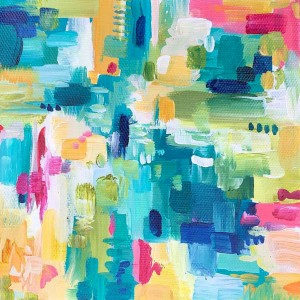 For this week's Repeat Downbeat I have collected a group of patterns, paintings, prints, and fabrics that I found to be especially inspiring. I did try to discover a clear theme within these pieces, but never found the perfect common thread between them all. Maybe you can help me in the comments below. It's often easier to see themes in others' work, than in our own.
To kick things off we have this lovely abstract painting by Maria Osorio Driscoll. Maria is a Painter & Color Explorer who lives in Roanoke, VA. I have been admiring her work for the past couple weeks. She is very prolific and I love seeing her latest projects in her Instagram feed. Her landscapes and florals are beautifully textural, and her color palette choices are really uplifting and inspiring.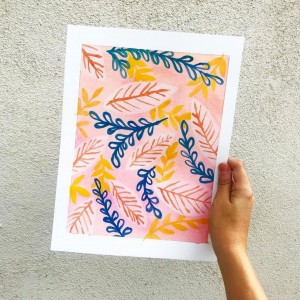 Speaking of uplifting, I was drawn to this cheery pattern by Mind Over Pattern. The colors, painterly texture, and overlapping leaf motifs all work together to create a beautiful design. In the Textile Design Lab, we often discuss creating patterns with movement and flow. This pattern uses all the do's when creating a dynamic leaf pattern. She has slightly overlapped motifs, the motifs are tilted and turned to move the eye around the page, and none of the motifs are placed perfectly horizontally or vertically. It's one of those pattern that looks so simple, but really isn't that easy to get right!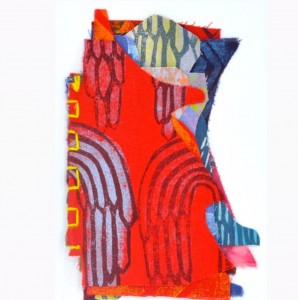 I am not sure how I came across Marcie's work, but I found it to be incredibly inspiring and fresh. The piece you see here is a part of Marcie's "scrap book" of prints used for Shapes to Cuddle.
"Marcie Paper has designed and hand block-printed twenty-four different patterns and stripes for the 144 Shapes to Cuddle on view. Each of the cotton and linen shapes is stuffed by hand and features a different combination of prints and stripes. The Shapes to Cuddle are sized to be held and loved by people of all ages, but were made specifically with children in mind."
A pop-up show of shapes for sale will be on view from 5-9 PM, November 3rd and 12-9 PM, November 4th at 279 Broome St. on the Lower East Side of Manhattan. If you are in the area please stop by. Cuddling up to some beautiful, hand-printed textiles seems pretty wonderful right now!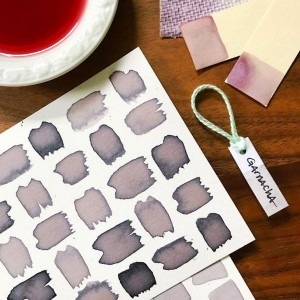 Ready for more inspiring work? Nadia Hassan is a designer who you should be following. For the entire month of October she is featuring a different handmade, plant-based ink. From beets to spices, Nadia has been creating these inks and then using them to create the loveliest patterns. Each day she shows you the beautiful ink, alongside her painting for the day. Watching her create not one, but a series, of these beautiful scenes has been incredibly inspiring and will be sad to see the month of October come to an end!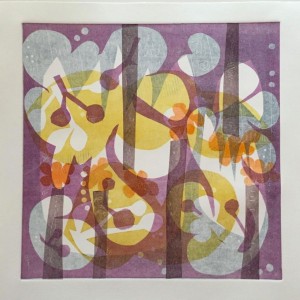 Another printmaker who has been very inspiring to my process is Mami Yamamoto. This piece is titled Fall Themes Scattered, and it celebrates the changing seasons. "Here is the first of October, the pumpkin color has already taken over the store fronts, giving us an urgent hint of a final chapter of the year. The sky is high and the light is crispy, I would fully love to embrace this beautiful time of the year…." I am really drawn to the layers and movement within Mami's work. Her prints are bold, yet there is so much to explore and see within each piece.
Who is inspiring your work these days? Let me know in the comments below! Let's start spreading the inspiration around.
Save
Save