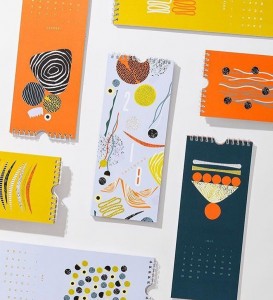 I love this time of year. Thanksgiving is over, the Christmas season is in full swing, and the new year is quickly approaching. So much is happening, including the planning and goal setting experience. There's no better way to ensure you have a merry 2018 than to have some great goals lined up that will help you grow as a designer.
Next week we begin our annual Pattern Planning and Goal Setting group-study in the Textile Design Lab. In this course we clarify what we hope to achieve in the next year and create an action plan that is broken down into quarterly tasks to get us there. At the end of this course, designers feel focused and in control—ready for this upcoming year. They know exactly what steps to take and how they can use the Textile Design Lab to achieve the goals they've laid out.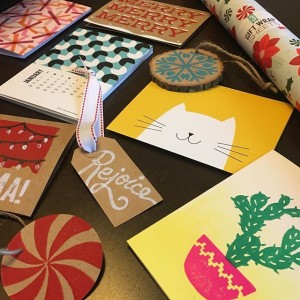 In celebration of this planning season we are featuring some of our favorite 2018 calendars that were shared in our #patternobserver Instagram feed. After all, what reason would we have to not make the goal setting process a beautiful visual experience, as well?
I am excited to kick things off with this Mid Century Modern Wall Calendar by Mezzaluna Studio. Mezzaluna Studio is the brainchild of Vikki Wiercinski, a professional graphic designer and artist based in the northern outpost of Edmonton, Canada. Printed on luxuriously thick card stock, it's a nice skinny size that's perfect for your office or kitchen wall. You can grab one here.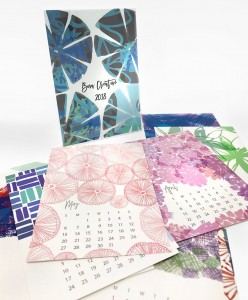 This geometric beauty is from Emily Hamm. Emily is a surface pattern designer based out of Oklahoma City, Oklahoma. She's showing this calendar, along with a beautiful collection of other holiday products at the Indie Trunk show, an Oklahoma show with local artists, crafters, boutiques, and small businesses!!! The show takes place at the OKC Fairgrounds on Dec 9th. You can learn more about Emily and find out how to grab a calendar here.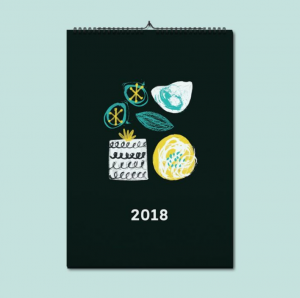 You all know that I am a big fan of texture, so this calendar from Bova Creative really jumped out at me as being fun and an original concept. Clint and Jenny Bova, a husband and wife team, are the co-founders of Bova Creative and I have known Jenny for a while through the Textile Design Lab. Their 2018 5"x7" desk calendar features a beautiful array of patterns that are each wonderful works of art. You can see each month's design in detail on their website.
Last, but not least, I love this calendar from Taaryn Brench, an illustrator and designer based in Leeds. I love the loose illustration style and how simple – yet powerful – each design is. It's really difficult to pick a favorite! You can see each month featured here on her Instagram page.
Please share links to your favorite calendar or planning guide in the comments section!