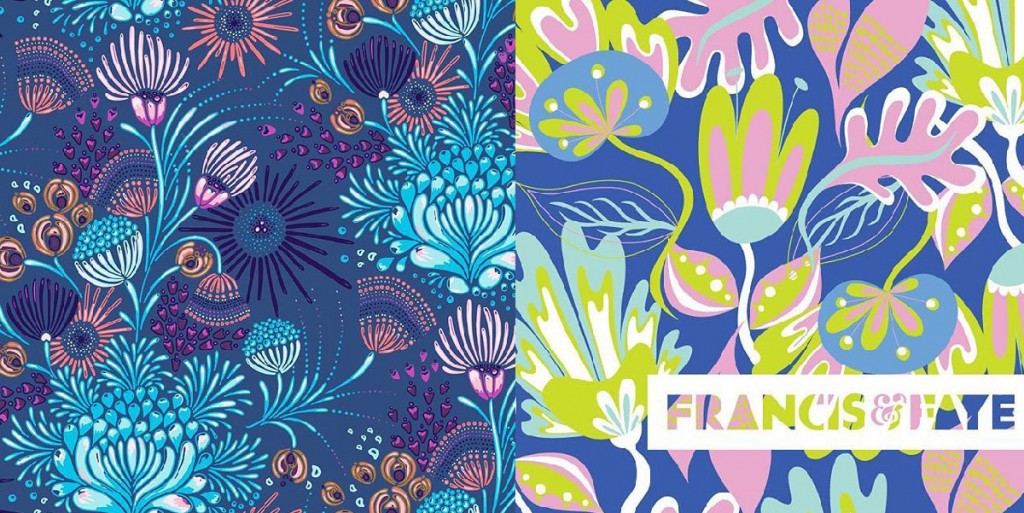 Bold florals and funky leaves are the theme of this week's #repeatdownbeat. While reviewing our #patternobserver feed on Instagram, these floral and fauna focused patterns really stood out to me. I love the use of details, various motif sizes, and the way in which the motifs and details overlap and work together to create such dynamic patterns.
This beautiful pattern by Amanda Way Caronia was the first floral that I spotted and that's why I chose to kick off the theme with this pattern. Amanda is an artist and surface designer who shows a wonderful ability to create colorful and naturally inspired patterns for the fabric, interiors, and homewares market. The addition of the background flowers brings a wonderful sense of depth to the pattern and she created a dramatic sense of movement by placing the small details and accent motifs in just the right way. You can see more of Amanda's work on Instagram or through her website.
Brightly colored and beautifully layered, this pattern by Bryna Shields is such a fun exploration of the funkier side of floral patterns. Bryna Shields spent years building her expertise developing  surface designs for brands including Crate & Barrel, Jamberry, and Fred Meyer. She founded Francis & Faye to combine her eye for vibrant visuals and her passion for collaborating with brands that make a positive impact in the community. Check her out @francisandfaye.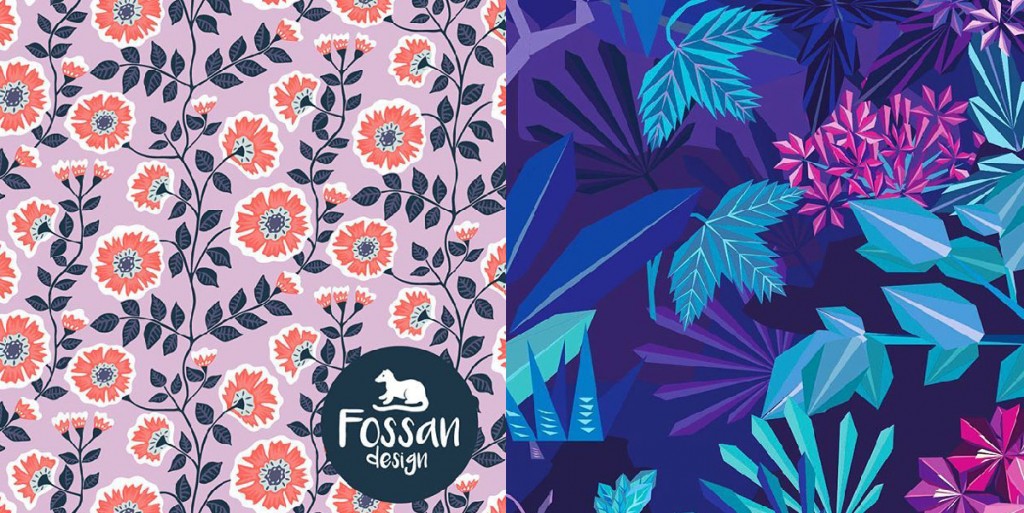 I was really attracted to the floral details and color palette used in this beautiful pattern from @fossan_design. I love the unique white shadow that was added behind the main flowers—it really adds an exciting pop to the design. If you are in need of beautifully printed fabric I encourage you to run over and check out all the beautiful fabrics available from Fossan Design, as they are super inspiring!
Last but not least, this beautiful fauna pattern from @happypapayaofficial jumped out to me as one of the most original patterns in the #patternobserver feed. I love the mysterious color palette and stylized illustration of the jungle scene. Happy Papaya© is an illustration and design company based in Spain. They have a beautiful collection of scarves and pillows on their website and their Instagram feed is such an inspiring dive into a world of fun jungle and animal inspired illustrations and patterns.
If you are interested in continuing to grow and strengthen your design abilities, I invite you to join us in the Textile Design Lab. This is a strong and supportive community for designers like you. It will give you access to resources, experts, tools, and opportunities to develop your design abilities. Sign up here to take advantage of some of our free resources and also consider joining the Lab before prices go up on February 1.