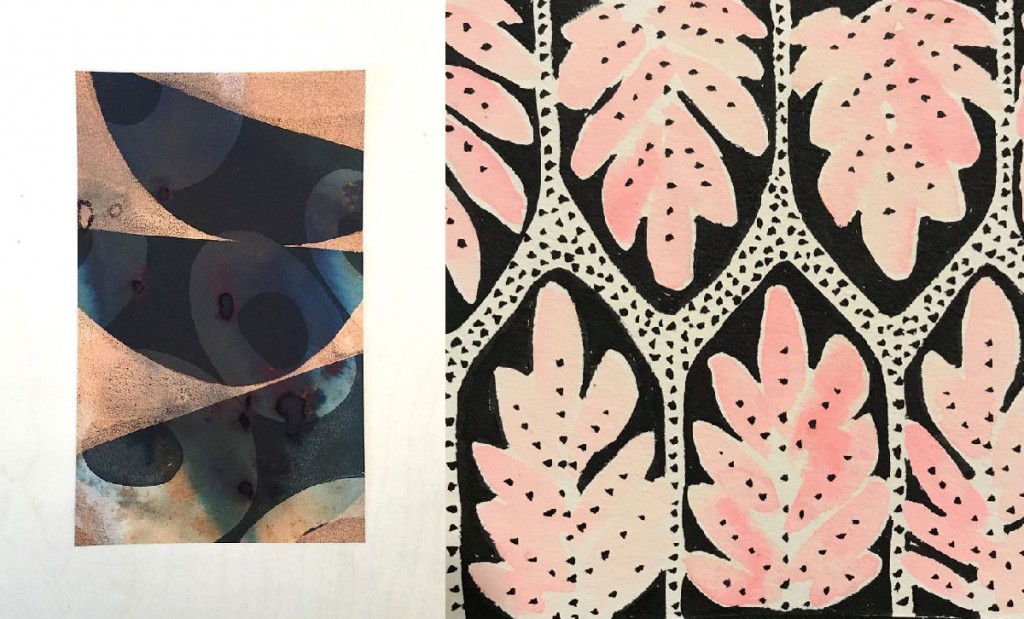 This week's Repeat Downbeat features some of my favorite inspirational finds from our #patternobserver Instagram feed. I was really drawn to the color contrast between the tranquil, sensitive peachy pinks and the strong, sophisticated blacks and grays that you see in the images posted below.
This stunning monoprint was created by Mixed Media Artist, Michelle Burns. I love the delicate layers and texture that is used throughout the piece. The placement of the semicircle shapes also brings such a nice flow to the layout. Michelle posted this quote alongside the print, "Wherever you stand, be the soul of that place. ~ Rumi." You can see more of Michelle's beautiful, textures, paintings and prints on her Instagram account.
I didn't realize how much I love adding dots to everything that I create until my daughter Ruth started adding dots to all of her artwork. It was then that I began to see the similarities between our work. It seems that @sweetandloshop also feels a similar affection for the beloved dot when you look at this beautiful pattern she painted. I love the variation in the details of the motifs paired with this more simplistic and classic layout style. I encourage you to check out her Instagram feed for more nature inspired goodness.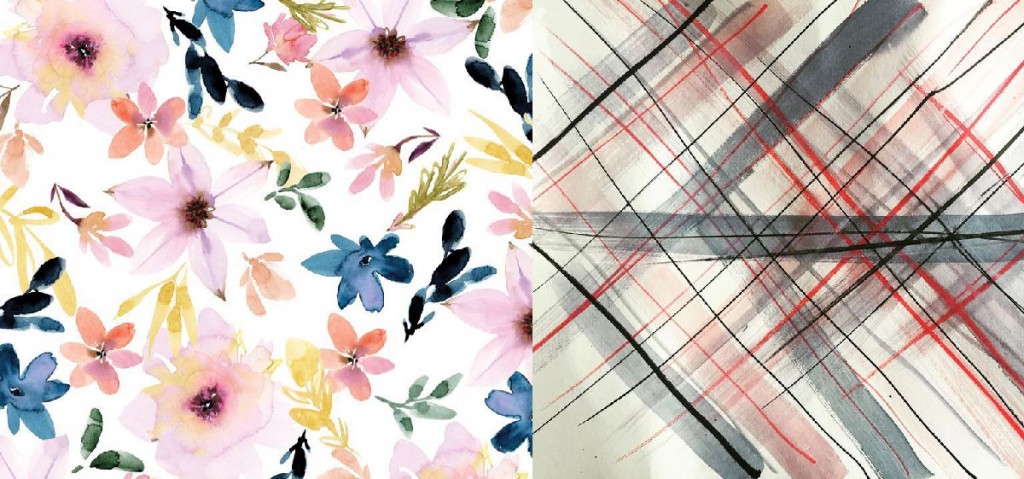 I mean….come on, how gorgeous is this floral pattern from Stephanie Ryan of @petalandlight? I just want to escape into all the delicate layers of watercolor texture. Stephanie is an artist and intuitive painter living in Chester County, PA. Four of her patterns were just released on tumblers by May Designs and it is a beautiful collaboration. Check out more of her beautiful florals @petalandlight.
This beautiful watercolor plaid immediately jumped out at me. This moody piece was created by Dagmar Höffken and I am really drawn to the various layers and line weight that she used. Similar to the floral by Stephanie Ryan, I want to dive in and explore all the details and variations included. You can see more of Dagmar's beautiful line work and florals on her Instagram account, @dasign_7.
There is inspiration for designers everywhere you choose to look. However, it isn't possible to be productive, learn, and grow as a designer if all you do is research online. You actually have to "do" in order to find the success and joy you're capable of in this industry. This is a part of the heart and soul of the Textile Design Lab community. It's a home where designers can take courses and learn invaluable tips to help them in their career, plus grow in skills and confidence from the supportive community that makes the Lab such a special place.
Get more information on the Lab and access a few of our favorite resources – for free!