I confess, I am sooo excited to dive into the holiday season, but I am trying my best to live in the moment and enjoy this downtime before the festivities begin. That's why this week we are taking the time to celebrate Fall – in all its glory – both here and on the blog and social media. I have chosen a stunning collection of Fall inspired patterns from our #patternobserver feed and I am excited to share them with you throughout the week.
I really love this pattern by Molly Vizesi. The yellow and orange motifs are classic fall colors, however, the addition of the soft pinks and blues make this a more memorable colorway. The layering and overlapping of motifs also brings such a nice energy to the pattern.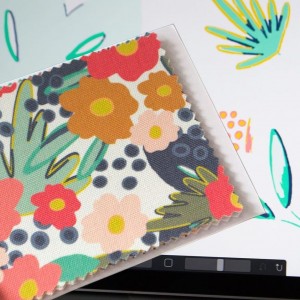 I was also drawn to the color palette and layering of motifs in this pattern from Jenny Edwards. The play between the orange, pink, red, and green is so intriguing. In this photo, she is showing us a doodled, tropical print, which started on the iPad and later became a featured fabric swatch for her Surtex booth.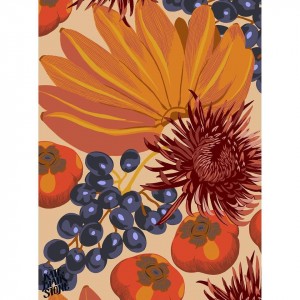 This show stopper of an illustration is by Kate Blairstone. Kate is an Illustrator, Wallpaper Designer, Colorist, and Mom based in Portland, Oregon. The luscious color palette was the first thing to catch my eye, but I was really attracted to the bold scale and illustration style of these Fall-inspired motifs. The usage of the various motifs and colors that are so well balanced also brings a lovely movement to the layout.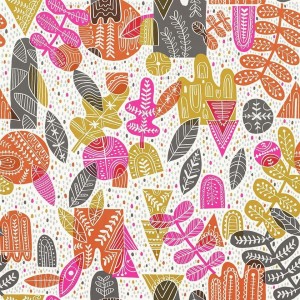 Amanda Kay is a lovely illustrator who I just started following on Instagram. Her illustrations and patterns are slightly abstract and heavily detailed and layered with various motifs, marks, and textures. I was drawn to the color palette that she used and the added details, which give the pattern a slightly more festive holiday vibe.
There I go again…back to the holidays. I just can't help myself, I am ready for them! If you want to shake up your design process and bring new sources of inspiration to your work I encourage you to get started with our free 5-Day Design Shake Up. Get started here.