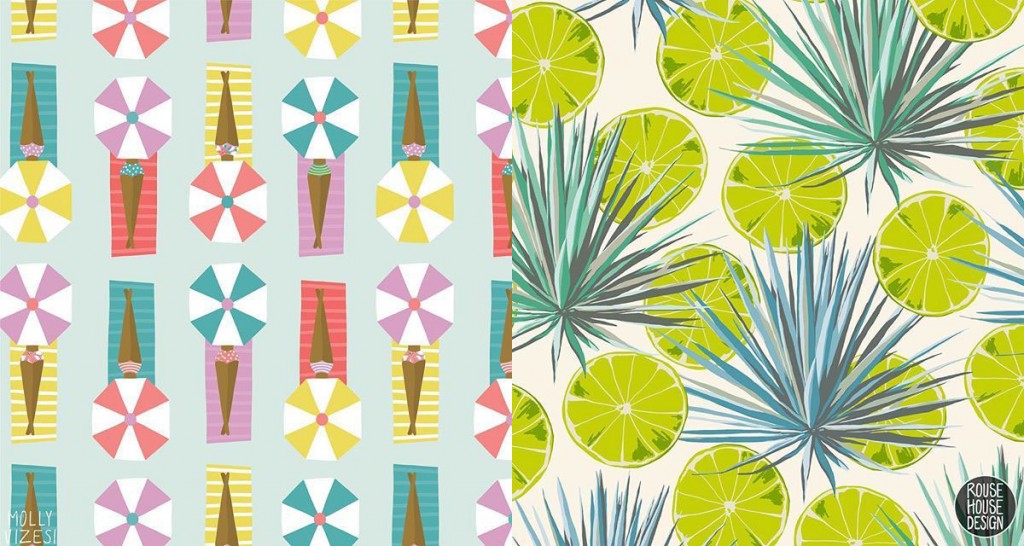 I've been thinking about the stories that we tell through our print and pattern work for quite some time. This seems to be a theme (concept) I cannot get away from, although I confess that most of my work is abstract and doesn't tell much of a story. But, perhaps out of admiration, I am obsessed with other designer's work that tells a story and how the perfect pairing of motifs can create a deep connection with consumers. It amazes me that by simply adding a 2nd or 3rd motif to our art, us designers can tell a much more memorable story for those who are viewing our work. Each motif is a new character in our pattern story, allowing us to go deeper into the narrative we are creating. I recognize that I might be over-thinking this, but the concept amazes me and this week I looked at all the beautiful work in our #patternobserver Instagram feed and pulled the patterns that I thought successfully told a story of sun, sand, and good times.
Here are just a few of my favorites:
This pattern from Molly Vizes immediately caught my eye. The colorful umbrellas, beach towels, and bathing suits quickly tell the story of a fun filled day at the beach. We think of sun, sand, good times with friends, and the chance to dive into a good book. The viewer immediately reflects on a fun experience they had at the beach, or a fun time they hope to have in the future. Molly does a great job of telling stories through her illustrations and pattern designs! I encourage you to follow her journey on Instagram, @mollyvizesi.
Textile Design Lab member Amanda Rouse Letscher also does a wonderful job with telling stories through her design work. What I love about this pattern is that it is so simple, yet the pairing of these two beautifully illustrated motifs tells such a clear story. As Amanda said in her description, "Agave + lime = Party time." Without the addition of the limes, this would have been an agave pattern. Or without the addition of the agave plants, this would have been a lime pattern, but by combining these two motifs Amanda is telling a more descriptive story. Check out more of Amanda's beautiful wok on Instagram, @rousehousedesign.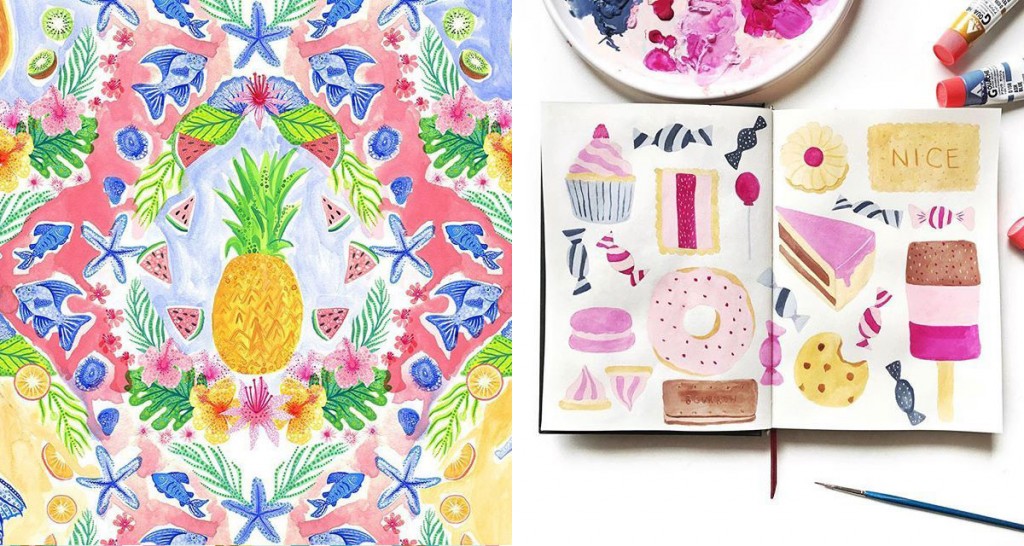 This design from Carolina Diaz is anything but simple. However, it lays out a beautiful story of a day in the tropics. A day of exploring tropical fruit, flowers, fish, and the bounty of the region. Her use of washy, textural watercolors is the perfect match for this sun-bleached beach scene. And it helps to bring the viewer into this relaxed, tropical state of mind. Carolina has a passion for these tropical beach scenes and her Instagram account is filled with her beautiful interpretation of the tropics. Check out more @carolinadiazb.
Last but not least, these beautifully illustrated motifs from Melanie Miles are bound to make anyone smile. They immediately sweep up the viewer and transport them to a time when they may have been enjoying these whimsically illustrated goodies, or a time when they hope to! We think of birthdays, parties, tea time with friends, a fun outing, or a special occasion, and it feels so good. Check out more of Melanie's beautiful work on Instagram @melaniemilesdesign.
Now what about you? What story are you telling in your work? If you're not sure, I have just the solution for you. Explore your story by taking our free 5-day Design Challenge. Get started here.