Something distinct you'll notice about Katy's work is her beautiful artistic style which is expressed through wonderful colorways and yummy painterly textures. The Surtex crowd is going to love it!
Katy Dika is a New England based surface and soft goods designer who trained at the Rhode Island School of Design, where she earned a BA from the Apparel Design Department. She also teaches there to this day and is the curator for the Edna Lawrence Nature Lab, a Natural History Museum at the school.
Her influences for her design work are drawn from many areas, including mid-century surface design, as well as patterns that occur in nature. Katy has long been fascinated by insects. One memory she shared with us is this: "As a young girl in the woods of Pennsylvania, where the Appalachian Trail ran through my backyard, I learned to morph an initial fear of insects and spiders into a healthy lifelong curiosity. Today, this has passed down to my young daughter."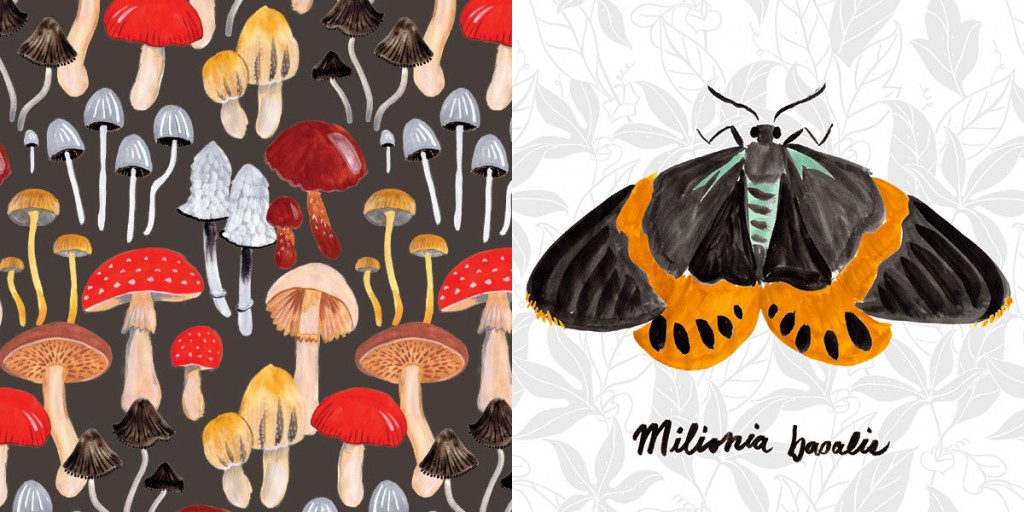 One thing that has captured our attention is Katy's current body of work, which is titled #itscomplicated. We asked her about her inspiration for this line and she shared, "This body of work reflects back to my travels in Australia and New Zealand in 2003 and 2004 as a Thomas J. Watson fellow. During this time, I studied with entomologists across both countries, diving deeply into topics such as sexually deceptive orchids and the wasps they trick into "mating" with them, and tiny micro Lepidoptera— moths whose larvae create gorgeous patterns on the leaves they feed on." We can see these topics visualized in Katy's pleasing repeating patterns, which offer more than aesthetic appeal alone. They give us a peak into the complex lives of insects and the plants they love.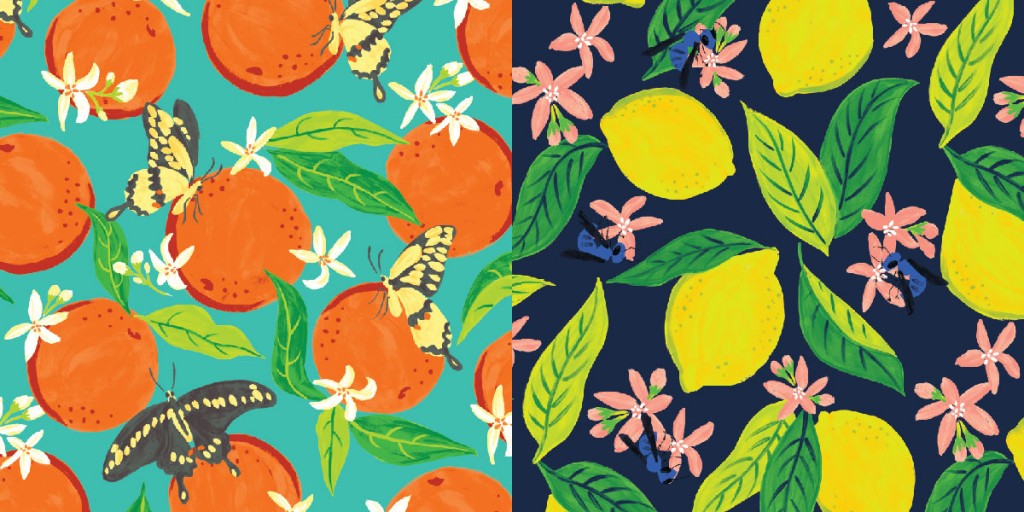 At this year's Surtex, Katy will be bringing tropical fruit, mushrooms, moths, butterflies, beetles, eggs, moons, and more! We asked Katy about her thoughts regarding her first time showing at Surtex. She said, "In my past life I used to buy art at Surtex, Printsource, and Premierevision. I'm super excited to be on the other side of the table this year!"
Remember, this year's Surtex is February 3-6, 2019, at the Javits Center in New York City. Make sure you stop by Katy Dika's Booth #3278 to enjoy her amazing talents. If you can't make it to the show or crave seeing more of her work, you can also visit  her website.