The Textile Design Lab is kicking off 2020 with a bang! We are delighted to welcome Juliet Meeks as our first Guest Expert of the new year. Juliet is the owner of Juliet Meeks Design, an art and surface design studio she has been working on full-time since 2015. She's based in her hometown of New Orleans, and creates a stunning array of original paintings and products adorned with her signature style.
On Monday, January 27th, Juliet will host a live training event for Lab members in which she will be sharing an overview of her process, starting from the product idea to shipping the final product to the customer. This includes tips for sourcing materials, determining your retail price, photography, marketing, and more.
We invite you to learn more about Juliet in today's interview!
Please tell us a bit about your career path. How did you become interested in the world of patterns and surface design?
My career began as a more traditional graphic designer – out of college I worked at a local newspaper doing editorial and advertising design. I was always fascinated by patterns and textiles and knew I wanted to design my own one day. I started dabbling in pattern design in my free time, posting to my blog, and sharing work on Instagram. During my time as an editorial designer I started dreaming about branching out on my own, and took the leap in 2015. After I left my job, a big turning point for me in the trajectory of my work was doing the 100 day project. I created 100 watercolor patterns during the latter half of 2015, and it's evolved into a full-time job ever since!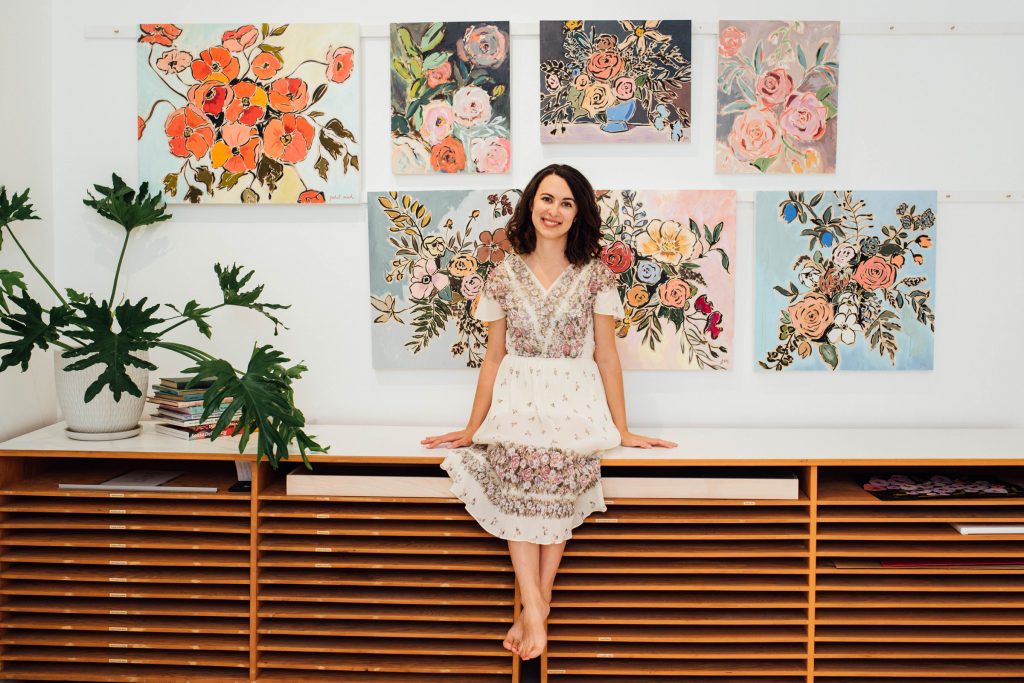 What inspired you to launch your own product line? What were some of the initial challenges in getting it off the ground, launching your website, etc.?
Ever since high school I was making and selling products – although then, that was sewing vintage-inspired clothes and designing jewelry. Once I started creating my own artwork and patterns, I knew I wanted to see those translated onto products. My product line launched on my website in 2016 with zipper pouches I sewed with my original fabric designs I had printed through Spoonflower. My biggest challenge in the beginning was getting out of my own head with launching with the "perfect" products. I have pages and pages of notes and sketches narrowing down patterns I wanted to sample, and attempting to make a cohesive collection. I didn't have a ton of money to start my line with, so that was a big challenge as well. Looking back I could have saved more time and money by just jumping in and trusting my gut as to which designs to move forward with. But that was all part of the process and allowed me to make more efficient decisions today.
Please tell us a bit about the different products you sell in your online shop. How did you land on the assortment of products you currently sell? Is there anything you'd like to branch out to in the future?
I just love dreaming up ideas for new products but I've learned that the ability to streamline my ideas down a bit is key. My shop evolved from zipper pouches and a small selection of prints, to now original artwork, lots more print options, a yearly calendar, and gift items like tea towels and notecards. I try to limit myself to one brand new product type a year, while keeping my bestsellers. I also create occasional limited edition products like I did last year with my scarves; I love licensing my work with fabric companies because not only can customers sew their own items, but I can produce products as well with that fabric for those who don't like to sew themselves.
This year, I am focusing more on my licensing clients because I do want to branch out into other product types without the manufacturing expense. My own shop will be focused on my original paintings and prints this year, with hopefully a fun screen print option as well (all of my other art prints are digitally printed giclées). I am also creating a new site for the digital resources and courses I will be offering fellow artists this year.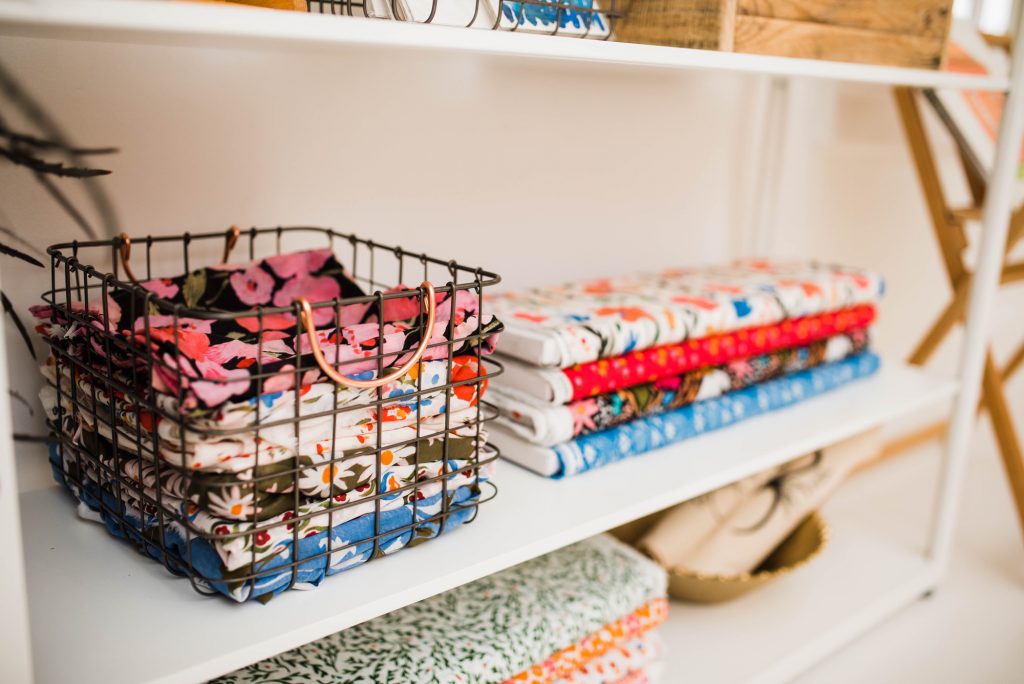 What does a typical day look like for you running your online shop? What are some of the challenges? What do you enjoy most about your work?
I think you'll often hear from shop owners or any freelancer that no day is typical. That's what I love! I tend to try to do too much in one day, and can be disappointed if it all doesn't happen. So now I try to focus on my main goals for that week, that month, and that quarter. It feels less overwhelming. My online shop is busier during certain times of the year (spring and fall/holidays), so when my main focus isn't on packing and shipping orders, I am either working with licensing clients during one week or creating my online courses during another.
Can you tell us a bit about the differences between how you sell your work to individuals vs. for wholesale? Do you market to these sectors differently?
I used to offer wholesale but decided to take a step back from that and focus solely on my retail market. I think wholesale is a great model for certain companies, and maybe even for me in the future, but for now I wanted to really nurture my own website and spend my time creating the best customer experience possible. I really enjoy always improving that process.
Do you have any tips or resources to share with surface pattern designers who are looking to develop their own product line or launch a website to sell their work? What do you wish you had known when you were first starting?
Since it can be so difficult to launch your shop without lots of capital, I wish I had known to start with just one type of product that is not too expensive to produce. For example, instead of buying my printer right away (although I still use it and it was a great investment!), I could have outsourced my art prints on a made to order basis. Now there are so many resources to help you launch a shop without housing any inventory. I'm not just talking about sites like Society6 and Zazzle; while those can be great for certain people I am not a big fan because of how competitive they are and the small profit artists receive. If you aren't able to fund your shop upfront, check out alternatives like Printful or maybe only producing your products on a made to order system. That being said, I made it through the initial challenge of opening my online shop in a more traditional sense, and now 4 years in business is smoother. It just takes time!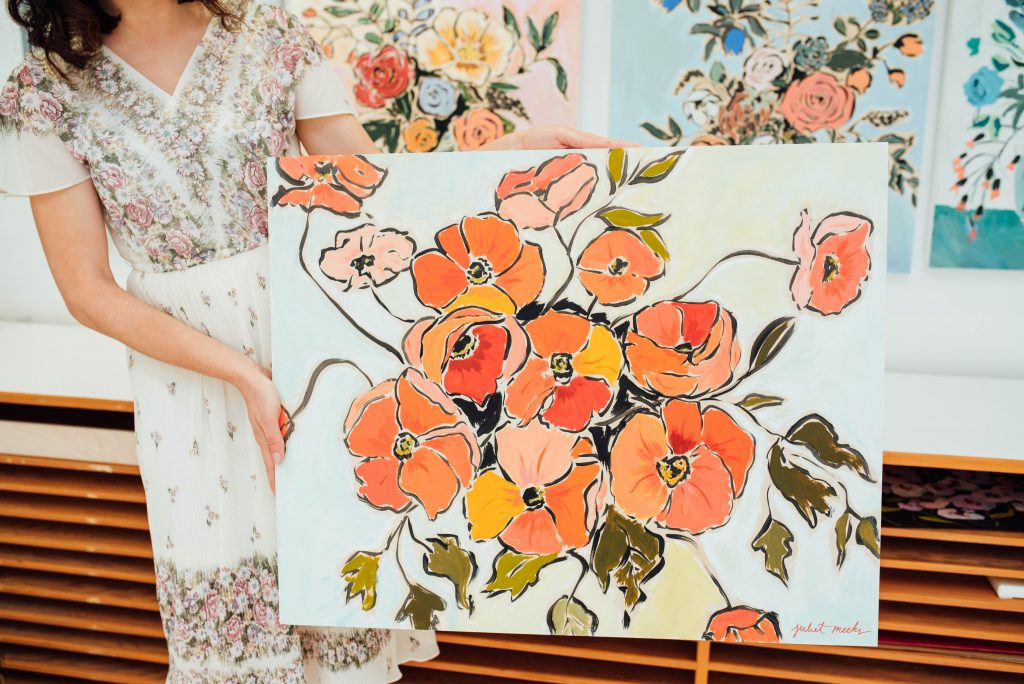 What advice have you received in your career that has stayed with you or influenced you?
In the beginning I was always looking to what other artists and business owners were doing, and thought that what they did had to be the next steps for me, too. Now I have a better understanding of how important it is to truly forge your own path, so that the business you build fits YOUR life, and not someone else's.
What actions or decisions have made the biggest impact on your design business over the years?
Building a community of friendship with fellow artists and freelancers has probably had the biggest impact on my life these past few years. This is coming from someone who avoided any and all group projects in school! Talking with them through next steps, challenges, even just personal and fun conversations makes me feel less alone and invigorated every time. I will for sure be making time to attend a conference or two this year and of course continue the friendships I've formed online.
Can you give us a quick preview into the training you will be offering to our Textile Design Lab members? What can people expect to learn?
For my training with Textile Design Lab, I will be sharing an overview of my process starting from the product idea to shipping the final product to the customer. This includes tips for sourcing materials, determining your retail price, photography, marketing, and more. I'm looking forward to sharing my process with the TDL members!
You can see more of Juliet's beautiful work on her website and on Instagram.