For this One Hour Challenge I am going to be providing you with a simple file to download to serve as a starting point for a new print (or prints!) Below at left you can see the file you will be working from, a simple white page with some dots on it. What you do next is completely up to you, and you can let your imagination run wild! Here you can see examples of two completely different directions I went, both starting from this file.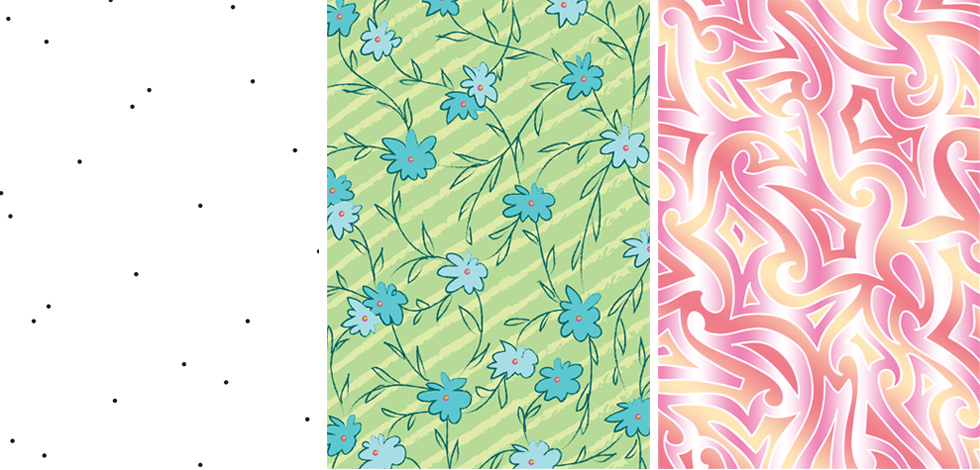 In the floral print I built my flowers around the dots, so that the center of each flower is one of the dots, and in the pink print on the right I drew around the dots to form these swirly shapes. You might connect the dots with straight or jagged lines to form an interesting geo, blow them up really big so that they become overlapping circles, copy and paste them many times so that it becomes an all-over ditsy dot print…the options are endless!
What I love about this challenge is that there are so many different approaches that different designers will take when working from the same starting point. It really is a chance to see how your unique design brain works, and what you can build from a very simple base.
The file was created in Illustrator, but you are welcome to open it in Photoshop, or print it off and add to it by hand! You can download the file through Dropbox here.
How to Take Part in the One Hour Challenge
There are no deadlines for the One Hour Challenge, this is meant to fit into your schedule whenever you have the time or need a creativity boost. If you would like to share your results of this challenge on social media, please use hashtag #patternobserver and/or tag us @patternobserver. You may see your work shared on the Pattern Observer Instagram feed or Facebook page! 🙂