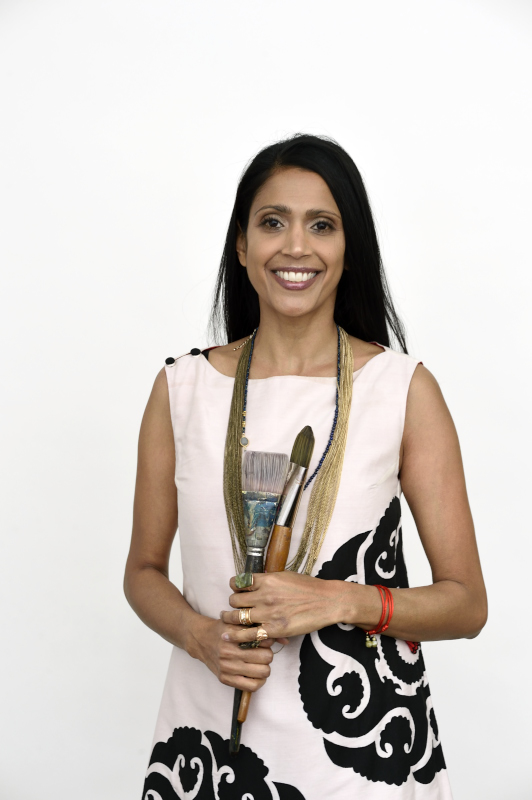 Rita Patel is a talented artist, designer and creative ally who also happens to be an international speaker, coach and generative consultant on wellness. She has been a part of our Textile Design Lab community for years, and recently contributed her expertise to our popular Wellness Workshop. We are thrilled to welcome her as this month's guest expert within the Lab!
On Monday, April 27th, Rita will host a live training event for Lab members in which she will be "guiding people through a new way to interact with art that can be both a personal wellness practice and also be a source for design inspiration." Please read on to learn more about Rita's background and what she will be sharing with our community in her role as guest expert!
Can you tell us a bit about your design background and career path?
I have an untraditional design background. When I was in graduate school in 1998 studying public health, I had started painting at The Art Students League in New York City. During that time, I saw on Oprah two models turned pattern designers and I was enamored. People had already been telling me my abstract paintings would make great scarfs. And on the interview I learned that there was a whole career where I could apply my art. I started my pattern design journey right away! My art practice became part of the workflow of my surface pattern design process.
Please tell us about your current business and the different services and workshops you offer. What do you enjoy most about coaching and what does that process look like?
At the core of my work, is how can I help people expand their creative abilities and capacity so they can thrive and be together with others. I consult with organizations to shift to a culture of caring where I use prompted writing and creative prompts to help build teams and wellbeing while meeting their organizational and financial objectives. Outside of that, I work with groups and individuals through coaching and workshop trainings where I employ the arts and creative exercises in a both a therapeutic and capacity building way. I focus on community and relationship, mental and emotional wellness, how to be comfortable in the uncomfortable, how play is vital, and how our experience of beauty can transform how we show up in the world. For me, these are the foundations for the best quality of life which was the focus of my research in graduate school. I have researched the science behind all this which is helpful for some to take it seriously, especially an idea like play. In every case I start with language since that is how we make sense of our world, what they want to focus on transformed into a 'what if…' question and then I design experiences for people to see themselves differently. Sometimes I refer to that as increasing the possibility ceiling. What I enjoy the most is the heart connections that come from my work, when people start seeing themselves as human and creative, and the confidence that comes with that. I think that is why I enjoy the one-on-one creative capacity coaching the most.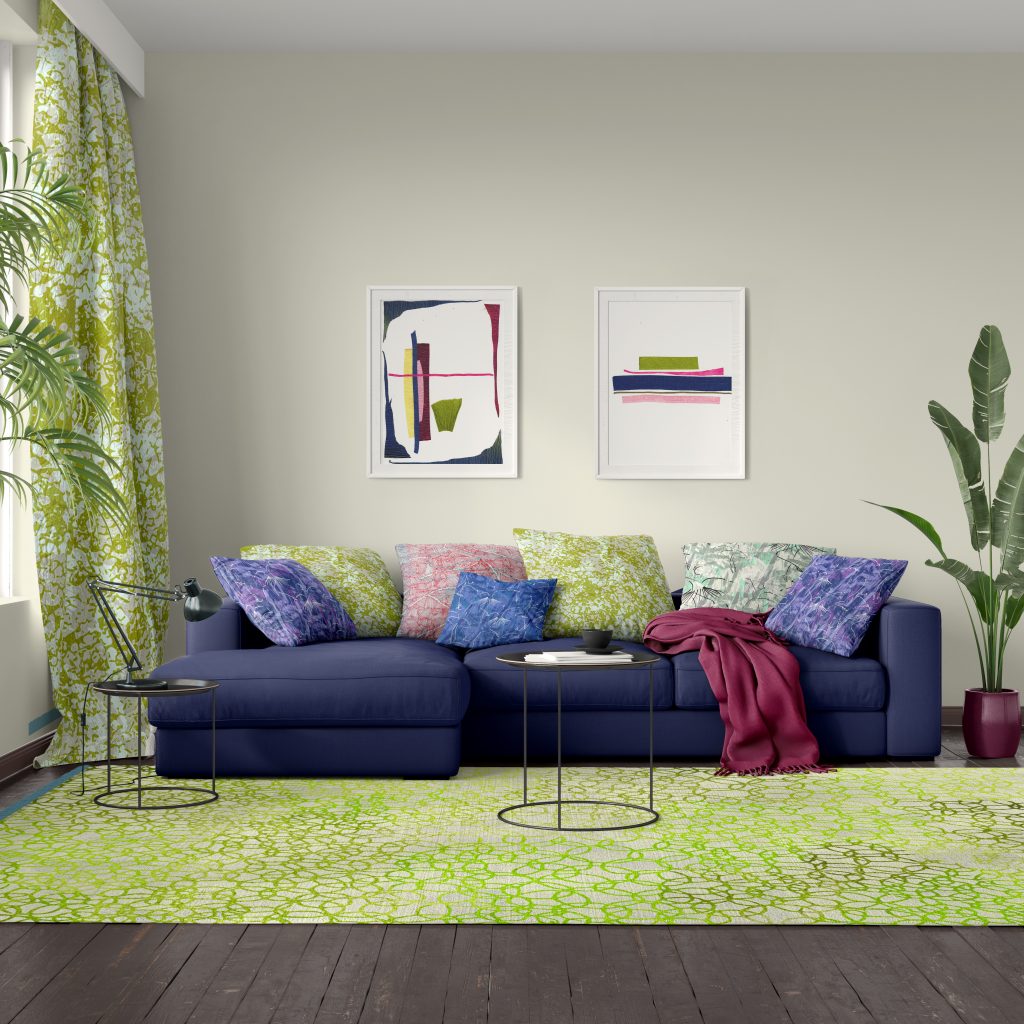 Can you talk about how you have integrated the concept of wellness/healing into your design process? Do you have any suggestions or resources for people during this difficult moment in the world?
For me, the design process itself is my personal wellness practice. As someone who has anxiety disorder, it settles me, keeps me from feeling anxious and brings me into the present moment as I start to visually see something beautiful unfold. I think we all put who we are and what we value into our designs and that has the potential to be healing to anyone who connects with that. For me, I value beauty and harmony and to be able to evoke that in others when they see my work connects us together to something bigger that is healing. I have two suggestions for people that could be helpful especially in our present situation. One is to set aside time to creatively express without any end vision or purpose in mind. The playfulness inherent in this and sans productive mindset allows us to be human and process our emotions. The energy here is one of expression + exploration like a young child. Lynda Barry (look her work up – she has many exercises) talks about how 4 year olds teach her so much. It could be with paper, paint, dance, music, etc. When we use our hands or bodies we are reaching into the subconscious which itself can be healing. And when all is said and done you might have some interesting material to incorporate into your design process. Second, I think to be able to have small practices built into your day that are balancing can be helpful but can also be a go to when you are in need. It's not so much about doing but coming into being. I am doing a talk later next week on "Six Tips for Anxiety' and I will share these practices here:
1. Basics: breathe (4 breath count); drinking water and sleep
2. Keep around and regularly interact with soft to touch material (blanket / stuffed animals) are soothing – the tactile feeling is a physical way to calm and be present
3. Experience beauty – whatever you find beautiful, photos of sunsets, etc. will move your brain into a space of calm, wonder / awe, love and gratitude
4. Watch comedy – laughter especially unexpected brings in the part of the brain that experiences joy and expansiveness, laughing together wires our brains for community, and stories are calming to the brain
5. Move differently…walking, dancing, drawing simple lines, exercise (focuses us in the present moment and produces endorphins)
6. Express what you are feeling: talk, write, scribble, cry and accept that it is ok.
7. bonus – Coloring pages – coloring in the lines is like walking in a labyrinth: almost no decisions to make and experience the beauty of the color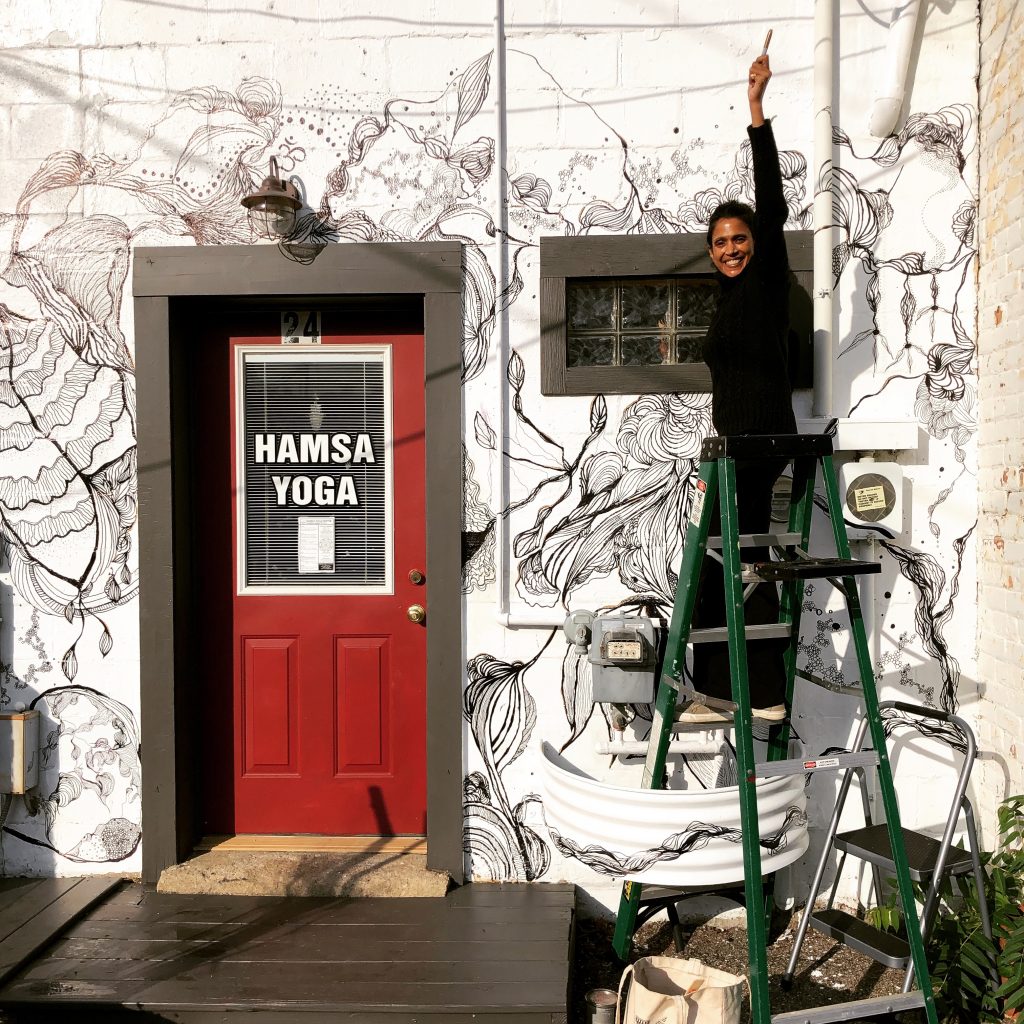 What have been some of the biggest challenges you have faced in your career and how have you tackled them?
My biggest challenge was not taking my design work seriously. I was surrounded by non-designers and people who did not even know what surface pattern design was and that kept me from sticking to it consistently and let doubt creep in. I am affected deeply by the company I keep because I like to be in relationship and one big thing that helped me was building relationships with people who do what I want to do. TDL has been the biggest community that helped be through this challenge.
What would you consider to be your proudest moment or greatest success in your business so far? What are your goals for the future?
Seeing my designs on fabric, clothing, bags always give me a big thrill. I remember the first time I received fabric swatches of my designs, I was running around this the house saying this is it! Also, unexpectedly, right now I am feeling excited to be able to bring together my wellness work into design. I feel I have more to offer by including that aspect of myself. I don't know what it means but it is exciting.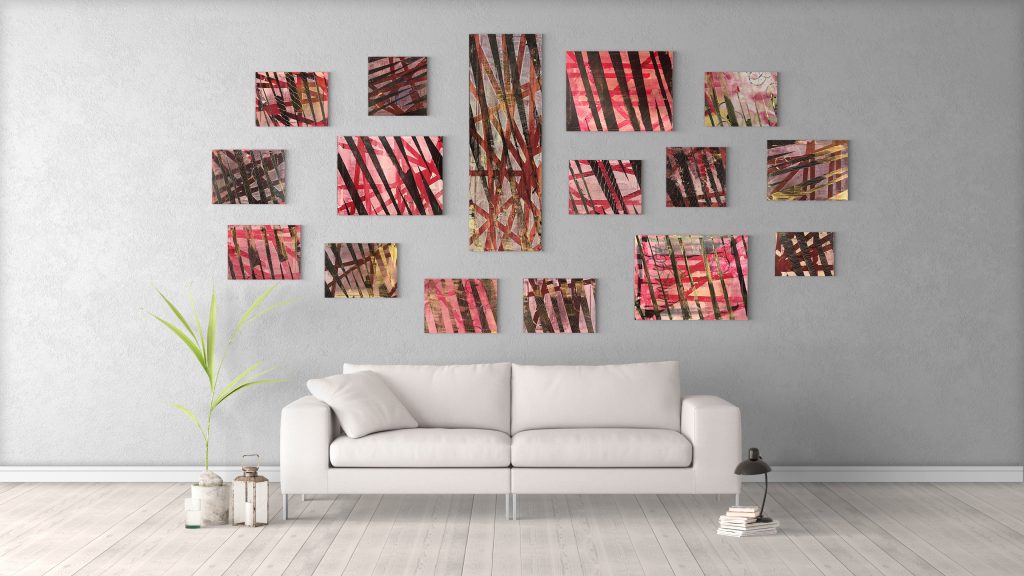 What advice have you received in your career that has stayed with you or influenced you?
I have always been fixated on making the right decision. I was told a long time ago that there is no right or wrong decision but only the one that feels true to you. It took me decades to understand what that meant. Following your inner voice, knowing that I matter, and expressing that in the situation that you are in, will not lead you astray. It may be messy or difficult but that does not mean it is wrong.
What is inspiring you lately?
I am inspired by other people's creative process and stories and how they put things together. I am taking a year long course with Carla Sonheim called Words + Art and am loving all teachers and what they share. I follow the Instagram account of Pero especially for their style and how they tell their creative process story. And I am always looking for films and TV shows with beautiful cinematography. My favorites right now are some Korean films and Sanjay Leela Bhansali films.
Can you give us a quick preview into the training you will be offering to our Textile Design Lab members? What can people expect to learn?
I will be sharing a workshop called Creative Excursion which is adapted from a program I implemented at the Detroit Institute of Arts. The training will guide people a new way to interact with art that can be both a personal wellness practice and also be a source for design inspiration. We will look at how art can be a conversation partner to go deeper or develop qualities (ie serenity) in us and how it can inform how we are in the world. It is a curiosity based mindfulness approach that can reduce stress and help people see differently.