Our Textile Design Lab community recently had a Speedy Design Challenge based on soft, painterly tropical patterns and I am thrilled to share some of the designs in today's post. Members were asked to create pattern designs for Women's Sleepwear for Spring/Summer 2022 and had just a few hours to complete the pattern designs that you see here. The image that you see above was created by Tori Parker. You can read about her inspiration below.
Painterly Tropical Patterns
Designer: Päivi Eerola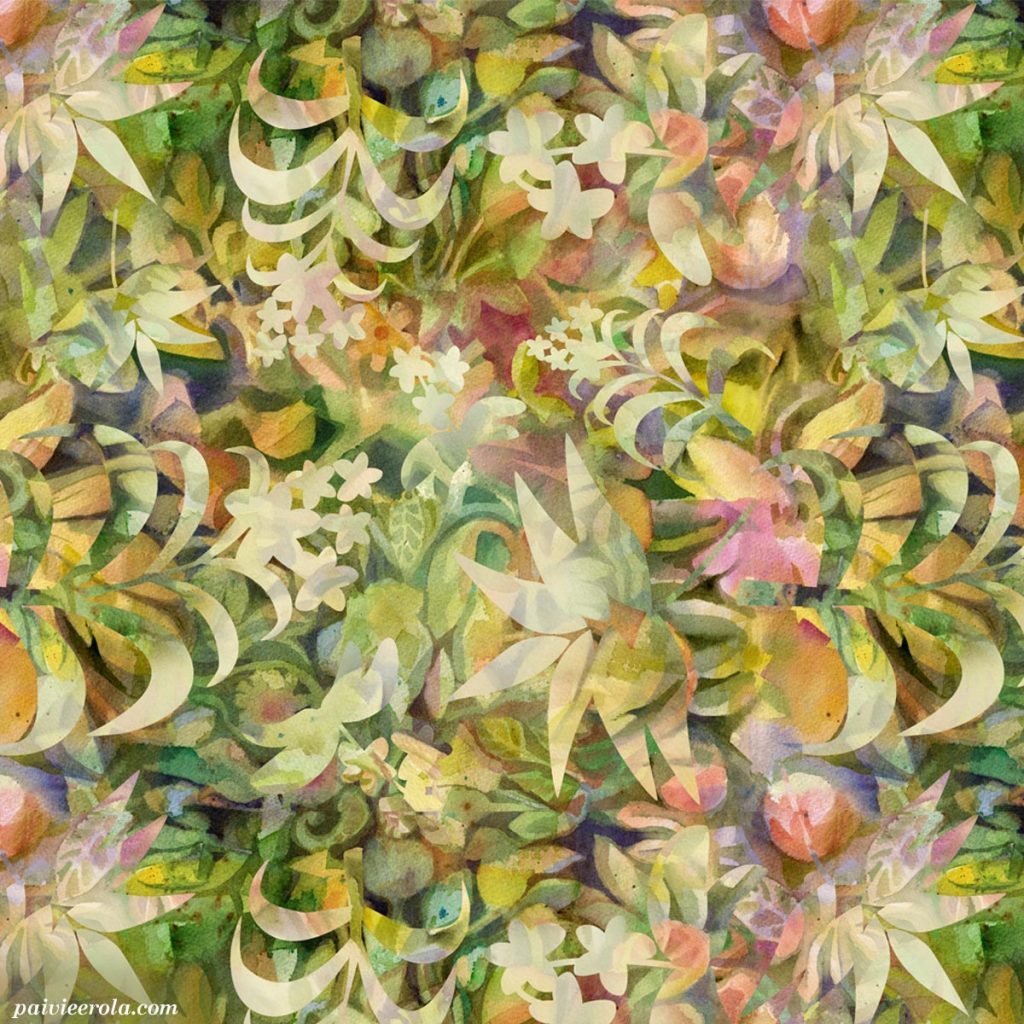 Tropical Pattern Inspiration: I like to think that plants are not silent, but they have a language of their own. My watercolor paintings often express personalities that I see in my houseplants. I used one of them for the background-repeat, and then layered it with drawings of leaves. When I paint or draw plants, I like to be led by my imagination and not replicate a particular species or such, but if I had to name one, orchids have had their saying in this artwork.
About Päivi: Paivi Eerola is a Finnish artist and designer whose home is filled with plants. You can get in touch with her here.
Designer: Tori Parker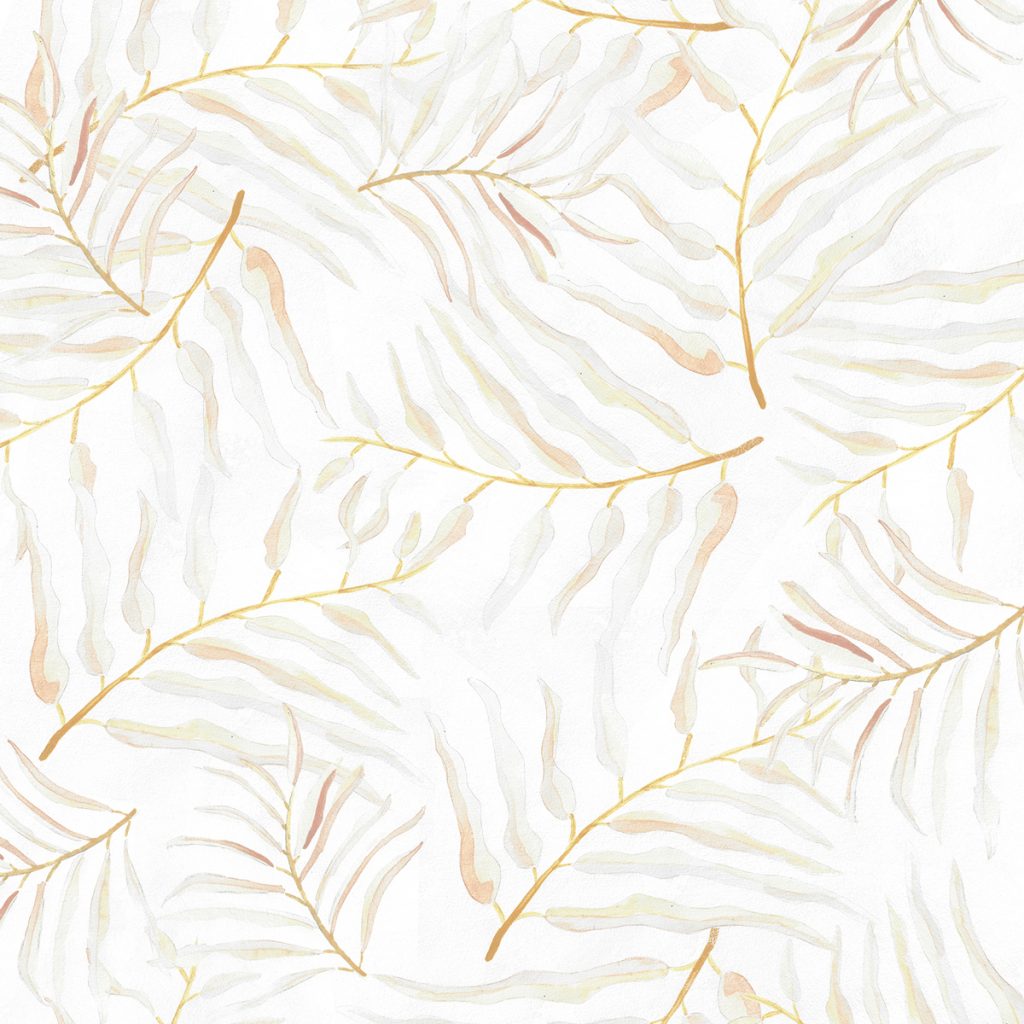 Tropical Pattern Inspiration: The color palette made this design challenging. I love tropicals but typically they are seen in bright colors, or lots of greens. As the design came together, the muted colors really became the story and therefore named 'Soft Ferns'.
About Tori: With a degree in Clothing and Textiles, Tori spent the first part of her career in anything but Clothing and Textiles – until now. Passionate about anything nature inspired, Tori is a Botanical photographer, specializing in large format macro photography. About 4 years ago, Tori learned about surface pattern design and she hasn't stopped drawing, designing and learning ever since. Connect with Tori here.
Designer: Natalie Bergeron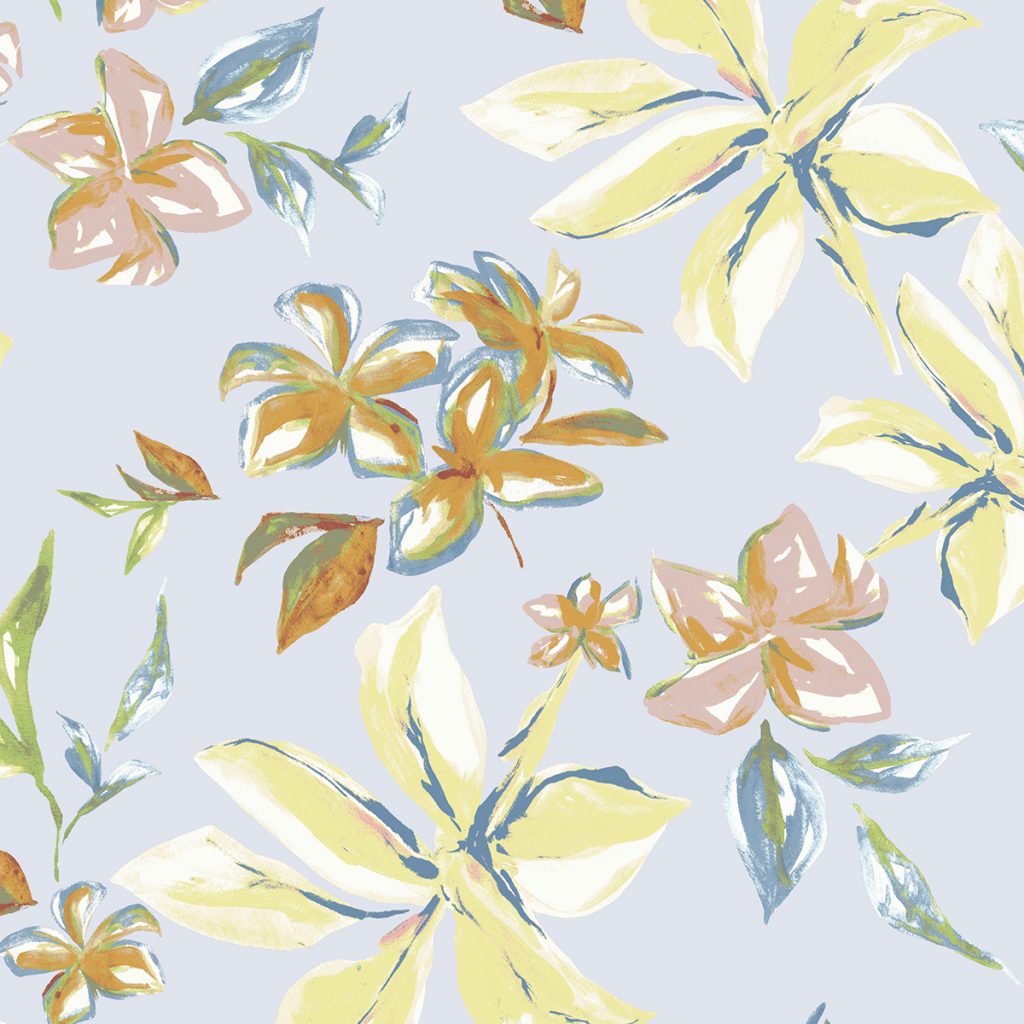 Tropical Pattern Inspiration: For this challenge, I was inspired by Plumeria Hawaiian flowers together with textures that we often find in tropical leaves. I chose to explore gouache with its dense colours yet in more pastels nuances with expressive and loose brush strokes. I like the contrast of a vivid and sunny theme such as the Tropics combine to a more subtle colour palette. I could see this on a kimono, robe or silk pyjama shirt and pants.
About Natalie: Natalie Bergeron, a Montreal-based graphic designer got a sudden nudge pulling her back to basics: paint, brushes, pencils… Recognizing a need to feed her very careful, precise approach to aesthetics with more freedom and sensitivity, she took a deep dive into the magical world of watercolours and gouache! This calling led her to pursue a passion for patterns, which she is exploring with brushes, expressing beauty as an emotion, as an endless dance between strength and vulnerability. Connect with Natalie here.
Designer: Renee Stramel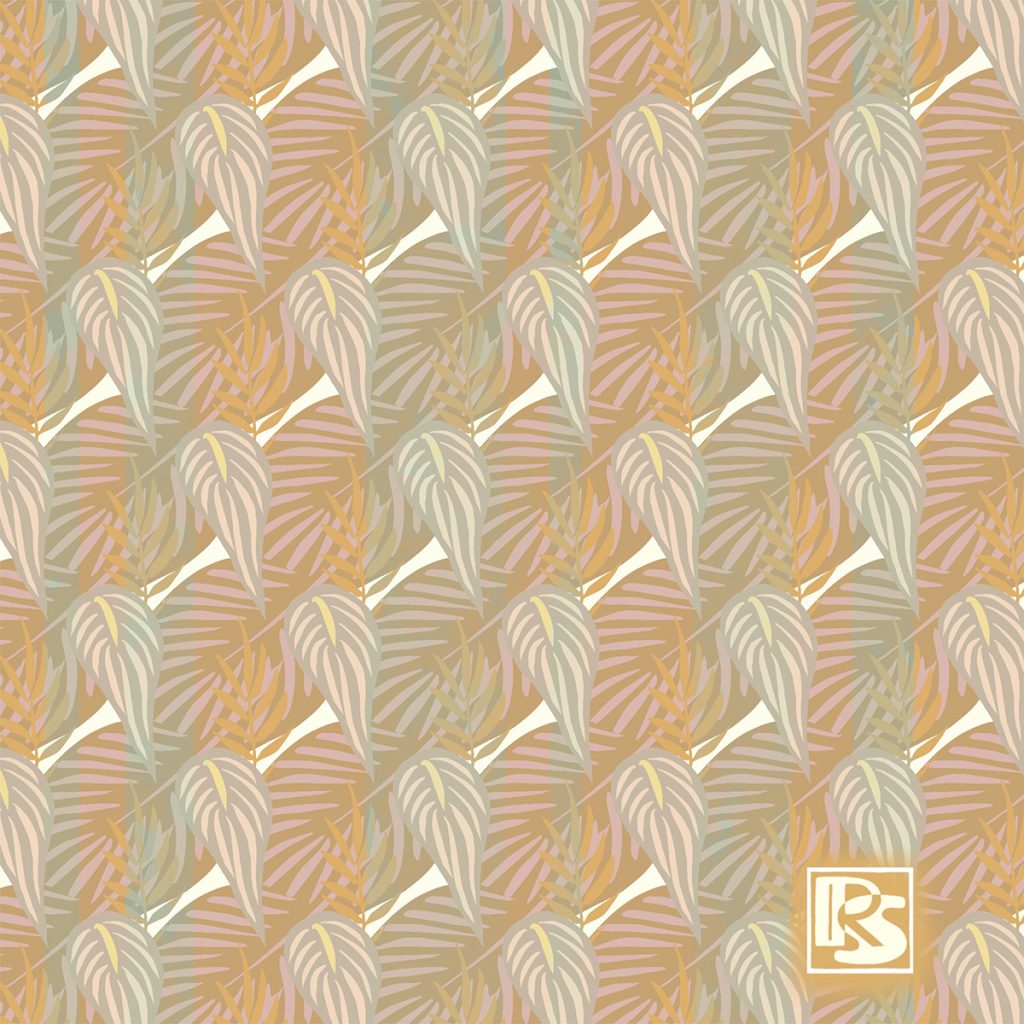 Tropical Pattern Inspiration: The pale, sun drenched colors of Soft Tropical was inspired by languid days at a hotel pool sipping pineapple daiquiris.
About Renee: Licensed and published artist from Richmond, Va who is new to the Surface Pattern Design industry. Connect with Renee here.
Designer: Rita Patel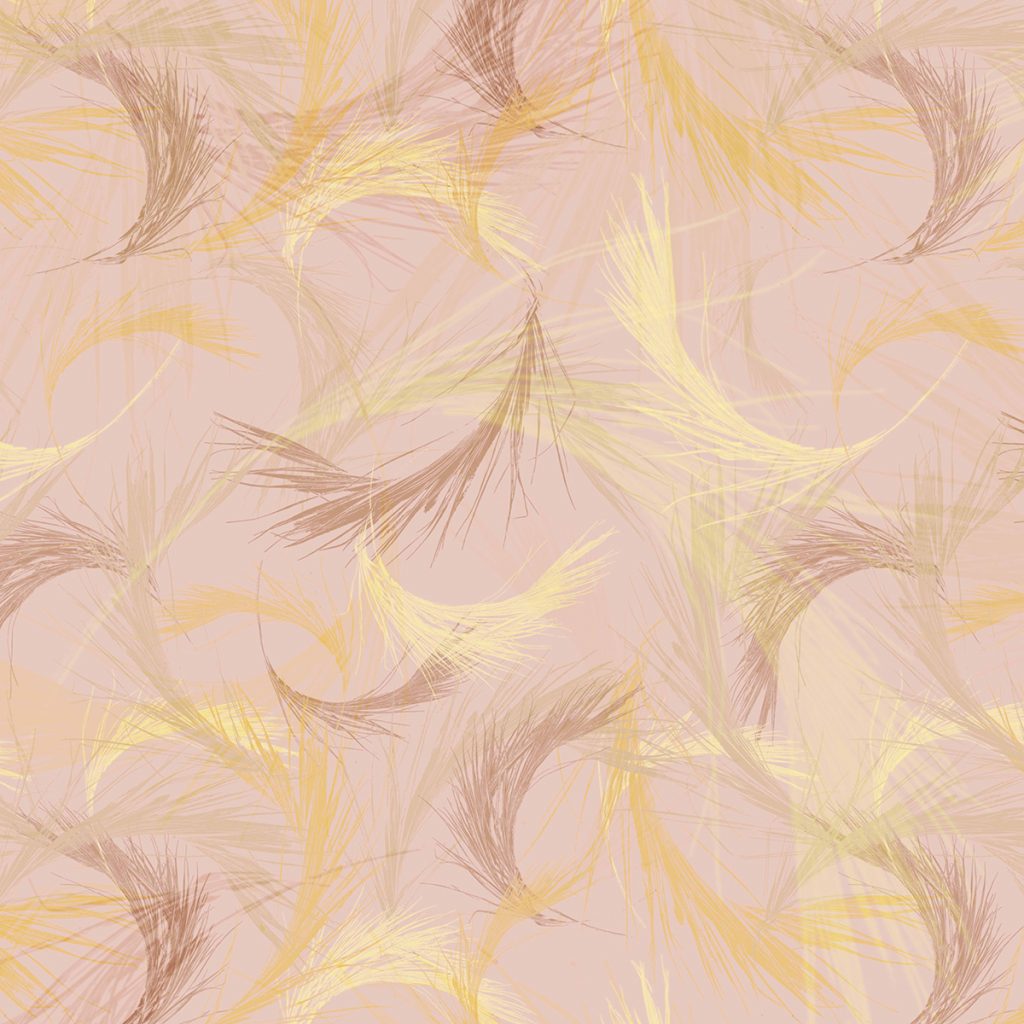 Tropical Pattern Inspiration: Thinking about sleepwear and tropical together, I imagined a subtle feel – something that would evoke a calmness that would induce sleep. I love the idea of swaying leaves from a warm breeze at night. It reminds me of a rocking chair or baby swing that sways and gently puts one to sleep. I had these dried plant leaves as part of my flora stash and photographed and colored them to give a soft painterly feel.
About Rita: Beauty is the foundation of my work. Being in conversation with beauty in my process is how I live an artful life. Through my work I aspire for people to experience beauty and come into relationship with it in their own way. I aim to create work that is attractive and opens them to imagine something new. I work in a variety of media to give shape to that idea. Through my fine art and surface pattern designs I aim to bring beauty into our spaces and places. Connect with Rita here.
Designer: Karolina Sato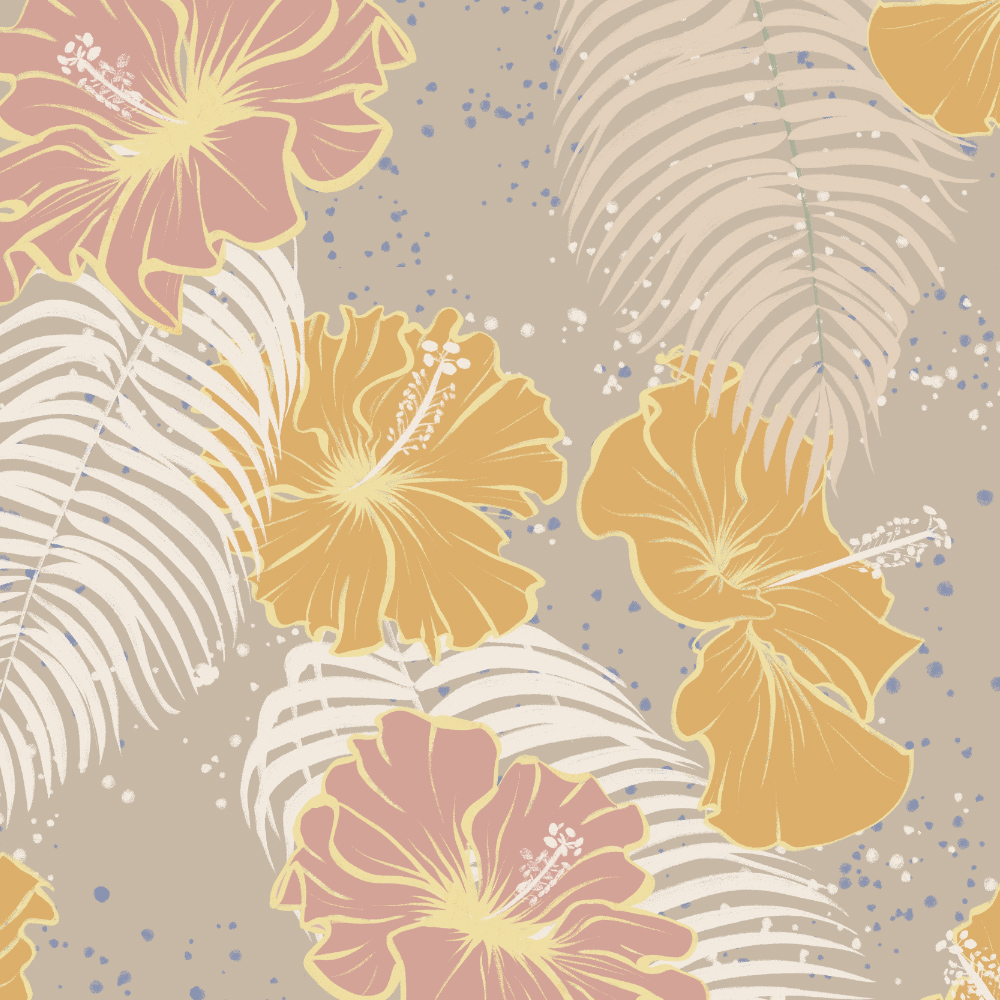 Tropical Pattern Inspiration: I love hibiscuses, bold and beautiful flowers. I have them on my windowsill and they were just in bloom in time for this challenge. I could sketch them to make this pattern.
About Karolina: Karolina Kinga Sato (Karolinko), is an artist and designer based in Tokyo, works in traditional Japanese painting, watercolor, ink, and digital media, and surface design. Her works are whimsical, vibrant, and joyful. Her inspiration comes from the relationship between humans-nature, ethnic art, animals, plants, and carnival culture. She experiments with pigments, rich textures, and dynamic color. Her love for patterns started with her exploration of oriental decorative arts. Connect with Karolina here.
Designer: Sandi Maxwell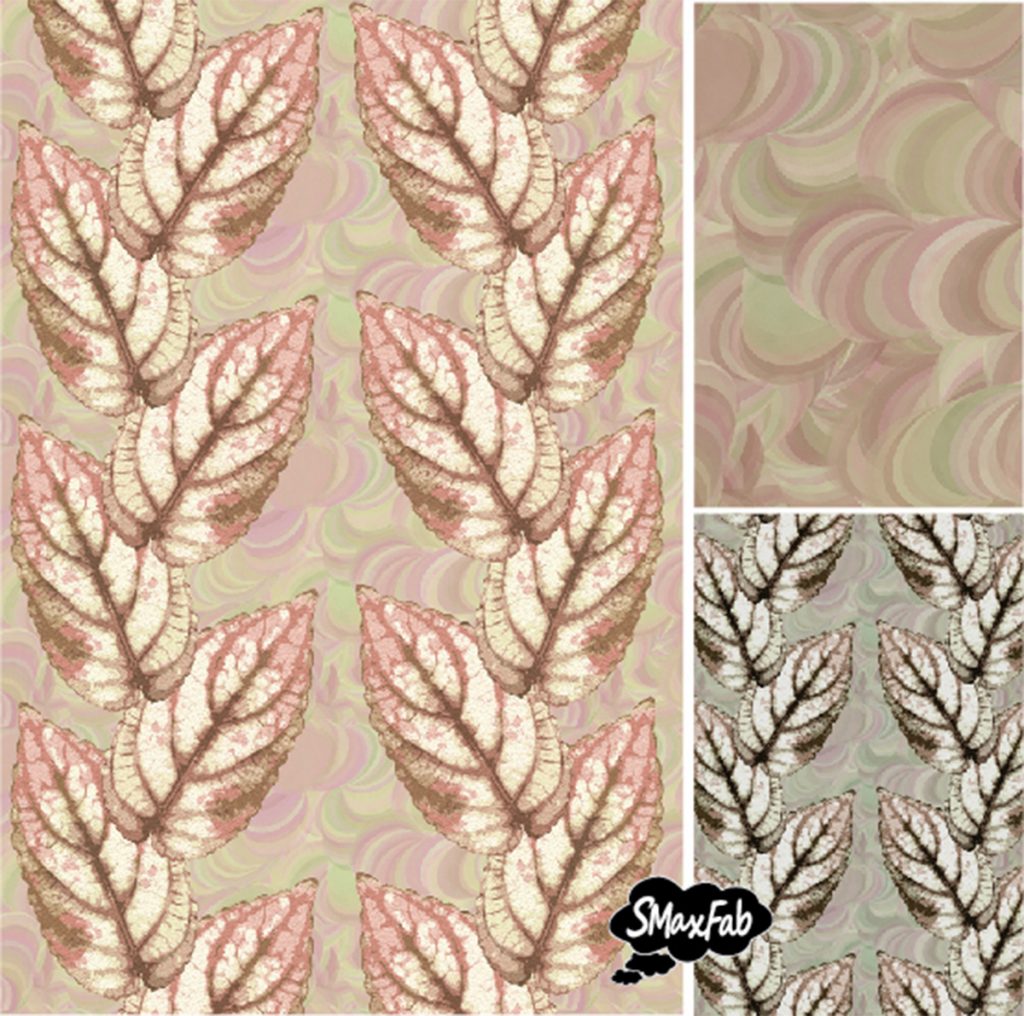 Tropical Pattern Inspiration: Tropical foliage is often lush and large, and in this leaf, also has amazing colours and texture. The whole package! The design layout is very simple to showcase the beauty of the leaf, with the background reminiscent of flower petals in a silky Moiré like effect. The design was primarily made in Photoshop, but with some simplification in Illustrator as well.
About Sandi: SMax is a contraction of Sandi Maxwell. Fab refers to 2 things: her love of fabrics and the vibe of her surface pattern designs. FAB! The growing thought bubbles refer to the bubbling up of SO many ideas. SMaxFab starts with a blank space and ends with a fully conceived design. Sandi's 1st career was as a Physiotherapist, the 2nd as Owner and Manager of a Natural Fabric Import and Wholesale Business, and her 3rd is Surface Pattern Design. Creating has always been part of her life, including Photography, Sewing and many forms of art. Nowadays she often misses mealtime because she is so absorbed in a design. Connect with Sandi here.
Designer: Ashley Jeziorski
Tropical Pattern Inspiration: Digital watercolor tropical print using monstera and fan plam leaves. I added the tropical flower heliconia not normally used in prints compared to a hibiscus. Added a soft pinkish grey marble texture in the background to tie the pinks in the print together.
About Ashley: Artist based in Hoboken, NJ with a background in both fine art and fashion design. Currently working as a freelance apparel/graphic designer and illustrator full time. Hopes to expand more of her business in the surface pattern industry by working on more textile projects and in her social media presence. Connect with Ashley here.
Designer: Sarah Nussbaumer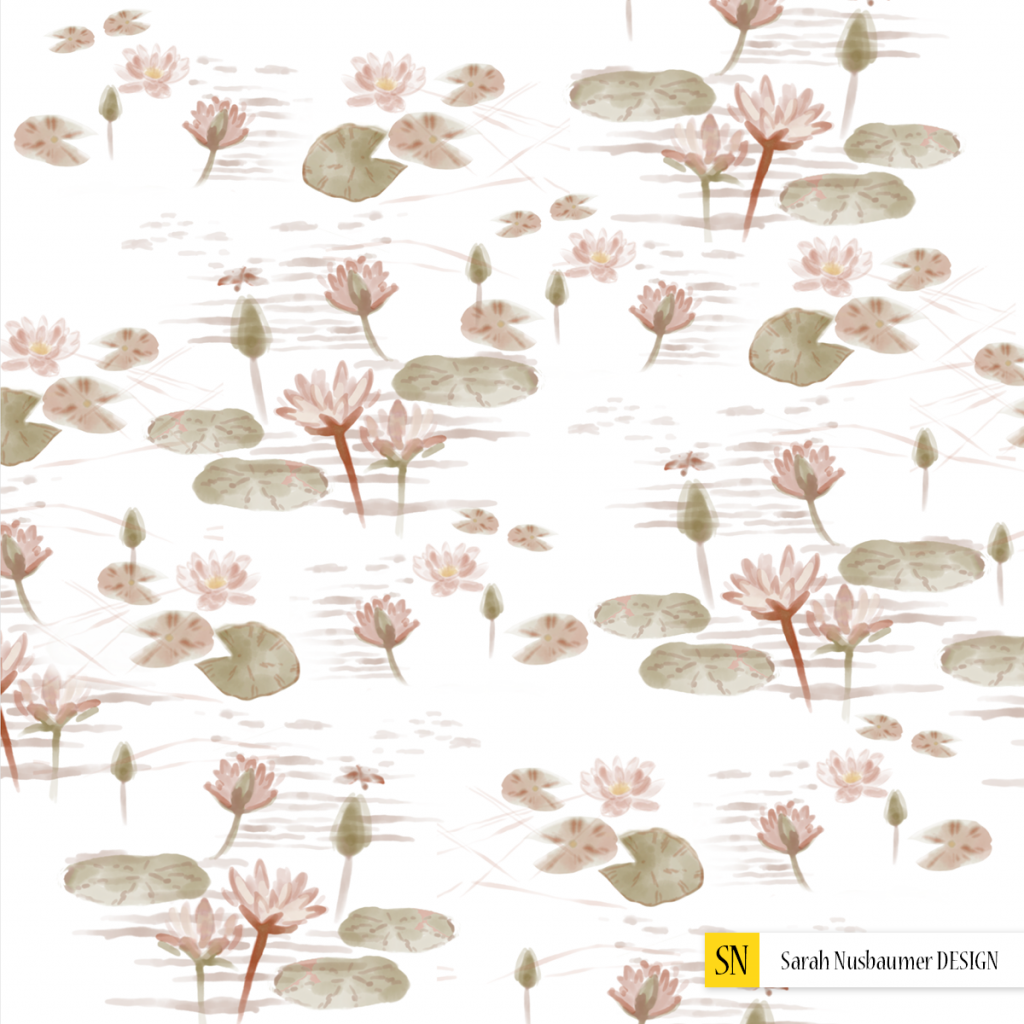 Tropical Pattern Inspiration: The challenge was to use botanical leaves and tones from jungle inspirations.In looking through my photos I came across some lotus photos and liked the idea of creating an open, airy, calm waterscape. The palette colors worked well with the subject matter to suggest a dreamy soft look for women's sleepwear.
About Sarah: Sarah is a surface textile designer who brings years of creative exploration as a printmaker and graphic designer to bear developing multi-layered patterns. The process of layering images, shapes and textures that are juxtaposed leads her to discover interesting unexpected combinations. Working between hand drawn traditional mediums and digital methods further expands the range of visual possibilities available when creating patterns. Her style ranges from delightfully simple to richly complex. Connect with Sarah here.
I hope that you enjoyed this presentation of tropical patterns by our Textile Design Lab community. If you are interested in purchasing or licensing any of these designs please reach out to the designer. Thank you!