In February, our Textile Design Lab community came together and worked through a daily pattern design challenge. They received one trend driven prompt for each day in the month and had the option of creating motifs or a completed pattern design. I was so impressed with both the quality and quantity of the work that was created during the pattern design challenge. In today's post I am delighted to feature just a few of the pattern designs that were created. The image that you see above was created by Kathleen Ruhl. You can read about her inspiration below.
Anastassia Behnke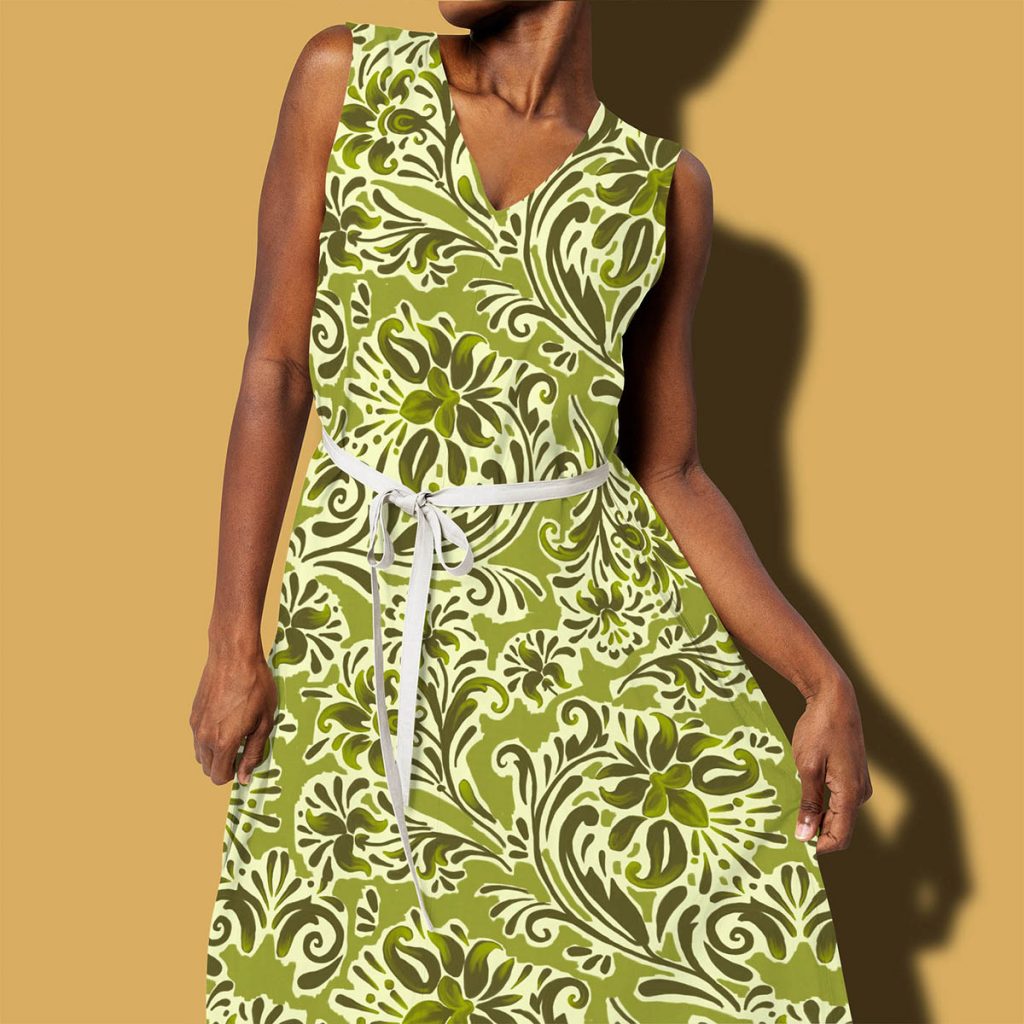 Pattern Design Challenge Inspiration: This pattern was created on the tablet, but it is still hand-drawn in every small detail. I wanted to explore wild brush strokes applied to a traditional pattern.
About Anastassia: I am a freelance surface designer based in Berlin Germany. I love to create pattern inspired by textures and objects you can find in nature. Watching the small things very closely is my passion. I also have an education in art history and enjoy mixing old art style with nature impressions and new exiting fashion trends. Connect with Anastassia here.
Paivi Eerola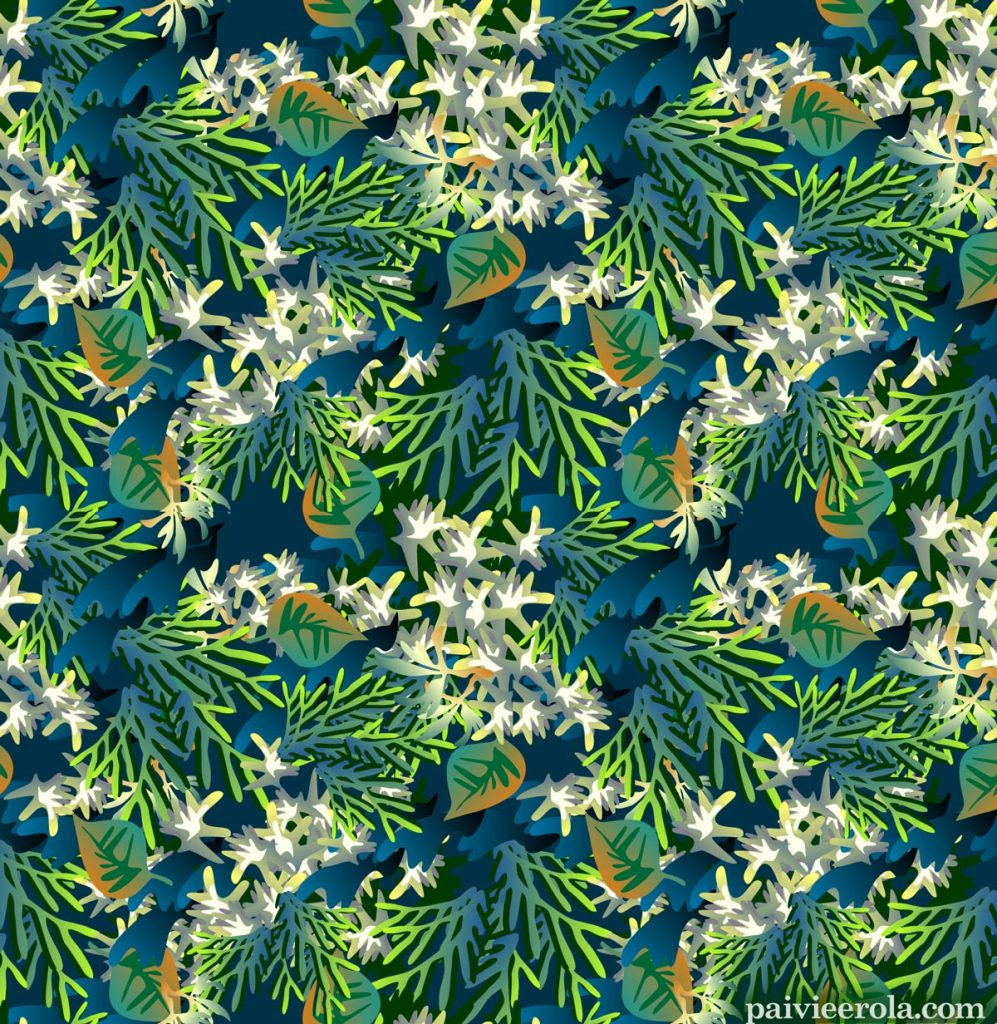 Pattern Design Challenge Inspiration: My design was inspired by vintage posters. They often have gradual color changes and atmospheric muted tones combined with eye-catching brightness and freshness. Plants and trees always inspire me too. When drawing, I imagine a personality to them. It helps me to forget what I have seen and do my own thing. This design has a wintery feel too. As a Finn, I am always amazed how plants and trees survive the cold times. The design is drawn freely in Adobe Illustrator.
About Paivi: Paivi Eerola is a Finnish artist and designer who loves plants and modern art. Connect with Paivi here.
Helen Fahler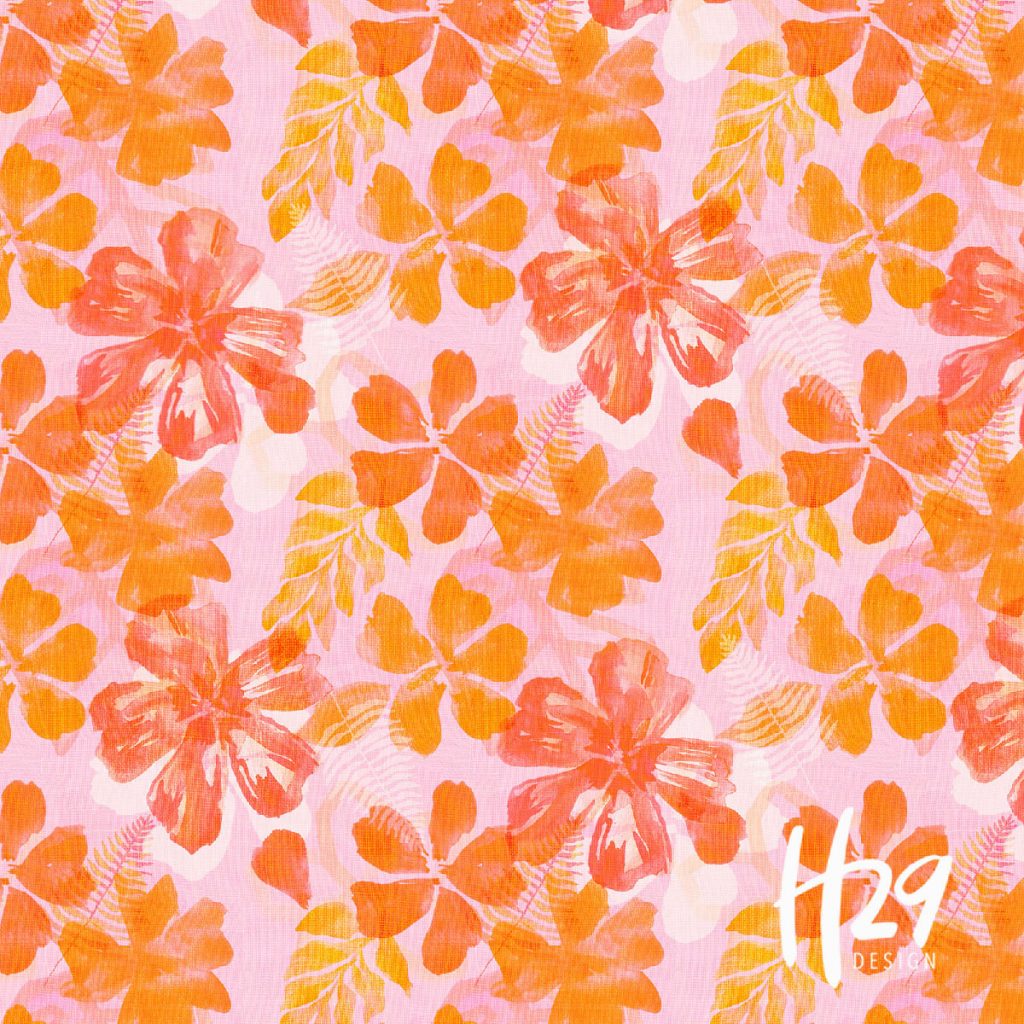 Pattern Design Challenge Inspiration: This was a new challenge for me personally. I painted bold, swashy floral shapes, inspired our recent trip to Kona, Hawaii. I also love retro Hawaiian prints, so played off that aesthetic with a sun-faded linen look.
About Helen: As an Art Director and Designer of consumer goods products, I launched my own freelance business, H29 Design, LLC in 2020. I'm living my motto to "do something creative everyday" and loving every minute of it. Connect with Helen here.
Rita Patel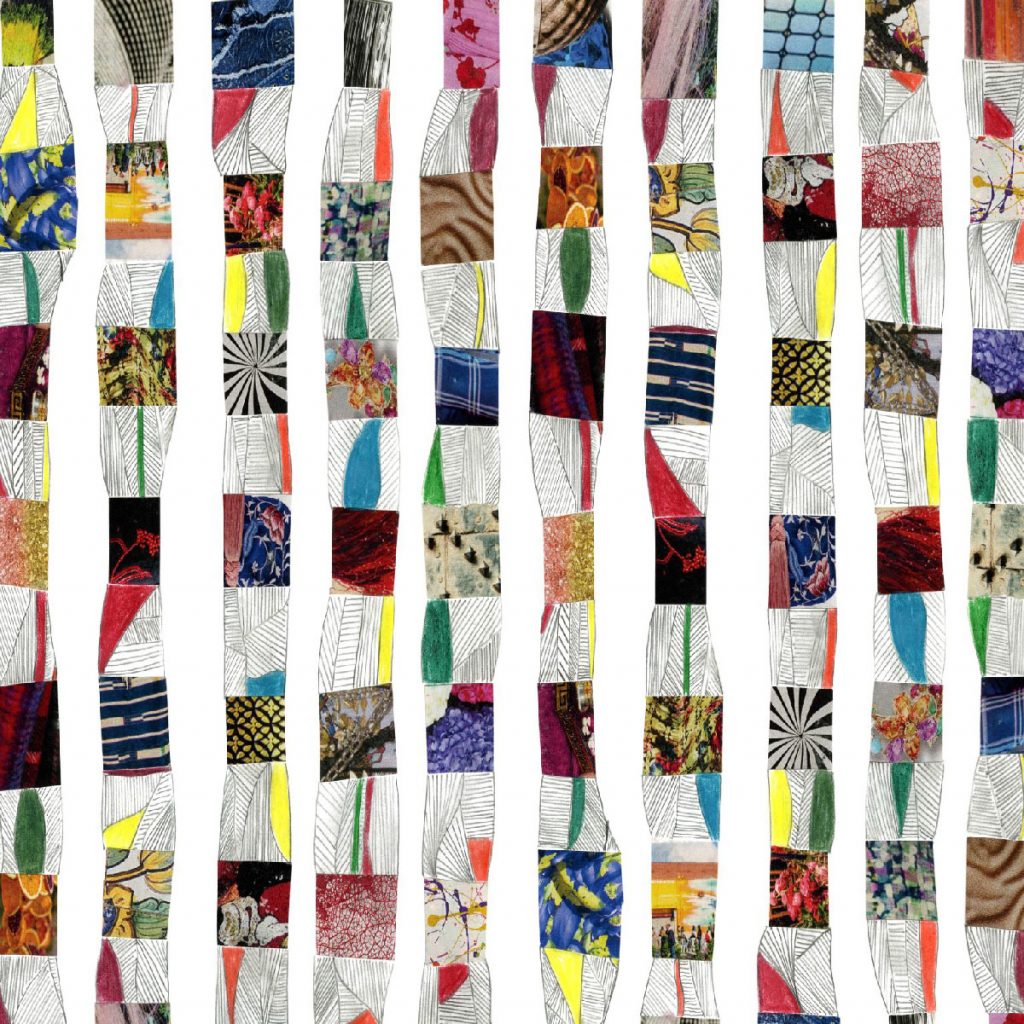 Pattern Design Challenge Inspiration: I am experimenter by nature. So I have a "library" of experiments in my files and sketchbooks filled with "what if" explorations into abstract shapes, illustrations, textures and color that are my go to for ideas when I design surface patterns. I enjoy that creative freedom and then how they can find their way into pattern design based on trends. Each part of the process is a satisfying surprise in its own way.
About Rita: Beauty is the foundation of my work. Being in conversation with beauty in my process is how I live an artful life. Through my work I aspire for people to experience beauty and come into relationship with it in their own way. I aim to create work that is attractive and opens them to imagine something new. I work in a variety of media to give shape to that idea. Through my fine art and surface pattern designs I aim to bring beauty into our spaces and places. Connect with Rita.
Linda Hoetink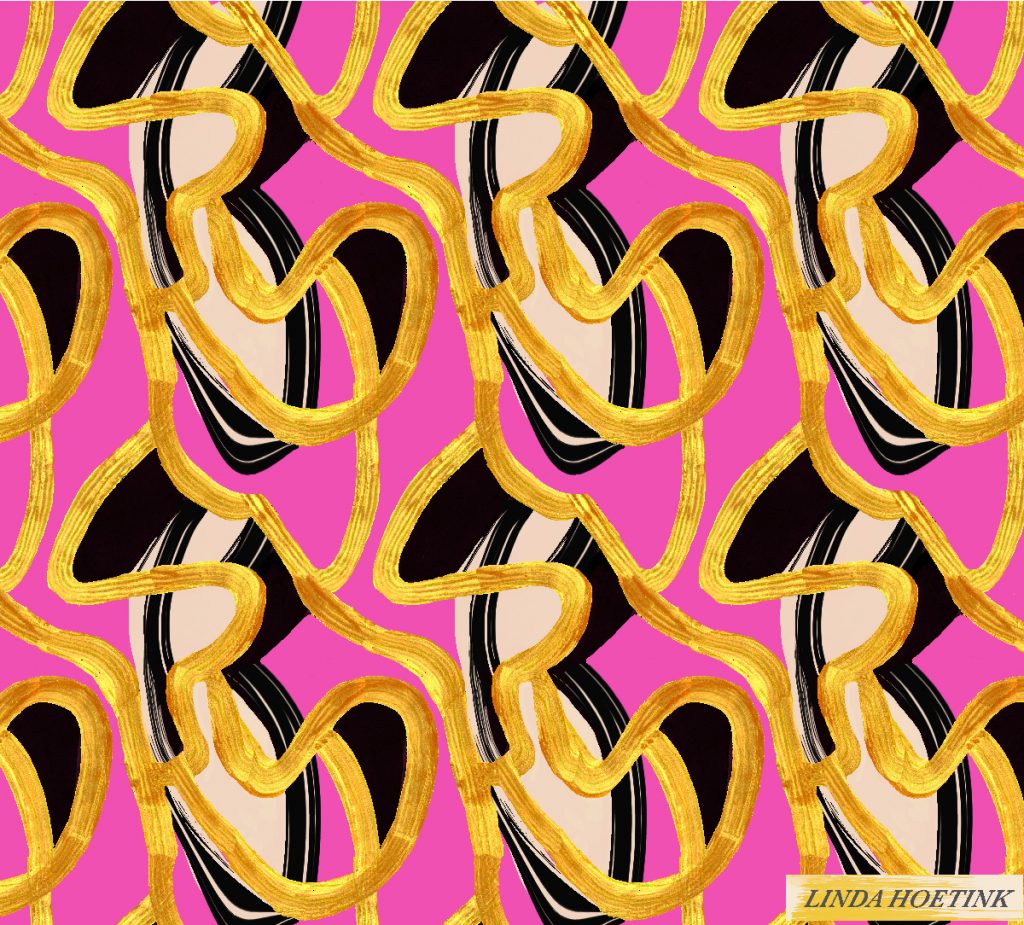 Pattern Design Challenge Inspiration: The theme for this speedy design was 'negative space'. That spoke to me immediately because as an (abstract) painter negative space is something I am very aware of and I approached the design from a painterly standpoint. The ribbon motif comes from a collage that I scanned in and the colors I applied in Photoshop. I was after something bold and punchy and tried not to overthink my choices.
About Linda: I come from a fine arts background but I've always been attracted to applied arts and textiles in particular. 20 years ago I started painting and printing on silks making cushions , scarves, kimonos. And the idea of becoming a textile designer took hold. I am interested in the line and cross-over between fine art painting and design and decoration Scraps of fabric have started to appear in my collages and paintings, and in my designs I try and retain a bold and painterly feel. Connect with Linda here.
Kathleen Ruhl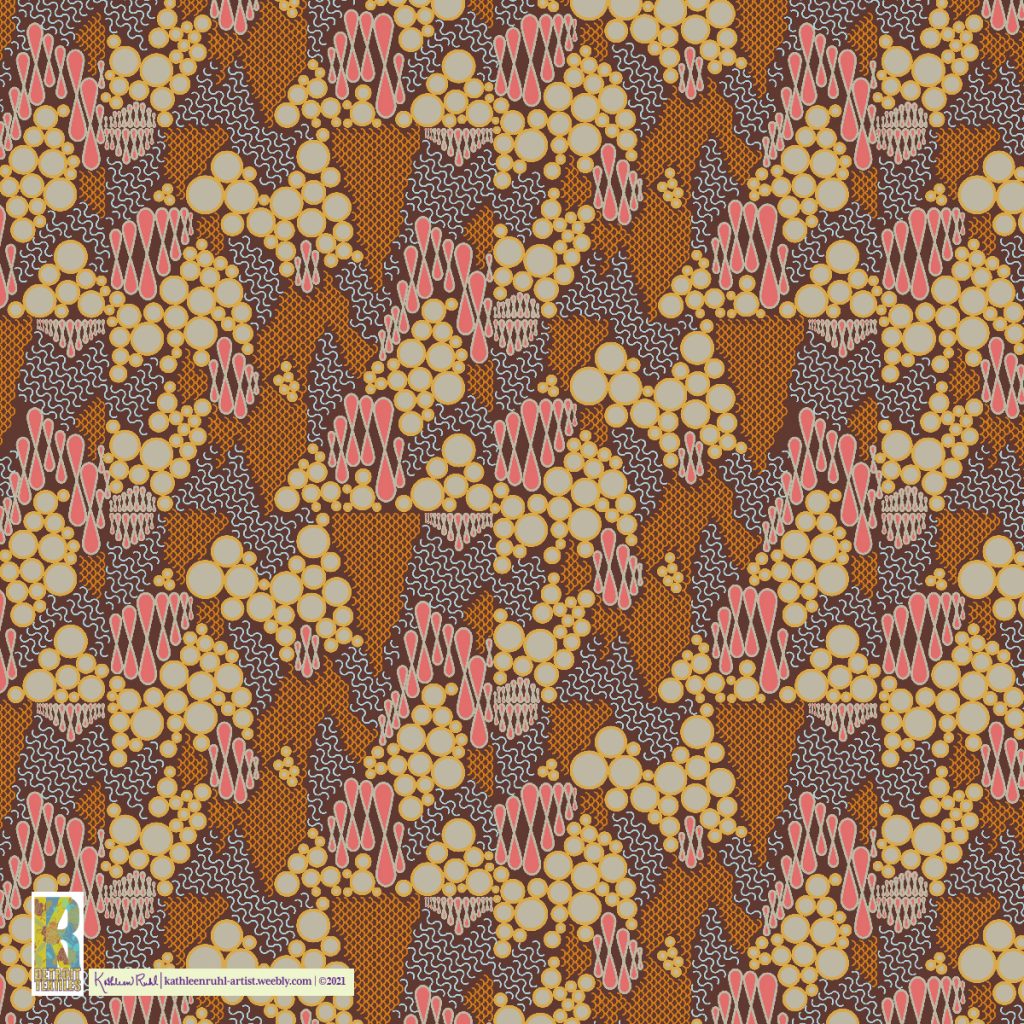 Pattern Design Challenge Inspiration: Circles and Squiggles was from the one hour LIVE workshop with Chelsea where we drew Lesser Known Pattern Layouts and especially the Patchwork and Scenic Layouts. As we were working on Scenic Layouts and instead of sketching a base of horizontal waving hills, I created more of a horizontal zigzag that overlapped creating more shapes. The design became more of a combination of the two types of layouts. Then on my iPad, using AI, I created a quick ink layout of various levels of circles, wavy lines, scalloped lines etc. to fill in the various sketched diamond shapes. This created the patchwork.
About Kathleen: Kathleen has loved creating art from a very young age. Learning to create surface pattern designs came later in life as she developed her style that incorporates harmonious color and often texture. Not one to shy away from where creativity might take her as she depicts the world she sees all around her and pulls it into something new and fresh. Connect with Kathleen here.
Stephanie Chauvel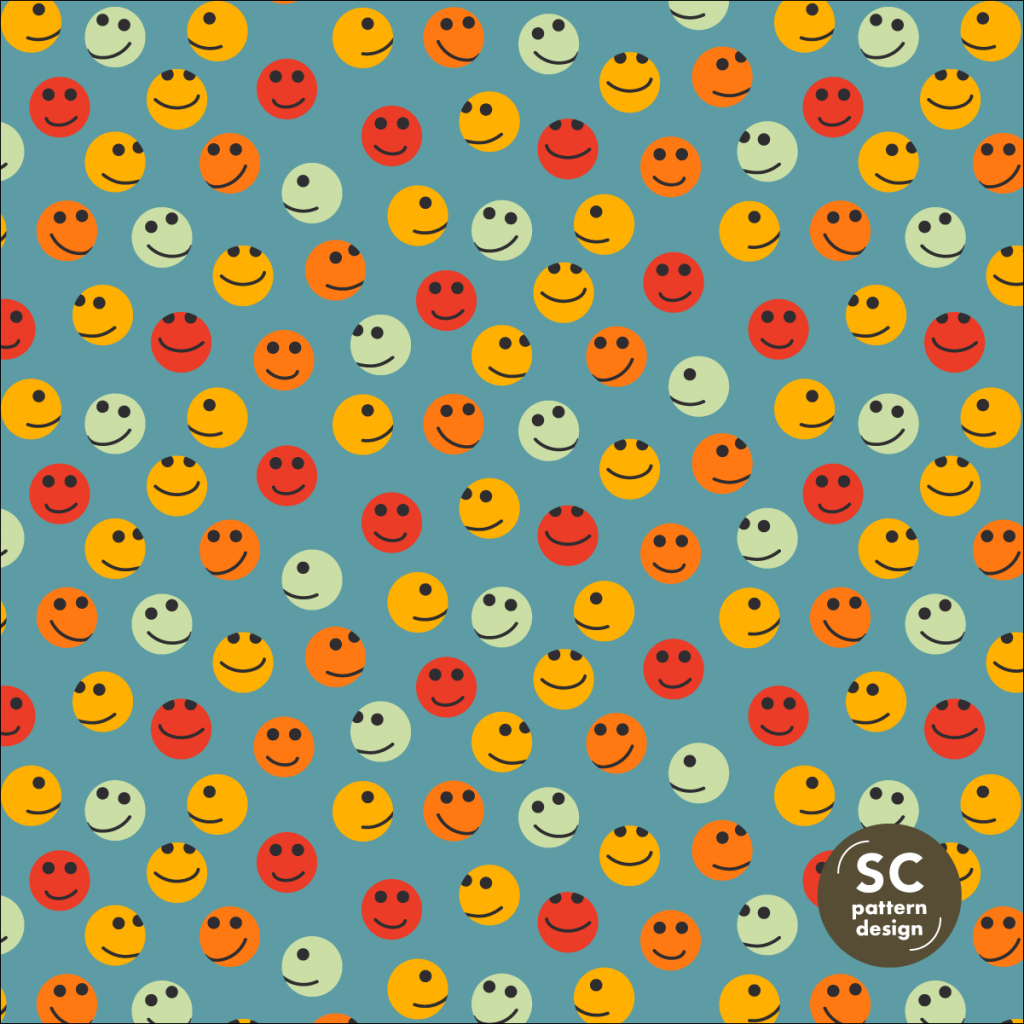 Pattern Design Challenge Inspiration: There's a dear need of lightness, happiness, colors and the Smiley Faces theme resonated on a deep level! I wanted them to be interacting, chatting, laughing, jumping, playing in all the ways we can't right now. They are loud, fun, different and inclusive! Yay!
About Stephanie: Rendered in a modern, simple, and yet sophisticated style, my designs are often playful and surprising, evoking a lively and cheerful feeling. Driven to create for the home, accessories, youth markets, my designs combine natural and abstract shapes to create a modern aesthetic that fits right in with today's trends. Connect with Stephanie here.
Sandi Maxwell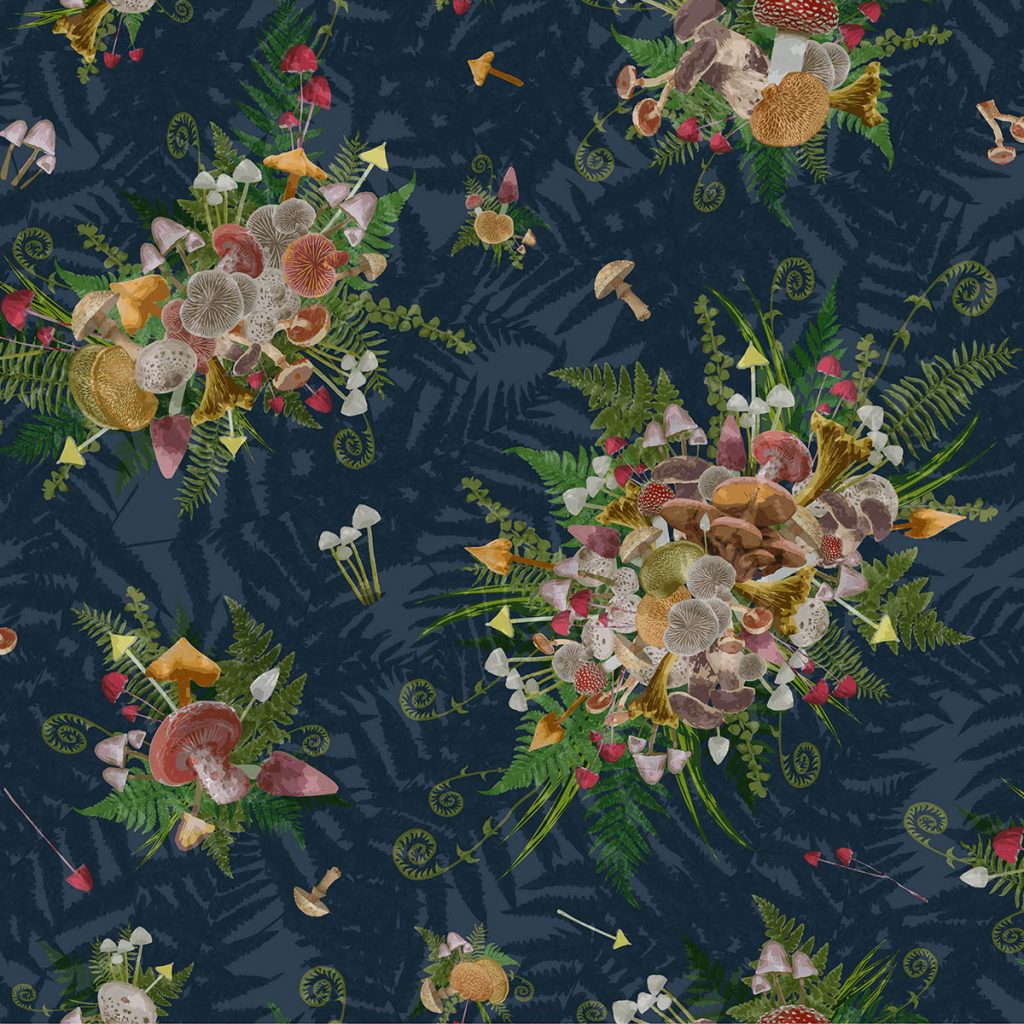 Pattern Design Challenge Inspiration: This design started when I asked myself "What if mushrooms were flowers? " and then "What would they be like in a bouquet?" Doing this design gave me the answer "More beautiful than you would have imagined!"
About Sandi: Living in the (best) Australian City – with 265 days of sunshine a year, could be why Sandi keeps going to bold, beautiful colour. Sandi's 1st career was as a Physiotherapist, the 2nd as Owner and Manager of a Natural Fabric Import and Wholesale Business, and her 3rd is Surface Pattern Design. Creating has always been part of her life, including Photography, Sewing and many forms of art. Nowadays she often misses mealtime, or misses sleep because she is so absorbed in a design. Connect with Sandi here.
Maribel Marqués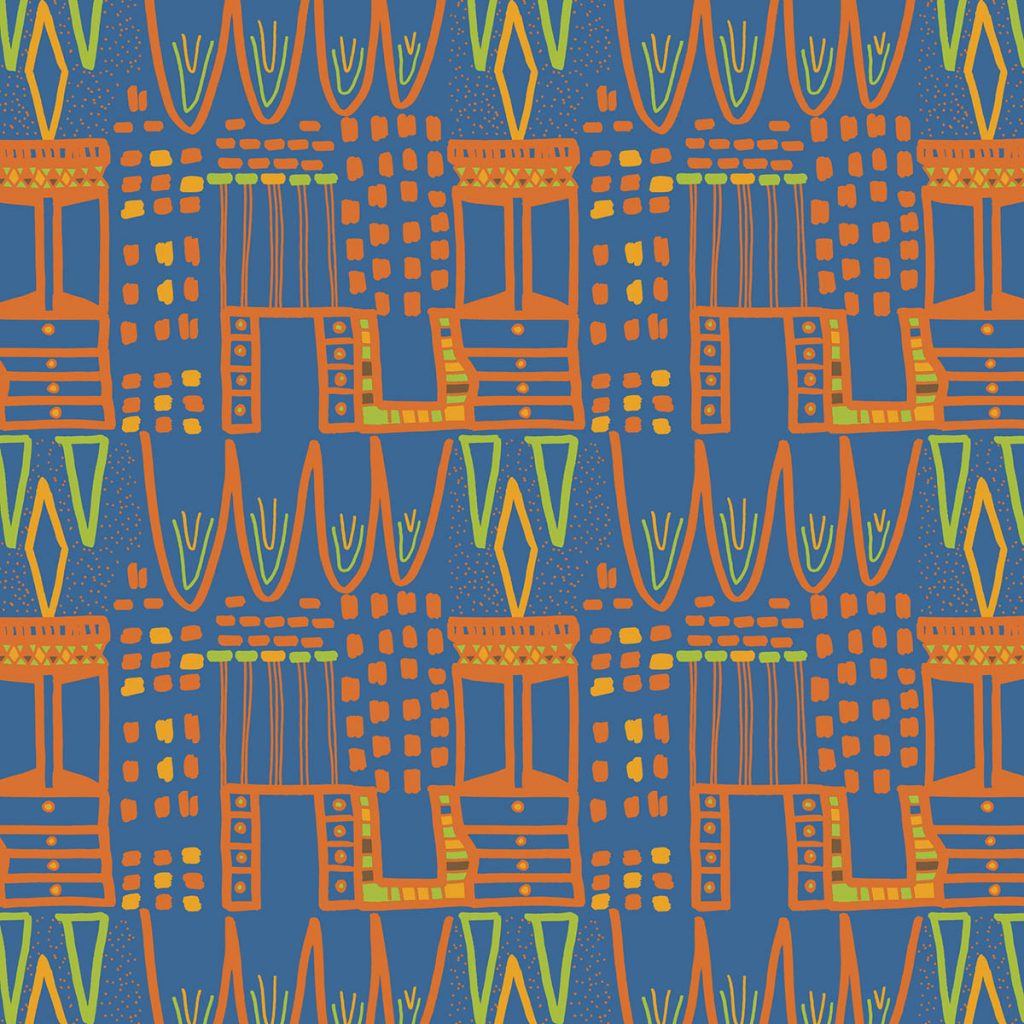 Pattern Design Challenge Inspiration: With a geometrical pattern in mind and my taste for architecture, I got inspired by the shapes of the furniture created by architect Charles Rennie Mackintosh, with a more flowy and hand drawn approach.
About Maribel: Surface Pattern Designer based in Barcelona, with a love for vintage chic and modern deconstruction. Connect with Maribel here.
Lucille Womack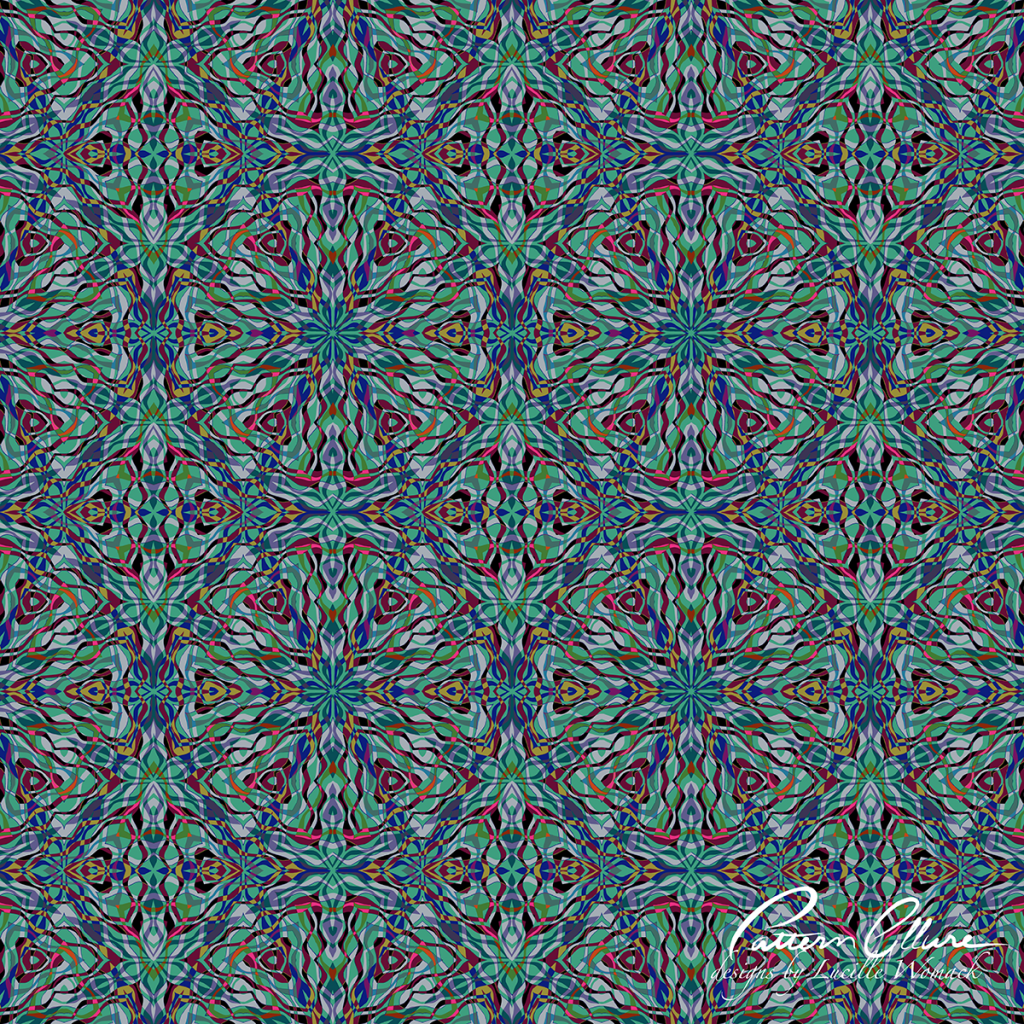 Pattern Design Challenge Inspiration: Focusing on the theme of elevated lounge and sleepwear, the goal was to make something usually mundane become extraordinary, intricate and engaging to the eye. The process initially started with simple paper cutouts, but with digital techniques and layering it's taken to a whole new level creating this mosaic optical pattern.
About Lucille: As a surface pattern designer Lucille Womack creates prints for fashion, soft furnishings, wallpaper and home accessories. Although new to the print pattern world, she has over a 20 work history in graphic design and the interior design market. Connect with Lucille here.
Heather Pierce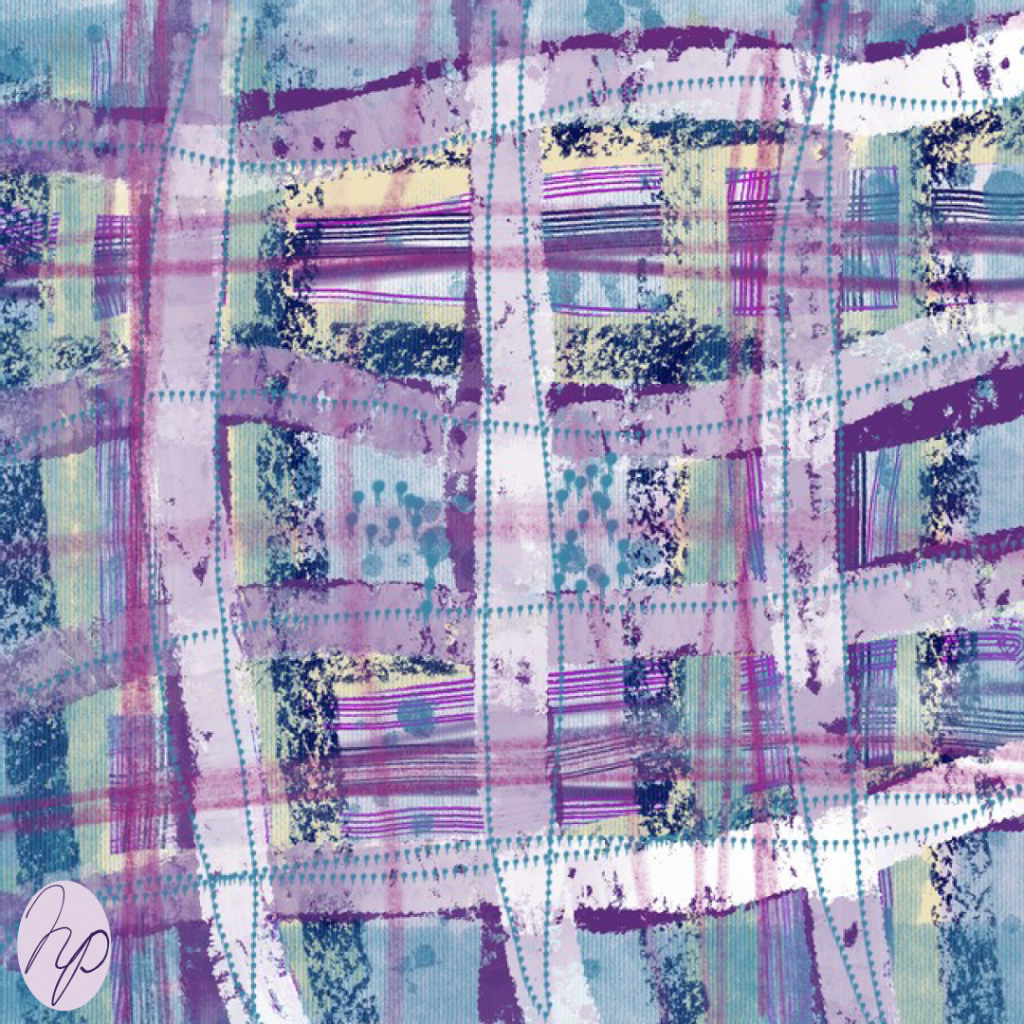 Pattern Design Challenge Inspiration: I had so much fun making this! I recently got my first ipad and was trying out the multitude of brushes in Procreate. It was also my first time working in layers so that was an eye opener. I selected the colors spontaneously and ended up with a palette in my personal style.
About Heather: Heather lives in Newtown, Connecticut, with her husband and two cats. She enjoys creating art in a variety of styles and mediums. Her work has been shown at Weir Farm and the G&B Cultural Center in Wilton, CT, the CH Booth Library in Newtown, CT and the Salomon Arts Gallery in New York, NY, in a benefit for Artists for World Peace. Connect with Heather here.
Narelle Callen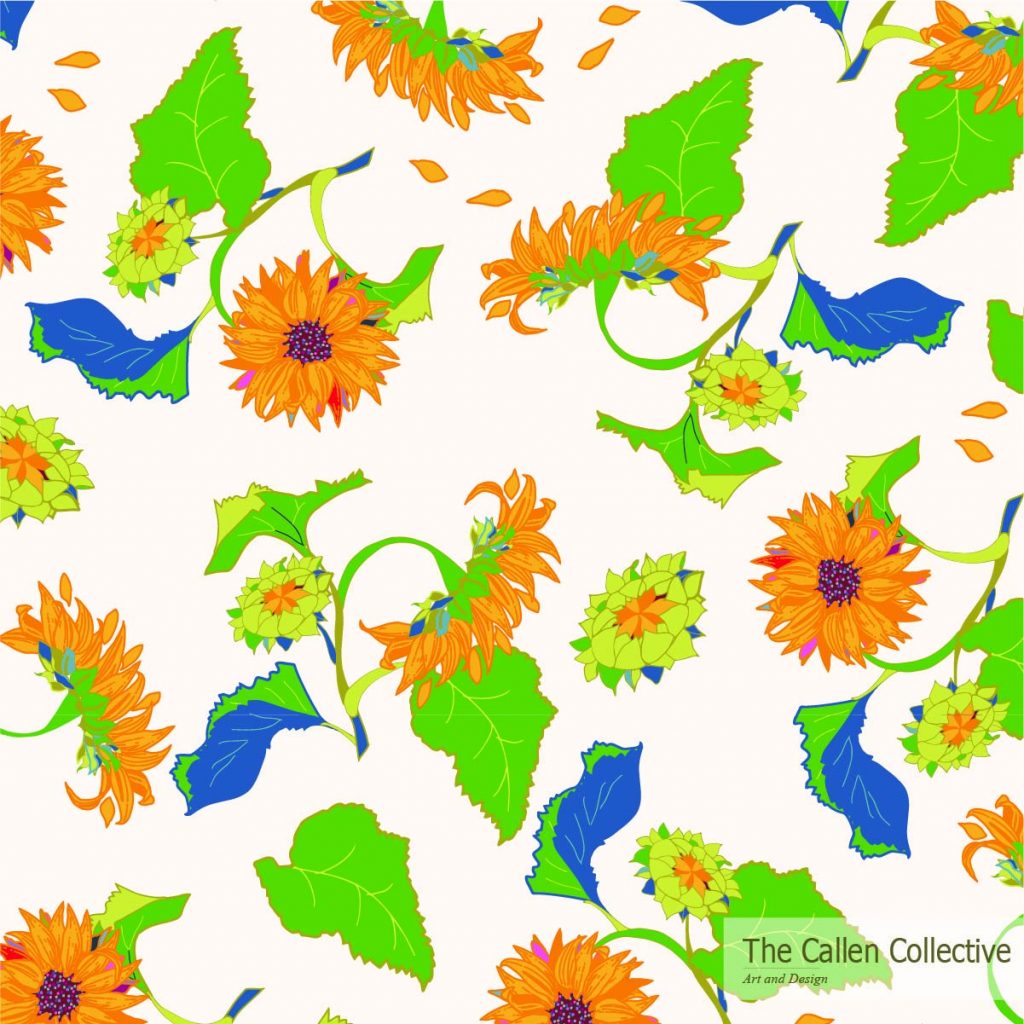 Pattern Design Challenge Inspiration: Sunflower Tumble was for a design challenge for a child's dress, and coincidently I had 2 grand sunflowers in the garden as the challenge came up. I drew the flower components (petals, buds, stems, leaves and centres) as separate elements in ink and then scanned the artwork into illustrator where I vectorised each element and coloured and assembled them to create the scatter pattern. I prepared the pattern with a few different backgrounds including a dark smokey blue and a bright sky blue.
About Narelle: Hi, I am Narelle Callen, the artist and designer behind The Callen Collective. My designs include beautifully, layered, artwork and patterns for surface pattern design from original artwork and sketches. My patterns are influenced by the beauty of the beaches, hills and vineyards of the Mornington Peninsula, in Victoria, Australia. I love fabric, its textures and fibers and envisage my patterns on bolt fabric, home décor, giftware, stationery and women's fashion. Connect with Narelle here.
Sarah Nussbaumer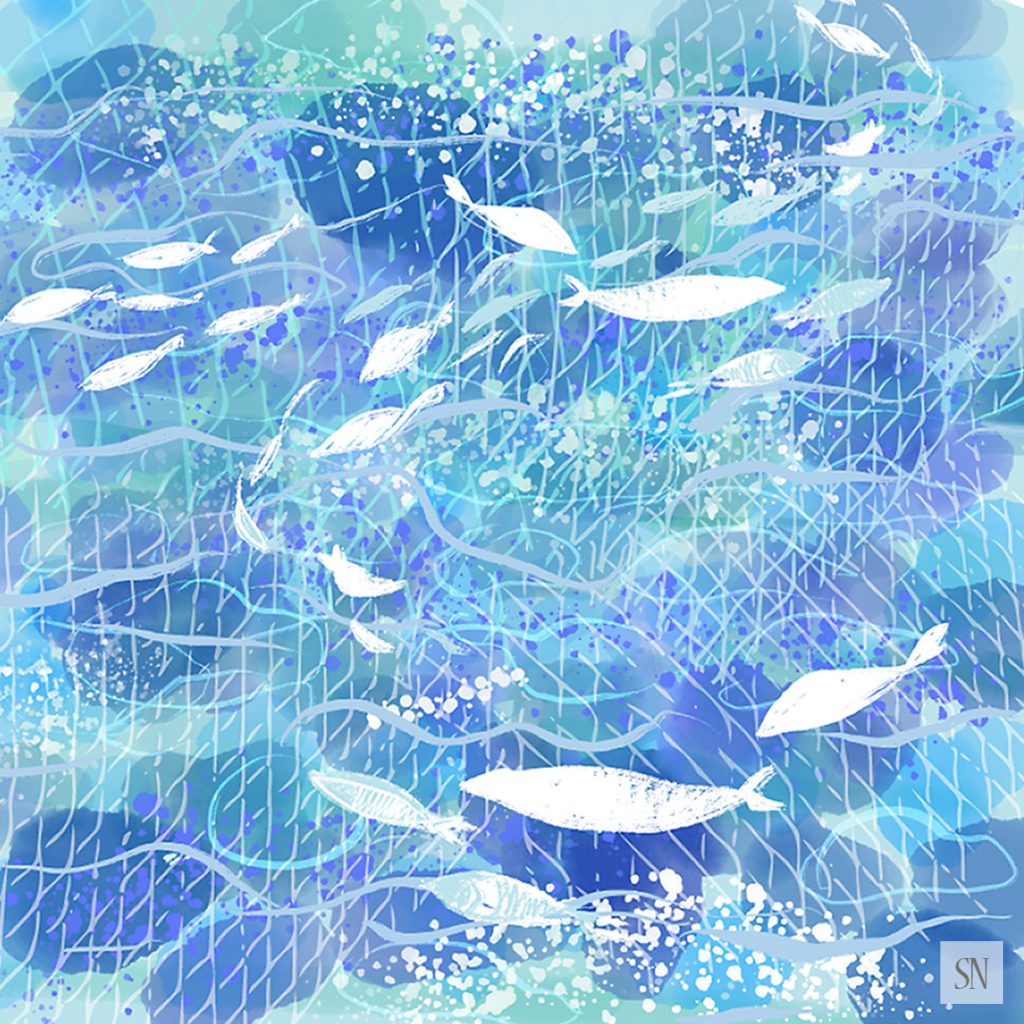 Pattern Design Challenge Inspiration: Marine was the first prompt of the Textile Design Lab's February Daily Design Challenge. The sea, oceans and the great lakes always pull at my imagination. The range of blues and the movement that can be seen in a school of fish slipping through the water inspired this design. A combination of quick watercolor strokes, spatters of paint and other textures create this marine environment.
About Sarah: Sarah is an independent surface textile designer who brings years of creative exploration as a printmaker and graphic designer to bear developing multi-layered patterns. The process of layering images, shapes and textures that are juxtaposed leads to discover interesting unexpected combinations. Working between hand drawn traditional mediums and digital methods further expands the range of visual possibilities available when creating patterns. Her style ranges from delightfully simple to richly complex. Connect with Sarah here.
I hope that you enjoyed this presentation of patterns from our Textile Design Lab Pattern Design Challenge. If you are interested in purchasing or licensing any of these designs please reach out to the designer. Thank you!