As soon as Laura Hart's work landed in our inbox, we became instant fans! Laura runs her own print design business in the UK called Surface House, which she launched in early 2016. Since graduating with a degree in Printed Textiles and Surface Design she says, "I worked in retail for a couple of years, to save and be in a position to leave and start my own design business. I left in 2015 and launched Surface House in 2016, it was a rollercoaster of a year and a surreal experience adjusting to becoming self employed. When I launched in 2016 I felt like I had done the hardest part, but have now realised that was just the beginning. It is definitely a rewarding and character building experience running your own business, but difficult and stressful too. I feel like am finding my feet now and making real progress.. onwards and upwards!"
Wallpaper has always been Laura's primary focus, and she describes it as "the perfect canvas to explore and push the boundaries of an interior." She has also recently launched handmade cushions and lampshades, which she created "for people who adore print and want to buy an instantly usable piece."
When we asked how Laura had found her way to the world of print and pattern she replied, "I have always been obsessed with art and being creative, when I was little I used to sit at my tiny red desk for hours, drawing and being precious about my felt tip pens! The creative obsession grew throughout school and college, prioritising itself over my other areas of interest, music, science and English.
Whilst at university, I explored a lot of design ground, I used to love the experimentation, spending hours in the print room with twigs, newspaper, pigment dyes and paper for example, and the access to so many resources like the huge heat press and screen printing.
My work became about combining hand made experimental pieces with clean cut digital print design."
Laura's diverse range of patterned products has a signature elegance and attention to detail that we just can't get enough of! Here are a few of the beautiful products currently available in her line: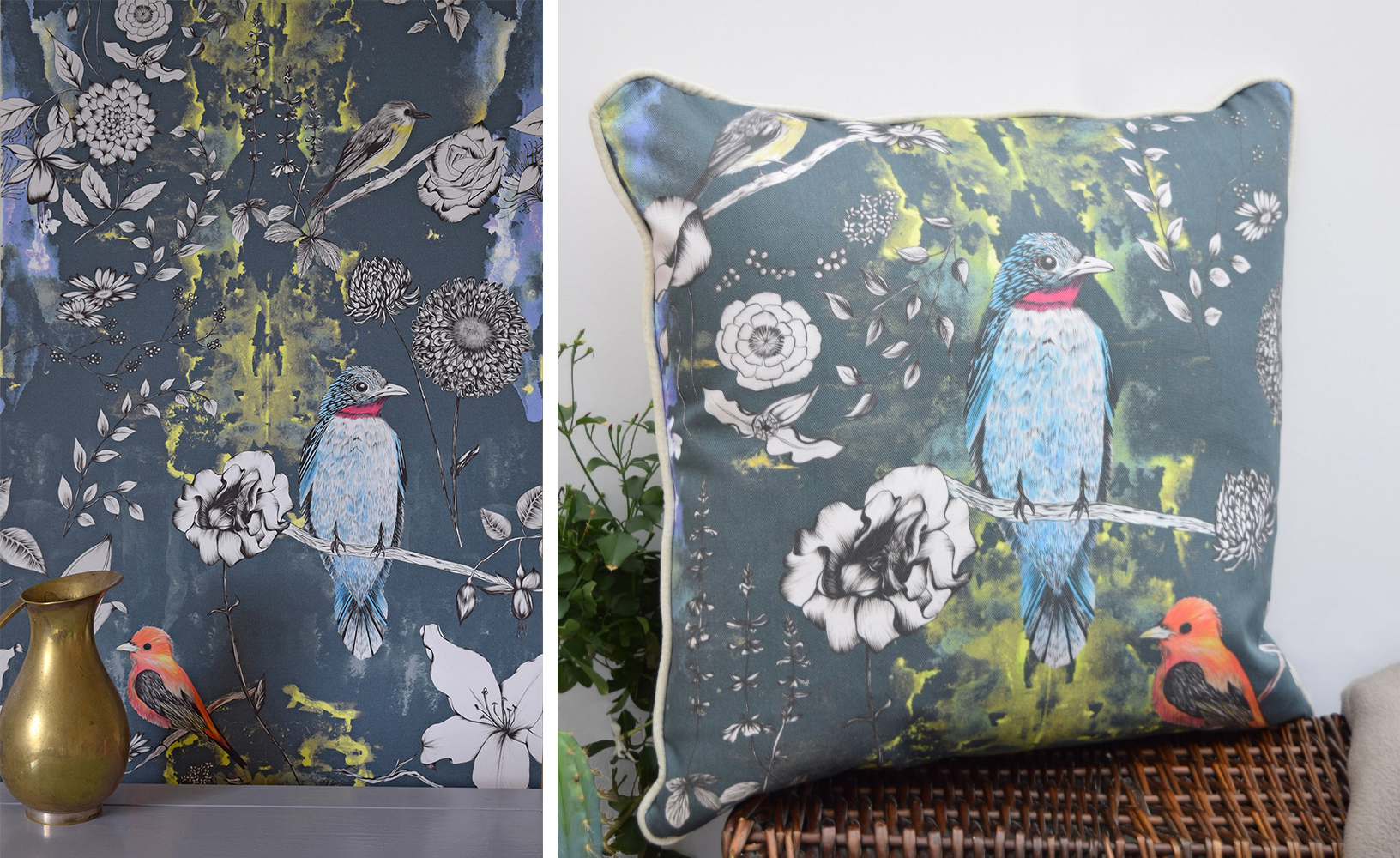 "The Birds & Flowers design features all original hand drawn artwork, using my favourite Unipin fine liners. The individual components of the design were all drawn separately, with some taking hours to complete. They were then woven and interweaved together to create a whimsical scene, inspired by the intricacy and content of a William Morris design but without the regularity and symmetry.
The background has an abstract style texture pattern, to contrast against the neat delicate birds and to give a contemporary edge to the print.The Birds design has proved to be the most popular of the collection so I adapted the print for a square cushion design. I dissected the original print and moved all of the imagery around to feature the best parts in a smaller surface area. I wanted to keep it as similar in style to the wallpaper print as possible. The cushions are carefully handmade by me at the studio."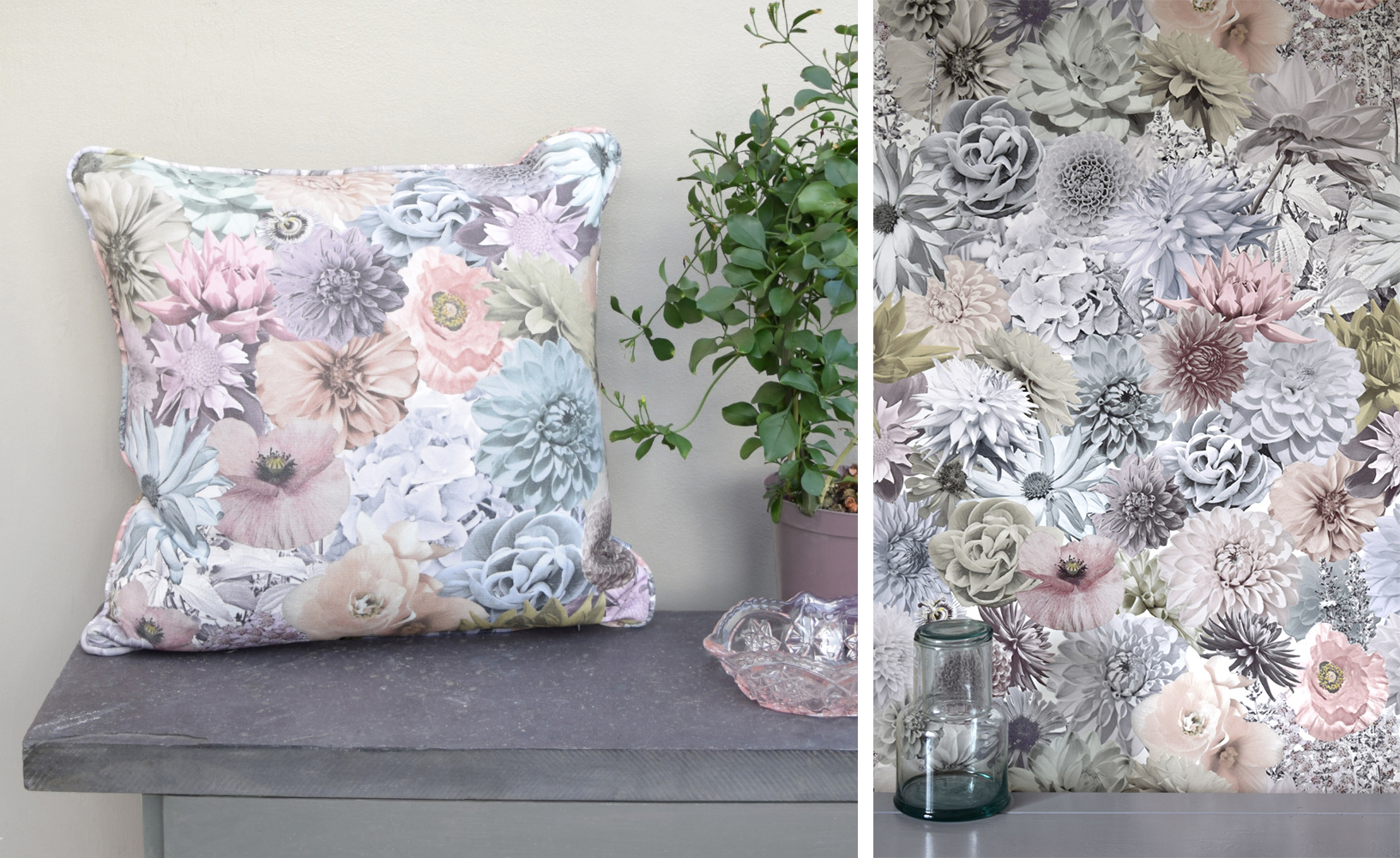 "The flowers featured in this Floral Concept design are all home grown and were photographed then edited and collaged together, to overlap and cascade down the print. It was originally planned to be a Dahlia flower wallpaper, (I don't think I've ever seen one!). But when I started sampling poppies, begonias and others I couldn't resist using a whole variety of flowers to complete the look."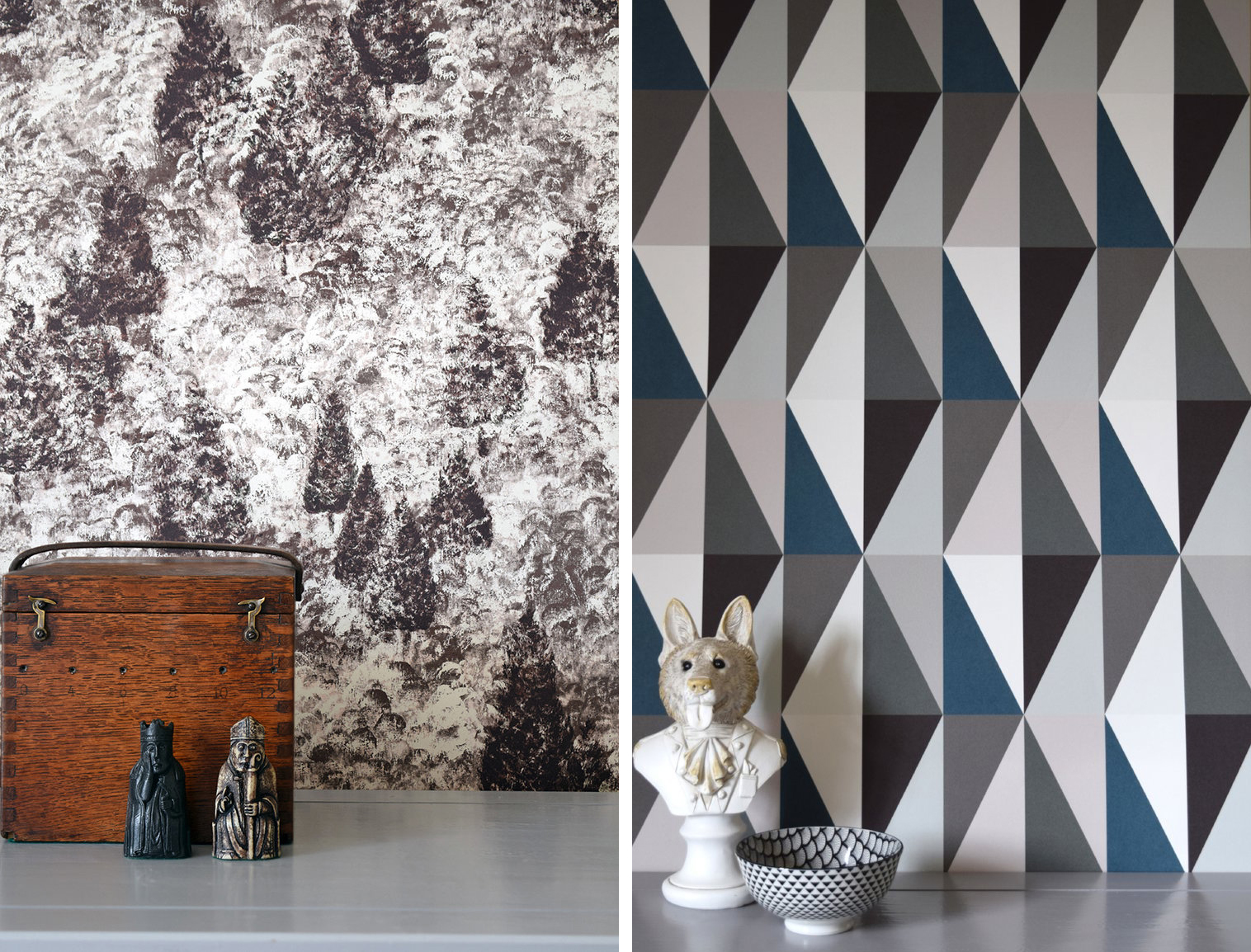 "The Forest Scene wallpaper and soft furnishings design started as an acrylic painting. I used reversed colours when painting, building a white woodland scene onto dark paper, it began to look like a snowy forest at night! Which conjured the idea of a cosy log cabin, I thought this would make a great wallpaper print.
The Diamonds design is part of the new geometric collection and is inspired the tiles of the London Underground tube stations. I created three variations, Emerald, (green and smoky black), Baker Street (heritage cream and plum colours) and Slate, (moody rich greys). I drew them by hand using a graphics tablet straight into Photoshop and did a lot of experimenting with colour, size and repeat combinations. There are thousands of variables, but I wanted to keep things simple with three final designs. I can of course create a bespoke colour variation if a client requests it.
The dream is for people to know the name Surface House, like they know Sanderson or Designers Guild. I have a long way to go, but I have started the journey!"
Learn more about Laura's work at www.surfacehouse.com, or visit her on Facebook, Twitter, Instagram or Pinterest. Have a great weekend!!