Since Adobe moved to its subscription based model, it's no small feat to stay up-to-date on all the changes happening. Luckily, we have Adobe expert Laura Coyle to tell us her favorite new features in Adobe Illustrator 2021.
Laura Coyle is a teacher, speaker and illustrator in Atlanta, GA. Over her 25 year career as a freelance illustrator, her clients have included major brands like Target, Amazon, Disney and publications including Better Homes and Gardens and The Wall Street Journal. She was commissioned by Hasbro to illustrate a refresh of the classic board game Parcheesi, and her designs for greetings, gift wrap and paper wares have appeared on the shelves at Target, Wal Mart, Papyrus and Hallmark.
Laura has created training resources, courses and articles for Wacom, Smashing Magazine, TrainSimple, Adobe, Pluralsight, CreativePro and Pattern Observer. She has been a speaker at Creative Pro Week 2017, 2019, 2020 and at Adobe Max in 2018. 
Adobe Illustrator 2021 features
1. Adobe Illustrator on the iPad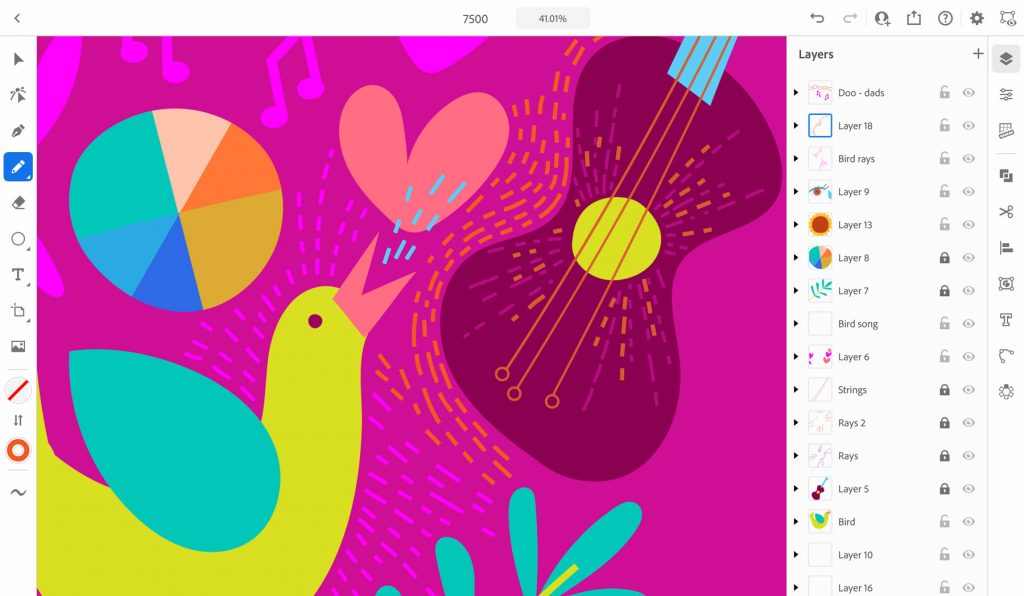 This has been the biggest game-changer for my Illustrator workflow. I love that I can draw freehand on the iPad with the Illustrator Pencil tool and the super-responsive Apple Pencil, and then see the cloud document appear on my Illustrator home screen on the desktop, ready to open. Illustrator on the desktop still has the most powerful editing features and color controls, but the drawing experience on the iPad is so much more natural. The app was released in October of 2020 and already Adobe is adding new features. The latest version added artboard rotation, just like in other iPad drawing apps.
2. The New Recolor Artwork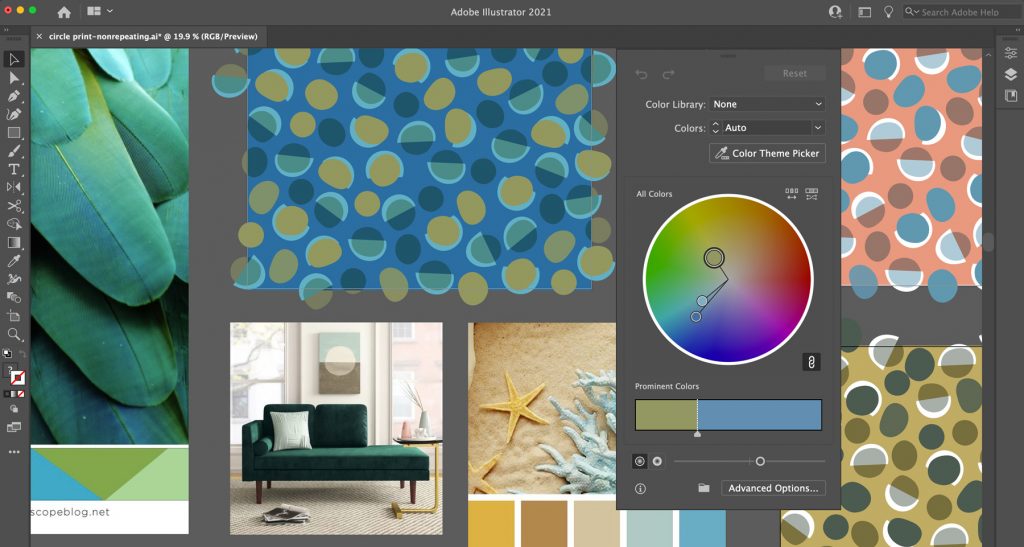 Adobe created a new Recolor Artwork panel that sits on top of the original Recolor Artwork feature. It offers a new Color Theme Picker tool which allows you to click an image placed in your document and sample its color to your Illustrator artwork. This is Adobe Sensei technology, machine learning, that reads the values and prominence of colors in your artwork and finds matches for them within the image you select. I love that I can drag inspiring images and color palettes from Pinterest into my Illustrator document and develop different colorways instantly. This is essential for surface pattern designers. Thankfully, Adobe left the original feature completely intact under the button "Advanced Options," so when I need to fine-tune my colors and assign specific colors, I have that control. Recolor Artwork has been one of my favorite features for a long time, I've taught it at Adobe MAX, and in my own Recolor Artwork course, and I think Adobe made it even more useful and fun in the updated feature.
3. Repeats on the Desktop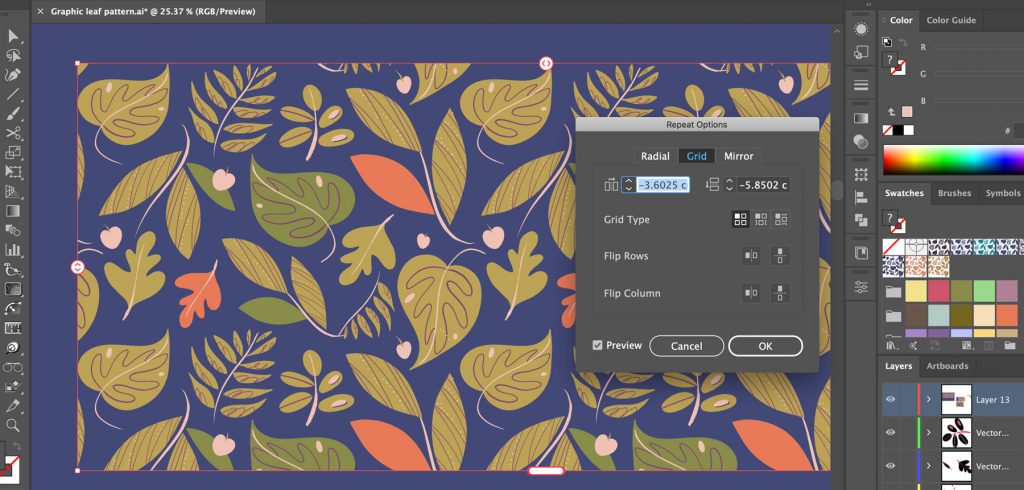 In my Textile Design Lab session in February, I demonstrated working on the desktop with the new Repeats feature, which allows you to create repeat patterns directly on the artboard without having to enter Pattern Editing mode. This is the same repeat feature available on the iPad. The feature gives you the ability to put your pattern motifs into repeat very quickly, but it doesn't totally replace Pattern Editing mode. I view it as a great option for working quickly and previewing ideas. I also like that I can work from the iPad in repeat, then move to the desktop for more precise editing. Plus you can use it to do radial designs and mirrored designs too.
4. CC Libraries, Capture and Spark Integration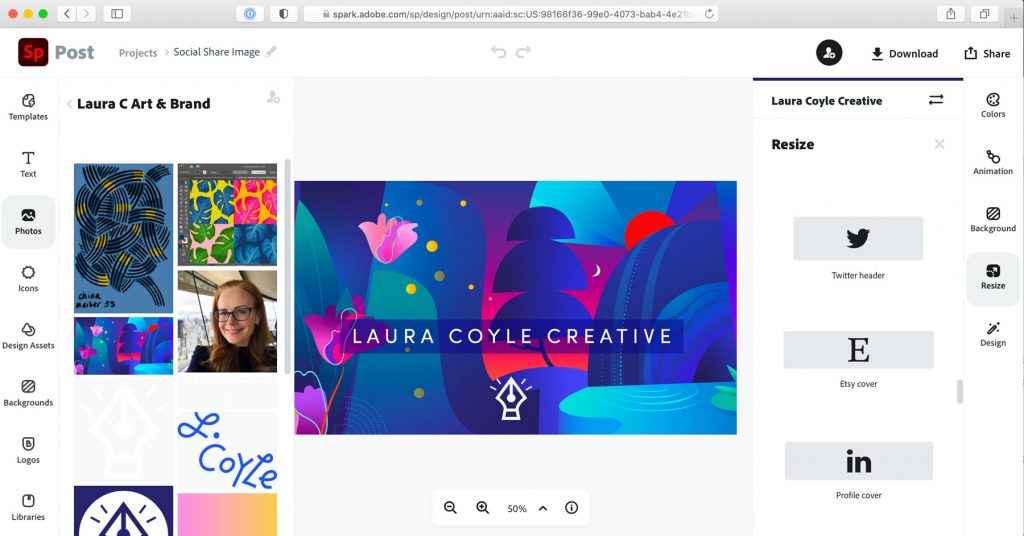 Among other things, Adobe Illustrator 2021 is great for creating your own branding assets, logos, and color palette. Once you have created your brand assets, put them in a CC library and that art becomes connected throughout your Adobe apps. I've been using Adobe Spark Post to create those designs that need multiple formats: Instagram, Pinterest and Facebook posts and profile images. With the brand feature and instant connection to your CC Libraries, you can use a design from a CC Library, add fonts, your brand logo or signature, and quickly generate the 4-5 different formats you need for all your social posting.
5. Fresco's Send to Illustrator feature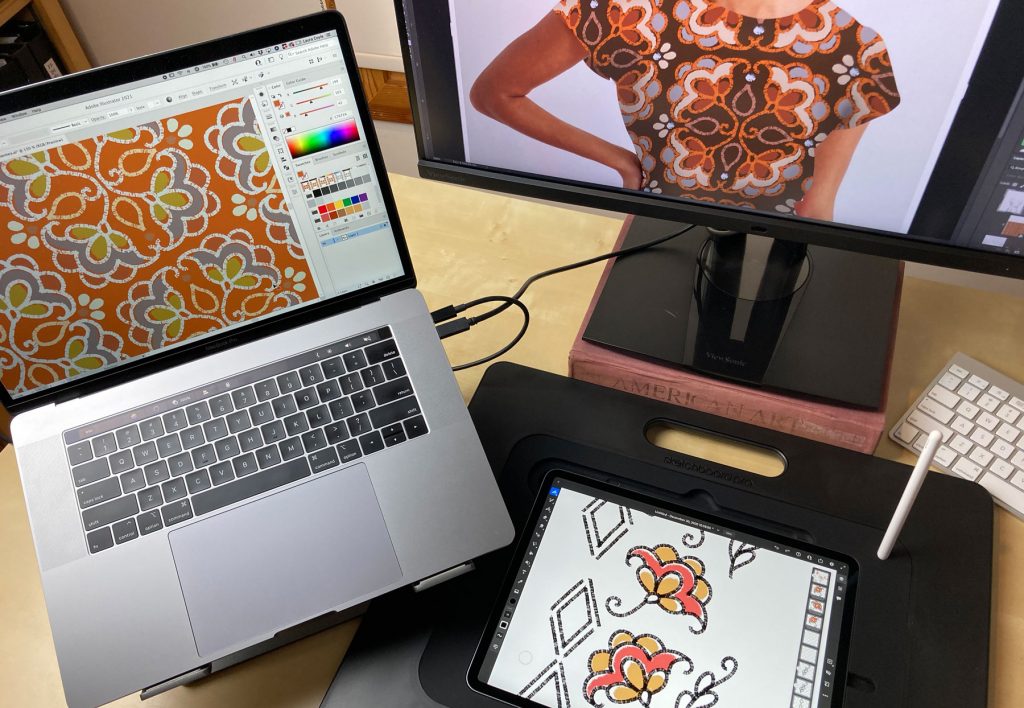 Adobe Fresco is such an amazing creative app because it lets you create on pixel layers and vector layers in the same document. The vector brushes are even a step up from Illustrator's blob brush tool, because you can make precise adjustments to taper and velocity and other properties that are just not available in Illustrator. Moving art from Fresco to Illustrator used to be a cumbersome process, but it has improved with the addition of Send to Illustrator in the Publish & Export options. This imports the visible layers in your Fresco document into a new Illustrator document.
I'm so excited that Adobe Illustrator 2021 is making the pathway between the creative apps more useful all the time. The iPad apps are the most exciting development, but I think it's also driving a lot of improvements to the desktop apps.
New Workshop! Illustrator: A Fresh Look
I'm excited to be teaching a new Illustrator 6 week course starting April 5, 2021! The course is for new or occasional Illustrator users, Photoshop users, and anyone who wants a refreshed perspective to better understand how Illustrator works from the ground up, and how it functions alongside the other apps in the Adobe Creative Cloud ecosystem.
We'll combine self-paced learning with a weekly live workshop. Every Monday for 6 weeks a PDF for the week's learning is released, along with a couple of demonstration videos. On Wednesdays at 1pm Eastern, we'll have a live 2 hour workshop session on Zoom, where I will demonstrate the exercises and concepts, and you'll have the chance to work alongside me on your own computer, ask questions and share with the group. After the workshop, the recording will be posted on the course page, so you can watch if you missed the live session, or review it whenever you like.
We are all learners at different points in our art practice. I'm hopeful that my Illustrator: A Fresh Look workshop will create meaningful connection and learning for everyone, no matter your prior experience with Illustrator. You'll have the chance to ask questions and even share your work via screensharing during the live workshop sessions. I look forward to working with you to increase your skills and understanding of Adobe Illustrator!
Get Started
Illustrator: A Fresh Look will be held within our online, Textile Design Lab community starting on April 5, 2021. This workshop is free for all Textile Design Lab members. If you would like to participate in the workshop, please join us here! We would love to welcome you to the community as we explore all the updates to Adobe Illustrator 2021.
Already a Textile Design Lab member? After logging into the TDL you can register here.
Want to try the new Adobe Illustrator 2021? Grab a free trial here with my affiliate link.