We are thrilled to announce that our TDL team is growing! Laura Coyle will be joining the Textile Design Lab community for a monthly live webinar event for Illustrator users. During these live webinar events Laura will use the first part of the hour to share a tip or technique with the community. The rest of the time will be spent troubleshooting member questions.
Laura has spent nearly 20 years as a freelance illustrator, working with clients such as Target, Amazon.com and Disney. In past Pattern Observer interviews Laura has been kind enough to share her journey and Illustrator tips, so I encourage you to check out her first interview and her follow-up interview in 2018. In today's interview we caught up with Laura and she shared some her favorite new Illustrator features.
I was excited to hear about your presentation at CreativePro Week in Seattle. Can you tell us about the conference and what you shared with the Adobe community?
This is the second time I've presented at CreativePro Week, it's a terrific conference that starts with sessions on Photoshop and Illustrator, then moves to InDesign and other creative tools as the week progresses. The conference draws a broad group of designers from corporations, government and small business, but it has a wonderful small community feeling. Both the attendees and speakers are passionate about designing and using the tools we all use in our work, so there's a ton of enthusiasm and energy about learning and connecting. It always leaves me excited and inspired to be in a place where I feel I'm among talented friends.
This year they commissioned an illustration from me, a timeline of digital design tools and milestones in the Creative Pro community. It was so much fun to work on! This year is the 20th anniversary of InDesign. Illustrator has already passed the 30 year mark and Photoshop turns 30 next year!
In my 2 presentations, I shared techniques on Gradients and I showed ways that I use the appearance panel to make flexible changes to art. I also demonstrated how I use the Width Tool, I talked about Image Trace, the Adobe Capture App, Recolor Artwork, moving between PS and Ai with Vector Smart Objects and more….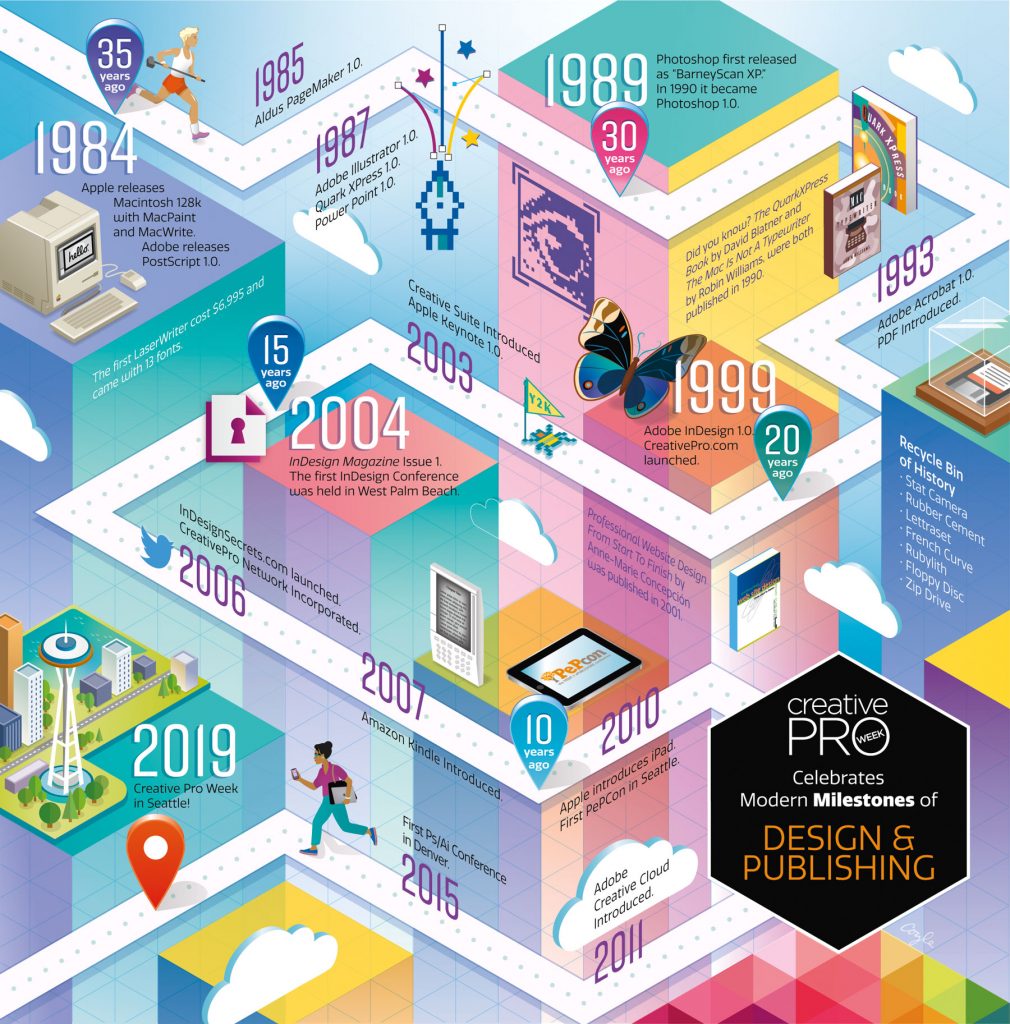 It's been almost a year since we last welcomed you into the TDL community. What are some of your favorite changes or updates to happen in Illustrator?
I have been enjoying Freeform Gradients and Global Edit, two of the newer features. I also love that I can create custom toolbars in Illustrator. With all the new tools being introduced, I want to try them out, but if they don't become a part of my workflow, it's nice to remove them and simplify my workspace. Another helpful change is the ability to scale the UI.
One of the major improvements I've been using a lot is the new "Find More" tab in the Character panel. It's great to browse new fonts right inside my document without having to go out to Adobe Fonts in a browser. If I find one I like, it's a one-click sync.
The New Document window on the other hand, has become more problematic for me lately. Because it's loading online content, I find myself waiting when I just want to jump in and create a new document. The solution for this is to go into Preferences > General and check Use legacy "File New" interface. If you have added Adobe Stock templates that are appearing in the New Document window, those can be managed in the Libraries panel, Stock Templates library.
Adobe's new Creative Cloud system means that the programs are continually being updated. How do you stay up-to-date on all the changes?
Adobe is good at announcing the splashy new features, but often there are small changes that I have to look harder to find out about – like when something behaves differently than I'm used to. I wish those updates were a little better documented. Here are a couple of links that can help:
Adobe help: https://helpx.adobe.com/illustrator/using/whats-new/2019.html
The New Features Guide, with update history in one document: https://indd.adobe.com/view/0bff348c-febc-4351-8a11-8101037228d9
Can you give us a quick preview into the training you will be offering in the Textile Design Lab? What can people expect to learn?
I'll be talking about the Width Tool and Variable Width profiles, one of my favorite features for creating flowing linework in Illustrator. I'll also be taking questions, so be sure to visit the Tech Talk Forum and let me know your burning questions about Illustrator!
Please join the Textile Design Lab community to access Laura's webinar series. The first is scheduled for Tuesday, July 16th at noon EDT and will be recorded for those who are unable to attend!