We are so excited to welcome a new Illustrator course to our Textile Design Lab community!
On April 5, 2021, Laura Coyle will be teaching a new 6-week course called "Illustrator: A Fresh Look!" This course is for new or occasional Illustrator users, Photoshop users, and anyone who wants a refreshed perspective on how to:
Better understand how Illustrator works from the ground up
How it functions alongside the other apps in the Adobe Creative Cloud ecosystem
Personally, I am in this second group. I've been using Illustrator since I took an introductory course in college in 2001. Since this time, I've learned so much from coworkers, YouTube, and Laura Coyle! However, since Adobe switched to its subscription system, I've had a difficult time keeping up with all the changes. As I've been learning all the new tools and techniques from Laura and other generous teachers, I've realized there are so many basics I have not learned…or have forgotten how to use.
These are all reasons why I am super excited for this opportunity to have an Illustrator reset. An opportunity to take a fresh look at all the tools that Illustrator has to offer, while hanging out with this fun, welcoming community of textile and surface pattern designers.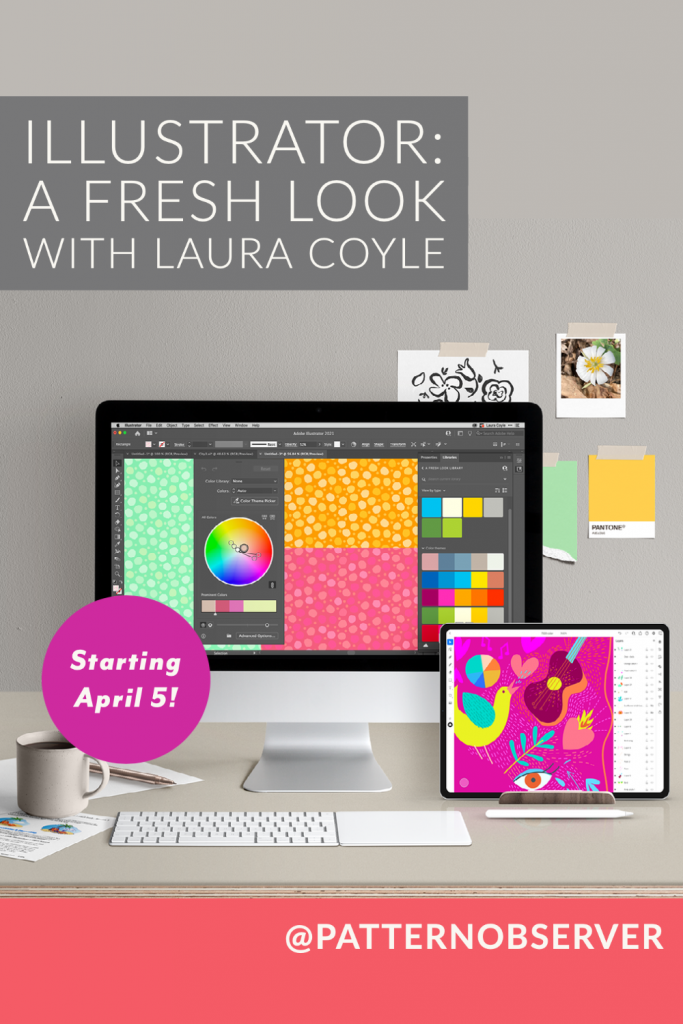 The Schedule
We'll combine self-paced learning with a weekly live workshop.
Every Monday for 6 weeks a PDF for the week's learning will be posted to the Textile Design Lab, along with a couple of demonstration videos.
On Wednesdays at 1pm Eastern, we'll have a live 2-hour workshop session on Zoom, where Laura will demonstrate the exercises and concepts, and you'll have the chance to work alongside her on your own computer, ask questions, and share with the group.
In the live sessions Laura will:
Review the previous session
Introduce the current topic
Teach a demonstration of the core exercise(s)Guide participants in creating the art/exercise on their own computers
Be responsive in real-time to their questions and issues as they come up
After the workshop, the recording will be posted on the course page, so you can watch if you missed the live session or review it whenever you like.
Each week there will be an assignment that students may work through to put their new skills to the test!
Throughout the week members are welcome to post questions to our private Tech Talk forum.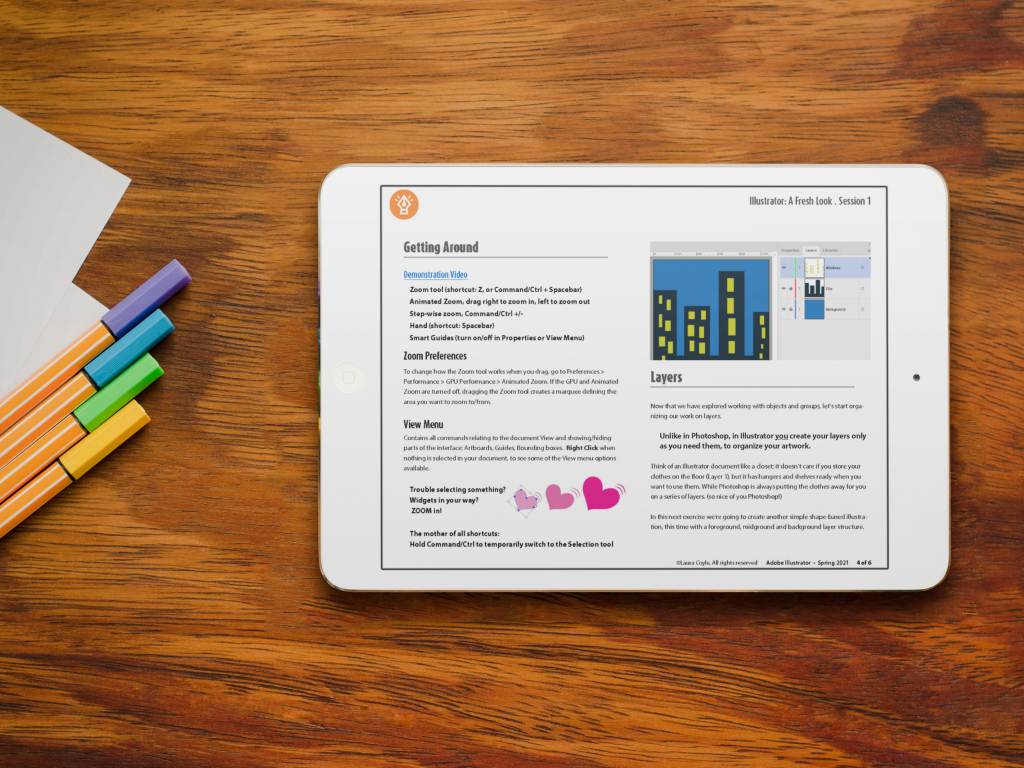 Topics covered
Topics the Beginning Illustrator workshop will cover:
Shape drawing, selection, layers, and groups
Vector basics : stacking order, anchor points, paths, live content vs. expanded
Color: swatches, eyedropper tool, RGB vs CMYK
Drawing tools overview: pen, pencil, brushes
Files: exporting, saving, cloud vs. computer
Overview of integration with Illustrator on the iPad, Fresco, Creative Cloud, Photoshop
Course Goals
From Laura Coyle, "We are all learners at different points in our art practice. I'm hopeful that my Illustrator: A Fresh Look workshop will create meaningful connection and learning for everyone, no matter your prior experience with Illustrator. You'll have the chance to ask questions and even share your work via screen sharing during the live workshop sessions. I look forward to working with you to increase your skills and understanding of Adobe Illustrator!"
Join Us
Illustrator: A Fresh Look will be held within our online, Textile Design Lab community starting on April 5, 2021. This workshop is free for all Textile Design Lab members. If you would like to participate in the workshop, please join us here! The Textile Design Lab community is $49/month and gives you access to countless courses, tutorials, design challenges and live events. We would love to welcome you to the community as we take a fresh look at this powerful program.
Already a member of the Textile Design Lab? You can register for Laura's course here.