I know Nadia Kronfli through the Textile Design Lab community and it is such a pleasure to feature her joyful art in this post. Nadia's work is uplifting and enchanting. I love the way she is able to tell a story through her work and the subtle vintage quality to many of her patterns. It was great to learn more about Nadia's life and goals.
Welcome Nadia! Please share some insight with us about your background.
I do not come from an art background; I am a mathematician by education and my first job was in banking. I learnt to sew when I was in my teens and never stopped, finding great joy in working with rich bright colors, bold print, and silk (my favorite fabric).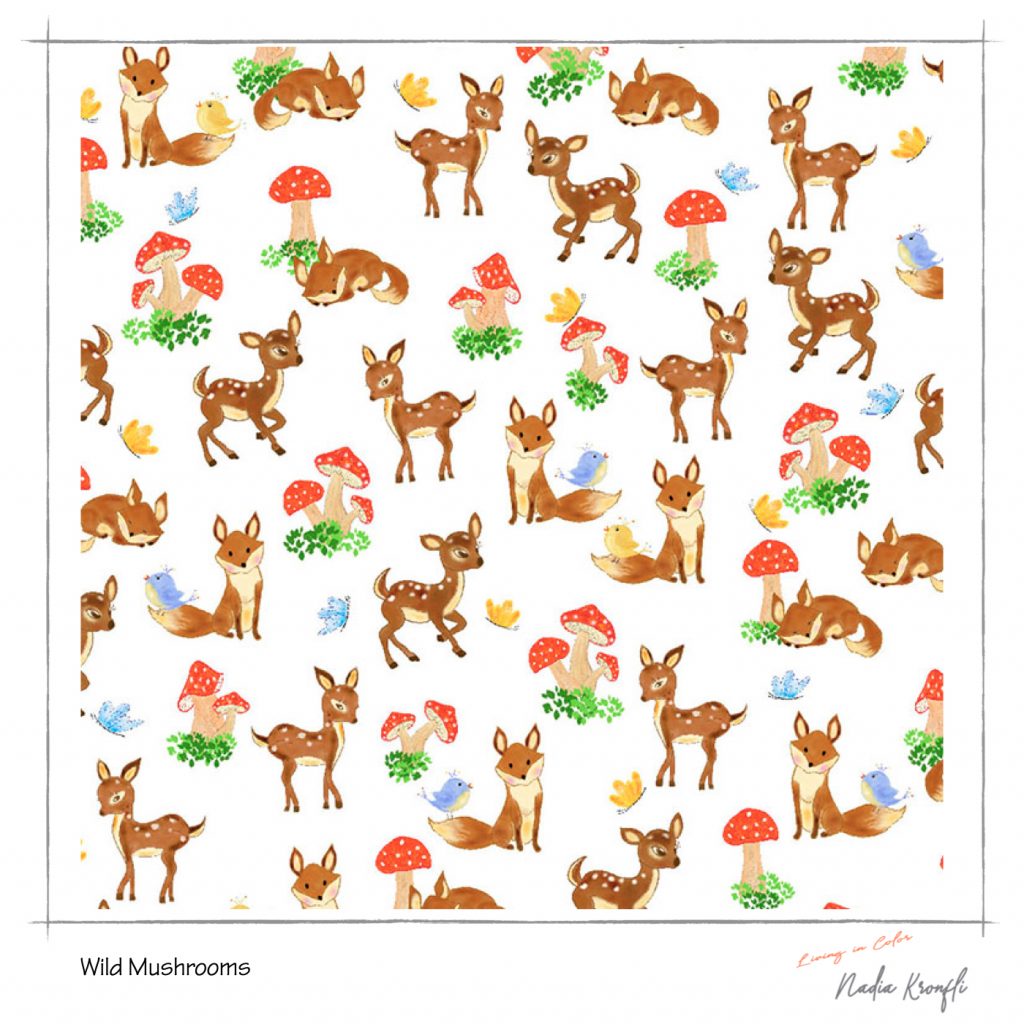 I have always had a keen interest in fashion & in the late 80's I owned a fashion business in London (UK) designing bespoke evening wear. I also created a line for children's apparel from newborn to age 12. I also had a stint in the fabric department at Liberty of London—eye candy for a lover of print & pattern.
In addition, I like to travel, grow flowers, swim, read, and create art. When creating, I drawn and paint digitally, often working from photographs. I also use watercolors. In general, creating art gives me joy and I hope that by sharing it, I will bring joy to others
How has your journey progressed?
When I moved to live in San Carlos, Mexico, I took an interest in photography and digital art. My journey into surface pattern design started with the advent of textile digital printing on demand. It was great fun to create my own wardrobe. This soon became more than a hobby and creating patterns grew into a passion. The challenge of learning new skills drives me. Now I live in Tucson, AZ, and spend the summer in the UK visiting my family and friends, plus taking a trip or two to the museums and shows.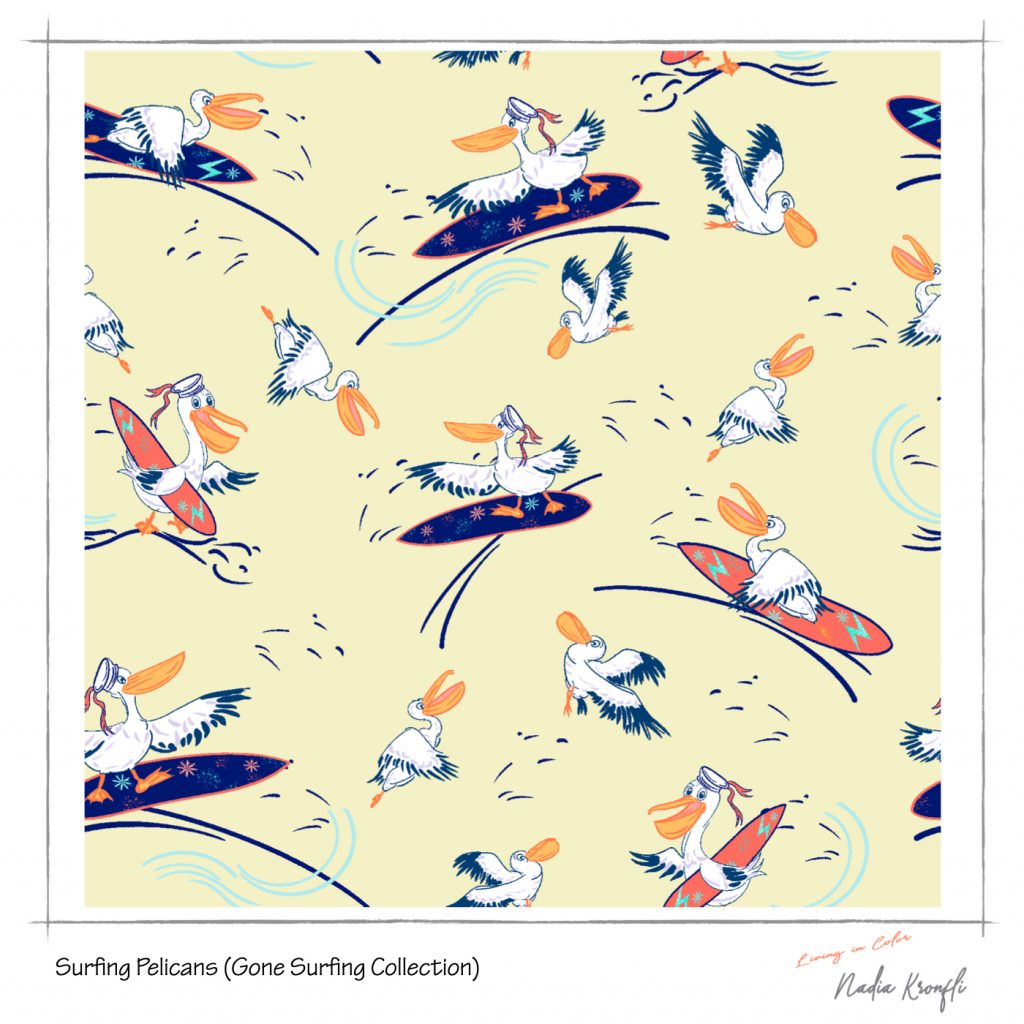 What is most inspiring to your creativity and joyful art?
Color and nature feed my creativity and inspire my art. This is what I am showing in the work I'm sharing with this post. I love the sea, birds, butterflies, and flowers. My current favorite colors: turquoise, yellow, red, and orange, but this changes with the seasons. It is always fabulous to create for children, as it unleashes my imagination. I inspire to tell a story that will bring smiles.
I also like cute…but not too cute. Foxes, deer, birds, and butterflies all in the same forest, that is living in harmony.
My work includes how Captain Bertie presented himself to me when I created too many motifs for a collection. He did not fit in with the other penguins, but once I put the captain hat on his head, he merited his own story, as he is a traveler. The surfing Pelicans project energy, showing a fun and mischievous mannerism. The Unicorns represent escapism (something we all need). The Hula Dancers show how good a love for fun, music, and dance are for the soul.
Joy came about when I was testing my new digital brushes in Adobe sketch, I loved the colors and shapes so much it literally was a joy to create this pattern. All the patterns I created are digitally designed by drawing the motifs on my iPad or my computer, then creating my patterns in Photoshop. The motifs Daisies pattern are from a photograph of a dahlia that was growing in my garden.
Nadia's favorite quote:
By Joan Miró: "I try to apply colors like words that shape poems, like notes that shape music."
Thank you for sharing your joyful art with us, Nadia! You can view Nadia Kronfri's delightful work at her website.