We are thrilled to be kicking off a new year and a new schedule of 2021 textile design courses in the Textile Design Lab! This year we are focusing on more live trainings, live workshops, and live creative events. These are all recorded and available for members to watch at any time.
A focus on live events is something that emerged in 2020, an answer to people being at home so much and those feelings of isolation that came with it. I feel grateful to have been a part of such an amazing community during such a difficult year and look forward to learning and growing with this community in 2021.
Below you'll see our monthly themes and 2021 Textile Design Courses for the next six months. You'll also find a more detailed schedule for the month of January. I'll be sharing more detailed schedules for coming months in the future. All times are Eastern, and all live sessions will be recorded. In addition to these events, we will continue to have our live art critiques, coloring chats, and design challenges.
2021 Textile Design Courses and Themes:
January: Using a fresh perspective to recognize opportunities. How can we use this fresh start to look for opportunities in our business and the style of patterns that we create?
1/11, 1pm: Goals Chat and Check-In. We'll take this time to check-in as a community and see how we can support each other to achieve our goals with more ease.
1/14, 11am: Pattern Layout Live Training. We explore the most popular layout styles in our Surface Pattern Design Mastery Group-Study. However, this live training session will also explore some of the lesser known, or used, pattern layout styles that are available.
1/18,11am: Photoshop Training with Sherry London
1/18: Surface Pattern Design Mastery Group-Study (includes access to WGSN)
1/26, 11am: Illustrator Training with Laura Coyle
1/27, 11am: Live One Hour Design Challenge. In this session Chelsea will lead us through a creative exercise that we will work on together!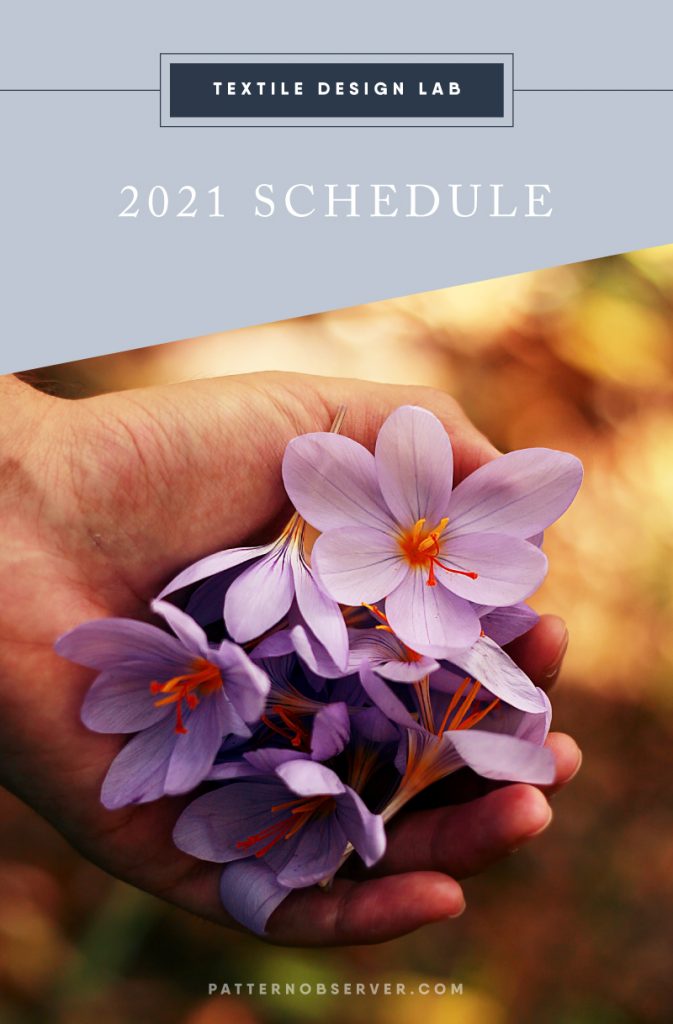 February: Connection with our artistic style. We'll use this month to connect with and explore our creative style.
Daily design challenge with a focus on trend driven prompts
Surface Pattern Design Mastery Group-Study cont. (includes access to WGSN)
March: Presenting our work to buyers.
Creating lookbooks with MaryJane Mitchell (includes access to WGSN). Includes a live presentation, several weeks to implement lessons learned, and a live lookbook critique session.
April: Creating Collections & Finding Your Process. There are so many ways to create pattern design collections. This month's focus will be on discovering your ideal method for creating pattern collections.
Live workshop exploring various ways to creating collections
Sellable Sketch Group-Study (includes access to WGSN)
May: Print Studios. In May we will explore how you can turn your solo business into a professional design studio. We'll also walk designers step-by-step through the process of reaching out to studios through our popular Print Studio Workgroup.
Live training on running a studio, working with other artists, and more
Print Studio Workgroup
June 2021: Summer of Creativity
I do hope that you'll join us for our 2021 textile design courses and events!