Karolina Sato's textural patterns are stunning. They capture my imagination and sweep me off to a world filled with bold colors and comforting textures. It was fabulous to hear more about her life and work.
Karolina Kinga Sato ( Karolinko) was born in Poland and is currently based in Tokyo. "I have a passion for Japanese decorative arts and love how much they are connected with the poetry and literature of the country and how its motives live in everyday live."
What is your educational background?
I went to school at the University of Warsaw for Japanese studies. I focused on Japanese aesthetics and was fascinated by Japanese traditional explorations. These studies pushed me toward exploring surface design, taught me about the passion for beautifying everyday life. I also studied Hanafuda, which is a picture based and poetry inspired card game with deep roots in Japanese appreciation of nature.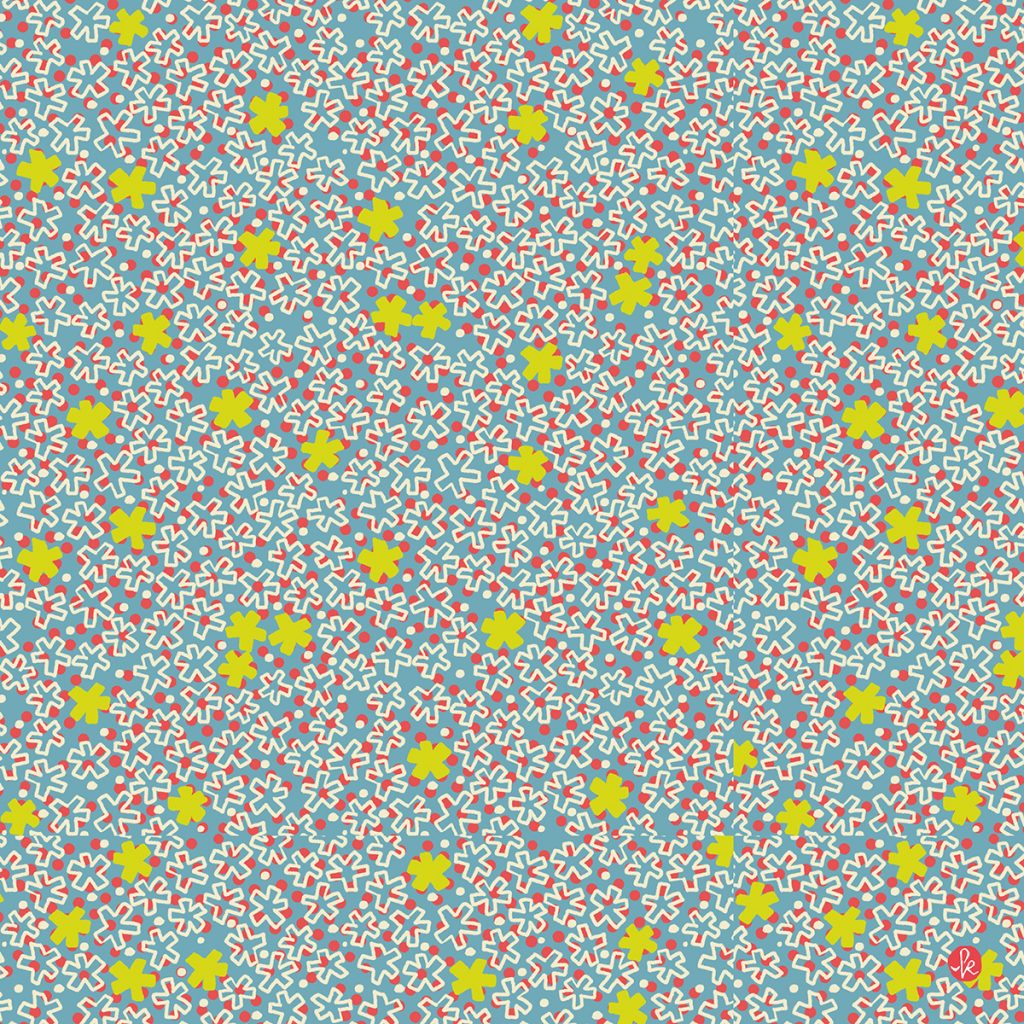 I also took a textile design course at Otsuka Textile and Kimono Design School in Tokyo. After graduation, I worked for more than 12 years as a graphic designer, illustrator, and art director. Today, I am dedicated to my artwork and working toward turning my works toward surface design (still a work in progress).
Please tell us more about your textural patterns.
My works are whimsical, oneiric, and painterly, sharing a positive feeling. They are often inspired by the relationship between humans and nature, and recently I explore contemporary themes like "strength" and "fragility" of women.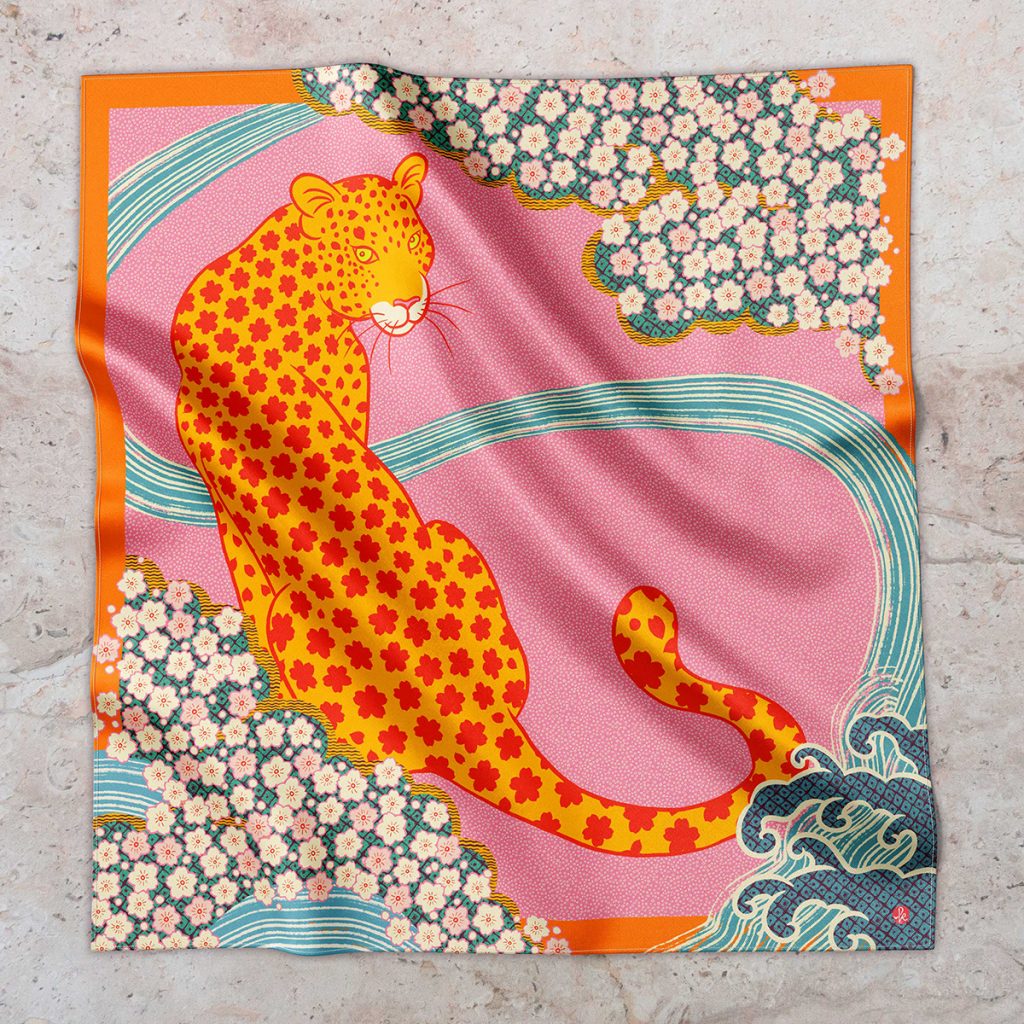 I am inspired by cultural anthropology, and my work is inspired by ethnic art, folk art, and decorative art. I explore how art mirrors the way people perceive the world, and how that perception changes depending on culture or time. In my works, I would like to share a sense of beauty and wonder and invite an escape from everyday life.I work in traditional Japanese painting techniques ( Nihonga ), watercolor, ink (suibokuga), and digital media. It is amazing to explore the visual freedom and versatility that traditional techniques offer, especially when combined with digital techniques.
Can you tell us about the work shared here?
Motif-wise, many of my works and designs tell a story about the relationship between humans and nature. Many of my designs originate from my artworks, where I explore the motif and the story behind it.
"Animal Spirits" is series of artworks featuring great cats. In those works, I am referring to animal symbolism in different cultures. Since the very beginning of image-making, humans have used animal symbols to express themselves and their beliefs. Heraldic art, patterns, embroideries, cave paintings, medieval iconography, mythic themes, legends, chimeras, and totems were all used to describe our attitude toward nature and ourselves. I also create my own symbols while contemplating contemporary issues I am surrounded by and feel strongly about.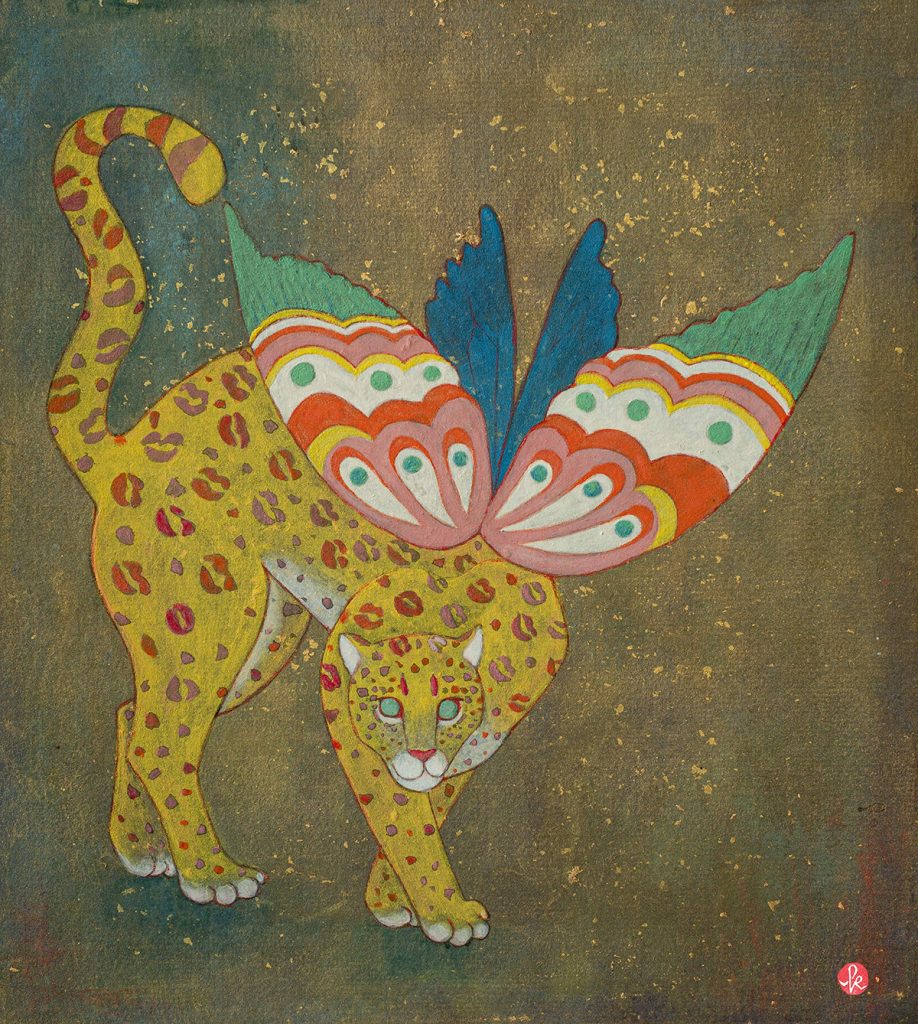 "Edo Safari" was my first project as a TDL member. I was inspired by kimono designs from the Edo period featuring animal and floral motifs. While at university, I studied the period's pattern books. Since then, I have been in love with the intensity and richness of those designs; they tell so many stories. At that time, I worked on "Panthera Japonica" – a painting featuring the leopard with sakura-shaped spots on a gold leaf background. This motif started the scarf design and the pattern collection. I managed to print the scarf via "Art of Where" with good results.
"Snow Leopard" (seen in first image) is a painting and a scarf design. At this point, at least. A few months ago, I was watching a documentary about snow leopards with my family. ( We love nature documentaries). I got mesmerized by those beautiful cats. They live a very lonely life in the highest mountains of the world in Central Asia. Snow Leopards are symbolic animals for many cultures from the area, carrying deep cultural meanings: a sacred animal, national icon, talisman, a mountain spirit. According to the shamanic views, the leopard is the representative of the higher heavenly forces on earth. It became a totem, an ancestor, and the protector of the family. Sadly the population of those beautiful animals is dropping, which makes them more cherished. In my artwork, snow leopards are depicted as precious jewel-colored deities living proudly between heaven and earth.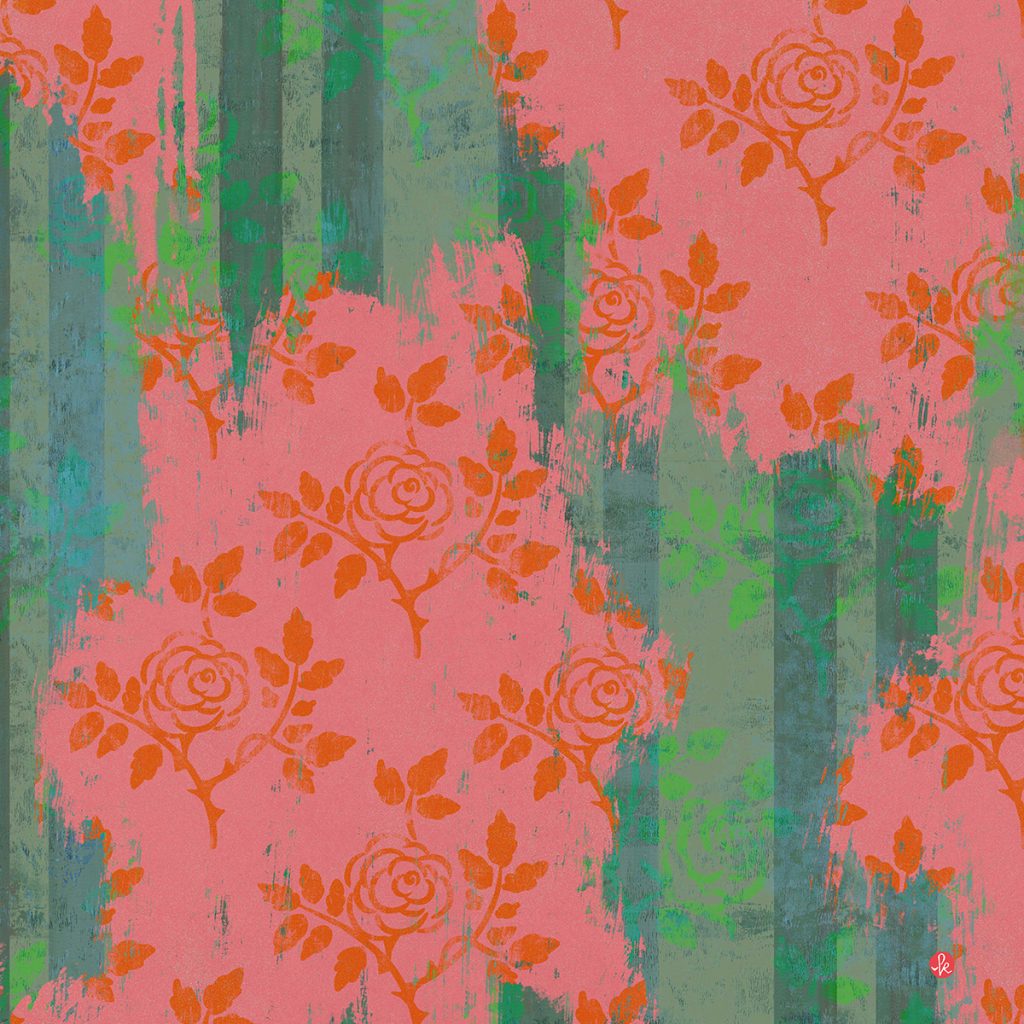 The "Now and Then" collection was inspired by an idea of a place's history, the story that is told by walls with layers of paint and wallpaper applied and reapplied by following owners. The patterns were supposed to be sort of erratic, depicting memories that cumulated in a place. The idea came from the walls I remember in my grandmother's house; she loved roses since this motif is omnipresent. The walls in her house were painted with a paint roller in floral motifs. I used watercolor to create the rose motifs, then worked digitally with the whole using different textures.It is a palimpsest, a clash of abstract art and traditional decorative motifs. The idea for this project originated during TDL's February challenge. I combined the "Heritage" and the "Abstract Art" trends here.
Thank you for sharing a bit about your textural patterns with us, Karolina. You can see more of Karolina Sato's textural patterns on her website.
Want to explore more posts about pattern design? Check out these recommended posts.