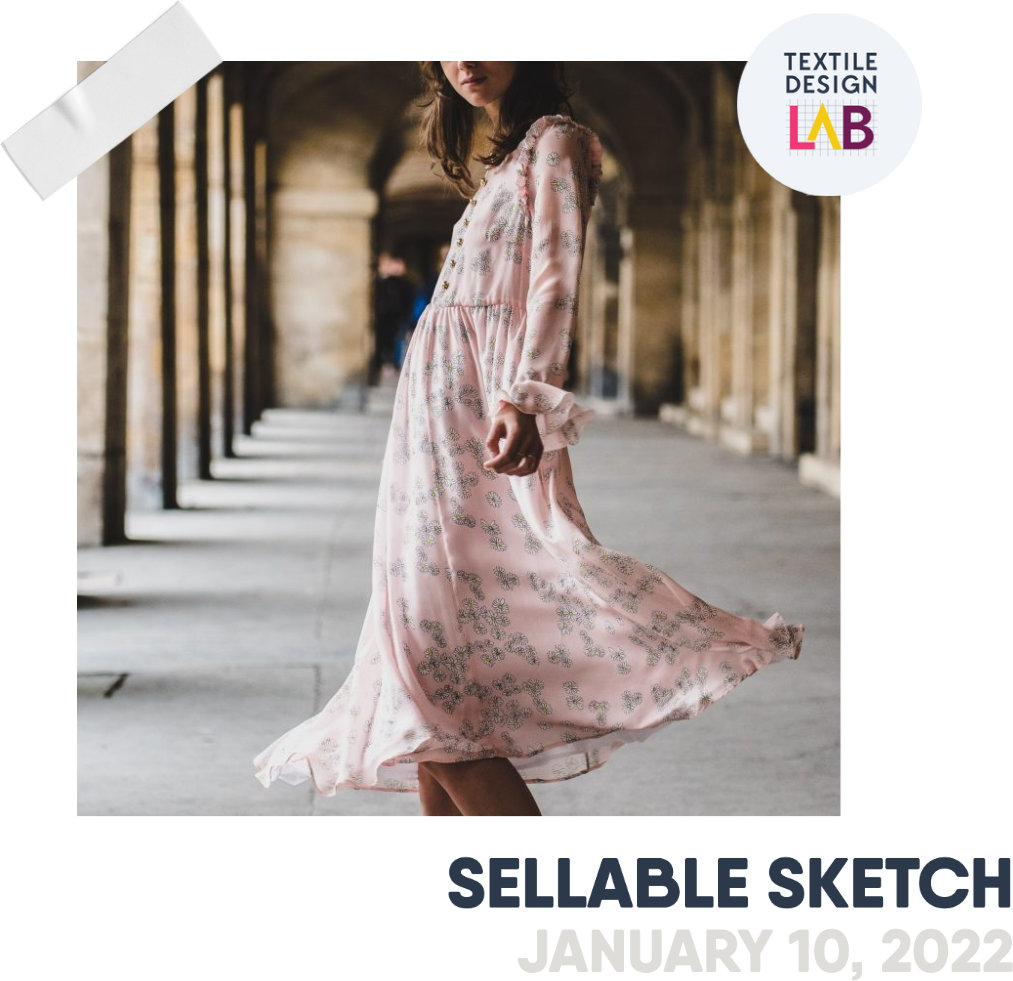 Happy New Year!!! We are so excited to kick off 2022 with our most popular course, The Sellable Sketch. Michelle launched the first version of this course ten years ago and it has grown and evolved over the years as tools, technologies and trends have changed, but its core purpose has always remained the same–bringing clarity and focus to the collection development process and taking the guesswork out of what to design each season. This course is truly the foundation of our Textile Design Lab community and has helped hundreds of designers to feel confident about what to design, who to market their work to, and where they fit within the surface pattern design industry. And our group-studies are extra fun because we come together as a community to work through the course, with email prompts to help keep everyone on track and WGSN access to explore fashion or home decor trends.
If this sounds like a fun and inspiring experience to start off the new year (believe us, it is!) we invite you to join our friendly and supportive learning community in the Lab. The Sellable Sketch course just opened up for registration and will begin on Monday, January 10th!
Here's what we will cover in this course:
In Lesson 1, you explore a series of exercises to help you identify your artistic style. This insight will help you to make decisions about who you are as an artist and what you should be creating.
In Lesson 2, you discover how to identify the ideal client, agent or market for your artwork. You'll begin to design in a more focused manner and feel more confident in where your work fits in within this vast industry.
In Lesson 3, you explore methods for bringing a fresh look to your work season after season, keeping buyers engaged and wanting more. Fashion trends and art history resources are discussed.
In Lessons 4 & 5, you begin to create the plan for your surface pattern collection. You'll learn what role your main pattern should play and how to brainstorm unique pattern coordinate ideas.
In Lessons 6 & 7, you create your eye-catching collection. You'll master a balance between what you naturally create, with new, inspiring influences and industry relationships.
In Lessons 8 & 9, you create an engaging presentation using your new surface pattern collection and learn how to conduct your own collection reviews. This method will help you to step into the role of your best Art Director.
By the end of the course, you'll have created a professional surface pattern collection that is ready to market to pattern buyers, studios, or agents. You will thoroughly understand what elements lead to a successful print collection, the importance of staying true to your artistic style, how to pick appropriate trends and inspiration sources for your target market and how to develop a print from sketch to digital file in both Illustrator and Photoshop.
We can't wait to see the ideas and creativity that you bring to this group!
Learn more about the course and register for your spot HERE.