Amanda Corcoran is a self taught designer and mother of three who finds the time to design fabric collections, educate aspiring designers, and homeschool her three kids! Her company Amanda Grace Design licenses designs for fabric collections for non exclusive contracts and exclusive contracts. When licensing under her non exclusive contract, buyers can obtain the production file, but the designs will continue to be sold through Print On Demand companies. With an exclusive contract, buyers will get the exclusive rights to a pattern for a specific time and the designs will not be available on POD sites. Let's find out more about how Amanda operates her successful design business!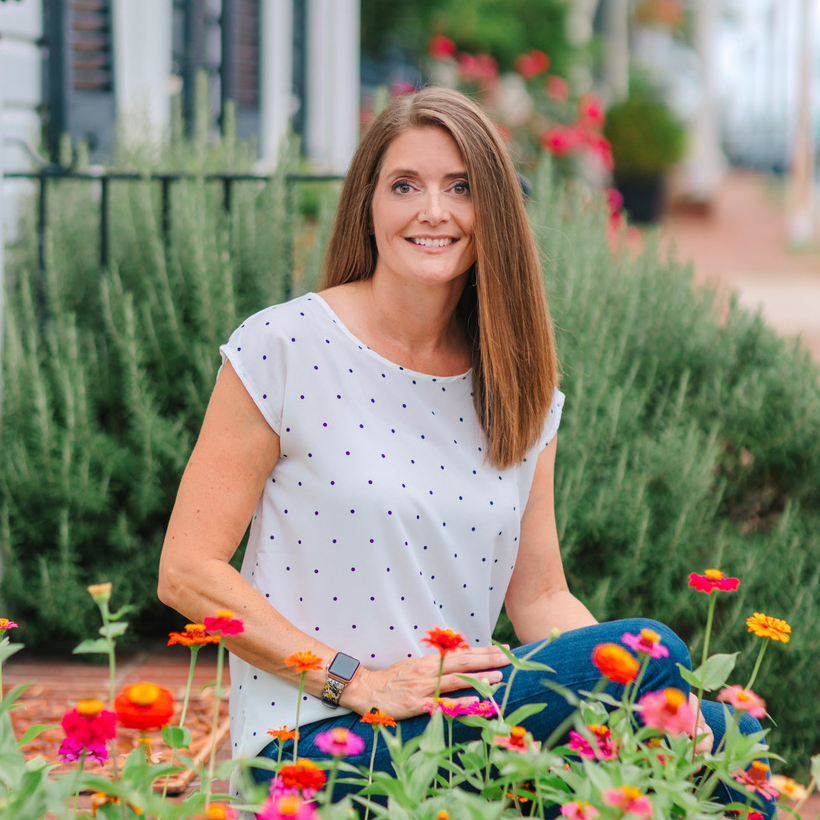 You are a self taught artist, how did you teach yourself and when did you decide surface design was the right career for you?
I have an interesting background, in that I have a degree in programming. I was a high school teacher and taught computer networking and web design for 10 years. When I left to start a family, I realized what I loved the most about web design was the graphics side of it, I have always been artistic, but never thought about using my artistic side as a career. While raising my kids I would work freelance by designing logos, wine/beer labels for local breweries and wineries as well as help local companies with their websites. When I decided that I wanted to pursue art as a full time career I started with Skillshare and took all classes on Procreate and Photoshop. This is where I learned about Surface pattern design – and the programming/mathematics brain of mine just fell in love with mechanics behind repeat patterns.
Do you spend time sewing or quilting?
I actually do NOT sew or quilt, but I am attracted to home decorating and love working with colors and mixing and matching fabrics and throw pillows and coordinating decor, which is how I first started with surface pattern design.
When designing for the quilting market do you sometimes feel like every collection has been made before, how do you keep your collections exciting and unique?
Let's face it – it has all been made, but it hasn't been made by me or you – so there is room for all of us. My take on a woodland theme with foxes will be completely different from someone elses. My unique style instantly makes my take on a collection theme new and unique – so I don't worry too much about whether what I am working on has been done before.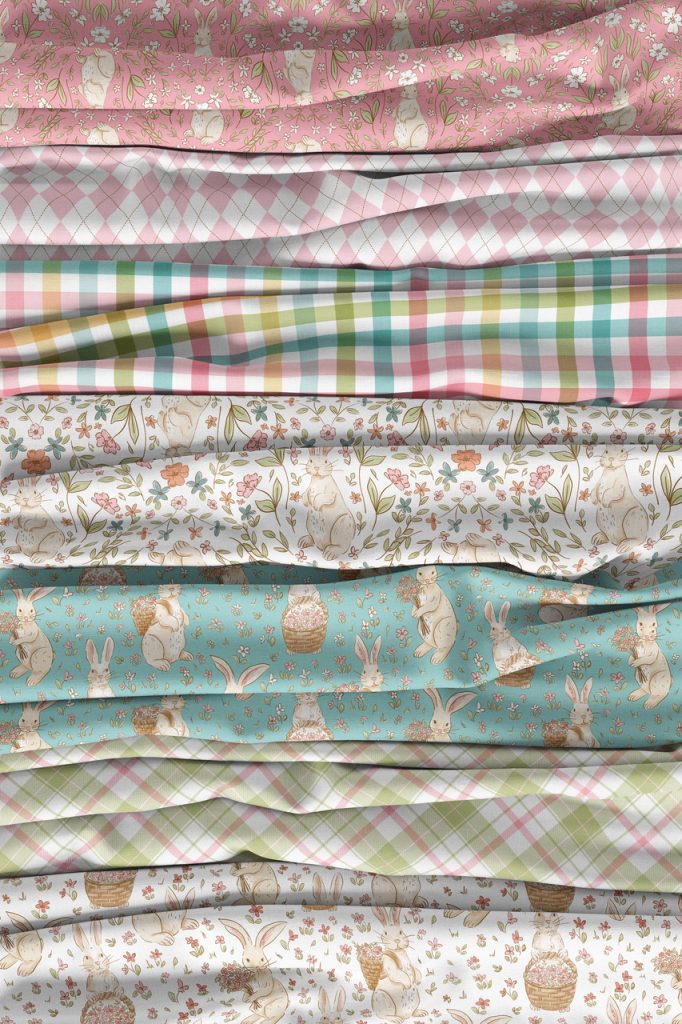 When you design patterns to sell for Spoonflower, how do you pick your colors, do you use their swatches or try to match your own?
Over the last 4 years I have narrowed down my colors that I use for my collections. You will most likely always see some form of a blush pink and a teal and/or seafoam green in my designs. I also love using brown for my outlining. I find that my style dictates certain color palettes all on their own. I do not use colors from Spoonflower and just work with what I feel flows and blends well together. I do however see differences in how my designs print from one POD site to another, so you should always print tests before selling your designs. I have had a time or two where I have had to tweak a color based on the difference in screen vs. printed looks like.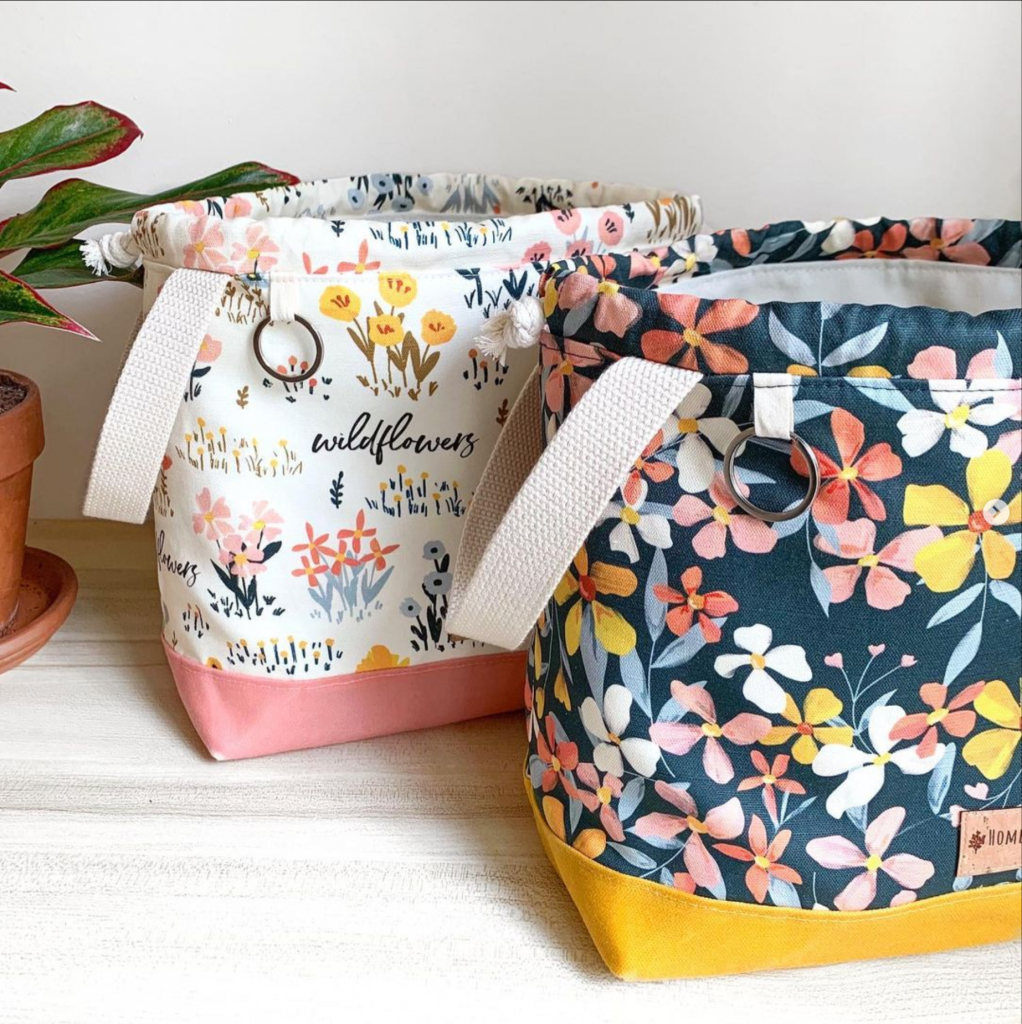 You have a free seamless pattern tester on your website, cool! What is the story behind making and sharing this?
As I said before, I tend to be kind of techie nerd first, and artist second – I am always looking for ways to speed up my designing process and work smarter and not harder. I tend to work with half-drop and half-brick patterns exclusively so to test my patterns was time consuming depending on which program I was working in (I work in Procreate, Photoshop, and Illustrator depending on what a client needs). I saw that there were pattern testers out there, but they either weren't user friendly or only tested full-drop (standard) patterns. So I reached out to a programming friend of mine and we set forth designing a pattern tester that was easy to use, and allow designers to "test as they created" allowing them to tweak and manipulate their designs on the fly. We are working on a few new tweaks and I will be debuting a new update to the pattern tester in the next few weeks.
What is your process for designing a new collection?
It is very important when designing for the Quilting industry to take the time to organize your thoughts and brainstorm your designs before putting pen to paper. In my experience most quilting fabric companies are looking for larger collections. My collections that I license to Poppie Cotton are a minimum of 7 unique patterns and 3 color ways for each pattern giving a total of 21 patterns that I submit for a final collection. In order for you to design that many patterns you must be organized in your planning. I am actually filming a free mini-course right now where I will be giving away my free pattern collection planner that I personally use and show first hand how I plan my collections. With quilting you need to have a variety of scale, variety of motif direction, as well as a variety of blender prints so it is important to take the time to plan and brainstorm.
If you were going to do any other career what would it be?
I would probably go back to teaching High School – I really enjoyed working in an educational environment.
You can find Amanda on Instagram here and her website here with links to shop her fabrics!
Find more of our interviews and information on the quilting market here.