In this final post of the five-part series, we will cover how to compile your research and design creations into a compelling pattern design portfolio project. Before focusing on this step, I recommend working through the previous four steps: researching the company's target market, choosing a target season, trend research and developing a balanced print collection.
The key to a successful pattern design portfolio project is that it should be personal, yet professional. Rather than creating a generic portfolio, try incorporating bits and pieces of your personality in a polished and organized manner. Remember: your prints and patterns are the stars of the show and should be presented in such a way!
Review
The first step is to review all of your hard work. Pull and compile your initial inspiration images, sketches and finalized patterns. You can do this by printing out images and pinning them onto a board or scanning your sketches and creating a digital board in Illustrator or Photoshop. You can see how I begin to organize my images in the following example.
Hint: To create a more cohesive presentation, try manipulating the color of your pictures so that they better match your patterns. You can do this using the Hue Saturation tool in Photoshop.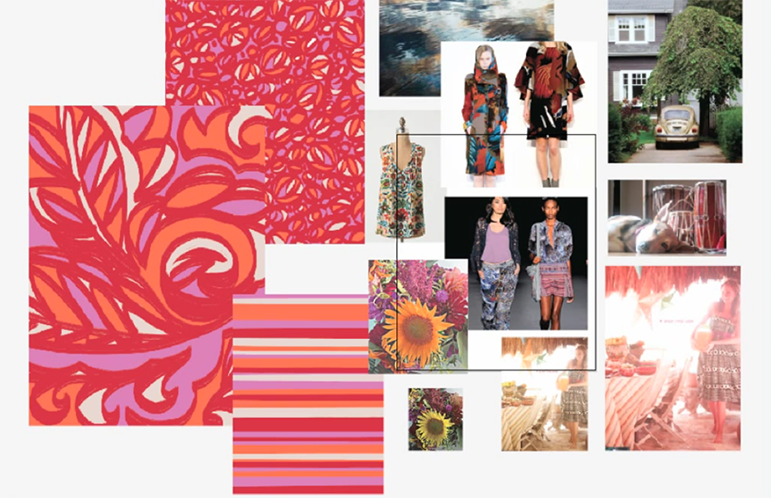 Prepare your pattern design portfolio presentation
The next step is to imagine yourself actually giving the presentation. How do you plan on talking through the presentation? What presentation order comes most naturally and explains your thought process to the hiring manager? Some pattern designers prefer to show their finalized designs and then talk through their creative process, while others prefer to start with trend research and show finalized prints at the end. Choose whichever option comes most naturally!
Once you have decided on an order, begin to organize your images and write down key points that you would like to address while presenting your pattern design portfolio (this is an affiliate link to a recommended portfolio). Here are a few ideas to get you started:
Talk through your inspiration images. Explain why these images were chosen and why they are appropriate for the company's end use consumer. For your final presentation, these images should be narrowed down and manipulated so they create a very strong, clear message to the hiring manager. Here is an example of what your inspiration board may look like, but remember to adapt to let your personality shine through!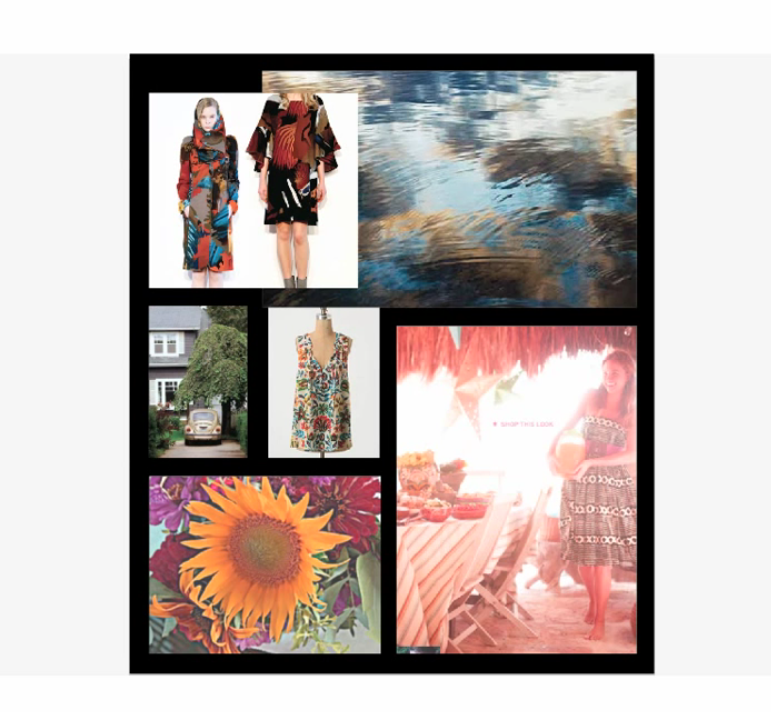 Describe your vision. As the designer, how do you envision these patterns being used? For example, "This floral pattern would be absolutely gorgeous on a maxi skirt," or "This dot pattern would be adorable on a pair of shorts." Sharing this vision will show the hiring manager that you thoroughly understand the "big picture" and thought through the project in a mature manner.
Show your sketches or initial pattern concepts next to the finalized designs. Showing your creative process is another way to share your personality and style with the hiring manager. Designers love to see the process and if presented in the right way, it can really sell your final product. If you choose to show pieces that didn't make the final cut, be sure to explain why the concept didn't work out and how you were able to regroup and move towards the finalized print. Here is an example of how I would present my creative process: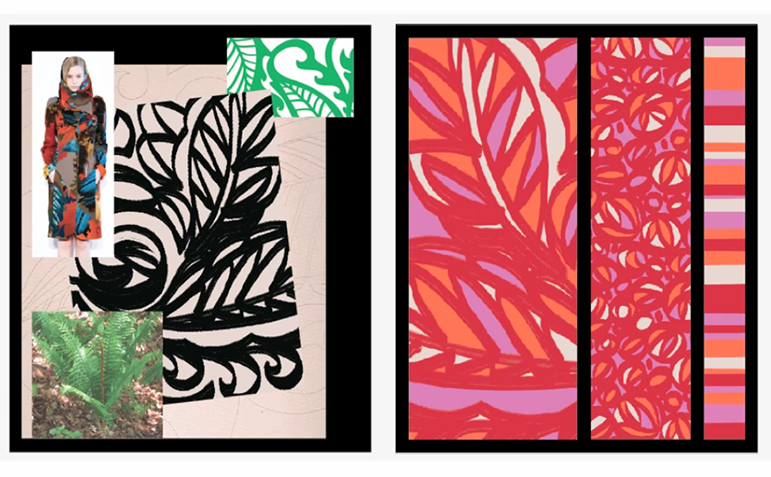 Treat these three tactics as a basic guideline for creating a compelling pattern design portfolio.  The sky is the limit to how you choose to let your personality shine through and I encourage you to go above and beyond the examples that I have shown.
Remember, you want to show the hiring manager a pattern design portfolio with a mature train of thought, that you have the ability to be creative, yet precise and that you can design to the company's target market. If you follow the steps outlined in this process, your portfolio project should address each of these points and be a wonderful learning experience! Landing your first job can be difficult so don't get discouraged and look at each interview as a learning experience. I encourage you to go above and beyond and challenge yourself each and everyday.
I hope you enjoyed this series! Lots of love–Michelle
To learn more about creating successful print collections check out The Sellable Sketch. This course has taught hundreds of designers the elements that lead to a successful print collection and how to develop a print from sketch to digital file.