Have you read the introduction, as well as the other posts in this series? If not, I recommend starting here.
If you are looking to land your first job or internship it is important to thoroughly know the company with which you are applying, understand their customer and develop a portfolio project with their customer in mind. We previously covered the first steps to developing this project: researching the company, choosing a target season for your collection and researching the trends which apply to their market. The next step is the fun part, developing a balanced print collection!  This collection should show the hiring manager that you are able to think outside of your own design bubble and create a collection specifically for their company.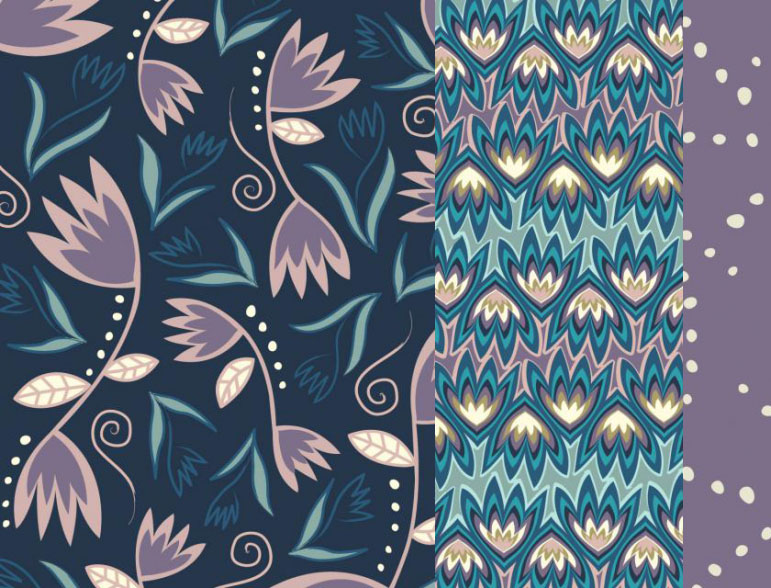 * Collection snippet from Sellable Sketch alumnus, Whitney Catarella
1. Develop your main print
A balanced print collection begins with the development of your main print, often referred to as a "focus print". In The Sellable Sketch I refer to this print as your moneymaker print, because it is the print that will draw buyers into your booth, website or portfolio.
The main print is the boldest in your collection and is the one that you really want to invest the most time in developing. Imagine that this is the print that the company will use for their marketing and publicity material. Examples include: bold florals, detailed paisleys or compelling geometrics.
Hint! As you are designing, constantly refer back to your customer page and trend board. You have to be able to envision your customer in the print that you are developing. Ask yourself, Would your customer wear this print? Would they love this print? Do you see this print on a jacket or a skirt? Would your customer wear it out shopping or for drinks with friends?
2. Develop Print Coordinates
The next step is to create two to three print coordinates that support your main print. You can do this by pulling elements directly from your main print or developing prints which share a consistent hand-feel, texture and color palette.
Hint! As you are developing your collection remember to use prints that vary in scale. At least one print should be at a larger scale than the main, while one to two prints should be smaller. It is also important to vary the number of colors being used in every print. Your main print may use 7 colors, while your print coordinates may have 2, 3 & 5 colors. Including variety within your collections will lead to more sales and in this case, will show the hiring manager your ability to develop a compelling print collection!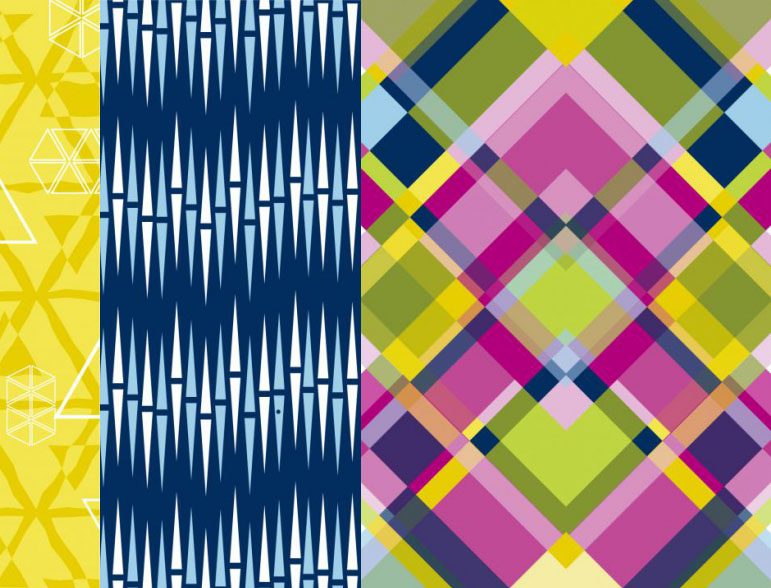 * Collection snippet from Sellable Sketch alumnus, Jenean Morrison
3. Save evidence of your design process
As polished as your final presentation should be, it is helpful to show the hiring manager your train of thought and how you work through a project. Showing your initial sketches, print concepts that didn't work out and other design challenges allows the manager to see that you have the ability to critique and narrow down your own artwork, which is a valuable skill. In step five I'll show you how to compile all this work into a beautiful presentation.
The next post in this series can be found here.
To learn more about creating successful print collections check out The Sellable Sketch. This course has taught hundreds of designers the elements that lead to a successful print collection and how to develop a print from sketch to digital file.