Have you read Part One of this series? If not, I recommend starting here.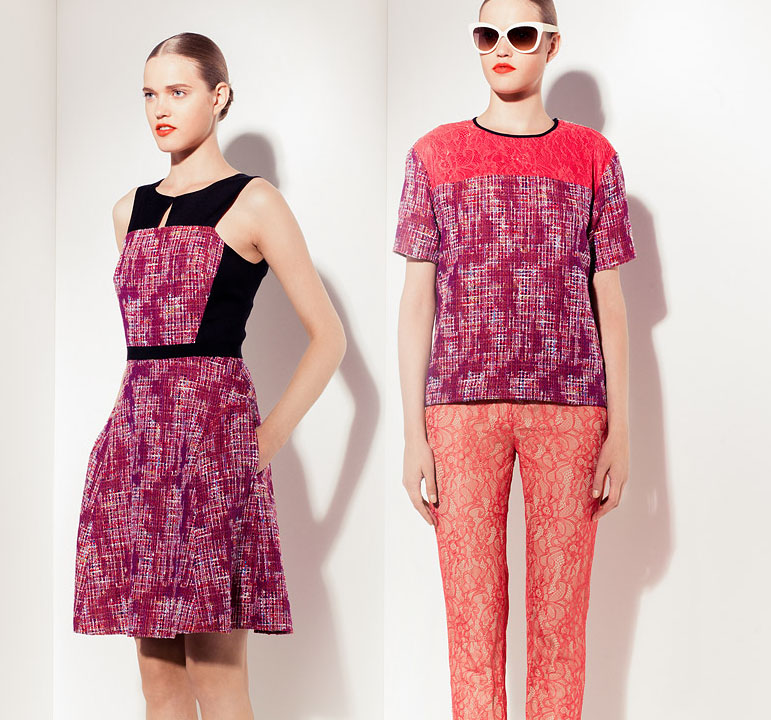 *images via Peter Som Resort '13, via vogue.com
Last week I covered the first step in developing a successful portfolio project: researching the company, as well as their ideal customer.
The next step in the process is to identify a target season. Product development takes many months, even years to complete, so design managers and creative directors are forced to design for future seasons. It is not as easy as creating a print and then seeing it on the sales floor the following month! Therefore, your ability to analyze trends and design for future seasons is essential to proving yourself as a professional designer.
So you know that you need to design prints that will hit the sales floor in the future, but how do you know which season to design for: Spring or Fall? I recommend basing this decision on your industry, customer and artistic style.
The Industry. Most apparel and home décor companies design a year to a year and a half in advance, although the exact calendar can vary depending on the progressiveness of the company. For example:
If it is Spring '12, companies are designing products which will be sold in Fall '13
If it is Fall' 12, companies are designing products which will be sold in Spring '14
Many fabric companies, such as quilting fabric manufacturers, work with shorter design calendars, anywhere from six months to a year in advance. Julie Freimuth, VP of Product Design + Development at P&B Textiles, attributes this to the fact that they are just printing the fabrics and not making finished products.
Print shows, such as Printsource & Indigo, promote the sale of prints one year in advance. For example, in January of 2013 you would sell prints intended to hit the sales floor in January of 2014. It is ultimately up to you if you want to work with this schedule or not.
Remember: If you plan on selling your prints at a print show, through an agent or directly to manufacturers then you need to design a few months ahead of this schedule. These dates are when you should be presenting your designs, not developing the concepts.
The Customer. When choosing a season, it is also important to take into account the market that you are targeting. Companies which are heavily influenced by trends, such as H&M, Forever 21, Urban Outfitters, etc.., need to work with shorter design calendars to insure that they are producing trend-right products. Companies in less trendy markets, such as outdoor activewear, are able to work with longer calendars, up to two years in advance.
Your Style. If you are developing this collection for use in your portfolio, I recommend choosing a season that will allow your artistic strengths to shine. If you love the summer season and feel that you excel at working with bright colors, or you already have a great idea for a palm print collection, then by all means go with a spring or summer delivery date. Do whatever you can to play up your strengths and share your passion.
Whichever season you choose, just make sure that it excites you and inspires your creation process. The season that you choose sets the mood for your entire project and your enthusiasm and passion will come through in your presentation.
Like most aspects of the textile design business, there are few rules which are set in stone. These are simply recommended guidelines and you will learn that design calendars range from company to company. I hope this clears up any confusion you have on the topic and please post any questions that you may have below!
Lots of love–Michelle
The next post in this series can be found here.
P.S. To learn more about creating print collections join us for The Sellable Sketch!