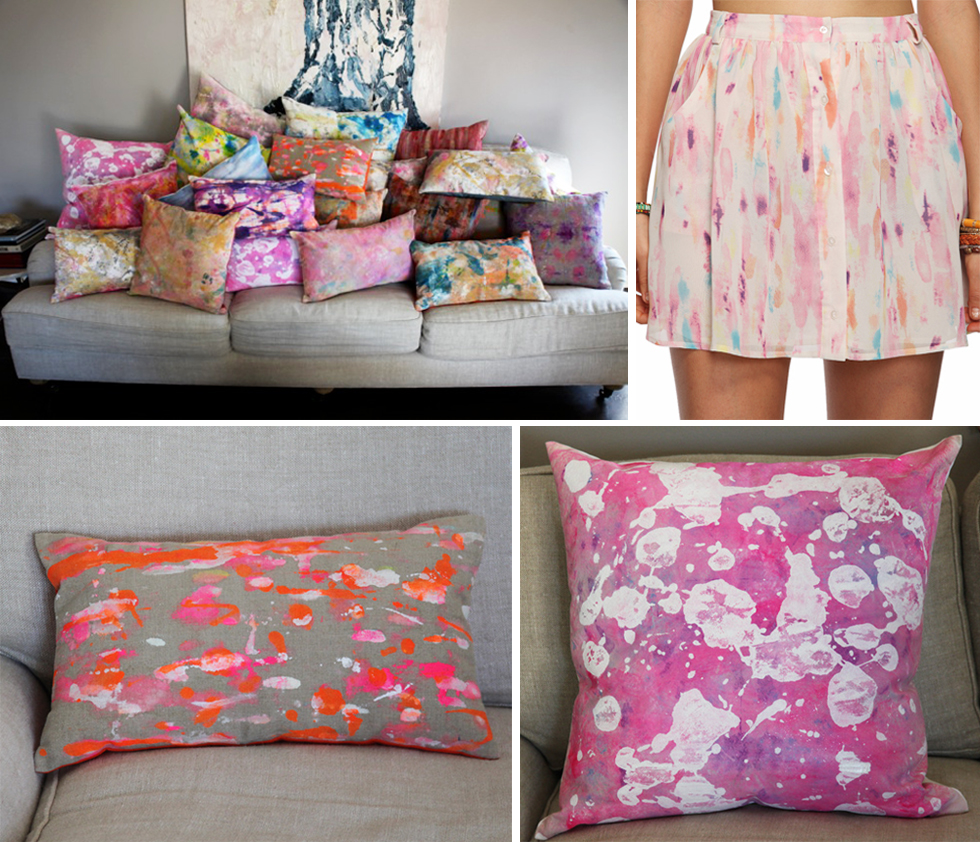 Emily's hand-painted pillow collection, and at top right, a print designed for Rory Beca, Forever 21.
Emily Wagner is an artist, textile and surface painter living in Los Angeles. She graduated from Vassar with a Bachelor's degree in Fine Art then moved to L.A. from NYC to pursue a career in film and art, and has worked extensively in both fields.
Emily's hand-painted illustrations and textiles can be seen on the fabrics of Forever 21, Rory Beca, Hy & Dot, Curio & Kind and are regularly sourced by interior designers such as Hillary Thomas and Molly Luektemeyer. Her goods have been sold at stores such as Ten Over Six, Distant LA, Hillary Thomas' Chic Shop, Fiore Designs and One Kings Lane.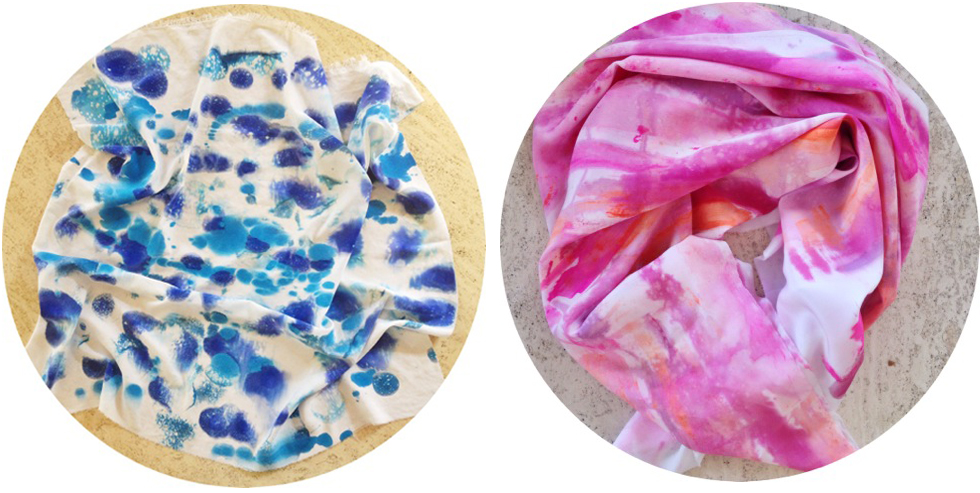 About her creative process, Emily writes, "the experience of creating the finished piece or design is just as vital as the final 'object or pattern' itself. So much for me is in the rhythm of movement that happens when I am painting – I become deeply connected to and in a deep formal dialogue with the materials. And I am always affected by them differently. Every fabric, color, medium and texture has its own life, so to speak – and in the process of working with them, I find a dialogue, a way to relate – that's always unique to each of them even if i've worked with say, linen and silk dye, each time the experience is unknown, new and actually – terrifying.
There is this risk taking that makes the process very much like nature itself – it can turn at any moment and like a ship in storm, I have to ride it back home and stay in control. There is an element of nature or the 'organic' both in the patterns (or lack of pattern) that emerges as much as there is in the materials themselves. When I am painting, it's the only time I am NOT on the computer. The result is a free – feeling – random experience of color, shape and form which is such a great counterpoint to my digital, pixel pushing, exacting – self as a graphic / web designer or writer. And maybe that is what people respond to – the subtle combination of chaos and order – how it all comes together."