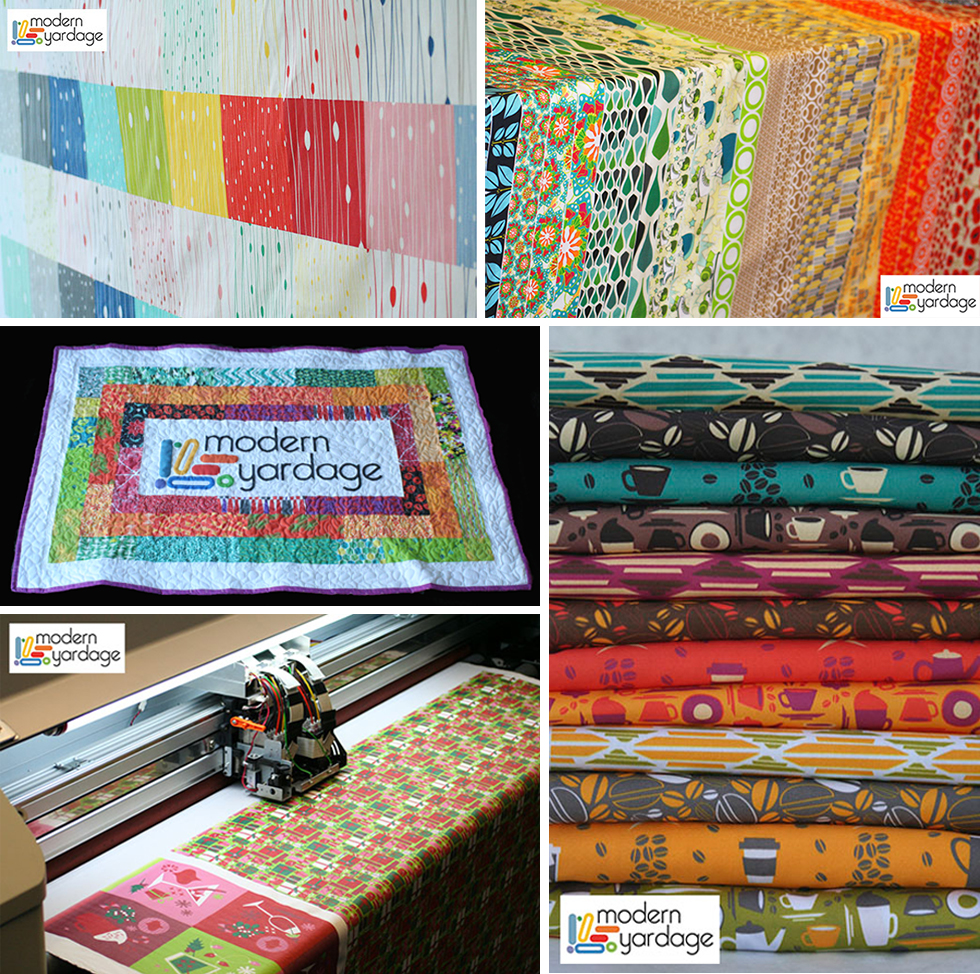 April Cobb is the owner of Modern Yardage, an unconventional digitally printed fabric design/manufacturing/retail company that is changing the way people think about and buy fabric. April was kind enough to answers some of our questions about her exciting business and what she has learned about the quilting industry. Enjoy!
Tell us a bit about your design background and career path. What drew you to the quilting industry and what made you decide to start Modern Yardage?
I have been sewing since a young age, and before long I realized that what drove me to sew and what I was really most passionate about was the beautifully designed fabric. I just had to work with it, use it, and wear it. After having children, I decided to start a business sewing and selling my accessory designs. I sold bags, headbands, aprons, and much more online and at the Salt Lake City Downtown Farmer's Market. I was so successful with my headbands that I was going through a lot of fabric. This was wonderful because I loved shopping for the fabric at local, independent quilting fabric stores. I sew many things, and I have sewn quilts, but I don't consider myself a quilter. I was just drawn to this industry because of the fabric. The quilting industry provides so many more options than other substrates and there are always so many wonderful coordinating prints. The quilting industry includes accessories and clothing because so many things can be made out of cotton prints. Before long, I was designing sewing patterns for Joel Dewberry and Riley Blake Designs. These relationships and my own experience otherwise taught me a lot about what was going on in the industry and what the shortcomings were. This sort of understanding led me, along with my husband, to start developing a concept that would remedy these problems and become Modern Yardage.
What makes Modern Yardage different from other quilting fabric companies? Why did you decide on digitally printing your fabric as opposed to the traditional method of wet-printing?
Modern Yardage is very different than other quilting fabric companies. Since we digitally print our fabric, we not only manufacture, but we also sell directly to the customer. Because of the speed advantages of digital textile printing, we are able to print fabric for our customers on-demand. We don't have to speculate on trends or popularity of individual designs. Even better, we don't have to guess how much fabric will be purchased from us and spend the money to print fabric in advance that may not sell. This allows us to provide customers with more options, such as various scales and colors for each print, custom printing, and semi-custom products. We can also better respond to customers' requests and opportunities in the marketplace without delay. Because I have such a great love of art and design, I am particularly glad that we can provide many designers the opportunity to license their work for print on fabric. It is very difficult to find these opportunities because it is such a big investment for traditional fabric houses to invest in printing a collection of fabric designs. This is why they are often so limited on how many designers they can bring on. Modern Yardage, on the other hand, will be able to offer more designers opportunities since we do not preprint. At the same time, we do look for a certain type of designer. We want to be true to the general style of Modern Yardage.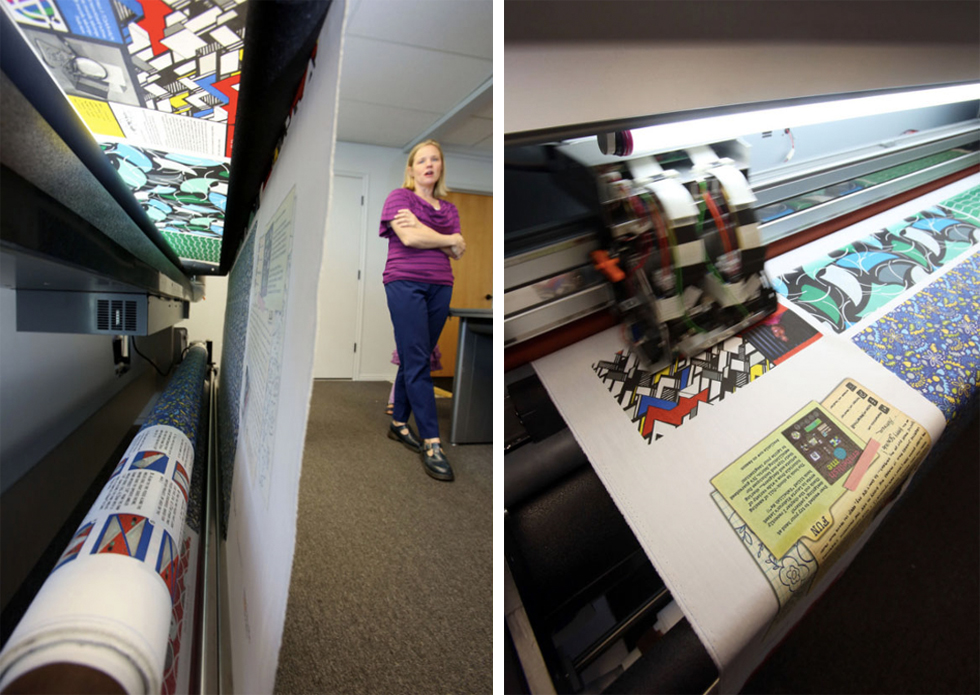 April and the Modern Yardage printer, images by The Salt Lake Tribune
What is a typical day like for you on the job? What are your favorite parts of running this business and what do you find most challenging?
I work an unusual work schedule because I have four small children. I dedicate my mornings to answering emails from employees, customers, bloggers, and designers. I communicate with my employees and interns to make work assignments and check status of our projects. Sometimes I use this time to design myself. I layout patterns to give to our customers or design graphics for our freebie 12" margin space or for the website. I work from home in the afternoons so I can be home for my kids after school. I work again late at night, loading products on the website and answering more emails. I find this to be my most effective time to work because a lot of people I need to communicate with are working then too, like mommy bloggers whose kids are in bed and designers who work during the day and design at night after they get home from their day jobs.
The most challenging part of running this business is juggling it with dedication to being there for my kids. It is also challenging that there are so many things that I want to create and do for Modern Yardage. My ideas are limitless, but my time is often too short to accomplish all I want to do and maintain balance. What I love most about my job is working with such fantastic people. Everyone who works at Modern Yardage is talented and fun. And the Modern Yardage designers have become dear friends. They are dedicated and willing to pitch in to problem solve and build our brand along with their own. I also love reviewing designs and seeing our designs made into beautiful projects. There are about 30 things I love about my job. I feel very blessed.
Could you describe the Modern Yardage aesthetic and what you look for in the artists you represent? Do you have any suggestions for those currently seeking representation or licensing deals, and trying to stand out from the crowd?
We look for designers who have found their style and stick to it. We do not like receiving submissions with so many styles that it is hard to tell it came from one person. Because Modern Yardage lets its designers have an enormous amount of creative freedom, we have to trust in the artists themselves and be confident that everything they create will be lovely and marketable. We also like strong graphic abilities and the ability to take hand drawn sketches and turn them into beautiful repeat patterns. We are not looking for altered photograph designs or other designs that would not be appealing to a broad audience.
We like to see designs that fit well with the aesthetic that we already have yet stand out with its own uniqueness. Generally speaking, we must see that a designer can put together a collection well and that they have a great sense of color.
Also, we want designers who can market themselves well and who are great to work with. When I see that designers have a strong social media presence and that they are selling their work wherever they can find opportunities, I know that they will help sell their own fabric. That is someone that appeals to us. When I see a designer who heads up collaborations with other designers and unselfishly builds the design community, that is a designer that we are interested in. I have turned down talented designers before just because I have heard that they cause drama or have a bad reputation with others whom have worked with them before. No designer is good enough for us to ignore that they are difficult to work with. So be nice and learn to market yourself.
What do you feel is the hardest step in creating a successful print for the quilting industry? How about in creating a collection of prints?
Some people have a style that would be beautiful for apparel or for pillows, but it does not translate well to quilting fabric. I think the biggest mistake designers make over and over again is that they don't recognize that it is important to keep it simple. Generally, it is the most basic of patterns that sell best.
The hardest thing about creating a collection of prints is that the surface designers don't always sew themselves and many are not familiar with the quilting world. Their prints go well together, but they are too bold or busy to compliment each other. Quilts, clothing, and other projects that use coordinating prints need space. The main prints need supporting prints that don't compete. I urge designers to follow quilt blogs and watch what the top designers are doing before they create a collection to submit to a fabric design company. Know your stuff. Don't submit before you are ready.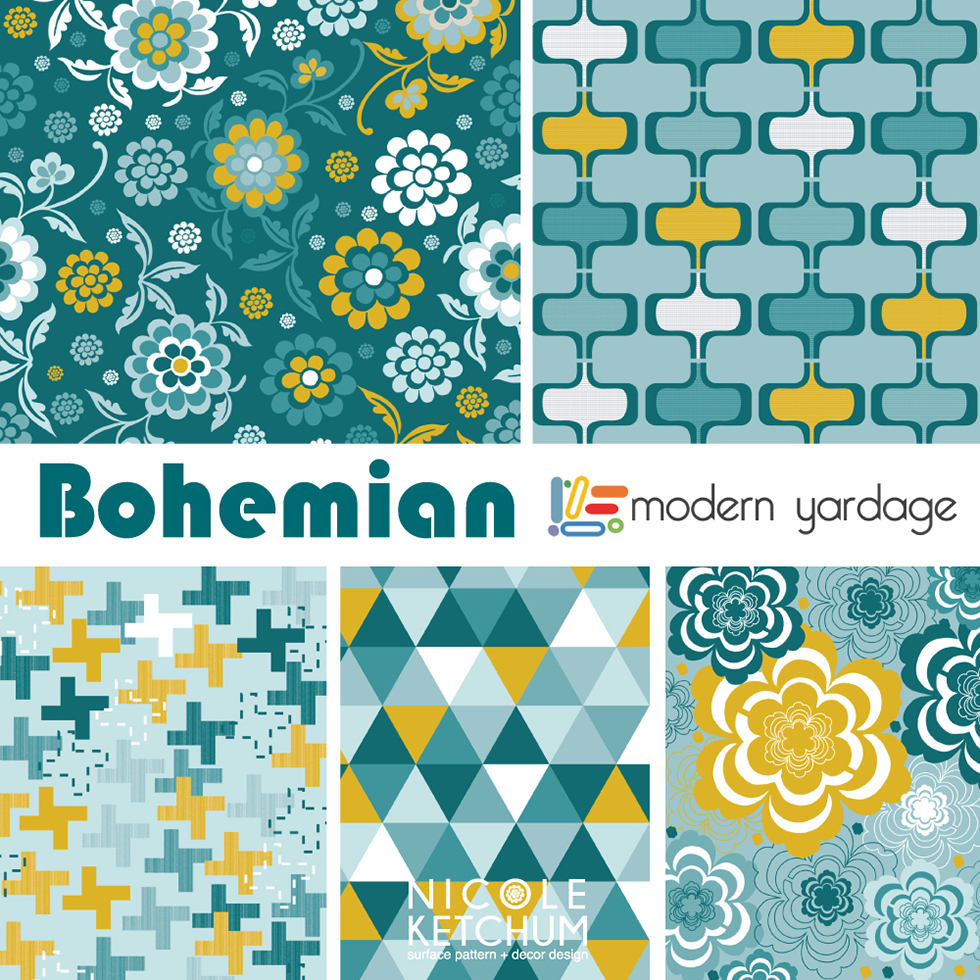 Nicole Ketchum for Modern Yardage
Who are your design heroes? What about them inspires you or influences your work?
I have learned a lot from Joel Dewberry and his wife, Laurie. My husband and I are close friends of theirs. I admire their style and have learned so much from their experience in this industry. I could list many great fabric designers who have been doing this for close to a decade now and have created the style and aesthetic that drew me into this profession. They are also my design heros. I am inspired by their grace in dealing with people and their ability to capture the beautiful things in this world and translate that beauty onto textiles.
What one action has made the biggest impact on your business?
Believing in my husband and his idea to start the business in the first place. It was his idea, and instead of dismissing it, I believed in him and put my whole heart into it. Once the business started, choosing the right people to work for Modern Yardage and the right designers to license from is the most impactful thing we have done. Modern Yardage is 100% the imagination and determination of its designers and employees.
What are your goals for the future of Modern Yardage? What would you like to be working on a year from now or five years from now?
In one year, we expect to have Modern Yardage equipment in independent quilt shops everywhere. That sounds ambitious, but it has always been our goal. In the next couple of months, we will be opening in a quilt shop in Utah. Customers can come in and order and watch their fabric being printed as they wait. They can have customized fabric, which has not been available before. After the first shop has offered Modern Yardage fabric, we plan on wasting no time expanding into quilt shops all over the world to make our designs available on a local level.
In five years, I hope that Modern Yardage is established enough that I can have more time to sew again and that I can invest time and energy into teaching and inspiring others to sew. Sewing is my passion and I long to teach others to sew, allowing them the creative outlet and design opportunities that come along with it.
Do you have any words of advice for aspiring designers trying to make their way in the textile industry?
Be true to your style and gain inspiration from others… but never copy. Your style is good enough. Don't overthink or overwork your designs. And be patient. It isn't easy to get licenses in the textile industry, but if you keep improving, the right opportunity will come. And most of all, keep putting yourself out there and work on building your brand. You need to be in the right place at the right time, so try to be in as many places as you can. Don't give up, but do be open to advice that you can implement to become better.