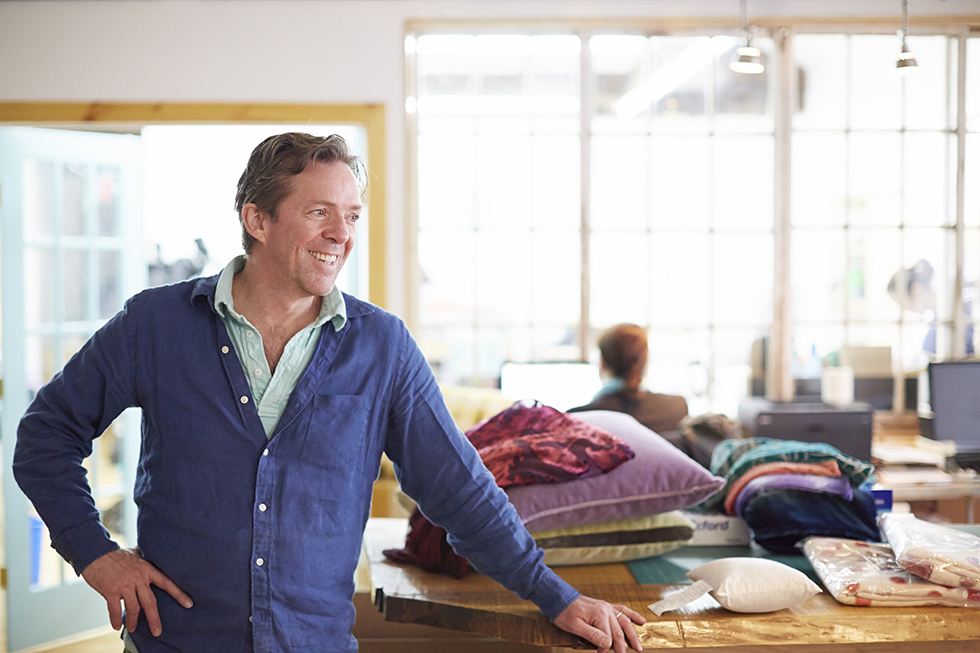 Kevin O'Brien Studio is a textile studio based in Philadelphia, which produces high-end home accessories for Anthropologie, Saks Fifth Avenue, Neiman Marcus, and other retailers, while remaining true to quality craftsmanship. "We focus on hand painted silk velvet burnout, with an emphasis on color. All of our patterns originate from drawings by Kevin that transform when they are translated into our lustrous velvet. The hand crafted element of our product remains vital towards its creation. This allows us to fully control our designs, and particularly, our colors. Our painting system gives us access to a full range of color concoctions from jeweled tones to pale neutrals, all of which are illuminated in our velvets."
Kevin was kind enough to answer a few questions about the studio, his team and their process:
1. Could you talk a bit about your transition from a fine artist to the realm of textile design? What drew you to painting on fabric?
I began as a painter, but I quickly realized how difficult it was to market my work in that way. A friend then suggested I get some silk, use it as a canvas, and she would sell it as a scarf. I promptly went down to Fabric Row in Philadelphia, PA and even though I came back with polyester instead of silk, I painted it and turned it into my first order with Barney's. From there, Kevin O'Brien Studio was born. I've since learned the difference between silk and polyester.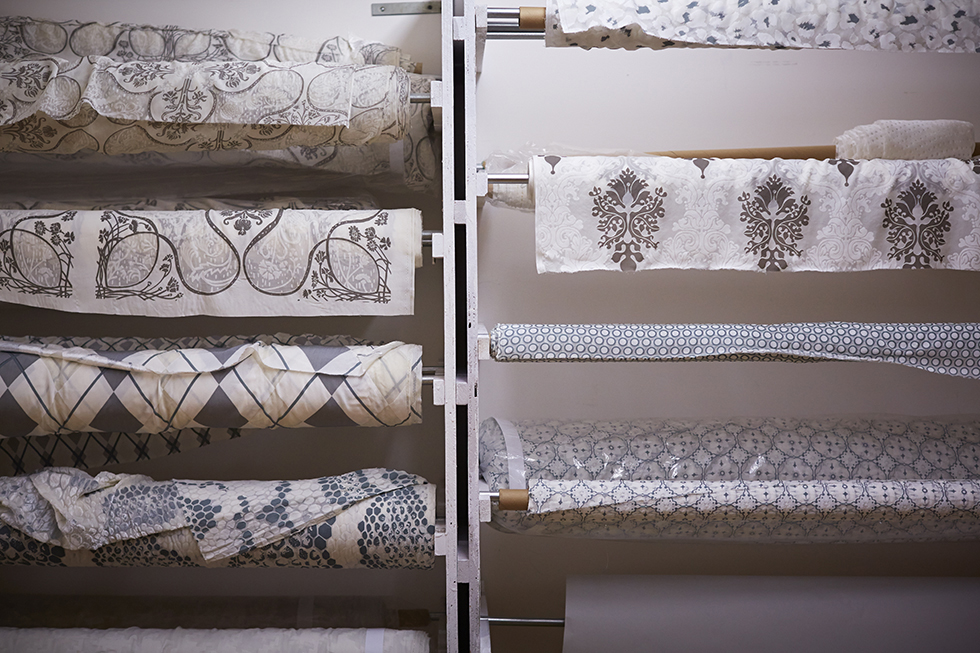 2. Tell us about the burnout process. Are there any special considerations or limitations when designing for burnout velvet? What are the challenges and benefits of using this process?
The process couldn't be simpler, that is – if you get every step of the process right. Like many other printing techniques, it is all about controlling the nuances of the material. The burnout is a chemical that is printed onto the back of the velvet, ironed and the printed fibers are scraped away leaving the design. We are able to create a lot of depth by printing over the velvet areas with substances that resist the dye that is added in the painting process. We can also add substances to the dye that force them to behave in certain ways and create special effects on the finished fabric. So, when designing the actual graphic I have to anticipate where I will use these additional techniques.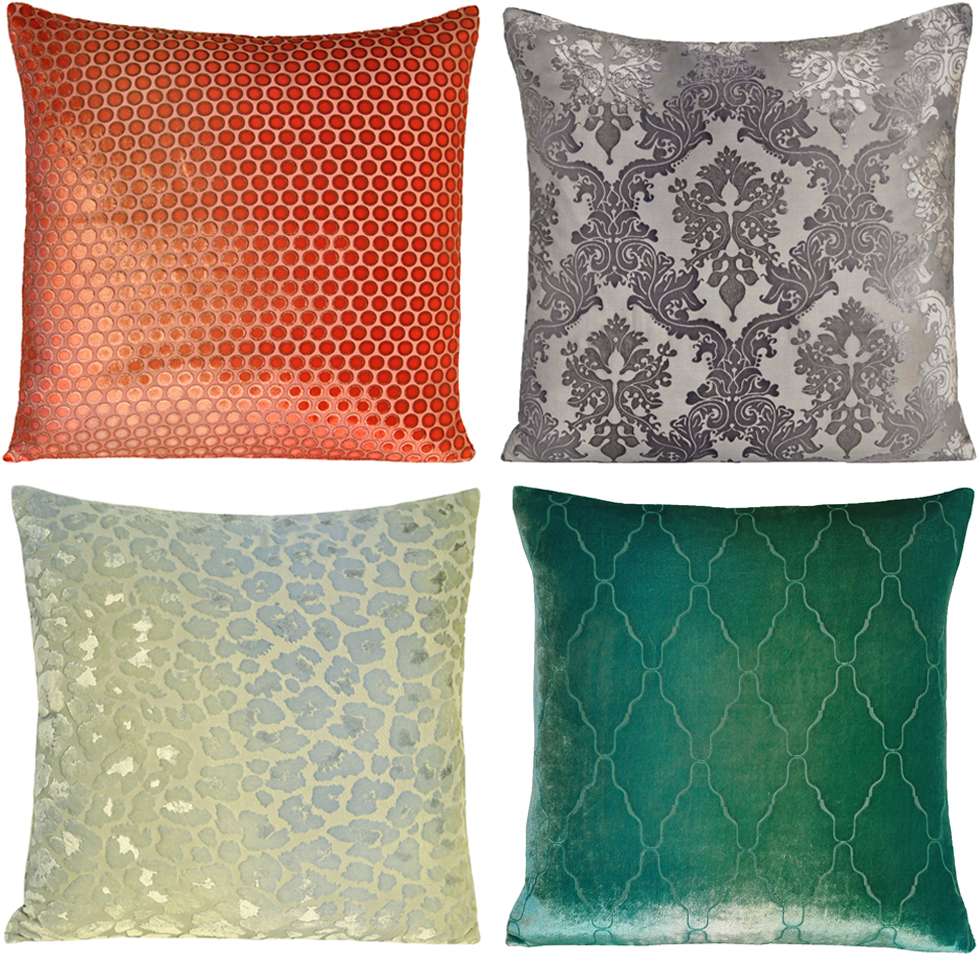 3. Where do you seek inspiration for your patterns and colors? What influence (if any) do trends have on your design process?
I don't focus on trends much at all. It's not that I am such a purist that I can't be bothered, it's just that there are people in the company who understand this better than I do (in fact, almost everyone in the company does). Also, there are so many factors (color/scale) to the final product that can be made to respond to the trends so that the actual pattern can be almost anything. Depending on trends, these designs could become a range of products (a duvet, a quilt, a pillow, a printed cotton sheet, even a rug). It is also not unheard of that my design is vetoed by the rest of my designers because they cannot see a way to fit it into our current line or it is too far off trend. In that case, it goes into the archive and I pull it out later, hoping it will get a better reception. My flat files are filled with enough work that I can look back and find things that I might adapt to a new pattern later down the road.
For inspiration I look to the woods or the ocean. I just draw and paint them, not thinking of business. My goals are to add beauty to the world and meaning to my own life. I believe that with beauty and meaning, inspiration comes naturally, often and from everywhere. Sometimes it is the simplest of things that bring out my most exciting work. One of my latest designs was inspired by a pattern of a fence that a butterfly had landed on as my daughter was chasing it. Seeing through my children's eyes has given me a whole new perspective of the world.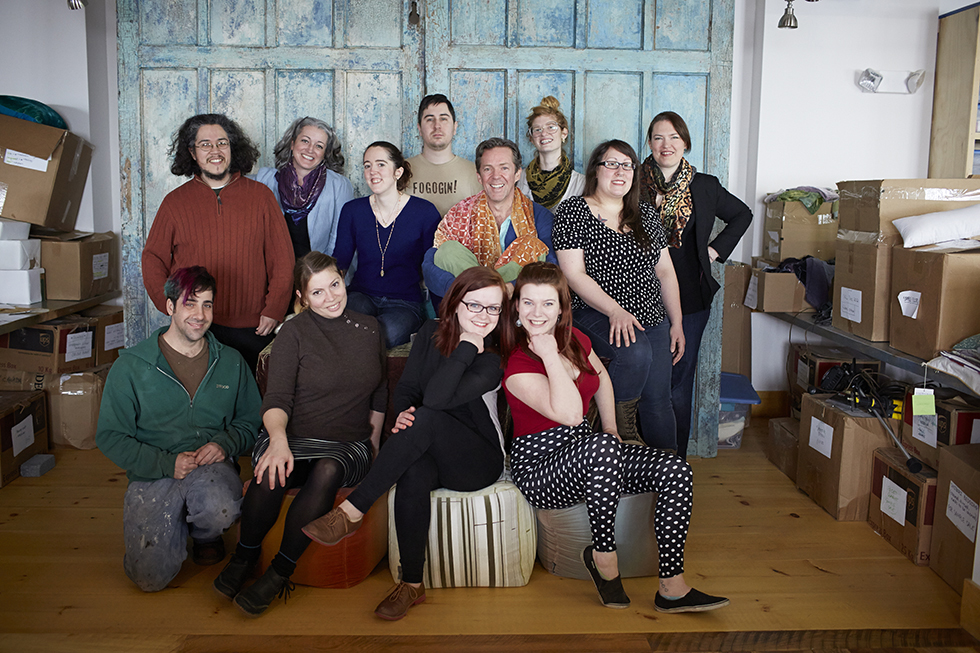 4. Could you tell us a bit about how you work with your team? How does your team help turn your original artwork into finished products?
As I mentioned before, our products are the result of many people's efforts. Not only do the other designers give their input, but because the manufacturing of the finished products is done in the same building as the designs, our painters may discover an interesting part of the design that can be further developed. Even during cutting and sewing someone may notice that we could make a new shape from a certain pattern, and this is considered for future use. Since we are all together all day, talking and discussing, we solve problems before they arise (usually) and discover new techniques and designs.
This way of working is the result of consolidating all of our activities under one roof. Two years ago, we bought an old movie theater and converted it to serve our exact needs. I was able to design the studio to house both design and production on what would have been the balcony of the theater. The length of the floor of the theater is the perfect space for our dying and printing process. Customizing our space has really contributed to our ability to grow physically and creatively.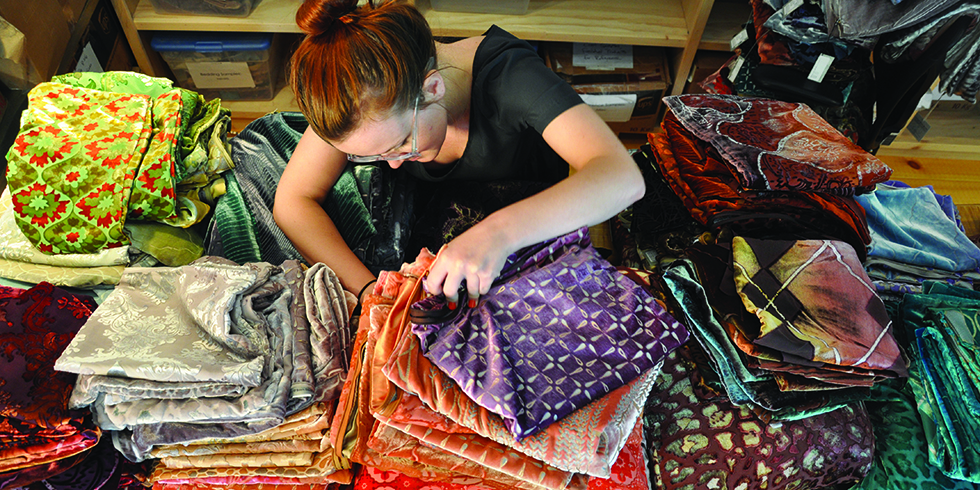 5. What would you consider to be your most proud achievement or greatest success so far in your business? What are your goals for the future?
My proudest achievement in business so far is creating the organization that I have described, and being able to craft a product that is very coveted in the marketplace.  We have efficiency, comfort, security, and a sense of accomplishment throughout the company and our team is in on it together. If the product is to be beautiful and dignified, then the process of making that product must be beautiful and dignified as well. This is the only way to have strength and energy to keep creating new things.
My main objective for 2014 is to finally get my upholstery line developed. I have been working on it for a few years already! The challenge is to create something that is unlike anything in the market, yet something that the market will have to have once they see it. And of course I have to give it my signature hand printed and hand dyed look. It's a tall order, but I am close!
6. Do you have any advice for aspiring textile designers hoping to build successful businesses of their own?
My advice to a young person who wants to start their own business is to first recognize how long their career will be. With that perspective, it will be clear that she/he should get some work/business/design maturity. I guess this is called experience. This is not the way I did it and that is why the first ten years were such a struggle. I was glad that I was doing my own thing, but a little bit of time in the trenches at the New York or North Carolina markets would have helped me a lot.