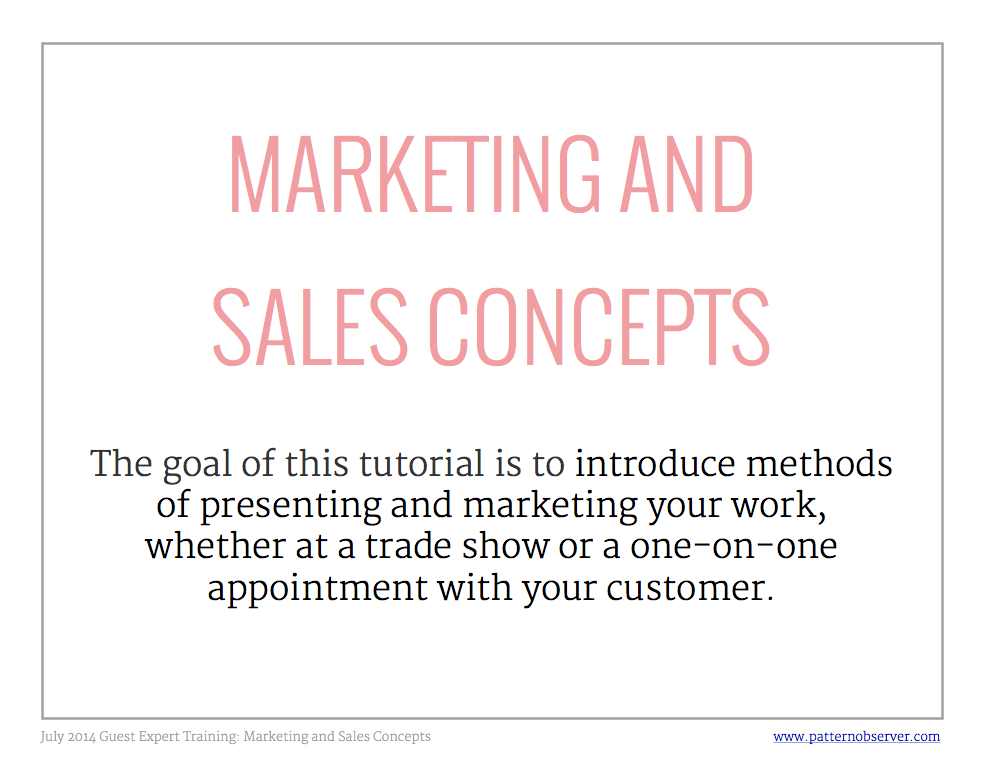 Each month in The Textile Design Lab we welcome an industry expert who offers training in their area of expertise. This month our guest expert has been Pat Nugent, the founder and president of Patricia Nugent Design & Textiles, and a fashion and textile trade expert. You can read more about Pat in our interview here.
In today's excerpt from her 17-page training PDF, Pat talks about the various ways of marketing and selling prints, focusing on bringing the customer in to your studio, and visiting the customer at their offices. In the full version available in The Textile Design Lab Pat also discusses tactics for presenting at trade shows and the differences in buyer behavior between trade shows and in-office appointments. Enjoy this free excerpt!
Self marketing for artists and designers is often the biggest obstacle to business success. It is very hard to do. But it is a learned skill so is possible to accomplish with effort and a thoughtful approach.
My experience
Owning an independent business like Patricia Nugent Design and Textiles has allowed me to learn about sales and marketing through a hands on approach. Having bought Sarah Truitt Textiles in 2005 and then Christine Greiner Designs in 2008 I jumped right in to self marketing from day one. My perspective is informed by also having been a customer of Sarah's and Christine's, as well as many other studios, during my 25 years in the apparel business prior to 2005. I can think about what I liked as a customer and what worked to find brand right prints and patterns. It helped having years of experience in Merchandising and Design on the inside of brands, where we "sold" our design and product concepts to company owners, sales people, key accounts and investors.
Selling your work
The business has changed and continues to evolve so that alone takes thoughtfulness about how to adjust to the changes. What you plan to do one season to self market may need to be adjusted the next season. We all have multiple opportunities to present and sell designs. This actually makes it easier to be successful even though it may add confusion at first. There may be one approach you are most comfortable with and others less so but together it all balances out and makes for a less risky plan, overall.
Your choices are four, as we see it:
1. Invite customers to come to your studio
2. Go to your customers' offices for appointments
3. Send customers your designs on approval (this is based on mutual trust) either digitally or the actual prints
4. Participate in the trade shows for our industry
Continue reading–download a free excerpt of the training here. You can access the full 17-page training and all of our Textile Design Lab courses and members-only content by joining today.