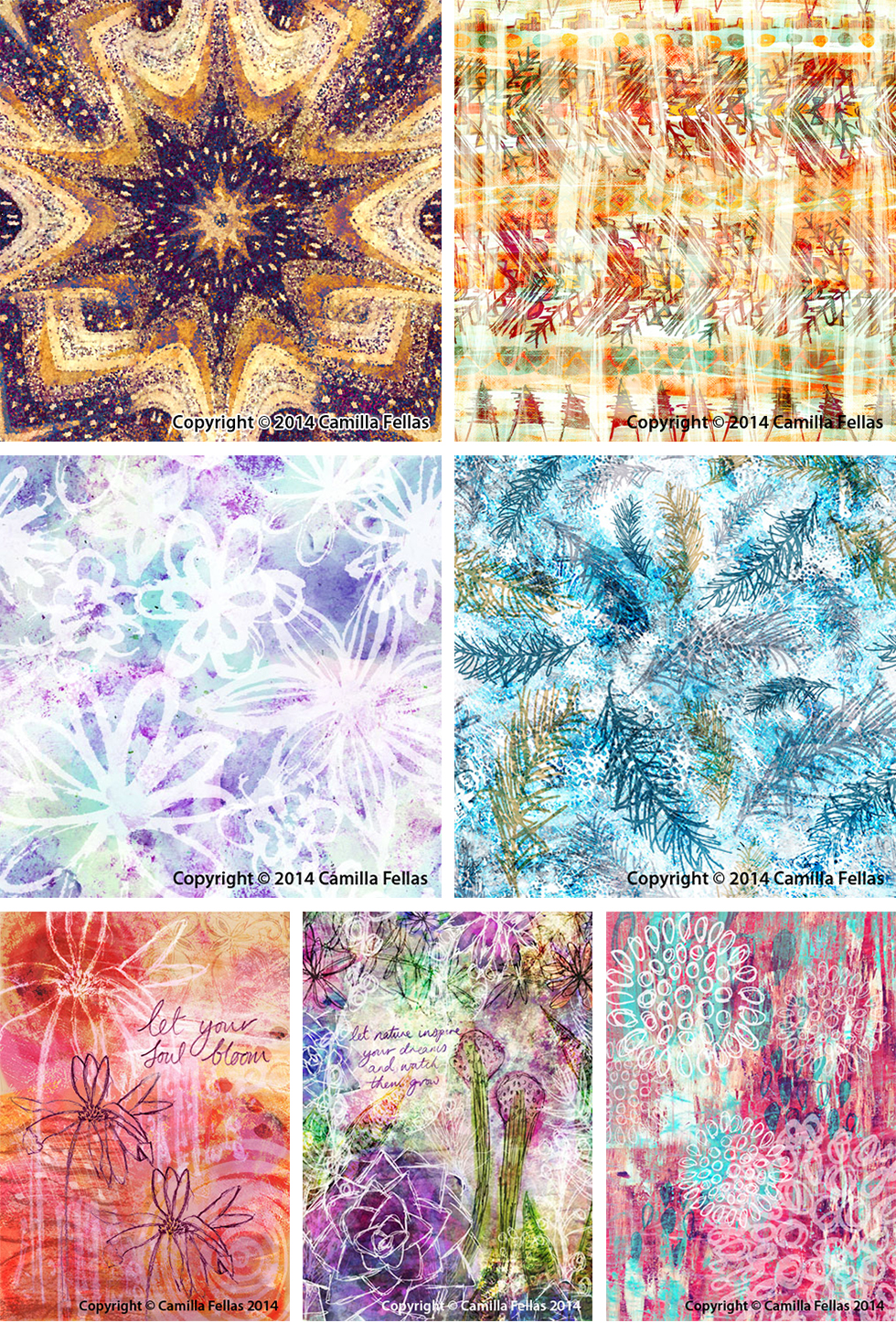 Camilla Fellas is our featured designer to wrap up the week, and what deliciously expressive work she has to share with us! Her work is filled to the brim with color and layers of texture and I just want to reach out and touch these pieces! Camilla was kind enough to tell us a bit about herself and her favorite techniques used in creating her work:
"I am half Greek Cypriot and British and I'm based in Norfolk, England. I went to Norwich University of the Arts in 2008 where I studied BA (Hons) Design for Publishing (first class) before doing MA Communication Design (again at Norwich University of the Arts). Since leaving university in 2012 I have been working as a freelance graphic designer on projects across the UK and Cyprus. I work on everything ranging from branding to packaging design, website design and also book design. The books I design are mostly specialist art and cultural books for a company called Unicorn Press Ltd and I've worked on a range of projects for them, both typesetting and book jacket design, including designing the book jacket for a reprint of 'Painting as a Pastime' written by Winston Churchill! I also work freelance for a company called Primary Site designing layouts for Primary School websites across the UK and have done projects for other companies such as Meadow Kids, Globe IQ, Finding Cyprus and Amero International Ltd.
While freelance graphic design is my main line of work, I got the bug for surface design last year when I worked on a project for Meadow Kids which was a greeting card box set. I had to design half of the 50 cards included in the set as well as designing the box itself which featured an owl pattern and I loved doing it so much that I decided to start developing my own pattern designs from there on.
My work itself is a mixture of methods and I use a lot of texture and layering. I think my work as a surface pattern designer reflects my Greek Cypriot heritage with an organic, 'raw' style that is full of emotion and energy and is quite bright too! My designs use a combination of textures I have created through methods such as monoprinting and Shibori dyed fabric which add more depth to my work. All of my motifs are hand drawn and I like working with quite a rough style of drawing as it works well with the textures I create. My favourite materials for drawing are using a broad carbon stick and also a gold leafing pen which has a really scratchy effect to it! I also use some digital painting techniques so it is quite a wide mixture of methods that I use to create my works but ever since I was young, I've always loved using the complexity of textures and layering. I first started doing graphic design back in 2001 when I got my first website and I started creating 'blends' which were really popular back then. I spent a lot of time experimenting with texture and it has been something I've always been drawn to over the years so I really love bringing it into my own work now because it feels like while it has been a constant theme throughout my work, it has only ever been as a sideline whereas now I can bring it to the forefront and it shine through my work. It is something that I thoroughly enjoy so I almost don't feel like I'm working when I create new pieces and I really hope that my designs are able to capture an essence of the joy that I get from creating them. I have so much fun making them so I'd love for that feeling to be translated into my work for the viewer!"
Learn more at www.camillafellas.com or follow Camilla on Facebook. Have a great weekend everyone! -Chelsea