This week we are celebrating the work of our wonderfully talented Mastering Your Market graduates by sharing a few of their stories and collections leading up to our June 22nd workshop. On Tuesday we shared Brittany McLaughlin's apparel and quilting collections and today we are delighted to bring you three collections by alumna Rita Chuk-Petroskas. 
For the first two weeks of the course, we focus on the apparel market. For this assignment Rita created her Streets of Rio swimwear collection aimed at Creative Capital's customer, "a competitive swimmer who loves the beach and yoga." Rita went above and beyond and created a total of six prints for this collection (the rest of which are available in the password-protected area of her website–if you are a print buyer request a password here.)
Rita writes, "this collection is inspired by the ethnic greatness of urban city life with an ode to the Olympic games in Rio de Janeiro 2015. Using directional lines with geometric shapes and fusing them with the artistic elements of graffiti art is meant to bring this collection together. Uniqueness drives this collection for the competitive swimmer who defines her spirit and individuality through her selection of swim and athletic wear prints."
Rita's Tribal Cleanse home decor collection, created during weeks three and four, was created with the West Elm customer in mind. Again Rita went all out and created a total of six prints–a main print (what we like to call a "moneymaker" print) seen below at left, and five coordinates that tie the collection together.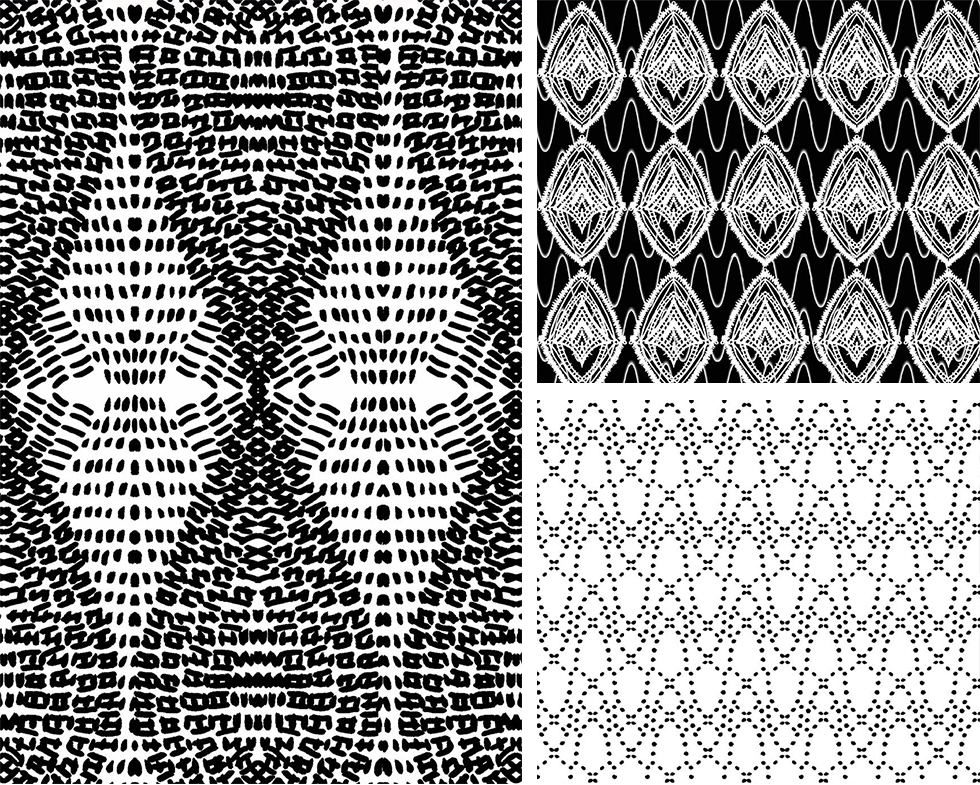 "The intended time for this collection is Q1 2016 (Feb, Mar, April), with continuing the tribal trend with a cleaner and more defined feel. It is inspired by tribal/ethnic lines, shapes and motifs. They are simplified by undergoing a cleanse of color. The patterns are modern and clearly refined translating into a new state of being."
For her final collection, created during weeks five and six of the workshop when we focus on the quilting market, Rita developed six prints comprising Tribal Lagoon. This collection was created with Modern Yardage in mind, a "digital textile fabric manufacturer dedicated to bringing fresh, contemporary, fun fabrics to the modern sewist."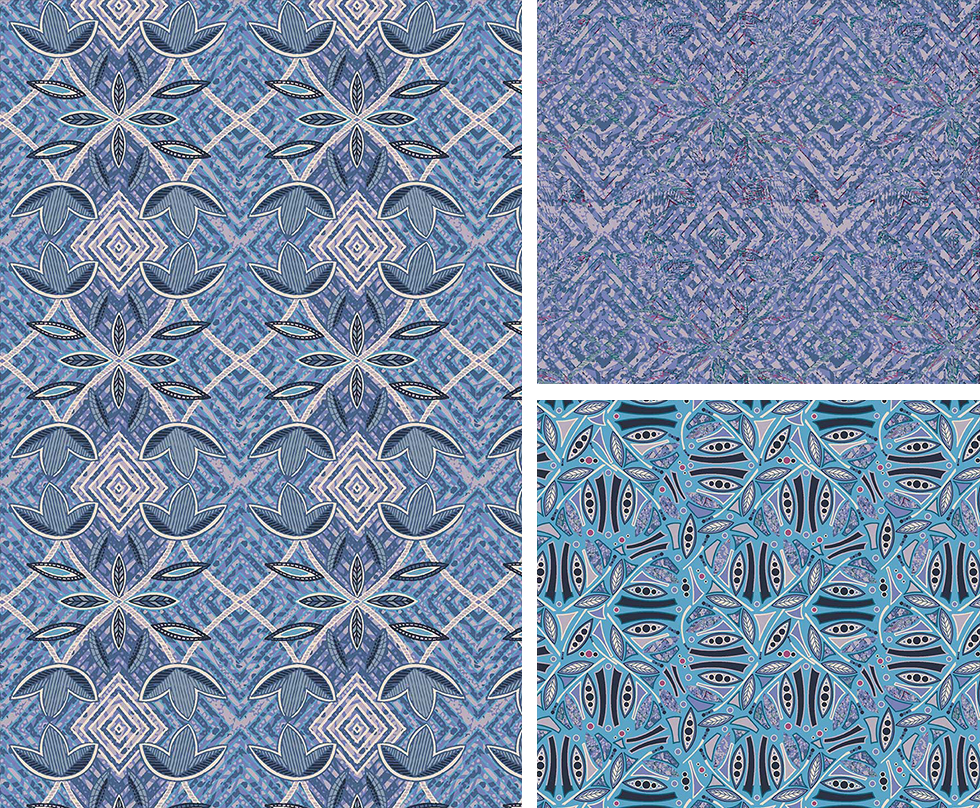 "This collection is inspired by tribal/ethnic shapes and the soft palette of SS '15 Memory, according to WGSN. The idea is to combine the soft blue with minimal pops of berry and mix a hand feel within the geometric edges of tribal inspired shapes. It has a hint of batik and earthly matters such as leaves and abstract florals. It is ideal for a beautifully eclectic quilt or as DIY accessories such as wallets, handbags or even cuff bracelet jewelry."
Rita's MYM Experience
"My biggest takeaway from MYM was finding how to incorporate my style into three very different markets. Having worked in the apparel industry for so long, the course forced me to more clearly define my what my creative edge was and design for industries I had never considered before. The feedback I received from TDL and industry experts was the best, as it validated the choices in my designs while providing extremely valuable insight as well. It's a great way to spread your wings outside your comfort zone and have great pieces at the end to help build up your portfolio. The support from TDL and the other classmates is amazing, helping you share experiences and build relationships as well!"
Curious about designing for the quilting industry, one of the three markets covered in Mastering Your Market? Sign up here to receive our FREE Quilt Market Guide!