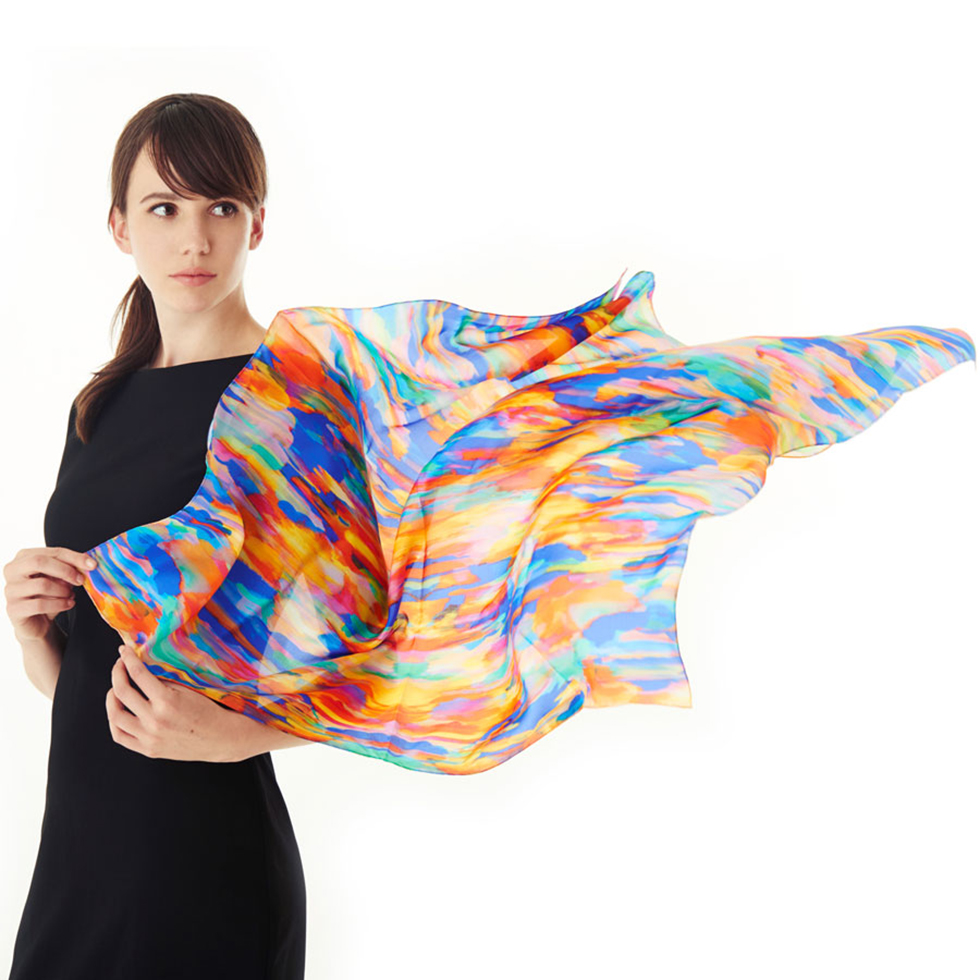 Big news this morning from Textile Design Lab alumna and Award of Excellence winner Kathryn Pledger, and her design partner Kathy Schicker!! CBS's Daytime Emmy Award-nominated show THE TALK, features a panel of renowned news and entertainment personalities who selected KathKath designs for the Valentine's Day gift segment. The panel who frequently discuss current events, pop culture, contemporary issues, family, celebrity and the trending topics of the day consists of co-hosts Julie Chen, Sara Gilbert, Sharon Osbourne, Sheryl Underwood and Aisha Tyler. If you are based in the US tune in to CBS today at 2pm ET/1pm PT to catch the feature on KathKath's beautiful line of scarves! (The show will also be available to view online for free for the next few days at www.cbs.com/shows/the_talk/video.)
KathKath was discovered by global platform Boticca.com in 2014. The site, renowned for supporting emerging and independent designers offers an array of KathKath pieces, from the marble effect and the topographic washes to the stunning spiral prints.  The personal designs are derived from the each designer's drawings and photographs, influenced by a vibrant mix of nature, colour trends and fine art. Using digital photography manipulation to blend geometric and organic shapes, each piece of 100% silk neckwear is meticulously researched and developed, bringing their designs to the highest quality whilst being completely wearable. Boticca.com allows customers to connect and discover each artisan's story and select pieces directly from their studios.
About KathKath
KathKath Studios is a design studio based in South-East London. It was conceived from a chance maternity leave encounter: English textile designer Kathy Schicker and Australian graphic designer Kathryn Pledger, first met pushing prams in Camberwell and between the rice cakes, nappies and trips to the park discovering they shared a passion for using cutting-edge digital printing to produce fluidly beautiful print designs.
Fashion has always been a great passion for Kathy and Kathryn and in late 2013, they launched their first products – a range of high-end silk scarves, in the distinctive bright, bold and eye catching studio style. Printed and hand finished in the UK, they have the look and feel of classic hand-printed designs, with the luxury quality and feel of the best high end scarf. Visit them at their new website, www.kathkath.com.
CBS Emmy Award-nominated primetime talk show THE TALK is scheduled to feature KathKath designs from Boticca.com on Monday 9th February, (broadcast weekdays 2:00–3:00 PM, ET; 1:00–2:00 PM, PT). The full collection can be found on, www.Boticca.com/KathKath with prices ranging from £80-£300.