Today we are delighted to share an interview with Epoché founder Angela McGrath. Epoché is a line of high quality leather goods designed by Angela in Vancouver, BC. Learn more about the brand here and be sure to check out their Kickstarter which runs for 18 more days and has some wonderful rewards up for grabs for its backers! For now we hope you enjoy reading more about Angela's fabulous creative process:
Tell us a bit about your design background and how/why you founded Epoché. 
My interest for art and fashion started from a young age and grew naturally from watercolour kits, to my mother teaching me how to use a sewing machine. This natural progression eventually led me to attending Parsons The New School for Design in New York City for Fashion Design; however after a year I came to the realization that taking a direct path into fashion design wasn't for me. After leaving Parsons I enrolled into the Visual Arts program at Emily Carr University in Vancouver BC. In 2014 I found myself with a BFA in one hand and lump of uncertainty in the other. I felt torn between wanting to return to the practicality of fashion design while also still wanting to evolve my artistic practice. Instead of deciding on one path, I became determined to merge the two fields together; this later became the catalyst for the creation of Epoché.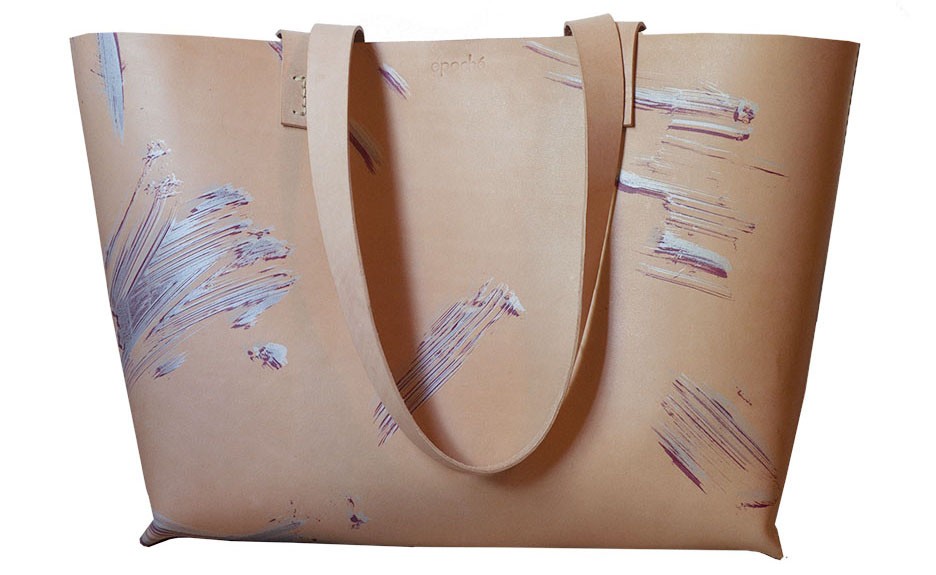 What drew you to working with leather? What do you enjoy most about this medium and what are some of its challenges?
I first started working with leather at 15 when I began up-cycling old leather jackets from thrift stores and turning them into purses, and by 16 I had started my first leather accessory line. My interest in working with leather grew out of a respect of leather's rich history and embedded social associations and because it is such a long lasting material. As I strengthened my relationship with leather I steadily became more conscious of the implications of my material choice and its affects on the environment, which is why I have chosen to only use vegetable tanned leather.
Using leather as the main material for my craft can be intimidating, as it is an expensive material that leaves little room for mistakes. However, there is something about working within limitations of leather that really excites and challenges me. New techniques are balanced by traditional methods, each move affects the next, forcing you to slow down and be in a state of constant awareness.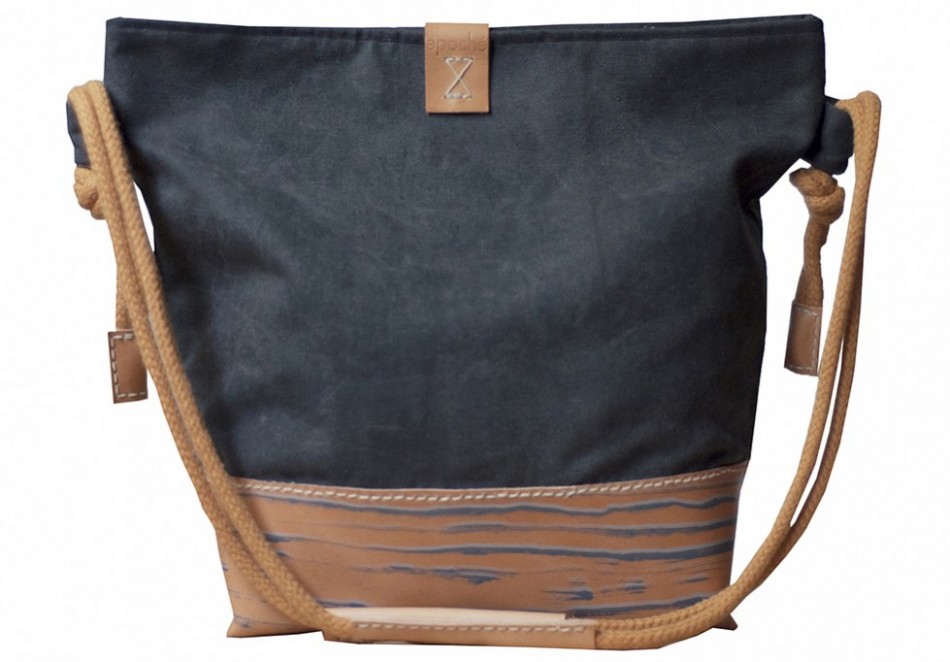 Are there any special considerations you need to take into account when screen printing on leather vs. a more traditional surface like paper or fabric?
There are a lot of things that I have to be mindful of when printing on leather appose to paper. One of the most important considerations was figuring out the right process to make screen printing ink adhere to a leather surface and stay over time. In addition to this the color of the screen printing ink varies slightly between what you usually see when its printed on paper. I also have to take the colour of the leather into consideration developing a colour palette.
Tell us about your design process. How do you choose your silhouettes, colors, etc? What role (if any) do trends play in your design process?
I begin each new project by first focusing on what I want to design, whether it is a bag, wallet, backpack, etc.  I then start researching its current design flaws and how I can maximize its functionality and simplicity. Next I start creating a series of prototypes out of paper; once I reach a final design I begin creating the pattern that will be screen-printed onto the leather. This is the one of my favourite steps in the process as I am able to tap into my artistic side and play around with ways to visually communicate the inspiration behind the product. After the pattern is created I start the technical process of turning that pattern into a screen-printed image.
While the majority of my patterns and color choices are created intuitively, reacting in the moment there is always a theme or idea I'm channeling. For example, the patterns for my current collection are inspired by the different places I have traveled to. The freedom created through working spontaneously opens me up to an affective relationship with the materiality of the surface and the medium, allowing me to create vibrant and exciting compositions that capture a moment in time.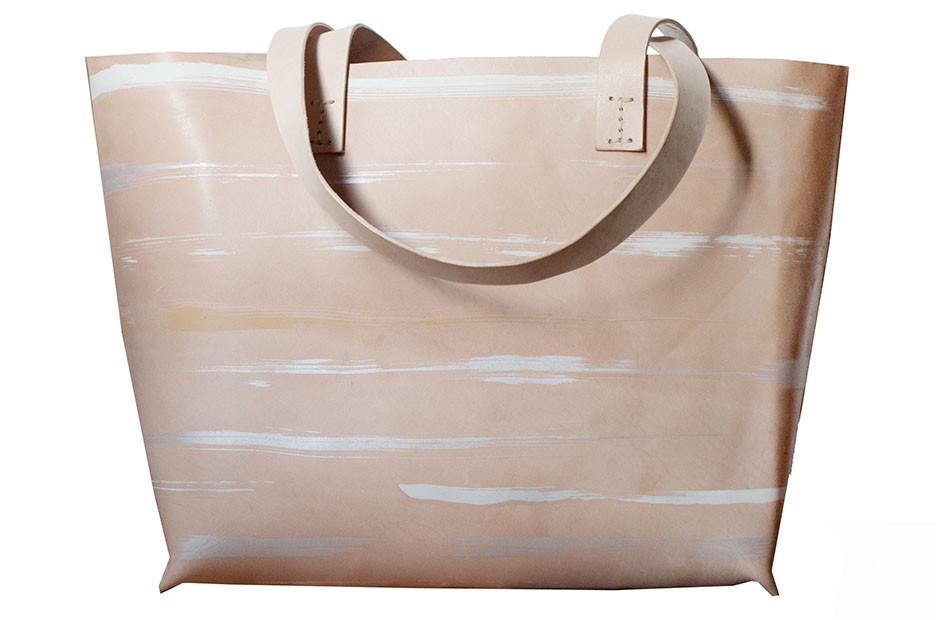 What are your go-to sources for inspiration? Are there any resources that you would recommend? 
I find a lot of inspiration from going out walking in nature and experiencing new landscapes. After these walks I'm usually full of ideas, which I then sketch out using gouache paint.
I am also really motivated by the principal Bauhaus methodologies that directly speak to the discussion of how a crafted object can fit into the art world and vice versa. The ideologies behind the Bauhaus school of designs represent the launching point of my ideas I put into the formation of Epoché.  I find great inspiration in the work produced by the Bauhaus school as they're minimalistic and usually have an unexpected pop of colour.
What have been some of the challenges you have faced in your business? How have you overcome them? What actions or decisions have made the biggest impact on your design business? 
For me one of the most challenging factors in my business is the affording the initial cost of my materials such as leather and screen printing supplies, as well as being able to afford the minimum order cost for purchasing leather. These issues of affordability became particular problematic when I recently got accepted into the West Coast Craft show in San Francisco on June 13th & 14th. While I was ecstatic to be offered the opportunity to show internationally, it also brought with it a major obstacle of affordability and how I was going to build inventory, create new products and build packaging collateral. To help in counter acting these cost I have chosen to launch a Kickstarter campaign to help me cover these expenses. A link to my Kickstarter can be found here: http://kck.st/1ATVhi1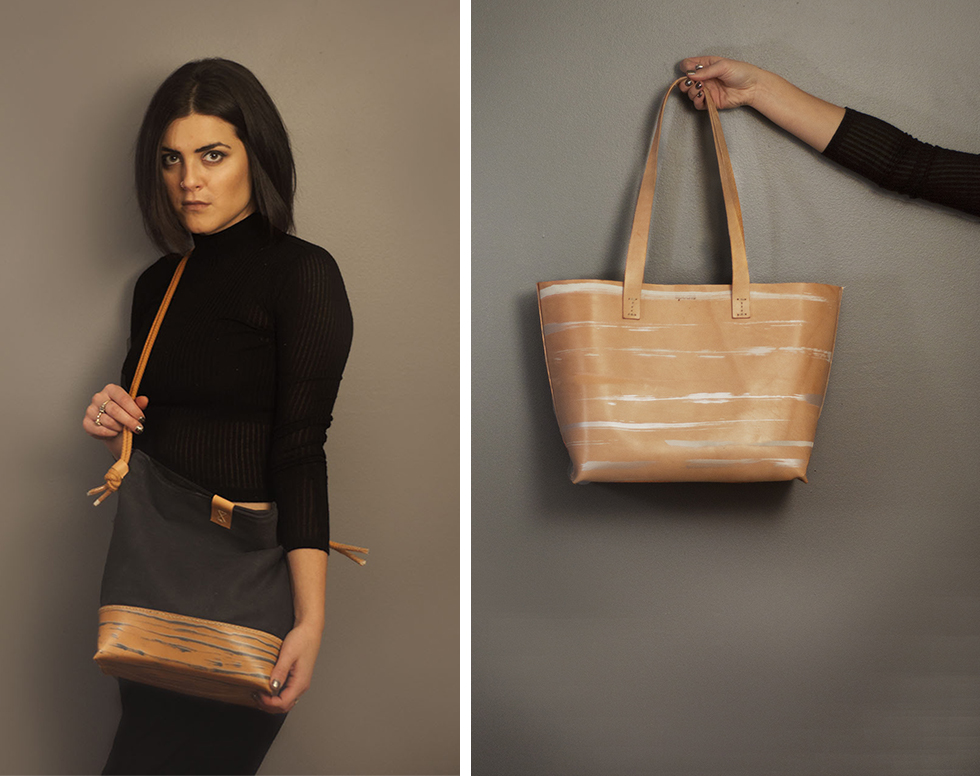 What advice have you received in your career that has stayed with you or influenced you? Do you have any words of advice for aspiring designers trying to build successful businesses of their own?
When I started Epoché my boyfriend Kevan D'Agostino, who is a communication designer, encouraged me to approach my brand and design decisions slowly and deliberately. This was very hard for me to do as I had to fight the overwhelming feeling that everything has to be done immediately but it helped me focus on each step. It sort of felt like I was building a house and instead of buying a pre fabricated pieces I had to put it together brick by brick which gave me a strong foundation resulting in a robust brand with a clear message and image. I would suggest this slowed down approach to others looking create their own business as it really helps you focus in on what exactly it is that you want to create/do.
Where would you like to take your business next?
I hope to expand Epoché beyond being a local product and launch into stores worldwide. I also want to continue to strengthen the relationship between art and design through creating new limited edition collections of Epoché totes with new hand printed patterns that are accompanied with limited edition prints.