Carrie Tasman is painter and pattern designer based in the Pacific Northwest whose style is "color-drenched, playful, and pattern-full." She sells original artwork, prints and cards, and has just launched her first fabric line with P&B Textiles.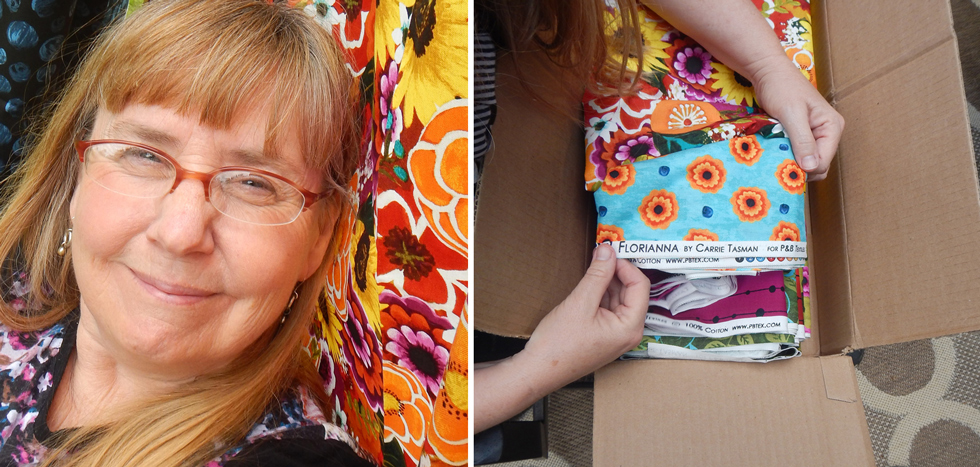 With a Bachelor of Fine Art, Carrie has been a full-time fine artist for 15 years, showing in galleries, shows and in private collections on the west coast. Before launching her fine art career, she worked as a graphic designer for a decade, where she learned Photoshop and Illustrator.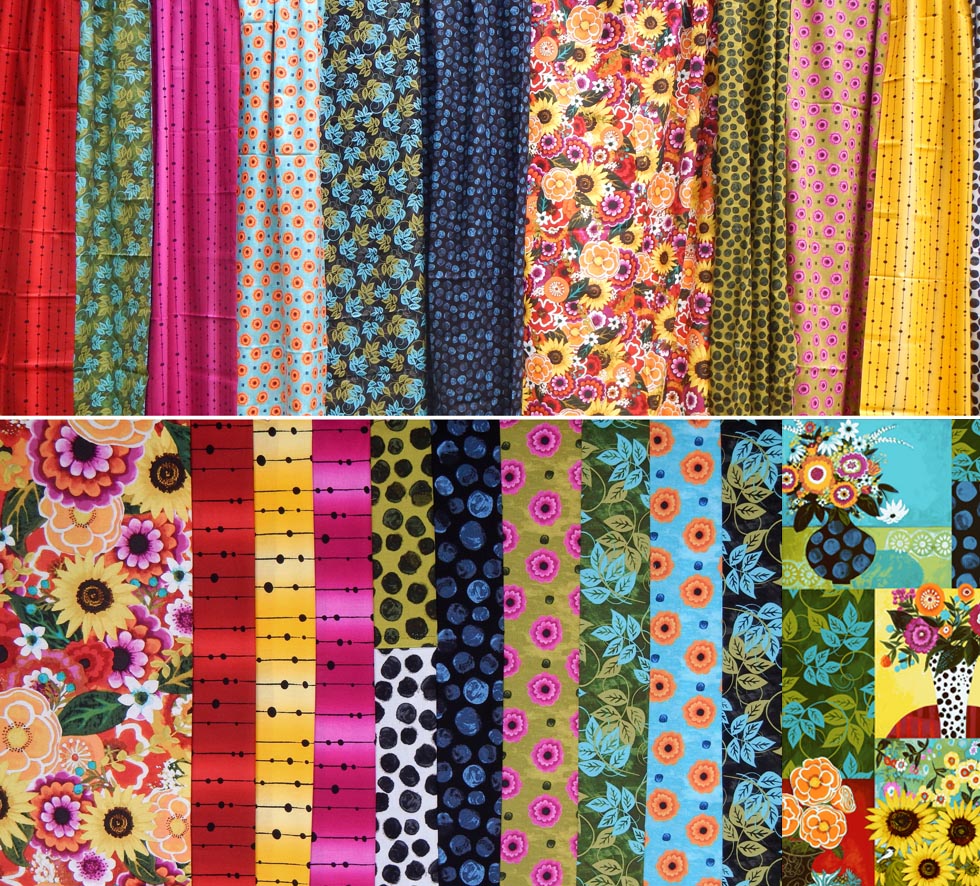 The Florianna Collection
Most recently, Carrie has been schooling herself in the world of surface pattern design and art licensing. The very first course she took was our Sellable Sketch e-course (now a part of the Textile Design Lab). Carrie writes, "I highly recommend this course! Michelle is generous and supportive and has tons of industry experience."
For Carrie, "surface pattern design is a satisfying blend of painting and graphic design."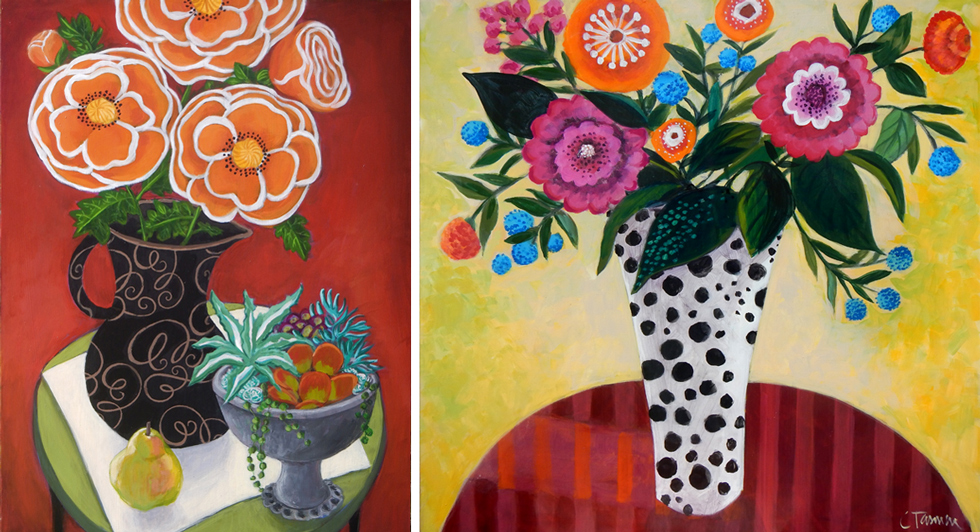 Two paintings that can be found in the main Florianna print.
P&B Textiles discovered Carrie through her website. They loved her paintings with their "lavish florals and light-hearted pattern play." In Carrie's words, "Working with P&B was a fantastic learning experience from beginning to end. I wanted my fabric line, called Florianna, to be colorful, fun, and happy-making. It's painterly and it's deliciously imperfect. The main print especially looks like summer and feels like warm sunshine.
There's this favorite spot on my deck, where my summer flowers are the most dense. It's a place where I sit, on my garden swing piled with pillows, a dog on each side, with my cofee mug and sketchbook… my idea of heaven.
This is the irresistible, colorful, sunshiny flowery feeling I wanted to communicate through Florianna."

As for what's filling her days in the studio, Carrie says, "I'm getting ready for my fall show season. Now that the Florianna quilt is complete, I can start thinking about my next fabric collection. I'm also working on some large canvases; I see these as splashier versions of my earlier body of work. They're semi-abstract florals, inspired by my flower garden and a continually deepening understanding of pattern."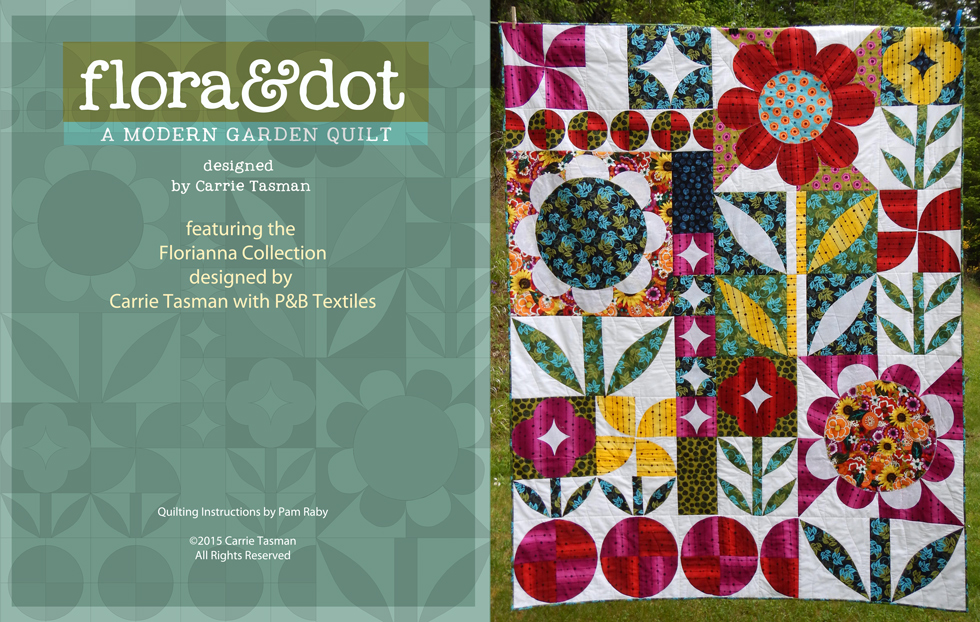 "The quilt pattern that I designed featuring my Florianna collection that will be hanging in the P&B Textiles Booth (Booth 1336) at the International Quilt Market in Minneapolis this weekend, May 15-17. The pattern is available for a free download from my website and from P&B Textiles."
Check out more from Carrie on her Tasman Studio website where you can sign up for her mailing list and newsletter. You can also 'like' her on Facebook.
YOU can get started in the textile design industry today. Get our FREE video training and learn how to turn your artwork into TEXTILE DESIGNS that sell! GET ACCESS NOW!