Post by Jamie Kalvestran, part of a series of interviews from the 2015 International Quilt Market. (Previous interviews found here, here, and here.)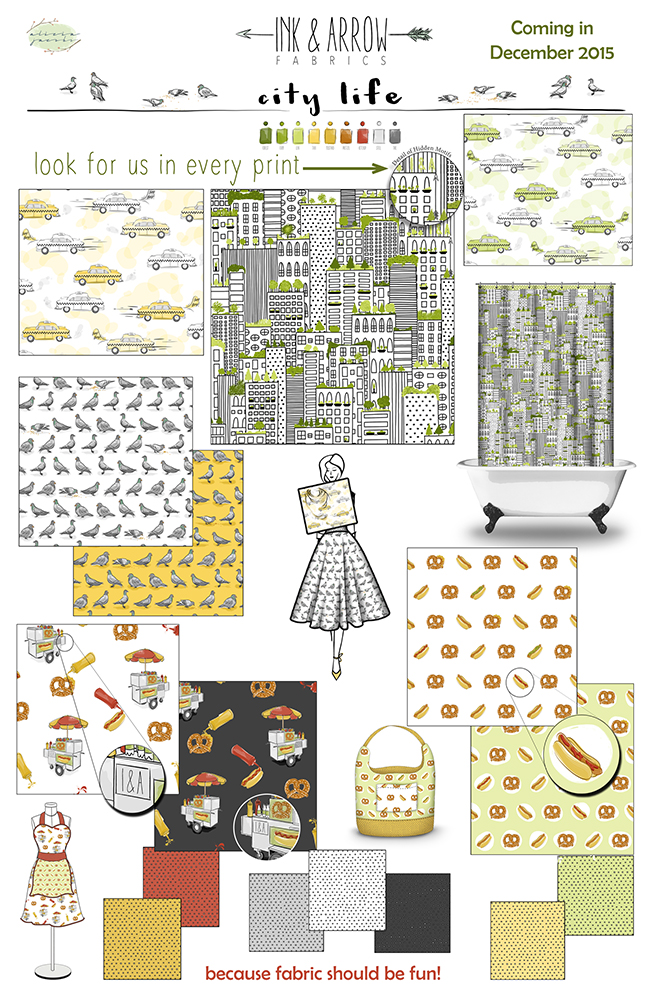 Cyndi Hershey – Director of Marketing, Quilting Treasures
I first met Cyndi Hershey about eight or nine years ago at International Quilt Market. Over the years she and I have collaborated on a number of projects. Currently, I have a licensing agreement with Quilting Treasures and my first collection with them, Native Pine will make its debut in July, 2015. But, enough about me . . .
Cyndi can you tell us a little about yourself and Quilting Treasures? 
Quilting Treasures is the only employee owner fabric company in the home-sewing industry.  Our company's history dates back to 1807.  We sell 100% woven cotton prints to Independent Fabric Retailers.
I am currently the Director of Marketing at Quilting Treasures.  I have spent 15 years in the wholesale side of the fabric industry.  Prior to that, I owned a quilt shop for 12 years.
What are the new collections that you are really excited about?  
We are excited to introduce our new brand, Ink & Arrow.  Our tag line…..Because fabric should be fun!….says it all!  This brand is not a traditional fabric collection designed for quilters but rather a fun, quirky contemporary fabric brand.  Our launch contains five edgy, contemporary mini collections.  The prints in each collection are connected by theme and the collection names are a reflection of the themes such as City Life, A Cat's Meow, Talk to Me….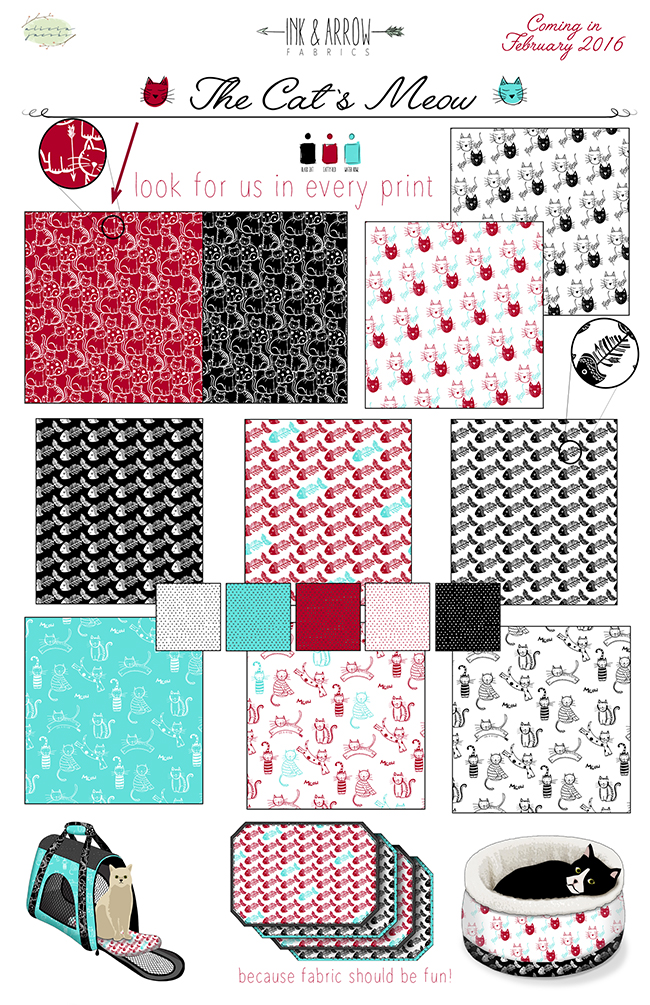 It's important to note that Quilting Treasures has brands for everyone!  Studio 8 features prints that are modern and contemporary that are combined as a more defined collection that includes a greater range of scale, value and color.  This brand includes graphic prints, watercolor styles and prints that reflect a batik style.  Ivy Lane is an upscale, traditional brand…..think Ethan Allen.  And, of course, the Quilting Treasures brand itself includes prints based on brand licensing, novelty and children's prints.
When will the new collections be available in retailers?  
The first two groups will ship in December.
Who designed the collections?  
We are using both our own studio artists as well as freelance artists to create the art for these groups.  We are looking forward to expanding the brand with designers whose artwork fits the brand.  We license with artists directly or through their agents and we also purchase prints outright.
Can you tell us the inspiration behind the new brand?  
Yes, we wanted to focus on young sewists and fabric lovers who are creating all things with fabric!  Apparel, home décor, crafts and of course, quilts!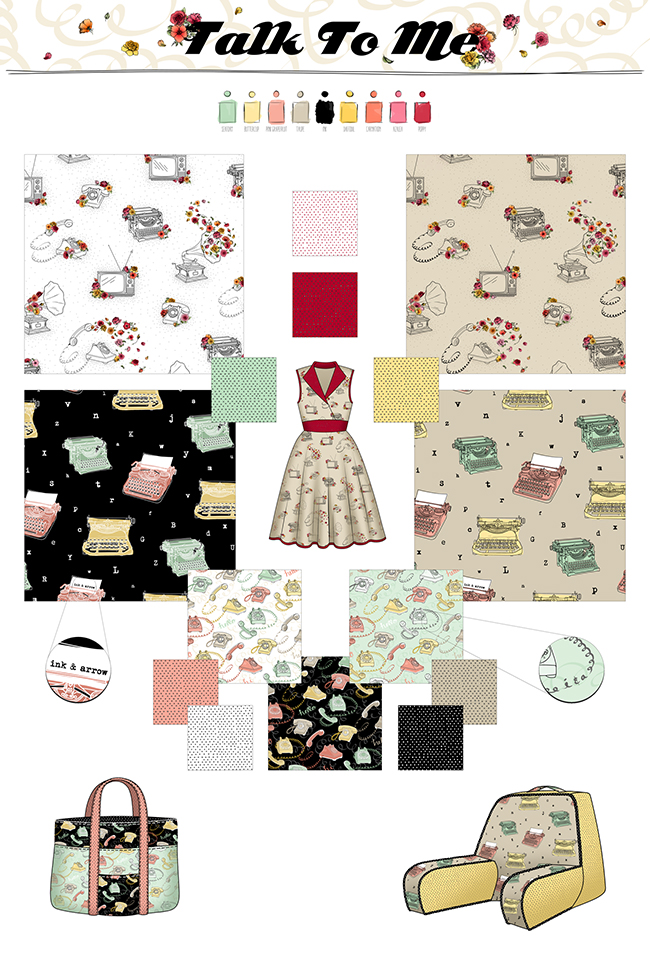 Is it OK for designers to submit work to your company?  
Yes, you may contact me directly via email.  chershey@cpw.com
Is it important to already be in the quilt/home sewing industry or to know how to quilt or sew?  
No but designers should do research into these fields prior to submitting designs.  They should look to see what types of fabrics are currently being offered and think about if they can do anything differently that will set their designs apart.
What advice would you give designers about putting a portfolio together for this industry?  
We are looking for designs that can apply to any of our brands.  We like prints with a lot of detail and since we screen print, we're limited to 18 colors or less.  Layered looks are very in right now so that's a good example of detail.  We look for great layouts and artists who can create successful repeats.  A variety of scale and color value is important in a great collection.  We also offer panel designs based on 24″ or 36″ repeats so that's something for a designer to keep in mind.  In addition, we offer other engineered prints such as repetitive blocks or complex, vertical stripes.  A designer should think about how a proposed print would look in a finished item.  Sending product mock ups along with proposed prints helps to explain how those prints can translate to a final project.  A mock up of simple apparel, bag, home dec item or quilt goes a long way in helping us to evaluate the potential of a proposal.
Visit Quilting Treasures online at www.quiltingtreasures.com/
Sarah Watts – Designer & Co-Founder, Cotton & Steel
Sarah Watts is a designer and co-founder of Cotton & Steel. We met for the first time while I was walking the show. She has been designing fabric for 4 years and has been licensing her art since 2009. I am truly inspired by this young lady and hope her answers to my questions will inspire you too.
Sarah can you tell us the inspiration behind your latest collection? 
Yes! Honeymoon is a recollection of my Honeymoon trip to Costa Rica in 2011.  It had such a lush landscape and was a very playful place to visit. I remember hummingbirds feeding in the early morning flowers, sloths, iguanas, and toucans in the jungle, and bats flying in the trees above hot springs at dusk.  We did horseback rides in the mountains and it even rained on one of the rides leaving us cooled off instead of worried about getting wet.  The toucans kept flying into our window because they were chasing their reflection.  The iguanas were as common as squirrels, and they loved sun bathing on tree branches.  The sloths were hard to spot so it became a fun game to search for them in the tree tops.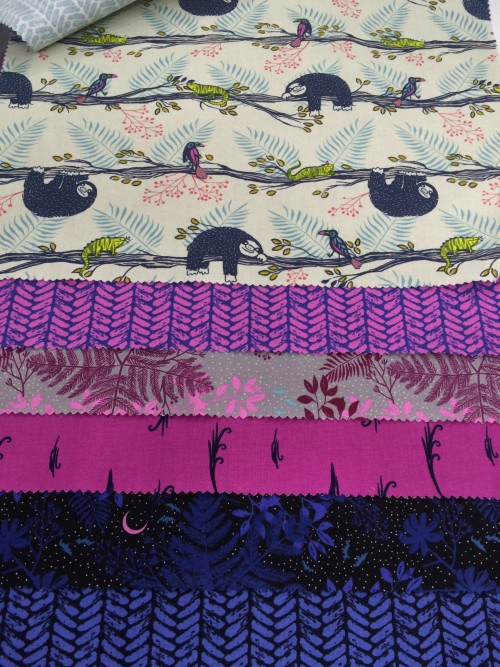 When is this collection available in quilt shops? 
July, 2015
As a designer where you you spend most of your time? 
In a typical week, I probably spend two full days creating art and the rest is business and marketing.  It is crazy how much time is spent on the business stuff vs. making art.  For that reason I like to travel so I can immerse myself in the art making part and then I come back with ideas that are hard to catch while at my office desk.
Are you active with Social Media? 
I publish to Instagram which is pushed to Facebook and Twitter.  Instagram is such an amazing platform.  It allows direct conversation with the people who enjoy my artwork.  It sort of takes down a lot of barriers and you get to really feel the effects of what your doing.  I like that, because it makes a one man job of designing more social.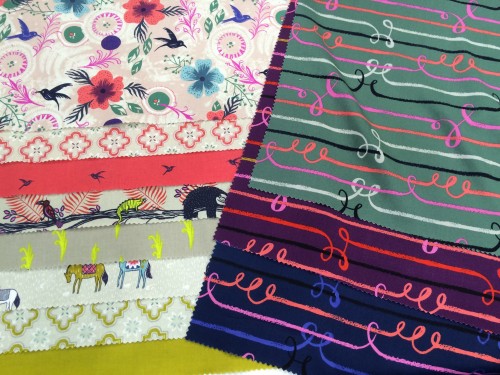 Can you make a living from licensing?  
Yes, I believe any work is possible with enough effort put into it.  I think it starts with honing in on your
creative voice and doing what you're good at instead of what you think your supposed to do.  Then multiple streams of income is most important. I have additional income from book publishing, and licensing in other categories such as stationery and home goods.
What advice would you give designer who would like to enter the quilting industry? 
An artist needs to find their niche crowd and stand out as much as possible in that market.  It is one thing to have a creative vision, but another to know how to market it to the right people. I also find it very important to create from your own life and spirit. It really allows people to see who you are in your work and that makes for the richest kind of imagery.  Authenticity goes a long way when making a living in the creative field.  Once that is achieved, then learn to be kick ass at marketing.  A lot of it is simply putting good work out consistently.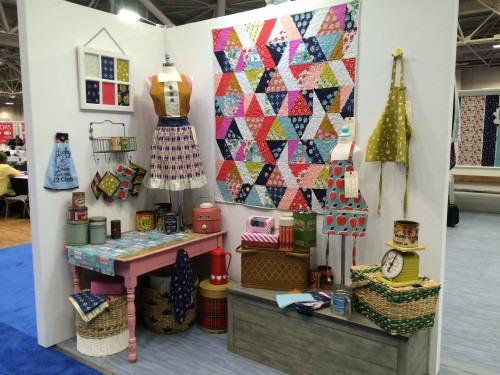 Any advice on finding and maintaining your voice as a designer?  
I think a lot of designers graduate and start making things that they see selling without figuring out what it is about themselves that will make the art special.  That is the right thinking in some ways but the most important is to do it from your own voice and memories.  Self awareness is a big player in creating artwork that is authentic and long lasting.  If you just go with the trends only, you will find that your art will become dated.  You have to channel everything you do through your personal look, and allow that look to evolve with the times.  Something that I learned in college was to be a student of life.  Getting better at art is a lifelong adventure. It involves constantly making, constantly learning. An artist should always take in their surroundings and let the outside world effect their work along with what is in their thoughts.  This keeps them relevant and interesting.
Find out more about Sarah Watts and Cotton & Steel:
http://www.cottonandsteelfabrics.com/catalog/fabric/designer/5/http://wattsalot.com/
Sign up to receive our free Quilt Market Guide HERE.