Each month in the Textile Design Lab we welcome an industry expert who offers training in their area of expertise. For the month of October our guest expert is Caroline Cecil, the CEO and founder of San Francisco-based Caroline Cecil Textiles. You can read more about Caroline in our recent interview here which includes a lovely behind-the-scenes video! Today we are offering a brief excerpt from Caroline's Textile Design Lab training on interior pattern design. Please enjoy and join us today in the Textile Design Lab to access the training in its entirety!
Meet Caroline
Caroline was born into a family of artists and entrepreneurs and grew up along the coast of Maine. She attended Parsons School of Design and MICA, where she studied textile printing, dyeing, painting, and weaving. Over the past decade her experience has spanned designing textiles for Carolina Herrera to conceptualizing mass-market assortments for Target stores and Angela Adams. Recently she launched Caroline Cecil Textiles, her own line of printed textiles for the luxury interiors market, which is now available through select showrooms nationwide.
Interior Pattern Design
Sanctuaries, places of celebration, places of work-interiors impact our lives on a daily basis. They have a strong relationship with nature: light, trees, sky, the surrounding cityscape. I like to start my design process here, visualizing how my textiles will exist in an environment. Will they be upholstery? Or hang as draperies and have a daily relationship with light? Perhaps they will add a splash of color with a bold decorative pillow.
From start to finish, this type of visualization is a key component to the design process. In the studio we have an image archive of inspirational interiors. At the start of each season we bring them out, sift through, and select our favorites to pin up on our design wall. In addition to offering inspiration, it will allow us to imagine designs in a space before they exist in the world as a physical product. I urge you to make time for this kind of thinking, collecting, and gathering at the beginning of the design process.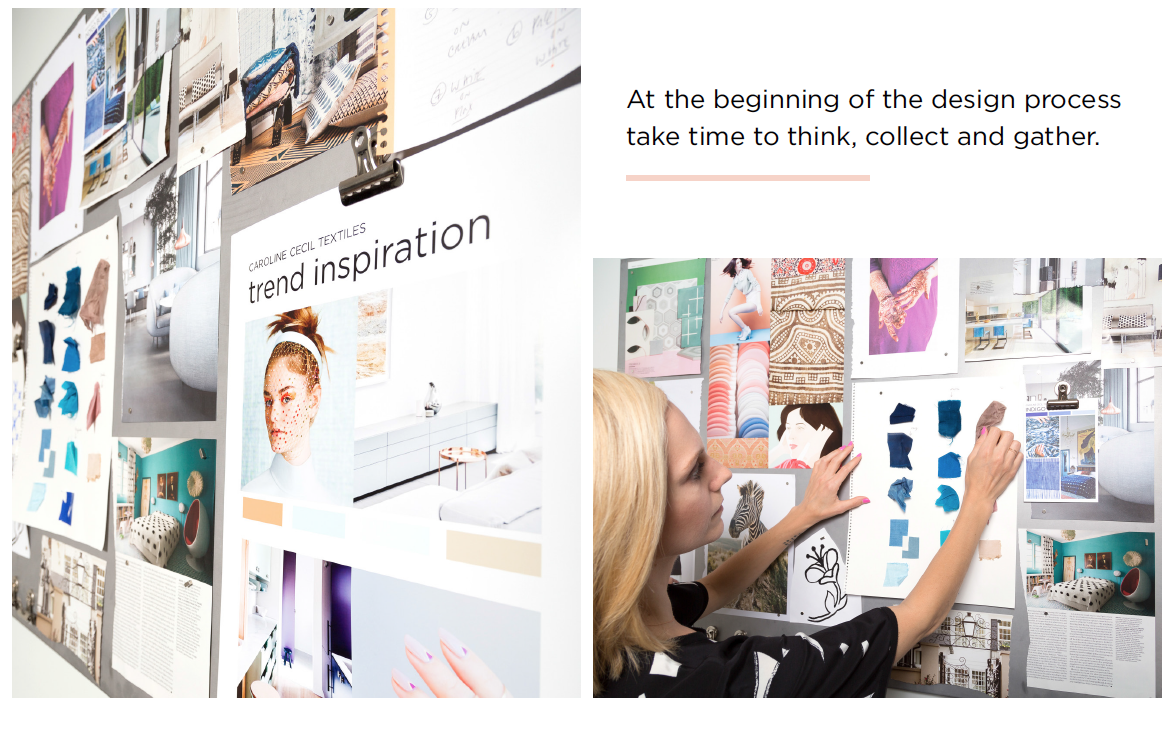 Getting To Know Base Cloths for Interior Pattern Design
When printing via hand screen printing, there are some important things to consider during selecting ground cloths. The first is the fiber content and the finish. Many commercial fabrics you buy (say for example at a fabric store) are washed and are most likely not PFP (prepared-for-print). It's critical to make sure your ground cloth is PFP, otherwise problems such as bleeding could occur once the print is registered on the fabric. The next consideration is the color of the ground. Natural grounds, bleached grounds, dyed grounds-all can be used! Just keep in mind that your print color will need to stand out enough against the ground it's printed on (this is why it's important to select grounds before developing a color palette for the prints.
The fabric weight is also an important consideration. For example, upholstery fabric needs to be more durable, whereas a sheer window treatments could be gauzy. Know your audience, how they hope to use your fabric, and create an offering that will appeal to them.
Color & Pattern Trends
The cadence of trends for the interiors market is very different than the fashion industry. Trends evolve at a slower pace, and in general there are fewer trends that catch on. Do your research. Watch the market. There are many wonderful trend forecasting resources out there to checkout! If you start paying attention to the trends in fashion and interiors, after a year or so you'll start to see how patterns and colors get recycled and often times move from the runway into hi-end interiors. The palm print trend is a great example of that!
*Photos in this tutorial by Michael Hindman Photography and Marissa Rocke
Become a member of the Textile Design Lab to access the rest of the tutorial on interior pattern design, which includes Caroline's pointers on mood boards, art development, colorways, spec sheets and more. TDL membership is just $49/month and in addition to our monthly guest expert tutorials you also will receive access to our private forum, nine different e-courses, fun design challenges and lots more exciting and helpful content to get your textile design career off the ground. Visit textiledesignlab.com to learn more!