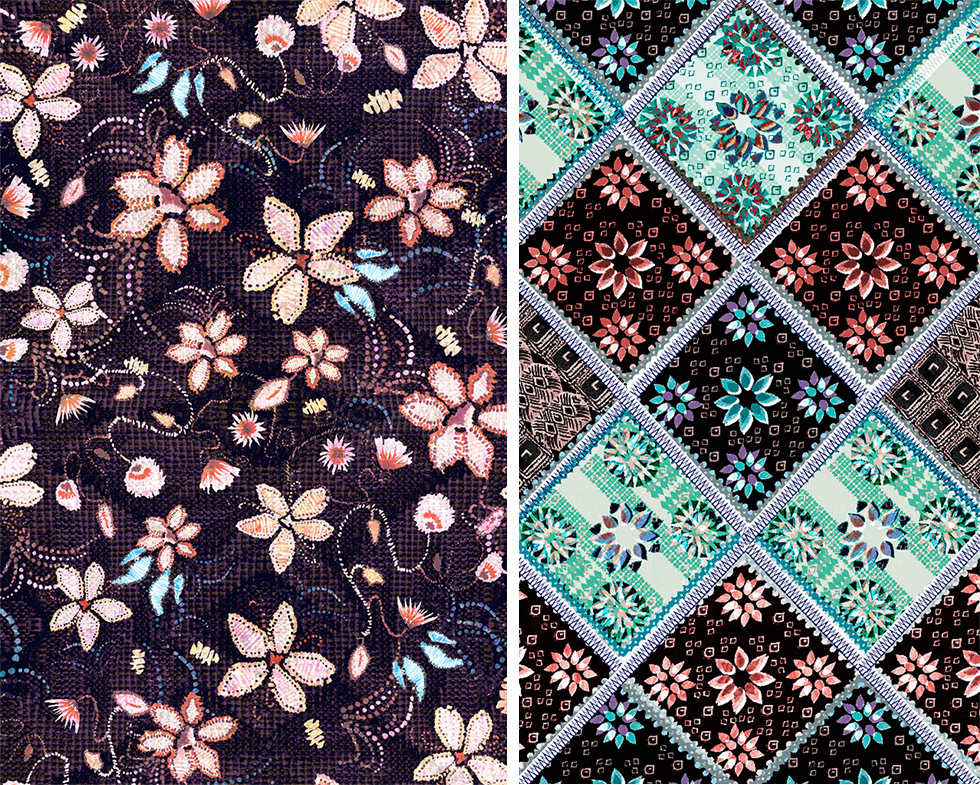 Once a month it is my privilege to share some of the outstanding work taking place in our Textile Design Lab community by turning the spotlight on one of our wonderful members (there are now nearly 350 of them!) This month the spotlight is on Fernanda Sternieri, who created most of the patterns in the post in our Sellable Sketch e-course in the Lab. Read on to discover what Fernanda has been up to within the Lab as well as in her own design business! -Chelsea
Tell us a bit about yourself. Where are you from? What is your career background and what drew you to textile design?
My name is Fernanda Sternieri and I'm a surface pattern designer. I'm from Sao Paulo, Brazil, crazy big city. I was born in the country side of Sao Paulo state, but moved to the capital quite young. I always liked big cities, specially when they have some fashion heritage. I lived in Milan and in London too. I've loved fashion since I was a child, and did a lot of art courses, painting, handcrafting, and everything possible that could play with creativity. I always knew that I wanted to create. But I wasn't sure exactly what in the beginning. I graduated in Advertising and worked as a graphic designer during college time. But I knew there was something missing, so I started to make clothes, working with it for over 5 years. I created a small label with my name at the time and that motivated me to move to Europe to work with fashion. It was in London, during an internship that I started working with patterns (Ada Zanditon label) and learned everything from the sketch to the final art and I love it! So much that I wanted to have a second experience with it, and I did another internship in a very cool print studio (Lauren McCalmmont). There we created a lot of experimental handmade patterns, with clients such as Peter Pilotto, House of Holland and Louise Hay. Once I was back in Brazil I worked for 2 years in a textile company to finally become a freelancer. At the present I am glad to work for a few clients and with some partners in Europe and US.
What courses have you taken in the Textile Design Lab? What is your favorite aspect of the Lab?
I have completed two courses and I have started two more. I took "How to Sell Your Artwork" and "The Sellable Sketch", which is an amazing course that teaches you how to create a beautiful collection focusing on your client. This course was essential to me, as I was spending a lot of time creating for many different clients, and sometimes, I didn't even know them. The course helped me to focus my creation and make my personal style stronger. The Lab as a whole is an amazing place to be part of. If you are new to the career you are going to learn everything you need to know to begin! If you are not, this is also the right place to look for new information and courses, as we always should be updated with everything that is going on. To me that is what a designer should be: always learning and excited about new things! Right? It's just so nice, all the tutorials, the tips you get, to market yourself, or learn new techniques. And of course, the community! To be in touch with a lot of designers, from all over the world, and know their experiences. I highly recommend for those who are willing to get on this career.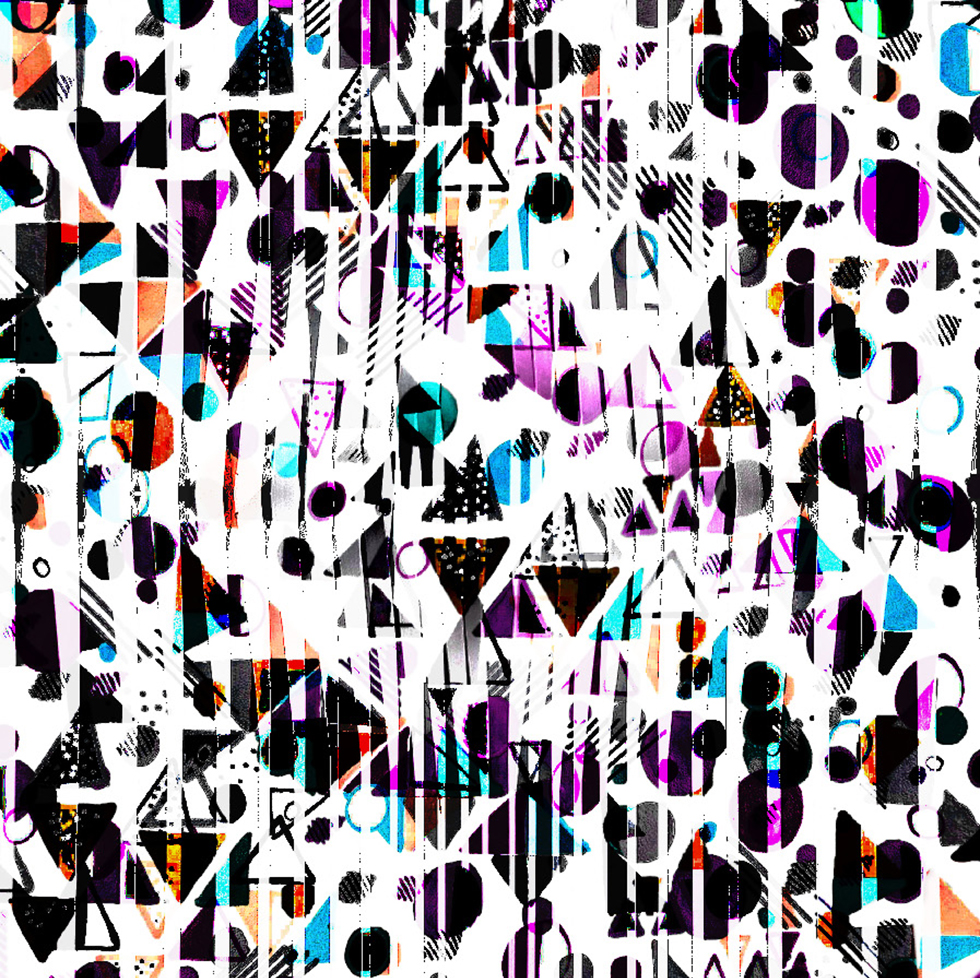 What projects are you currently working on?
I'm currently working on new patterns to grow my collection, that are patterns available for clients and print buyers. I was working pretty much with digital printing, using lots of colors and photographs and recently started to sketch all the designs and use less colors. So now I have more variety on the prints reaching more clients. I'm learning a lot of techniques, including a course on Watercolour, that I'm really in love with. It's just so amazing all the possibilities you have to create a pattern, that I think I will always be learning.
Apart from that, I have freelancing clients, which I create patterns on a commission base for; and I also have a collection of prints at KESS InHouse, with a large variety of products (very nice ones!), and I have some work online at Patternbank (I have some online and within the studio as well).
My newest addition to the repertoire is an Etsy store (Fe Sternieri DigiPaper). Here I'm making digital papers: downloadable papers to print at home, to be used in scrapbooks, invitations, different backgrounds, and where the client wishes, and restricted to personal use only. Ah, and I like to make digital illustrations too. Like the one you can see at the homepage of my website. On the side I'm participating in different textile competitions, which is a very exciting thing to do also! And I'm considering teaching too.
Where do you find inspiration when creating a pattern?
Oh, everywhere! I think when you are a designer, you are always "working". It's a rich life, I like to think. I try to be surrounded by beauty. I love art, and decor, and I think music is essential for creativity! I listen to music a lot and sometimes I dance too! I think you have to feel free, know yourself, and know what makes you happy, and be surrounded by the people you love. For me making a pattern is an opportunitty to give my sense of beauty to the world, or whoever might wear it or look at it. And I'm completely in love with my work! I couldn't imagine myself doing something else.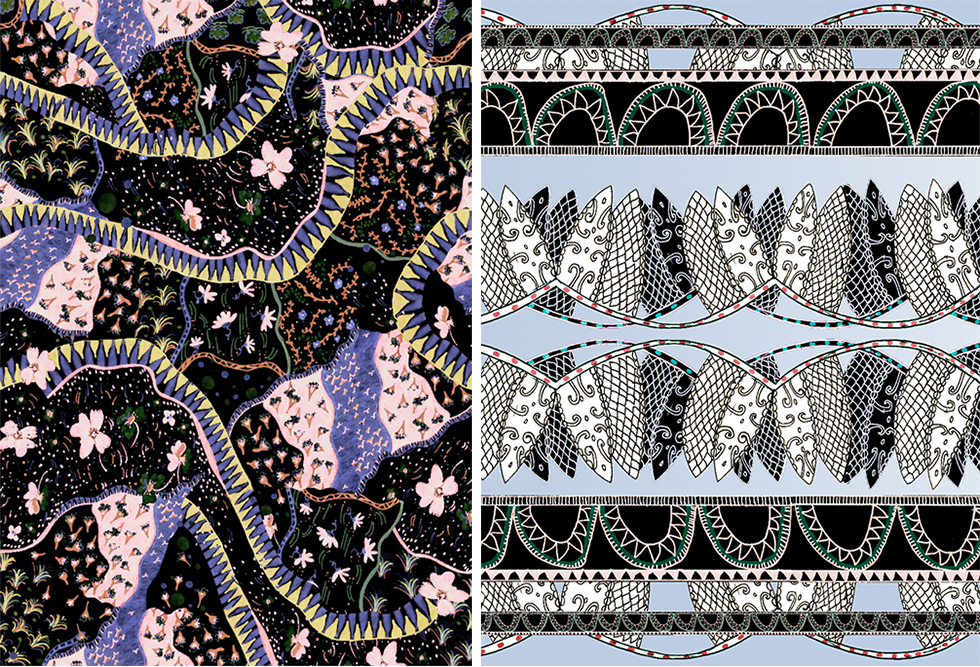 What do you do if you're stuck in a design rut or feeling uninspired?
I dance! I put the music on full volume and my office turns into a dance floor for a minute! Like I said before, the importance of music is indescribable for me. Going for walks or for a coffee also helps, and I think it is good not to spend the whole day doing the same thing. Even though making a pattern can be relaxing and fun, I think we need to change activity from time to time. Sometimes if you are stuck and feeling uninspired, just changing what you're doing for a bit can help.
What do you hope to achieve as a textile designer? What are your goals for your career/business?
I obviously want to be a successful pattern designer, and for that, I need to get my name out there into the industry. I've have my work being sold for over 2 years by a partner in the US, and at some trade shows in Europe as well. Now I want to expand my horizons and I'm currently looking for new partners or agents with which this new territory could be charted. I would love to see my designs on labels such as Urban Outfitters, Free People, and many others that I think would resonate with my work. I'm also looking forward to making license agreements with brands that fit well with my style. I think home décor and paper goods companies could be a good fit, considering that my designs are really well accepted in these markets too!
You can visit Fernanda around the web at the following sites: http://www.fernandasternieri.com, KESS InHouse, Patternbank, Etsy, Behance, Facebook and Instagram.
Ready to transform your talent into a thriving career in textile design? Join us in the Textile Design Lab today! Membership is just $49/month and includes nine different e-courses, a private forum, weekly live artwork critiques, guest expert tutorials, fun design challenges and lots more exciting and helpful content to get your textile design career off the ground. Visit textiledesignlab.com to learn more!