You may remember Amy Reber as the winner of the P&B Textiles and Pattern Observer 2015 Textile Design Competition. Well Amy has been a very busy bee this year and recently released a collection with Guildery, a print-on-demand home decor brand which works with artisan textile designers to curate exclusive pattern collections. Read on to learn more about what inspires Amy and the process of creating her Guildery collection.
About Amy
Amy Reber is a multifaceted surface and textile designer from the Pacific Northwest who has a fervent love for drawing, rich colors, pattern, and design. Remarkably, Amy is self-taught and has spent several years evolving and perfecting her bold, authentic illustrations and designs. As a military spouse and stay-at-home mom to three young children, her journey to becoming an award-winning artist and surface designer has been filled with many valuable insights and experiences that are beyond measure. With her quintessential and prolific design style, Amy is dedicated to producing fresh, modern, yet certainly timeless designs. Amy is elated that she has found such fulfillment and joy in surface design and has a heartfelt desire to inspire and share this joy with others through her work.
About the collection
Amy's "Seafarer" collection is intriguing and unique, combining a bold eclectic floral pattern with soft silhouettes of different shapes of seaweed.  The collection was inspired by Amy's Pacific Northwest upbringing with memories of walking along the beach, looking for seashells and enjoying family gatherings.  The result is a striking nautical design that mixes bright colors and shapes, and infuses a blend of both traditional and modern design.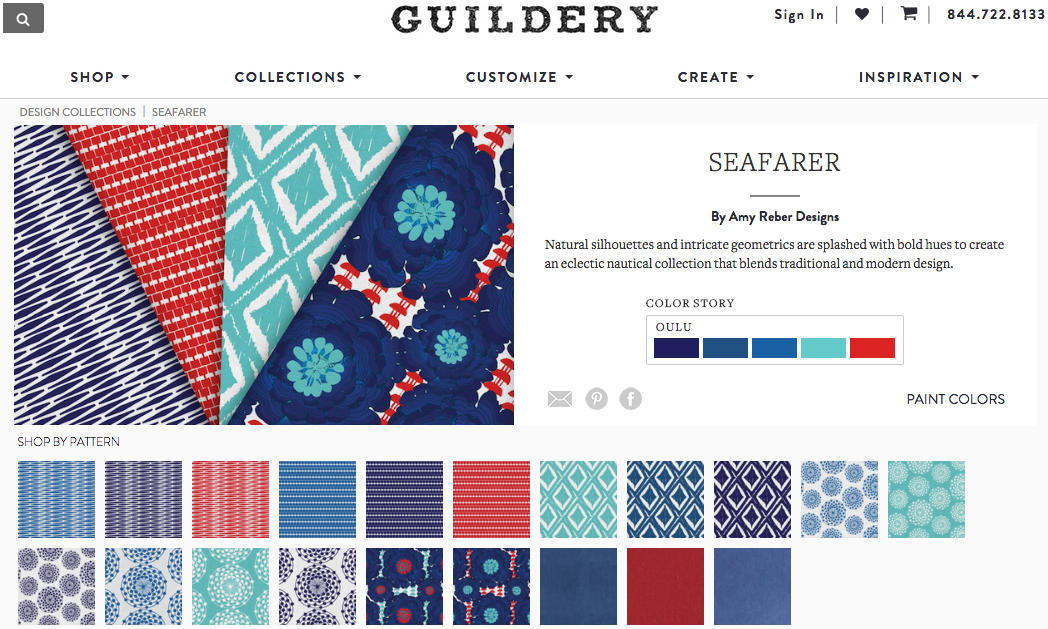 On her design inspiration
I grew up in WA state (currently live in VA) and I was getting ready to head home this summer for a vacation.  My parents live right on a beach in the San Juan islands so I was in a nautical mood.  The main "floral" is actually inspired by seaweed, and those little designs behind are jellyfish.  I love rich, bold colors, and have an affinity especially for blues and aquas paired with a bold coral/orange. This design was not specifically done for Guildery, but was one of many submissions that I had give them and then was subsequently accepted.
On working with Guildery
On one of my convoluted (lol!) computer searches for fabrics, textiles, designers, home decor….anything revolving around surface and textile design I came upon their website.  Whenever I come across a website that I feel my work would "fit" with I immediately look to see if they have a submission process, and Guildery did!  I loved the look of their website, so clean and modern and loved even more that they had photos of the designers and a bio along with their collections.  At that moment my goal was to get some designs on Guildery!  So, I began the submission process and heard back fairly quickly that they liked my work but they can't just "like" the work it has to fill a special need.  They told me to continue submitting which I did and finally I received an email saying they wanted to use the Seafarer collection.  I was thrilled. They have been very easy to work with and have since accepted a few more designs that have not been released yet.  I purchased swatches from the Seafarer collection and the quality is top notch…..their Belgian Linen is to die for.
Find Amy online at
Our FREE video training helps you turn your artwork into TEXTILE DESIGNS that sell. You'll learn industry basics and how to make it easy to sell your work. LEARN MORE…