We are so excited to welcome back Dari Design Studio, who we recently featured here, to share this fantastic tutorial on how to do a photo shoot to show off your surface pattern designs . Take it away, ladies!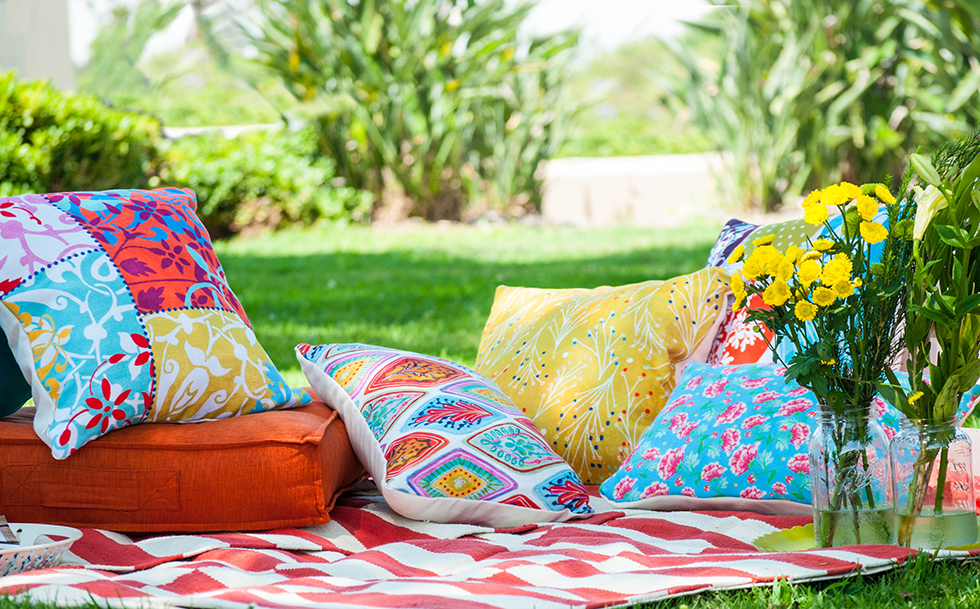 As surface pattern designers and artists more often than not we have a clear vision of how our designs will look in the real world. However, sharing that vision with words or flat collection files (even digital mocks) doesn't always get the idea across. Buyers know what they want (they say), yet we believe (and so did Steve Jobs) people don't know what they want until we show them!
You are probably thinking, that's great but I have no money or time to get into a photo shoot. You are not alone and we hope that by sharing our experiences, you'll have a better idea of how much money, time and energy this could take. Yet, before we dive into the details let's talk benefits. There are many positive side effects to having attractive pictures showcasing personalized products through a photo shoot, but here's a short list.
The final photos are audience building tools and having a large audience is another way for potential buyers to find you.
This is your opportunity to create something no one is picking up for licensing, even if you already have lots of real samples from past deals.
Use the photo shoot products afterwards as giveaways for your audience.
Publish a blog post about your experience and pitch it to be sponsored by the company that makes your prototypes, adding another string of income.
If you are in the beginning stages of creating your portfolio, having nice photos of your designs will increase your visibility and credibility.

Now that we have a clear vision of the value of having a professional set of images, we'll go behind-the-scenes and share how to do a photo shoot of your own!
How To Do A Photo Shoot: Setup
Before we explore the details of our product photo shoot, it might help to know a little bit more about our photography setup. My sister Dariela is a photographer and she's the expert at taking and processing these product images. But please don't be discouraged if you know nothing about photography, you can still make this happen with your cellphone camera and some web tutorial insights.
All of the product-only images in this post were taken using a DSLR, a Nikon D40x. We don't use a lot of expensive equipment and our setup is generally pretty straightforward. Many of these images were taken outdoors (on Dariela's patio!) to take advantage of the soft natural light. Sometimes, we'll take photos indoors and have a set of lights that we can use if necessary. Using big white foam core board works well for providing simple backgrounds to remove distracting elements and to help highlight the product. We also have a 4'x 4' reversible piece of wood that works great to use and simulate as a table.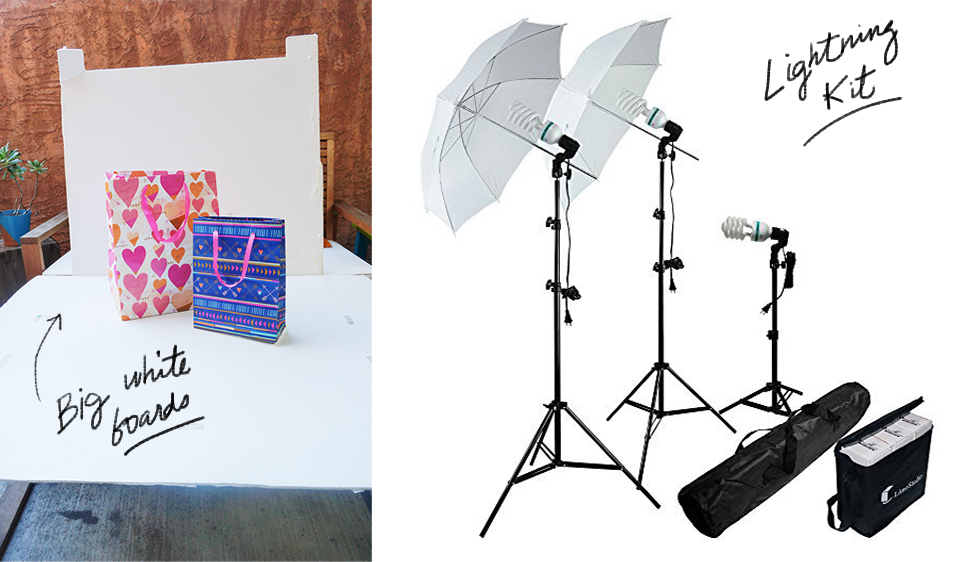 Product Categories, Cost, and Vendors
Pillows
If you want to cater to the home decor industry then pillows are an essential part.  They are easy to transport and maneuver for a photoshoot. It's also easy to layout designs on a pillow because it works just like a white flat canvas. Before the photoshoot, do your homework and research. For example, you can create a Pinterest board for inspiration on how you can take unique pictures with pillows.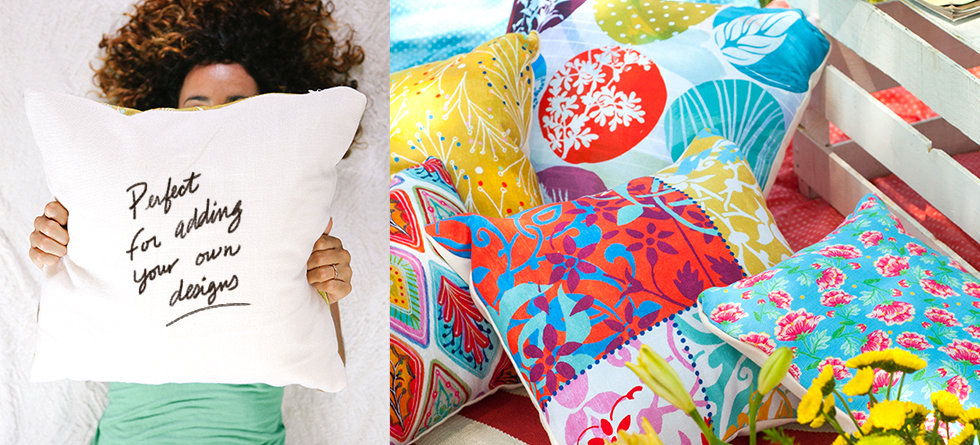 Shutterfly is a great place to order pillows. We love Shutterfly because it gives you the option to have a double sided case but also just one sided with either a white back panel or a black back panel.
It is more affordable to choose the white or black panels. Also having that white panel can allow you to take some pictures that can be used as mocks for new designs. Another plus is that Shutterfly always has discounts going on, we got 30% off our complete order plus free shipping at the time we ordered. It was a win-win! They are actually the only place (that we know of) that make affordable custom plates, and this is important so you can get as many products from one platform as possible, to save on shipping.
How much it cost:
2 Single-sided Indoor Pillow (12×16): $34.99
2 Single-sided Indoor Pillow (16×16): $39.99
1 Single-sided Indoor Pillow (18×18): $44.99
Total pillows minus 30% disc.: $136.50
Set of Plates
The tabletop industry is another ramification of home goods that you might want to be a part of, however printing personalized plates is expensive.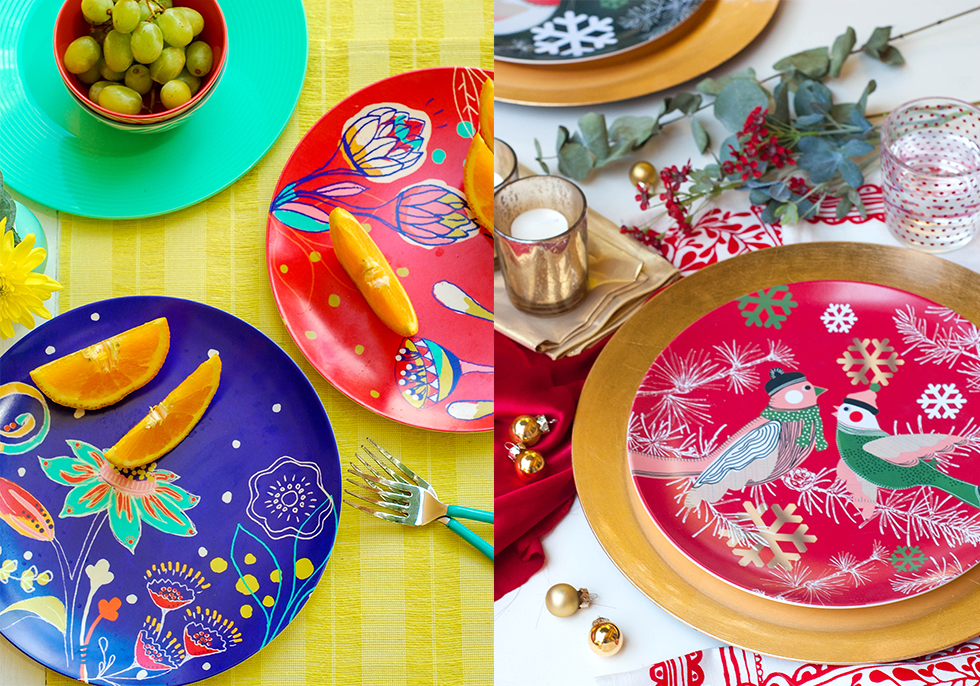 We found the ones from Shutterfly were way more affordable than the ones from Zazzle even though Zazzle offers porcelain and paper plates in addition to melamine. The only downside of these Shutterfly plates is that they only offer them on this large size, having smaller versions to complement the large ones would've been much better, but maybe they'll offer them in the future.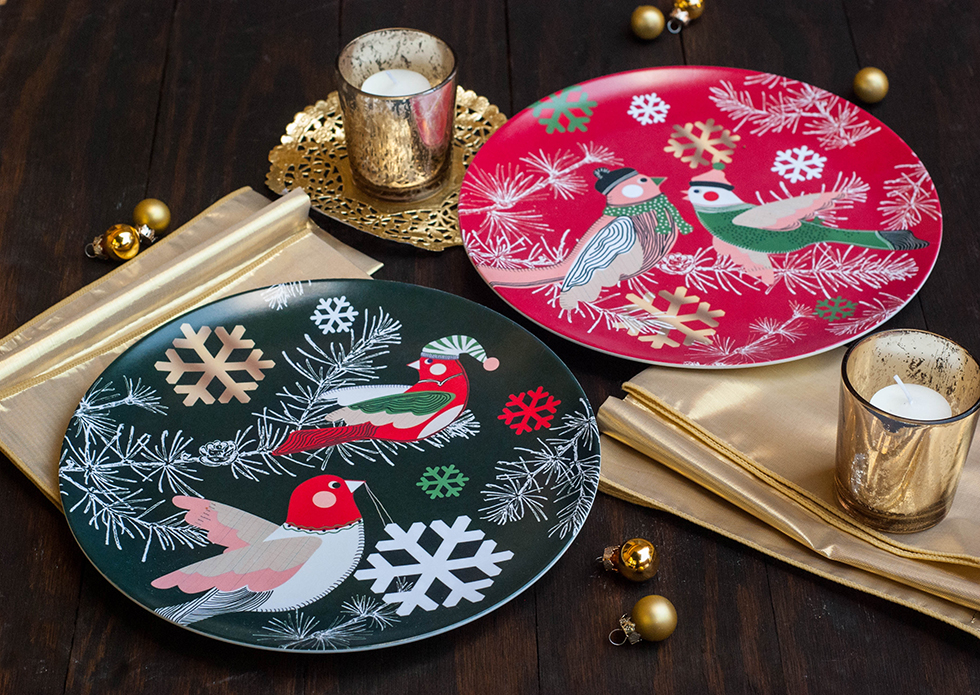 How much it cost:
4 Plates at $17.99 each
Total plates minus 30% disc.: $50.37
Wrapping paper
If the gift and stationery industry is at the top of your list, creating some pretty photos of wrapping paper might be a good idea. This one can be a hard decision because you might also want to make journals, cards and plenty more goodies but there usually isn't enough time or budget that you can spare for the prop gathering and making. Showing gifts wrapped and gift bags are easy enough.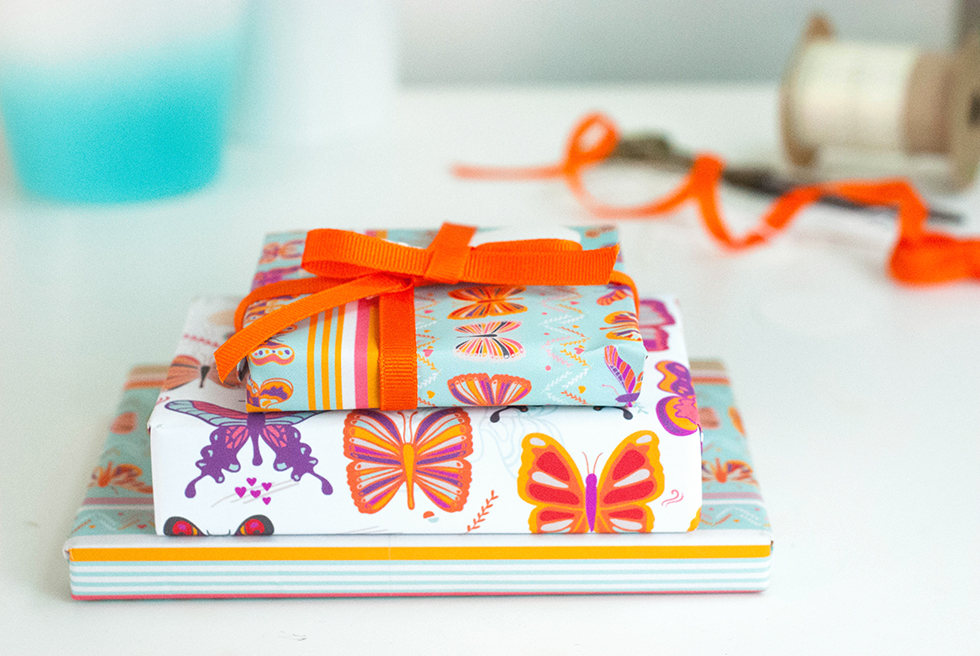 Spoonflower is a great place to order custom wrapping paper. There aren't many places offering custom wrapping paper where you can upload your own design. Most places have nice templates that are personalized by uploading pictures or changing some words and colors. Zazzle, Shutterfly and Minted all work that way. You need the ability to upload your own designs and that is what Spoonflower offers.
Spoonflower also prints on fabric and wallpaper in case you need that. Let me say that if you are thinking of printing any of these three products with them, you won't regret it. Their quality is really good. We loved both the shiny and the satin finishes.  We also love that they are full bleed and made in the USA!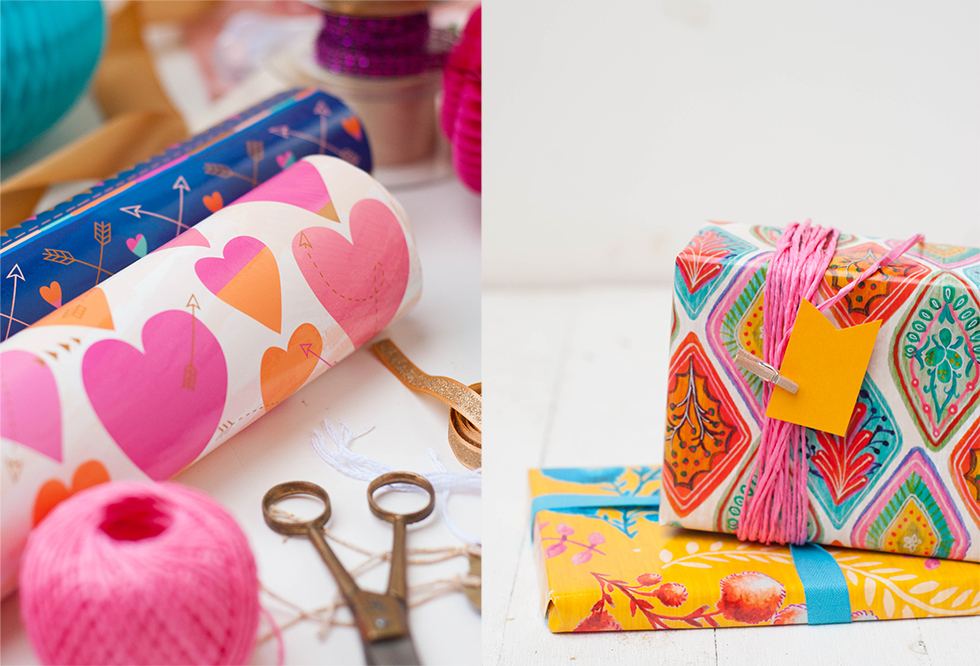 How much it cost:
6 Rolls at $13.50 each
Total paper rolls: $88.00
Final thoughts
Our final product cost total including taxes and shipping was approx. $300.00.
You could have a mini photo shoot version of this and just do half of everything and bring it down to $100 or even $50. Another good idea is to order products as you can, start with the product from the industry you are interested in the most. Order it and start practicing your photos at home. Once you feel confident with your first set of photos then order your second item.
Keep in mind that this is an ephemeral investment and there isn't a guaranteed ROI, so the idea is to get as much leverage as you can from each photo.
Other considerations (extra things that also take time and money):
If you are taking a whole day or a couple of days think about food and budget for it.
Maybe take a day to buy or borrow props for your photos. Yep, a whole day! You can get rugs, plants, glasses, chairs and so on. Shopping at flea markets, thrift stores, or borrowing items from family and friends can lower your costs.
You might want to hire a photographer to take photos of you. Even if you don't need them, consider having photos of yourself next to one of your products. Wearing your products or holding them.
Account for clean-up time and know you will feel mentally and physically tired afterwards. Try not to schedule a work task right after your session.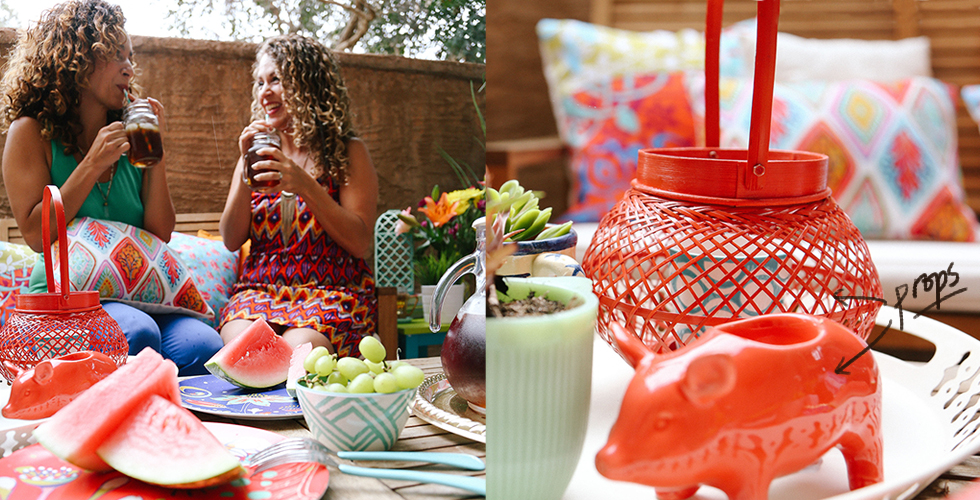 We hope you enjoyed learning about how to do a photo shoot of your own. From our perspective, the benefits of being able to show buyers our visions (and spark other ideas) easily outweigh the money, time, and energy we invest. And there are ways to start small and add on more as you go!
___________________________________________
ABOUT DARI DESIGN STUDIO
Venezuelan born artists and sisters, Dariela and Dariana Cruz of Dari Design Studio are on a mission to infuse your life with creativity, a sense of style, and bold vibrant designs.  Currently residing in California, they work together virtually. Dariela lives in San Diego and has had an interest in design from an early age. Her sister, Dariana, lives in Los Angeles and came to love design after years of working in the industry. Together the duo love to create pattern designs and uplifting illustrations and photographs. Their modernly eclectic portfolio blends certainty with experimentation, multicultural traditions with modern trends, and hand painted art with digital. You can find them online at http://artlicensingdesign.com and sign up for their monthly licensing newsletter here.