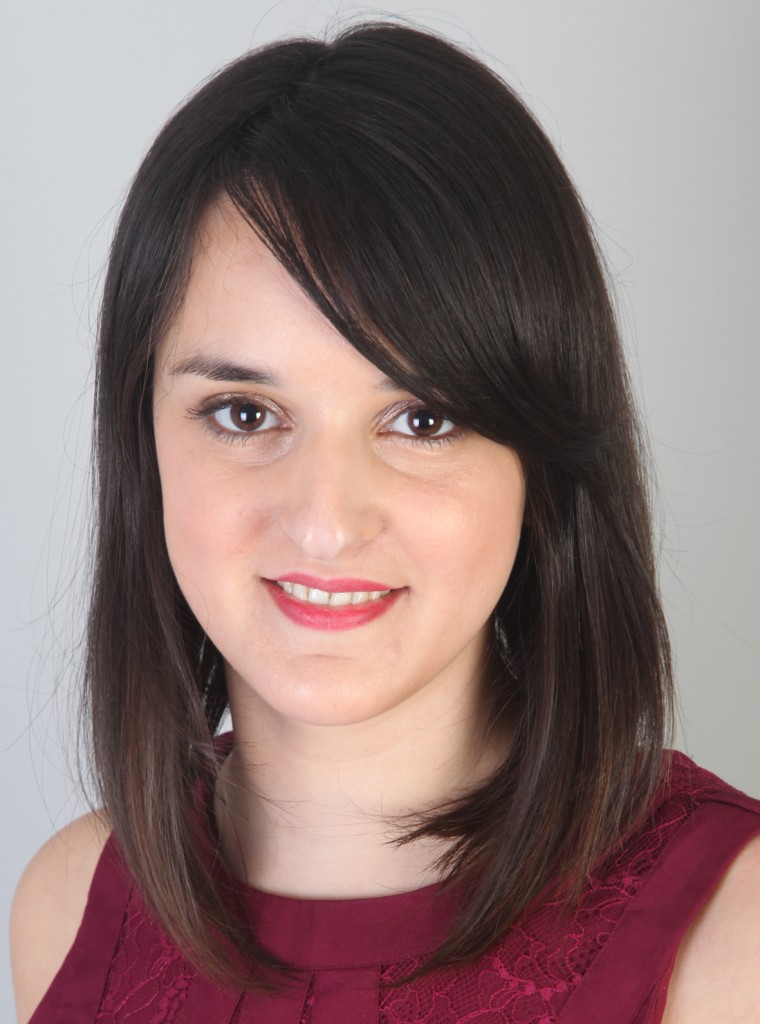 Laura Olivia established her surface pattern design studio back in 2010 and has since worked with clients in the interiors, stationery, fashion and beauty product industries all over the globe. Laura is also a part of our Textile Design Lab team of experts, offering advice and support to designers through our private forums. Please enjoy this excerpt from Laura's wonderful training on designing for kitchen textiles and consider joining us in the Textile Design Lab to access the full training!
Kitchen textiles are big business for major retailers, and although they might not always be the most glamorous products to design for, they will always be a necessity and a large part of the home textiles industry. I have been lucky enough to design for one of the largest suppliers of kitchen textiles in the UK who supply to most of the supermarkets as well as a fair few home retailers, so would like to share my knowledge of all the tips I have picked up along the way. This may be useful for approaching clients in this market with examples of your own work, if you are currently already designing in this area, or even if you are thinking of launching your own range.
So when I say kitchen textiles this typically includes double and single oven gloves, tea towels, aprons, packs of tea towels and single tea towels. However if you are designing these items for a client, they may ask you to apply the same designs to their dining ranges (table runners, clothes, napkins, placemats, seat cushions etc) or even tableware and China.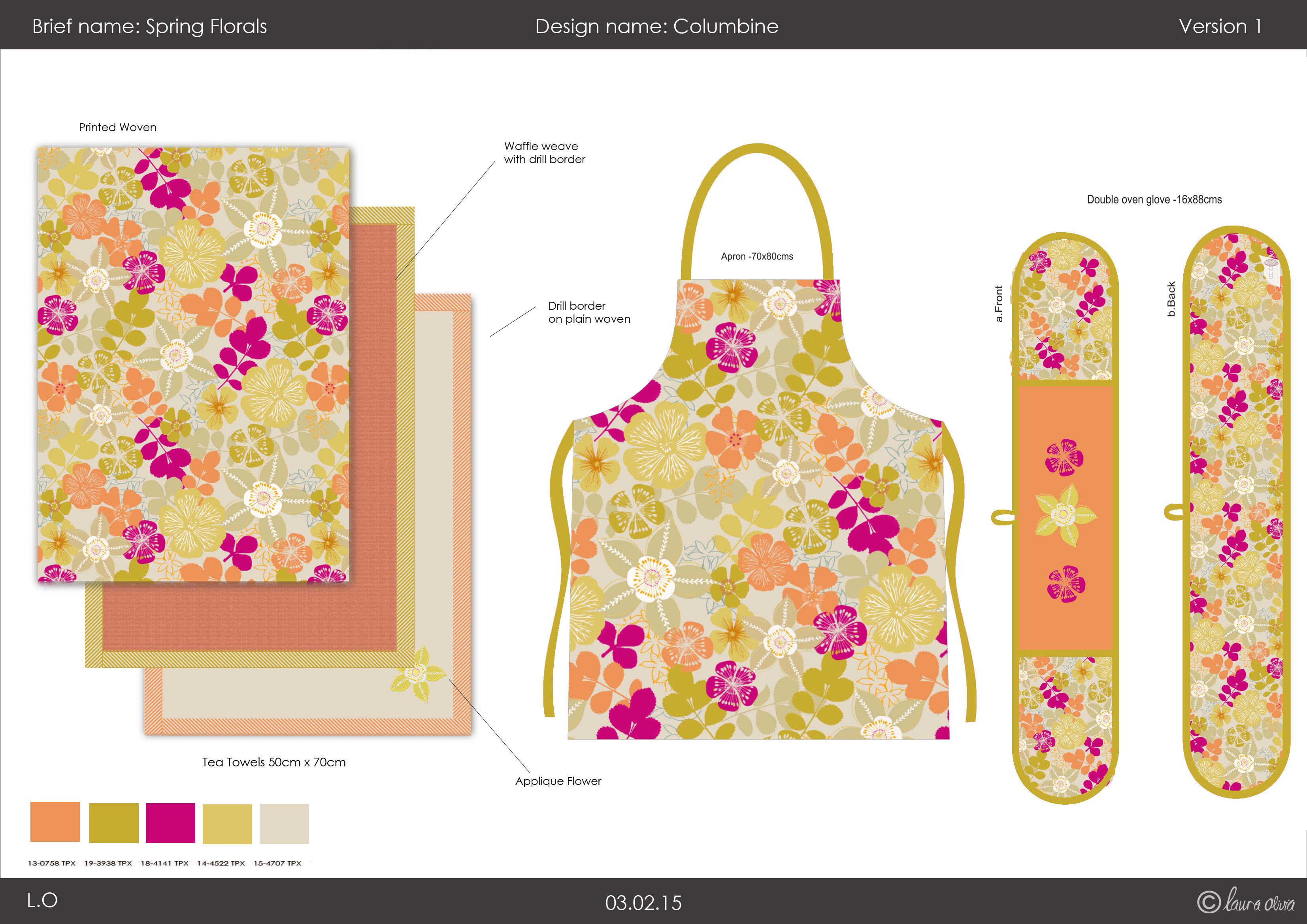 Subject Matter for Kitchen Textiles
Kitchen textiles is like any other area, you need to think about the end user and the space your designs will be going in to, and think about it carefully. Yes grey may be the new cream, but most people's kitchen cabinets are usually off white or cream, with some being white. A neutral background is always best, coloured backgrounds don't sell as well as they are often too limiting and have cost implications. Often I find myself racking my brains as to what different chores people may do in a kitchen, looking for relevant subject matter and witty slogans. Designs often revolve around drinking, eating, washing and drying. Your client may be trying to appeal to the country kitchen market, the family kitchen, or the ultra modern (or all of them) and although this may seem stereotypical, the briefs I usually receive are based around the below ideas.
Consumer Categories
The Country /Cottage /Traditional Kitchen Customer: Briefs aimed at this type of customer often revolve around the farm, with an emphasis on local produce, dairy products, chickens, cows etc. It's really useful to use old vintage farm signs as inspiration and you will need some very relevant typography. The other theme that usually arises is the vintage type look whether it is a floral 'Cath Kidston' type print or perhaps based around a tea party for example. Designs used for co-ordinating tea towels in a pack or on oven gloves may include checks, ginghams, stripes and polka dots. Often more traditional florals would work here too. It would be best if designs included cream and off white to make sure they tie in with the country kitchen either way.
The Family Kitchen Customer: When I say family kitchen this could include young couples, it basically means your average kitchen with perhaps granite worktops or a less expensive material which may be used as a more relaxed social space too. Briefs are much wider here and may include the following;
The younger, throw away type designs which could be witty slogans or fun graphics.
Fruit and veg type designs, which can include recipe prints, placements and all over prints.
Kitchen Utensils designs are massively specified for supermarkets in particular.
More trend led designs: You can really have fun with this with all sorts of themes but you must remember to not get lost in the theme and think about what you would actually buy to have in your own kitchen. Alongside the fun and random themes there are usually geometrics and all types of florals, tropical usually appears for summer!
I would suggest using an off white background with accents of white and taupe if you can among, other colours if possible. Remember the aim of this is for them to sell and you to be asked to design more!
The Ultra modern Kitchen Customer: This type of end user probably would not have any tea towels on show as they love that sleek minimalist look. However, as cleanliness is very important to them they will often buy Terry tea towels which are the thicker non printed absorbent ones, which volume wise, sell way more that the printed designs. They may also buy oven gloves and aprons but with simpler designs.
On one last note on design, I have found that supermarket buyers are very safe, as they are dealing with such volumes they want to go with what has worked in the past and are afraid to go out on a limb, so safer designs always work better. The home retailers that I have worked for are much more design led which is great so I would definitely recommend approaching these first if you are thinking of getting in to this area as it can be more inspiring and a tea towel or apron print can be more of a piece of art.
Become a member of the Textile Design Lab to continue reading Laura's tips on designing for kitchen textiles, with topics including placements, embellishments, scale, colors and more. TDL membership is just $49/month and in addition to our monthly guest expert tutorials you also will receive access to our private forum, a variety of e-courses, fun design challenges and lots more exciting and helpful content to get your textile design career off the ground. Visit textiledesignlab.com to learn more!