Our Textile Design Lab members recently had the pleasure of enjoying an informative and inspiring presentation by home decor pattern designer Laura Olivia. In this live presentation Laura shared her tips and guidelines for designing pattern collections that home decor buyers are looking for in today's marketplace. In addition to this presentation, Laura was also kind enough to answer a few questions for our Pattern Observer readers.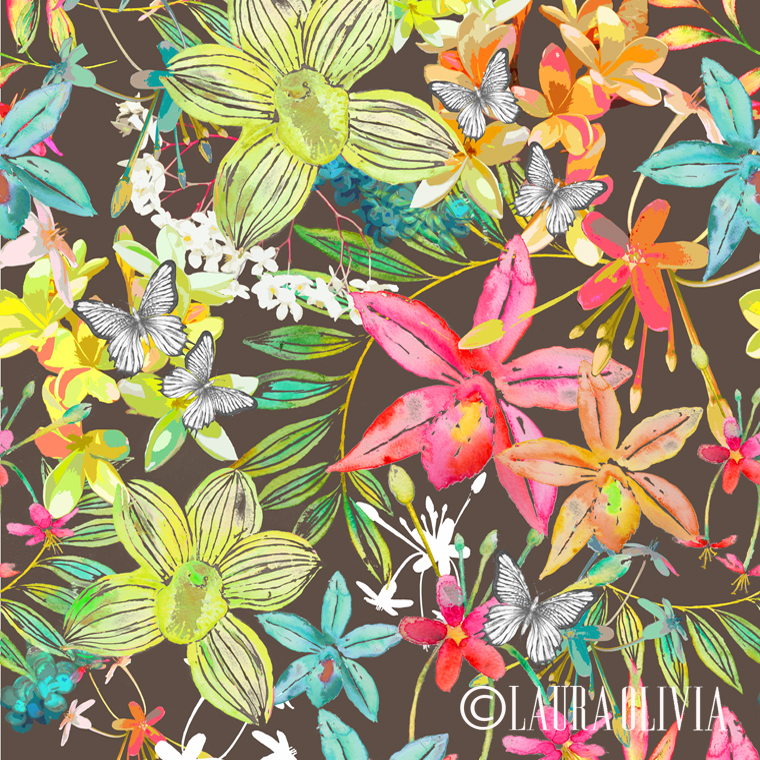 Can you remind us of your background and tell us a little about how your business has progressed since your last interview in 2015?
Yes of course.  I studied Textile Design at University and launched my own business in 2010, initially working with a home decor agent and developing my own product line. Working with an agent really helped me to get my work to a commercial level, which ultimately led to me working directly with clients mainly in the home decor market, but also in fashion, stationery and even packaging. I offer a bespoke pattern design service which seems to be the main focus of my business and is still going strong.  Due to more and more clients also wanting to view readily available prints, I am now expanding that side of my business too, working with other talented designers.. Other changes include a rebrand of my website, adding to my licensing collection, working with Pattern Observer as their home decor expert,  and of course becoming a first time mum!.
Can you tell us why you chose to focus on the home decor industry in particular?
Towards the end of university I already knew that I was leaning towards home decor rather than fashion.  There weren't many design jobs around at the time, and looking back I don't think my work was commercial enough to go straight in to a full time role. So I took a job as an interior decorator, visiting customers homes and putting together interior design schemes for them, which led to my love of wallpaper and furnishing fabrics. It was great to be able to communicate with the end user of those products and find out why certain patterns sold well and why others don't , and I still remember those things today.  As well as an all round love of interior design, I have a bit of a wallpaper obsession & love how the right pattern can completely transform a space.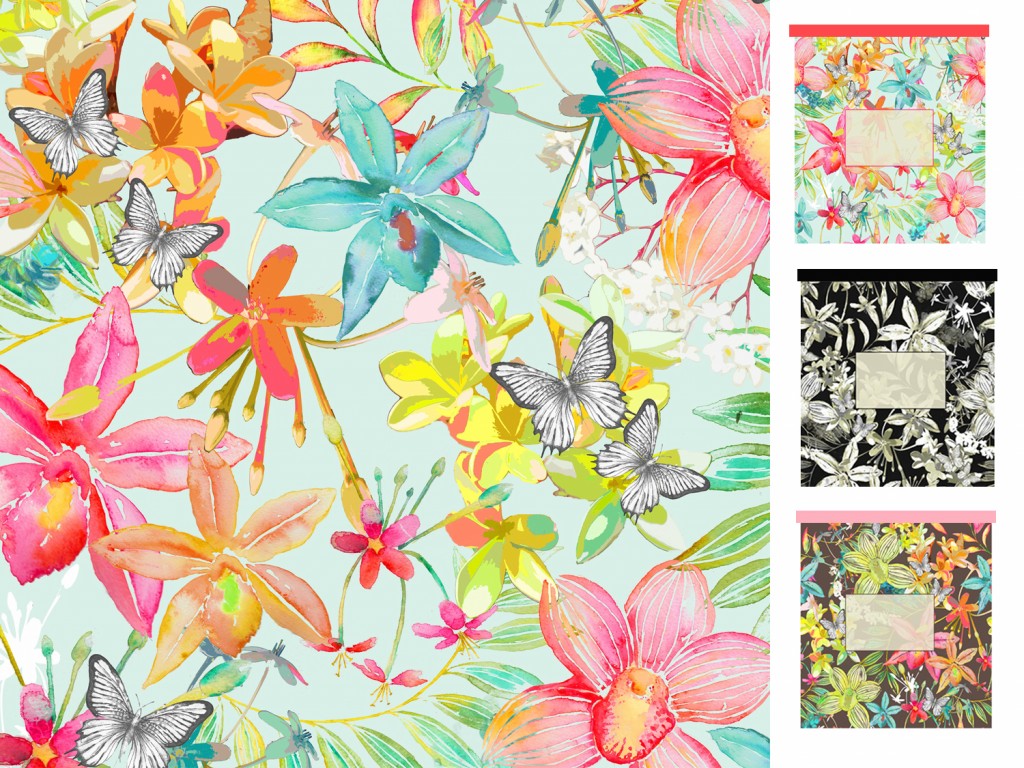 Can you tell us how your bespoke pattern design service works and what is included within this?
First of all I send an initial quotation to check that the client has a realistic idea of cost. I include a list of all the work that goes in to a project which they may not have thought of such as research , an initial inspiration board,  a couple of ideas for each design with rough sketches , the finished designs, a couple of rounds of amends, and the production ready artwork. I include all this in the final price and explain that anything outside of that range is charged at my hourly rate. I usually also send a visual along with the final design to give that extra wow factor, something extra that wasn't mentioned in the quotation.
The client usually sends me a detailed design brief of what they are really looking to achieve, it often includes information about their brand values, their competitors, and designs they have seen on the market that they admire. I then put together a proper contract which I get them to sign and the project begins.
A past project which included designing the print for a box on a luxury spa candle range. The brief was to reflect the exotic locations where the candles were to be sold (in 5 star holiday resorts) and to fit in with the colours of the clients existing branding.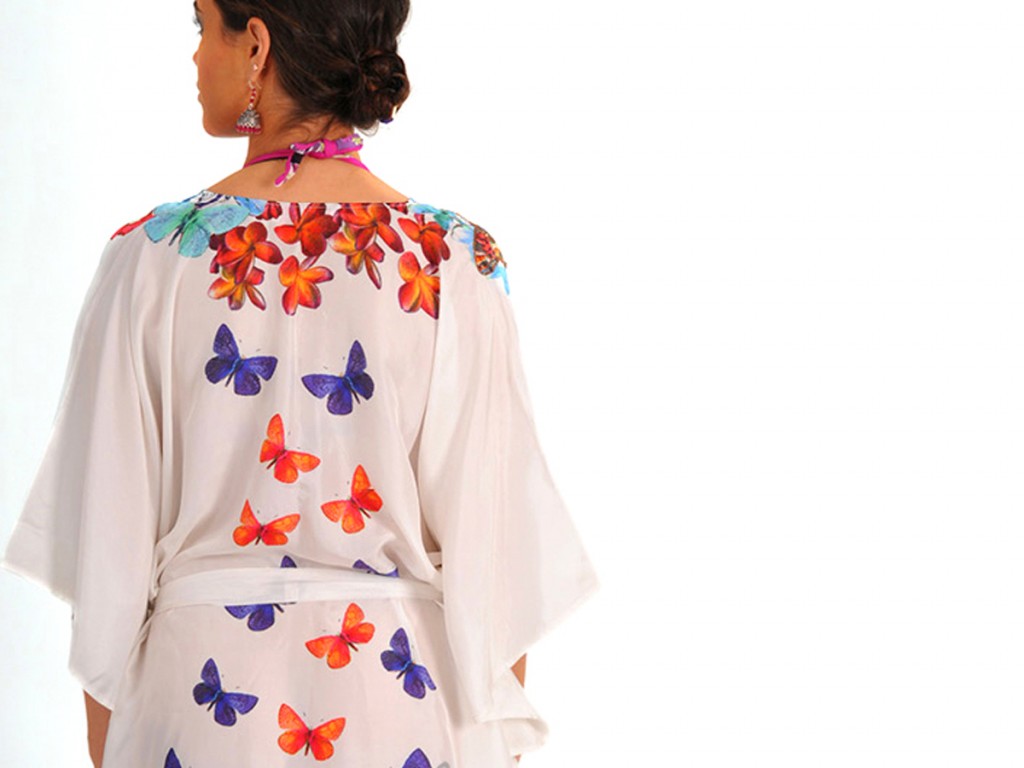 Can you tell us about some of the other bespoke pattern design projects you have been involved in?
I've done quite a lot of work for cushions , wallpaper among other home decor commissions and regular clients. I also seem to attract unusual, one off projects that just come out of nowhere and are really exciting such as the above!. One of my favourite projects has been creating lifestyle products for a new start up brand based in Haiti who wanted designs that reflected their culture. I really got to learn about the country and what they have been through, it was really interesting. Others have included two seasons of resort-wear collections for a fashion designer in Mauritius (again I got to learn about the history of the island as it needed to be reflected within my design work) and more recently working with an Asian dress company on floral placements.
Can you tell us what goes in to putting a contract together for this type of project?
I usually include everything I mentioned in the quotation about the different stages of work involved, so that the client knows what to expect. I make sure I include the client's brief, or a shorter version of it so that they know I am clear on what is needed. It is important to agree a timescale , but of course allow for emergencies. Be clear on price and when you expect to be paid, I always take a deposit for new clients & ask for the balance before sending the production ready files.  Also include what you expect from them, for example consistent communication and feedback so that you can complete the project effectively. One thing which is really important is making sure you know what printing process your client will be using, especially if they are a new start up as they may not understand about wet and digital printing . It may be that they haven't got to that stage yet, and you don't want to find out that their manufacturer only accepts vector artwork when you have produced beautiful watercolours! I put my own contract together by researching on the internet, but then I paid a contract specialist to have a look and advise what was missing, I would definitely recommend that if you are planning on doing a lot of this kind of work.
Is there often extra work after that the client needs you to do after you have submitted and finished the designs?
Yes and that part is really fun!. They often need your designs applying to their product templates, which means you get to see your designs come to life. Sometimes we get asked to design labels too or specify colours for other parts of the product or liaise with the clients manufacturer directly. For accessories and fabrics sometimes clients need you to specify embroidery to add to the main design, which is also another fun part to the whole process.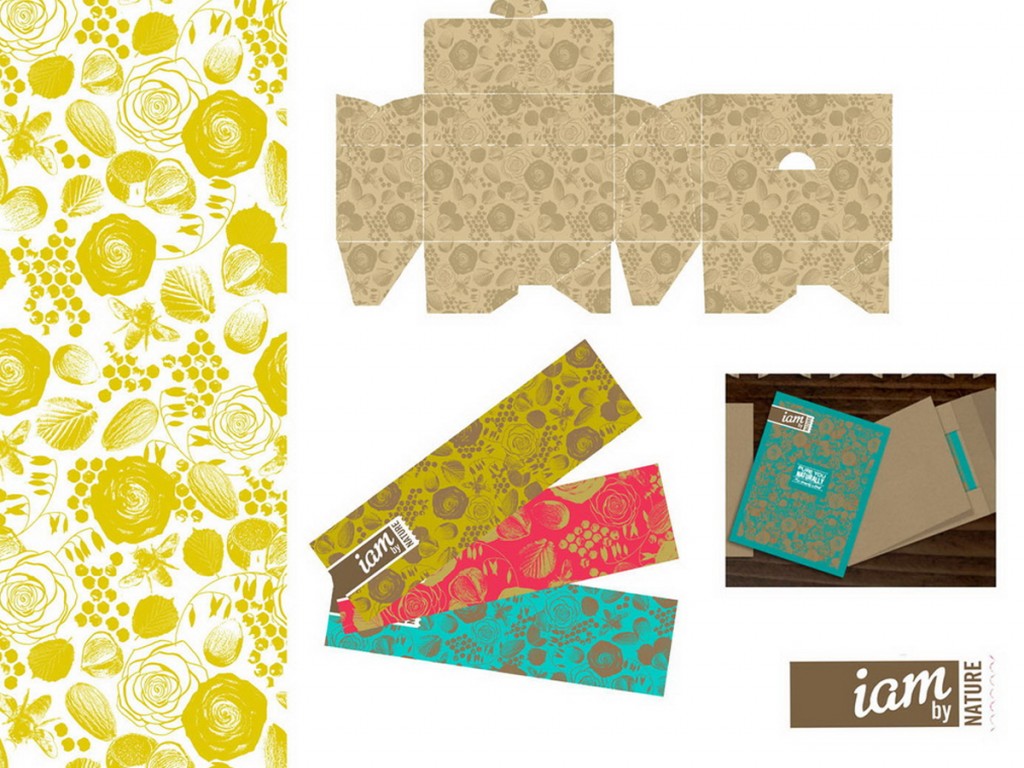 How would you advise our students to find this kind of work?
I would say a good website is key along with SEO so that clients can find you easily. You really need a mixture of making yourself more visible so that clients come to you, but also be proactive in finding clients yourself. It is so true that people buy from people they know and trust, so don't be scared and try to arrange as many meetings as you can with potential clients, or talk things over with them on the phone. You will learn so much more from actual interaction than you will from a brief email from someone who is really busy, but set up a meeting or a phone call and they have to make time for you in that scenario.
Keep a database of all your interactions and what was said at the time, so that you can respond and go back to that company accordingly with hopefully more success in the future. You have to be in it for the long game with marketing, for example I sold a whole range of design to someone last week who had contacted me two years ago and it didn't come to anything at that time, but I added them to a database and tried again, this time around it was a case of the right designs at the right time.
And finally, have you got any advice specific to the home decor market and how to design successfully for this industry?
I would say that hand painted or hand drawn designs are very popular at the moment as opposed to vector work. I'd also say that home decor is somewhat safer in terms of subject matter. With fashion design your artwork can be bolder, because it will be worn and then put in a wardrobe at the end of the day, a home decor is going to be on view in someone's home probably for at least a few years, so it needs to be much more liveable, something that a customer wouldn't get sick of looking at quickly.
Also I would say that in home decor, there is still a wide range of products, so you need to design accordingly and don't expect to sell the same designs on any all home decor products. Bedding designs can be more adventurous, with brighter background colours, whereas the same design might look over bearing on a wallpaper. Repeat designs are more likely to sell than placements as they can be used on wallpaper, bedding, fabric etc, where as a placement for bedding does limit you a little to that market.
It is really important to imagine your designs on the wall, floor, bed etc and ask yourself if you would buy it yourself for your own home, or if you can see any of your friends buying it. If your designs sell, your client will keep coming back for more, so with all aspects of textile design, it is essential to keep the end user in mind always.
Textile Design Lab members can access Laura's exclusive presentation here.
Save
Save
Save
Save
Save