We had another bang-up round of Chelsea's Challenge in the Textile Design Lab, with some truly stunning pattern collections created around WGSN's "Tropical Iridescence" trend. I can't tell you how inspiring it is to watch these collections come together each month, from the earliest stages of brainstorming and "backbeat" development (creating a mood board with influences of the trend, your own artistic style, and a target customer) to the final product of a professional, sellable pattern collection. Throughout this process our members receive feedback on their work from their peers and TDL instructors via our private forum, and I think the results speak for themselves! Below you will find just a sampling of some of the stand-out work that was created over this month-long challenge. Enjoy!
Arwen Edsall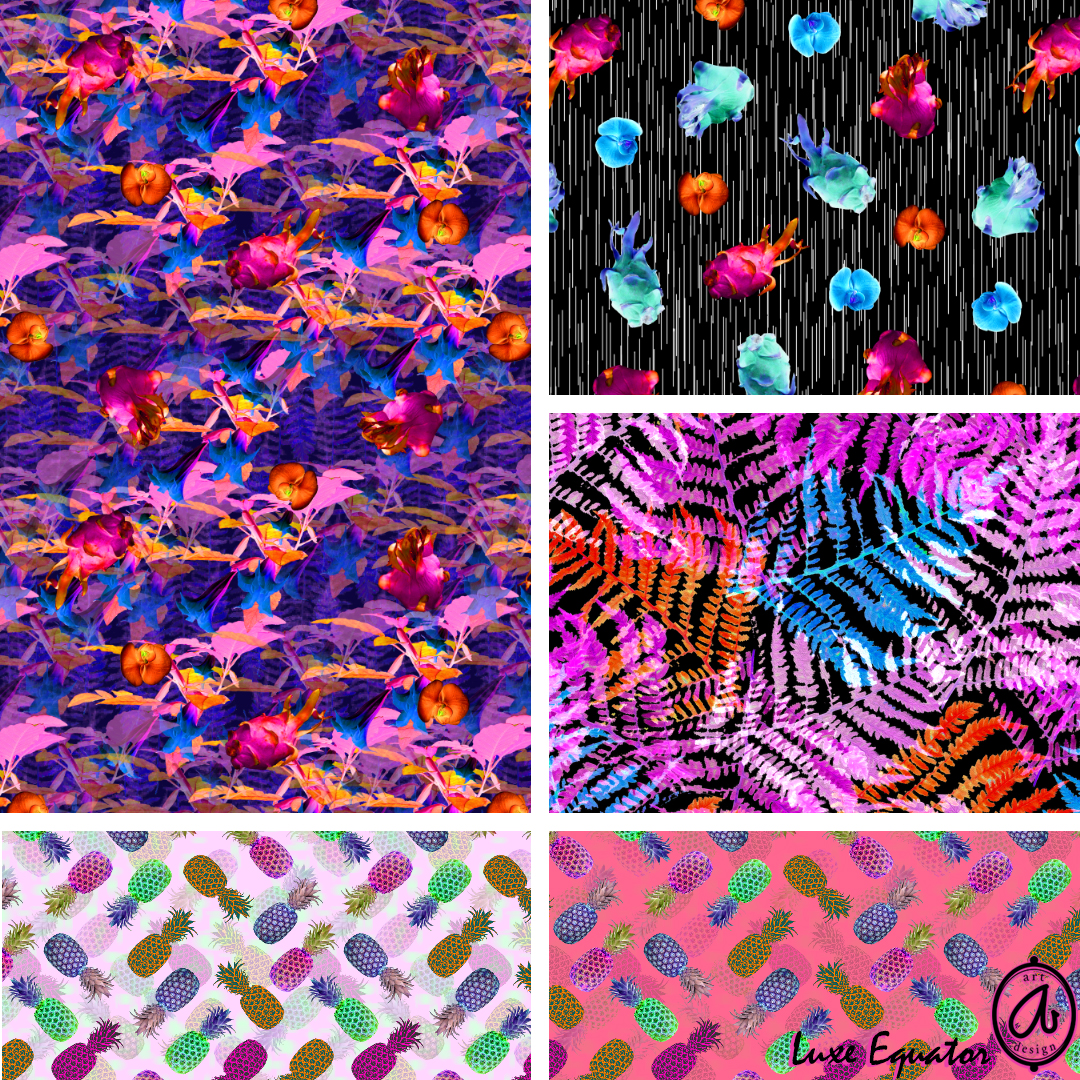 "My collection was inspired by the WGSN trend's intensity of bright colors paired with dark backgrounds and the very youthful feel of these combinations. The motifs I used are a combination of florals, foliage, and fruit that I took from my own photographs. I digitally enhanced them for color and experimented with layering in Photoshop. This collection was designed for young adult clothing, especially swimwear."
Marja Hämäläinen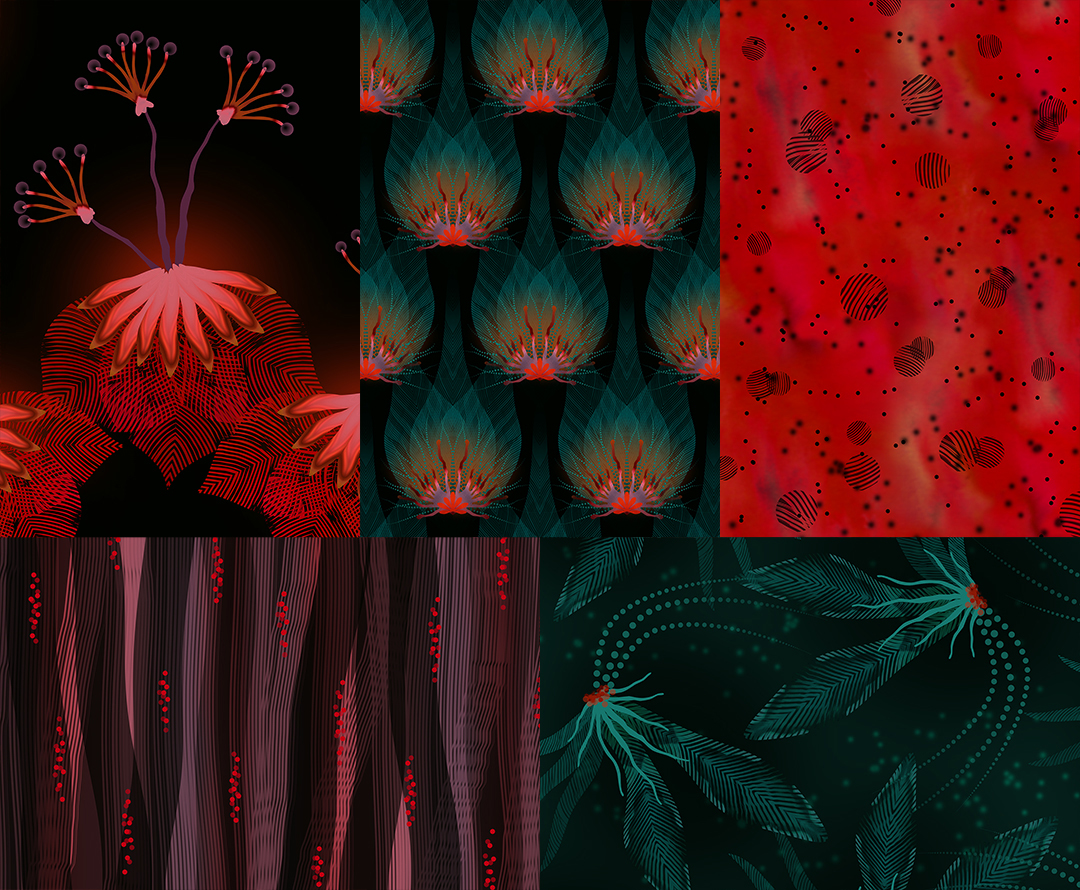 "My intention was to create a collection which is delicate and mysterious.
I thought of jungle that teems with life, growth, rain, fireflies and the sounds of insects.
I used gouache and Photoshop to interpret my experience of dream and the subtle order of nature."
Vanessa Booth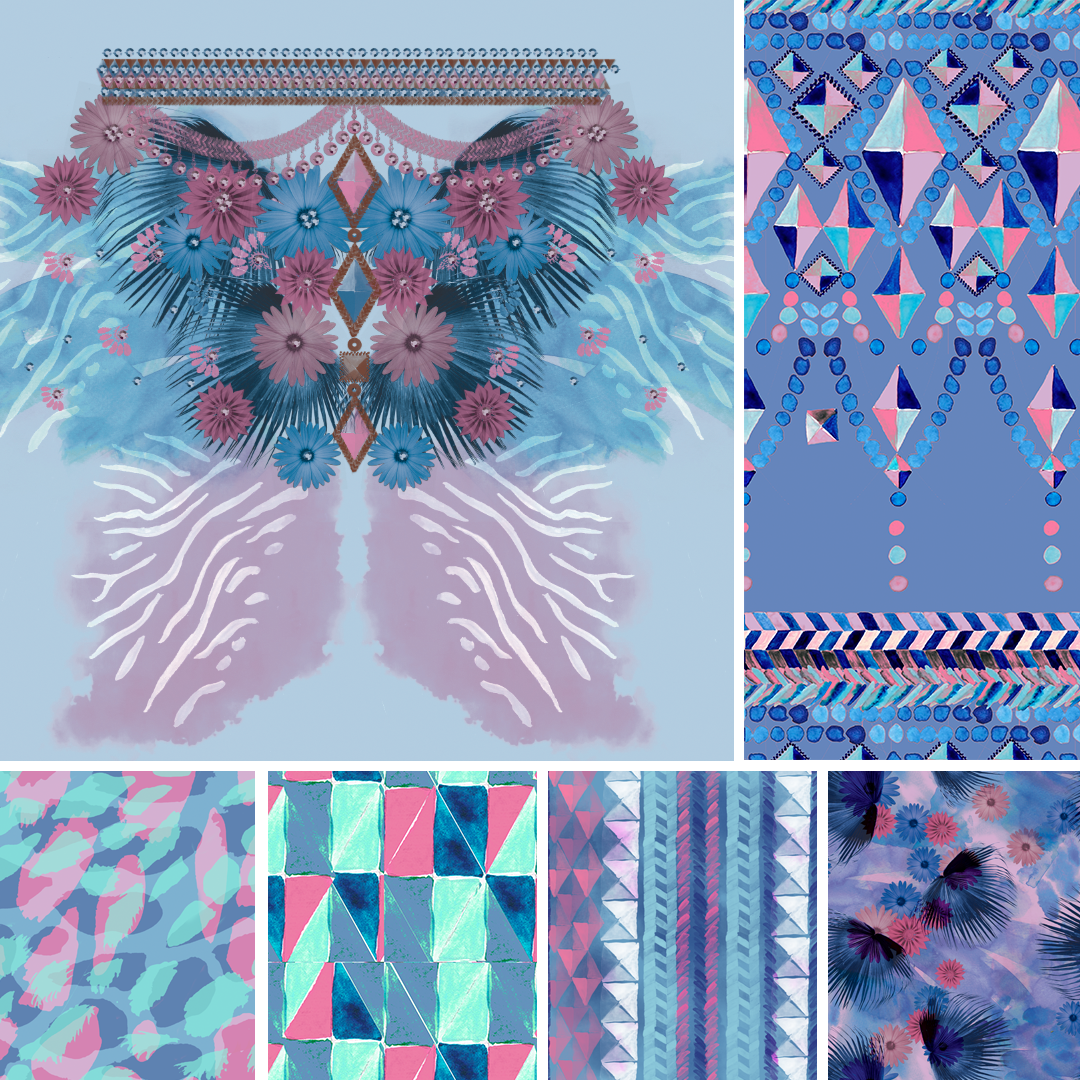 "This collection is based the WGSN Tropical Iridescence story.  My target client was the Australian fashion house Camilla.  It is for Girlswear Summer 2017.  I used Windsor and Newton Cotman water colours to create the back splashes and African borders, which were then overlayed with photographic floral elements.  The placement print was inspired by the rich hand embroidery of an African Jellibya (kaftan) which Muslim girls wear on special occasions."
Vanessa's online portfolio is currently under construction.
Cathrin Gressieker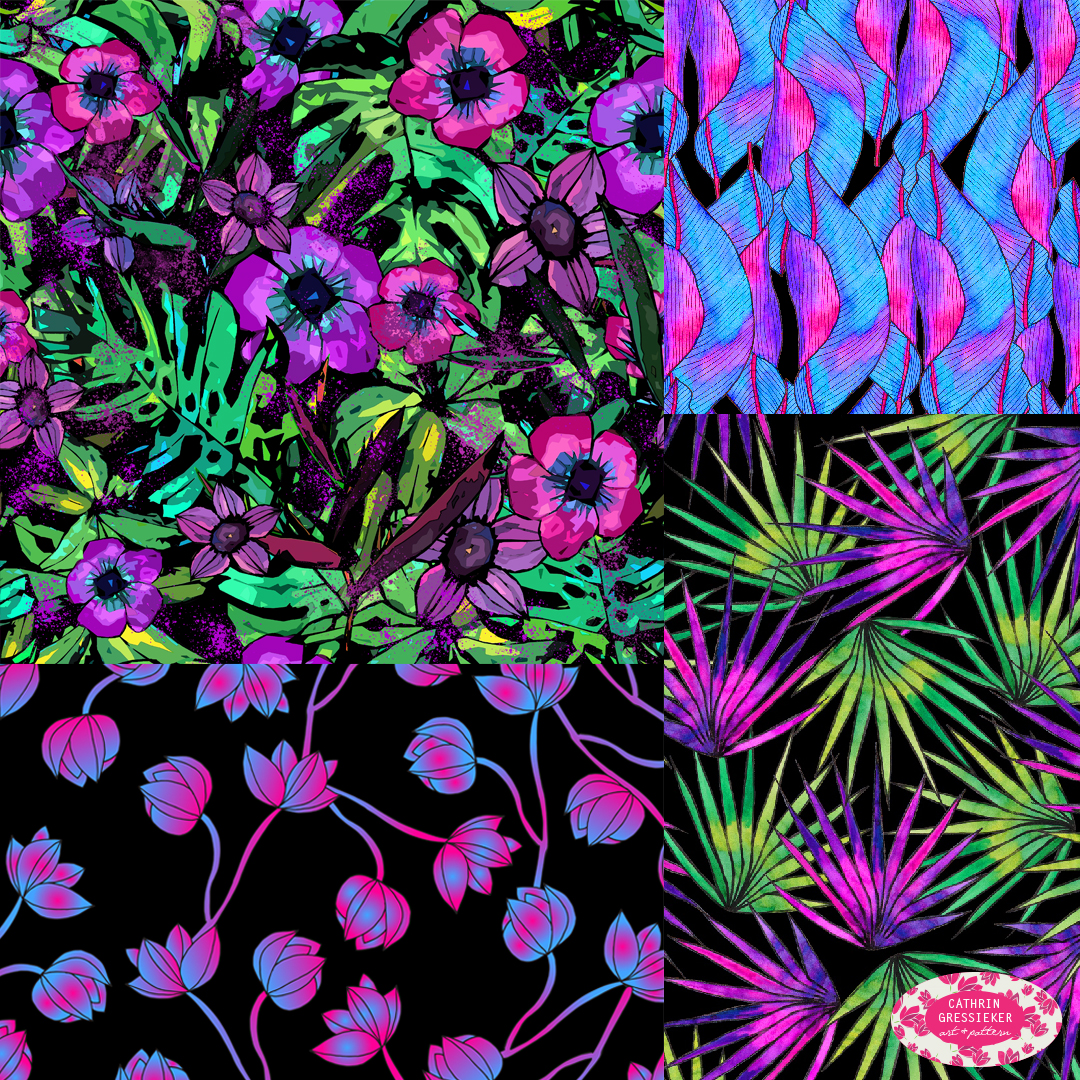 Tessa Hall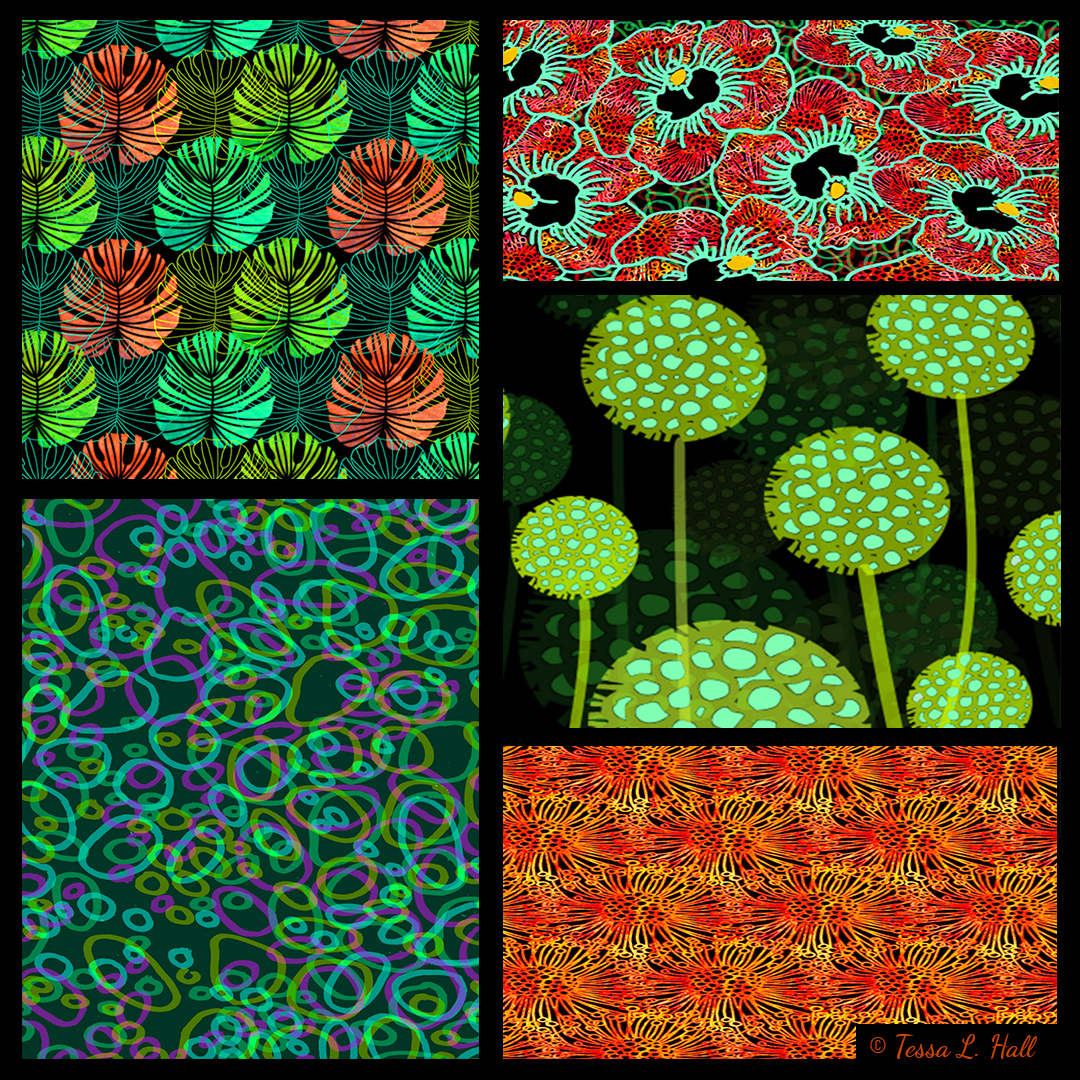 "Hibiscus and Protea collection was inspired by the exotic florals and amphibians found in the tropics.
I started my collection with scanned drawings and a few water colored backgrounds I painted for some of the motifs. I used Inkscape and Photoshop programs to create the effects and textures in my patterns.
I wanted the collection to have a nocturnal feel, but I didn't want it too dark, so I added some brightness to it to bring balance."
Tessa is currently in the process of building her online portfolio.
Feeling inspired? We have over 70 challenges now available in the Textile Design Lab, with a new one released each month. Join us to participate and build your portfolio!
You can also check out more student responses to this challenge and others on our Chelsea's Challenge Pinterest board.