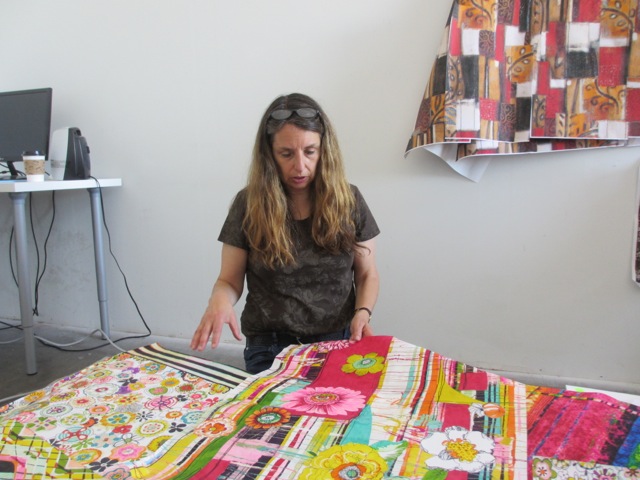 For many long-time Pattern Observer readers, the name Jane Lewis is a familiar one. Jane is the former Art Director and Creative Project Coordinator at P&B Textiles. She is incredibly talented at her craft and I had the great joy of meeting her while I was freelancing with P&B Textiles back in 2005. In our years working together Jane taught me a great deal about designing for the quilting industry, but she also taught me about how the industry works, including:
* Why it works the way it does;
* Collection development; and,
* Communication.
In my opinion she is one of the top experts in the quilting industry, which is why I am so excited to announce that Jane is joining our Textile Design Lab team on a permanent basis. Already appreciative for the wisdom that Jane has taught me over the years, it is an honor to now be able to have this same wisdom and experience in the Lab. Jane's already hard at work with us, creating a new Guest Expert Training that will be released later this year, but is active in the Textile Design Lab forum effective immediately. She'll be spending time in the Lab Forum every Tuesday and Thursday, giving feedback on patterns and collections, as well as offering insight into the quilting industry.

 If you are not familiar with our Textile Design Lab forum it is one of the highlights of being a member. Our staff checks the forum multiple times a day, Monday through Friday, offering personalized feedback and guidance to each and every member. We miss a post every now and then, as we are only human, but we strive to connect with all our members and let them know they are supported by us as they grow and evolve as a designer. There's a lot of love!
If you are interested in learning more about the quilting industry, I encourage you to check out this resource page, which includes an insightful interview that Jane Lewis and I did a few years ago.
I would also like to invite you to join us in the Textile Design Lab! Memberships start at just $49 and you'll have instant access to our extensive library of courses and tutorials, as well as the expertise of our team and other members. Get started here.