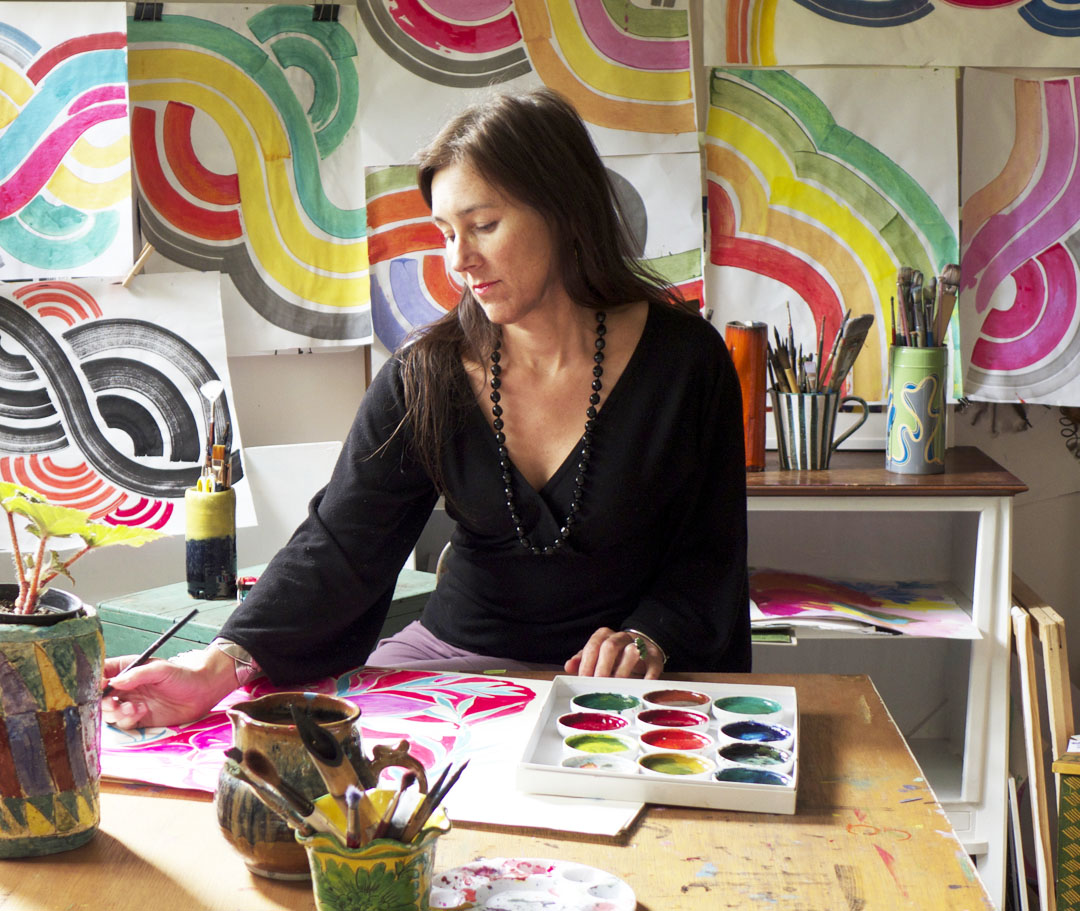 Lise Gulassa is one half of the creative duo behind
Sisters Gulassa
, an international design house that produces art, patterns, products, and trend forecasting. Throughout her career she has been head designer for a number of clothing designers, including Levi Strauss & Co., and instructor for the Fashion Institute of Design and Merchandising in San Francisco.
Lise has been the guest expert for our Women's Activewear workshops, has worked with countless activewear brands including Athleta, The North Face, Timberland UK and Title Nine and is now a member of our Textile Design Lab team. We are honored to have the opportunity to share Lise's perspective on the women's activewear market in today's interview. Enjoy!
Tell us a bit about your design background and career path. How did you become interested in textile design, and in particular, designing for the activewear market?
We grew up in California in a big creative family, before venturing out to our respective careers. I worked in the fashion industry, while my sister Cyrille went into advertising. My background is in fashion design, I graduated from FIDM in San Francisco. I worked in the industry for many years designing clothing and teaching on and off at FIDM before my sister and I started our namesake company, Sisters Gulassa, focusing on art & pattern design. Selecting pattern designs when developing a collection (and designing prints on occasion for the various companies I worked for) as well as working with color and textiles have always been my favorite aspects of designing a collection. When my sister first suggested the idea, it was a natural transition from one creative industry to another. We began with our first show in Paris at Premiere Vision.
When we started Sisters Gulassa, there were not many companies who focused on great print designs for the women's active market. We have a style that naturally fit this market with our dynamic designs particularly for women, though we have sold our print designs to both the men's and women's active lifestyle markets. I have always been very active, cycling, yoga, swimming and an outdoor enthusiast, so I have been keenly aware of what was happening in the women's activewear market from early on. There is currently a bigger focus on this industry, from fashion companies adding in "activewear" collections to traditional activewear companies expanding their offerings, especially as the "atheleisure" trend is gaining momentum.

Tell us a bit about your design process. What media/design tools do you like to use? What are your go-to sources for design inspiration?
Coming from the fashion industry I am always excited about new directions and influences from a variety of designers and trends. My travels are also a big influence. Before we begin a new collection we like to do research and then put together our inspiration/ trend stories and use that as our launching point. As far as media/ design tools we use water based mediums for print designing and often mix mediums. I love experimenting and trying new techniques, materials, and papers, including various surfaces to paint on. There are so many exciting discoveries in the process of trying new things. I love the challenge of that process. I always love sumi (ink) and brushes; my go-to favorites. We bring our art into Photoshop/ Illustrator to produce digital files.
My go-to inspirational resources are other artists old and new! I have books on some of my favorite designers and artists: Matisse, Sonja Delaunay, Cy Twombly, Leanne Shapton, Collier Campbell Archives to name a few. Dover Publications has published an amazing collection of design resource books. I always love to see what different designers are doing and have my favorites as they tend to have a big influence on the fashion industry, Alexander McQueen (before he died) inspired the industry with his animal skin, techno-camo prints and mirrored repeats. More recently Mara Hoffman has been a big influence in the activewear industry, with her colorful signature engineered tribal patterns on swimwear and more recently her own activewear line.
When we first started there was very little information online about design influences and trends, now there is access to so much information, and it is free! Pinterest is an amazing resource for anyone in the design industry, it is great for inspiration, current trends, retro influences and a great tool to use in working with clients. There are some pattern, color/ art focused websites in addition to Pattern Observer's fabulous resources and community, so I like to follow some of those. My new favorite is TextileTribe. I also love following interior design trends, and love the European Decor magazines.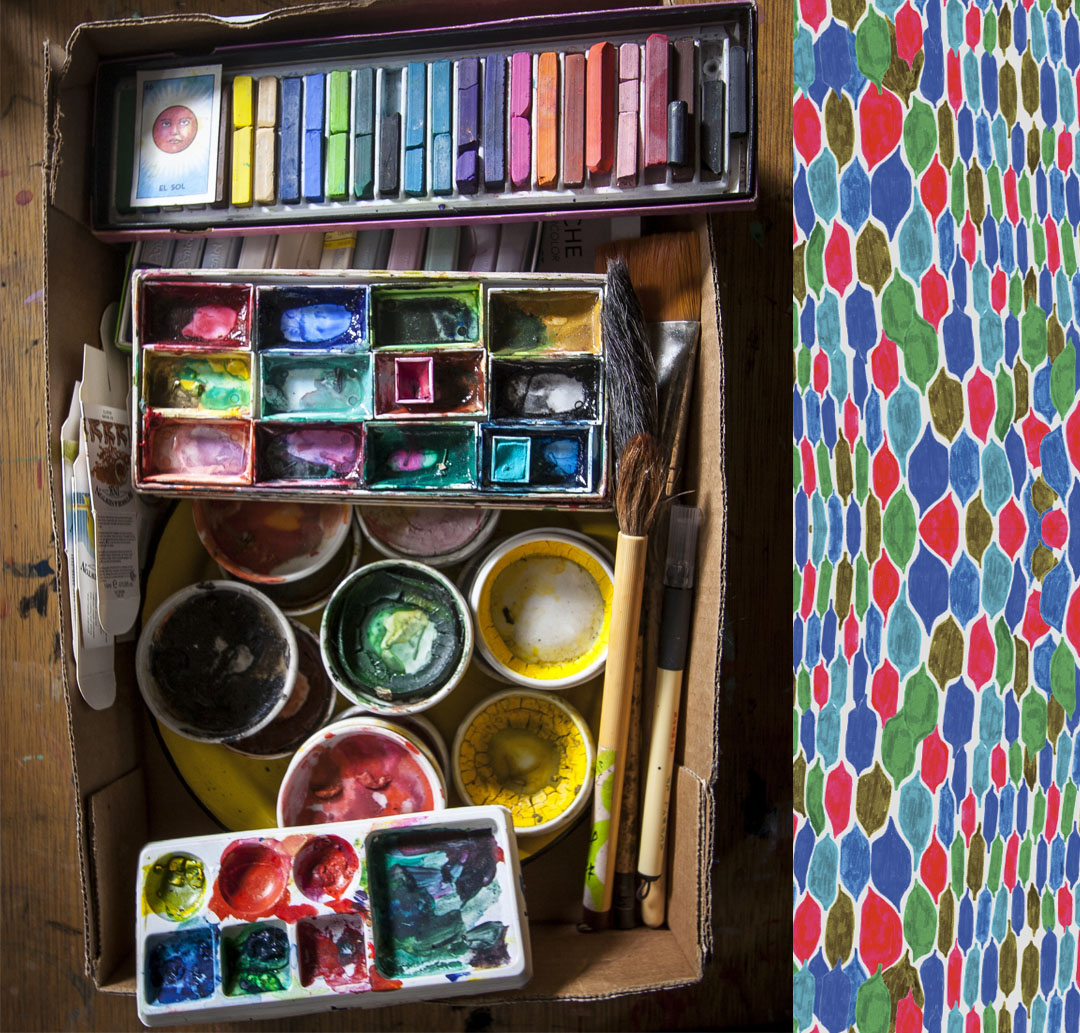 What are your current favorite print & pattern trends for activewear?
Some of my current favorites:
I love how the ombré trend has really morphed into interesting tie-dyes and shibori techniques, creating lots of newness besides the 'typical' tie-dye looks from the past. There are many interpretations that become very abstract and painterly in one direction and more tribal in another.
The tribal/ global trend is still going strong, but I particularly love the influences coming from Africa as well as Indonesia.
There is also a hyper-surreal trend that is natural for activewear, and I love the merging of the techno with organic.
What do you think are currently some of the most marketable pattern styles in activewear? How about colors?
Patterns that are textural and dynamic and yet very wearable typically are the most salable, because they are easy to wear and can go from the studio to the grocery store or wherever you want to go with out looking like you are on your way to an exercise class. That being said, patterns that are dynamic and have a lot of energy and color, can be what people are attracted to buy because it is for being "active"! I think the global tribal influence is still strong especially for the swim side of the activewear market, whereas some of the more techno influences in the industry are popular for running, and other sports. For colors, I think a mix of neutrals, (i.e. heather greys and heather blues, blacks and whites, shades of grey) with pop seasonal brights are always good. Some yoga wear companies might have more more of a tribal, organic, approach with an earthy palette. It all comes down to knowing who you are designing for.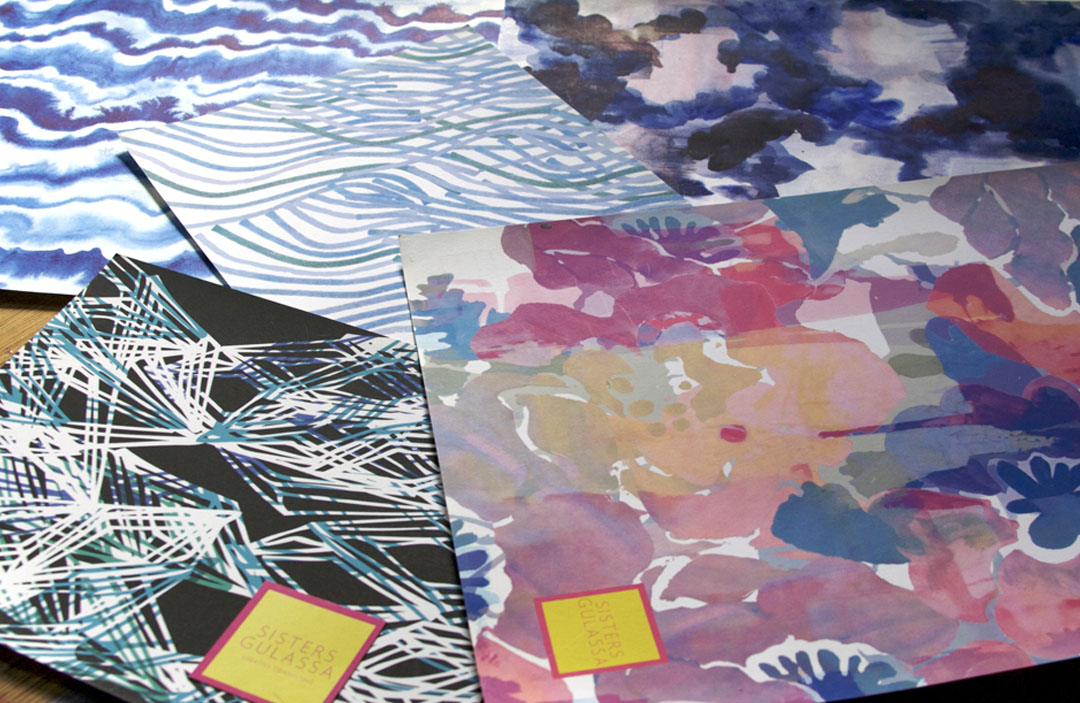 What are some of the challenges of designing for the activewear market? What do you love about it the most?
Activewear print trends tend to mean different things to different companies and within the active market there are many different types of print designs. It is important to know what your clients are looking for. Do they want more textural techno influenced designs, designs that are more organic and feminine, updated sporty stripes, more tribal influenced designs, or painterly ombré tie dye effects? Or botanical florals, or the new hybrids for example of blurred florals or organic techno prints? In the swim industry for example, a new interpretation of tropical florals might always be important, whereas that trend may or may not be picked up by the rest of the activewear market.
As this industry is growing there will continue to be some exciting influences and that is what I love about it. Like the activewear industry itself, it is dynamic, vibrant and always moving forward!
What do you feel are some of the differences in designing for women's activewear vs. regular women's apparel?
Activewear print designs are typically more dynamic, and can often be more colorful. Because of digital printing and sublimation prints, you might see newer techniques in print designs in the activewear market although this is changing now with more access to digital printing. There might be trendy influences like "techno" or hybrid print techniques that may be more popular in the active sports market as compared with the women's wear market. Designs often can be more "sporty" looking though the definition of sporty can mean different things to different clients. That being said, there is some overlap. For example, the Hawaiian tropical florals of past seasons have been popular in both the women's activewear markets as well as women's apparel.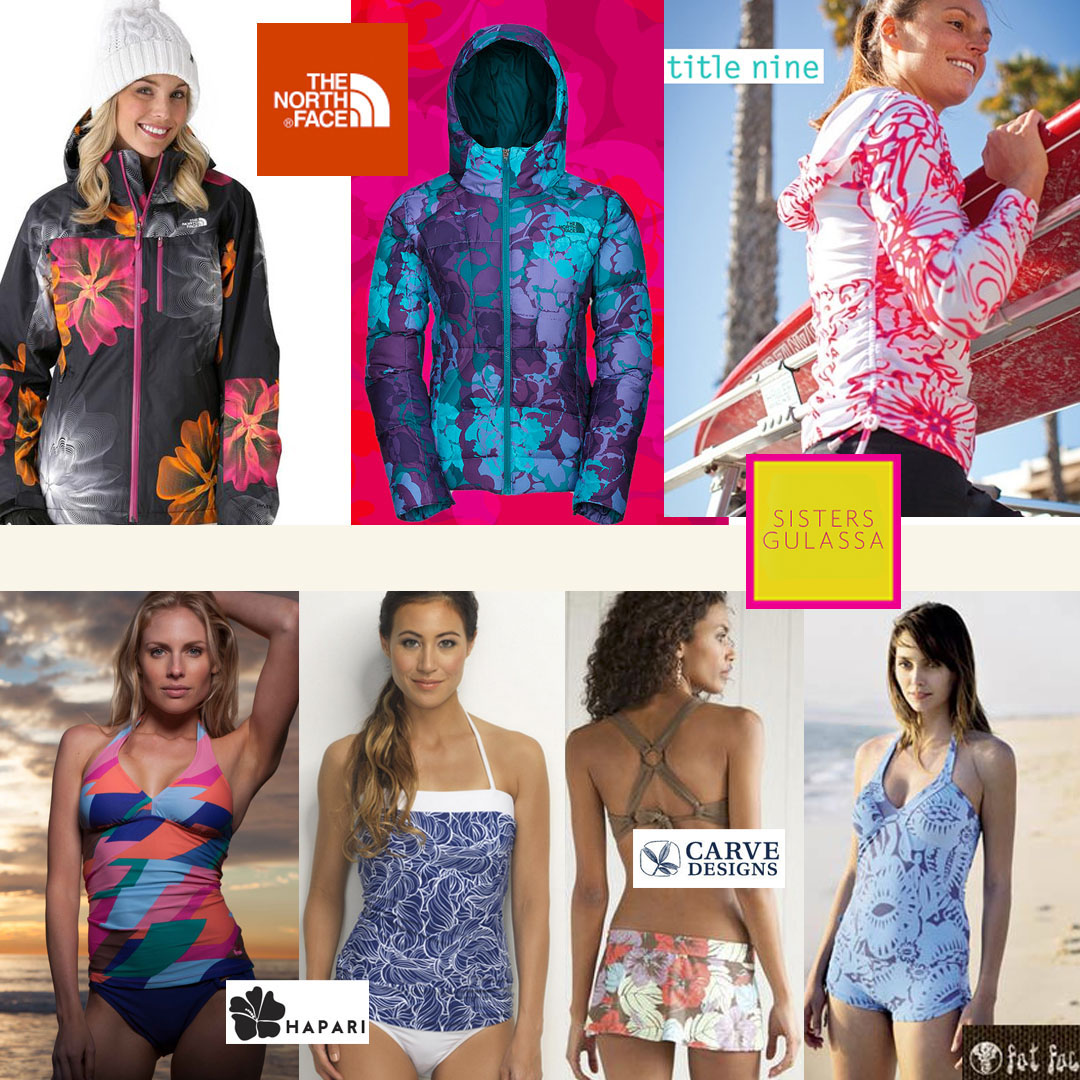 Could you talk a bit about the design cycle for activewear? How far ahead do you design an activewear pattern before it lands on the sales floor?
This varies with each company and their production calendar. Typically, the bigger the company, the longer the lead time, which means that a bigger company like The North Face might be designing 12-18 months out. The further away your production is the longer lead-times you need to factor in making and shipping product from one country to another. If it is a smaller company, or more locally produced, they might be 6 months out or less.
Do you have any additional words of wisdom for aspiring designers trying to make their way in the activewear industry?
My suggestion would be to find the types of companies that you would want to be designing prints for and focus on developing designs specifically for them, so that they might be interested in buying your designs. Develop your own signature style within the types of prints you want to design. If you want to be successful, I think it is easier to approach the market in a more focused manner otherwise, it can be overwhelming. In this way you can become known for your area of expertise. If you really want to produce a lot of varied work, you can find a studio to represent your work in order to have more focused time to create, without worrying about both creating and selling your work.
Interested in exploring the Women's Activewear market? You're invited to join us for "Designing Textiles for Women's Activewear" starting Monday, March 19th in the Textile Design Lab. Learn more here.
Save
Save